Our Life in Greeley, Colorado
Both Britton and Cassie were born in Greeley, Colorado, so we have some perspective on life here. We have written many posts about life in Greeley throughout this blog and I have linked them throughout the description that follows. Please feel free to check them out or ask us any questions you desire.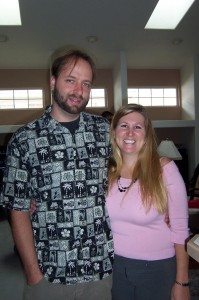 Welcome to Life TransPlanet from Britton and Cassie
Where is Greeley, Colorado?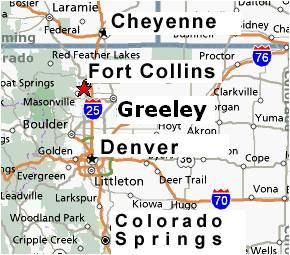 Greeley is about 15 miles east of Interstate 25 (I-25) which is the main freeway that runs north and south connecting Cheyenne, Wyoming through Fort Collins, Denver, Colorado Springs, and beyond to New Mexico. Greeley is the county seat of Weld County and has approximately 80,000 people.
It has two small towns that form the Greeley-Evans area and include both Evans and Garden City to boost the area to over 100,000 people. It is located on Highway 34 which runs from the mountains and Estes Park, Colorado out to the eastern plains. Collectively, the towns including Greeley just east of the mountain range are called the Colorado Front Range.
It has easy access to the Denver International Airport (with its evil blue mustang), the mountains and the plains.
What is Greeley famous (infamous) for?
Greeley is home to the University of Northern Colorado. James Michener who once lived here and taught at UNC based his novel Centennial on his experiences here. I (Cassie) went to school and received both my bachelor's degree and master's degrees from UNC.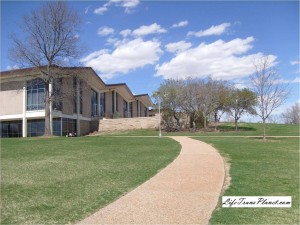 UNC University Center
University of Northern Colorado Campus area
Greeley has an interesting grid-system for its streets and avenues that confuses many outsiders who come to visit. To me, it makes perfect sense. The streets run east to west and the avenues run north to south. So there are parts of town that are on the same street name as avenue (like 10th Street and 10th Ave which happen to be where City Hall is located). 
But probably the most famous thing Greeley is known for is for its role as a major beef-producing area. Monfort became well-known for its beef and began the practice that is now the norm of confined feed lots. Now the company is called JBS Swift. East of Greeley for miles and miles and miles there is nothing but cows standing out there waiting to be slaughtered by Swift. We flew over it in a small Cessna and it is really incredible how many cows go through Greeley to become hamburgers. For more on Greeley's role in the meat industry/fast food industry, read the book Fast Food Nation as that will get you started. Greeley is pretty well-known for the problems of this industry, mainly the occasional stench, but for the most part this is rare. You can read more about my experience going through the slaughterhouse in this post.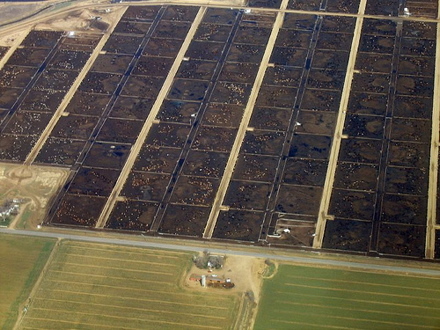 The Black Part of the Picture is, you know what
Greeley's History
Greeley was originally named Union Colony and was founded as a Dry Town meaning that alcohol was prohibited (it is no longer this way). They called this "Temperance" and it was part of the Utopian vision that they had when they settled. It is for this reason that Evans and Garden City were originally formed -so they could drink. It was named after Horace Greeley and one of the famous first habitants was Nathan Meeker for whom the town Meeker on the Western Slope of Colorado is named.
Current Demographics
Greeley is about 70% white and 30% Hispanic/Latino with about 10% speaking only Spanish. Even though there is a university AND a community college (Aims) in town, most college students leave town on the weekends to Fort Collins, Boulder or Denver where there is a better night life. Greeley is a fairly friendly city where people will smile at you or say "hi" as you pass them on the street. Most people are helpful if you ask for anything.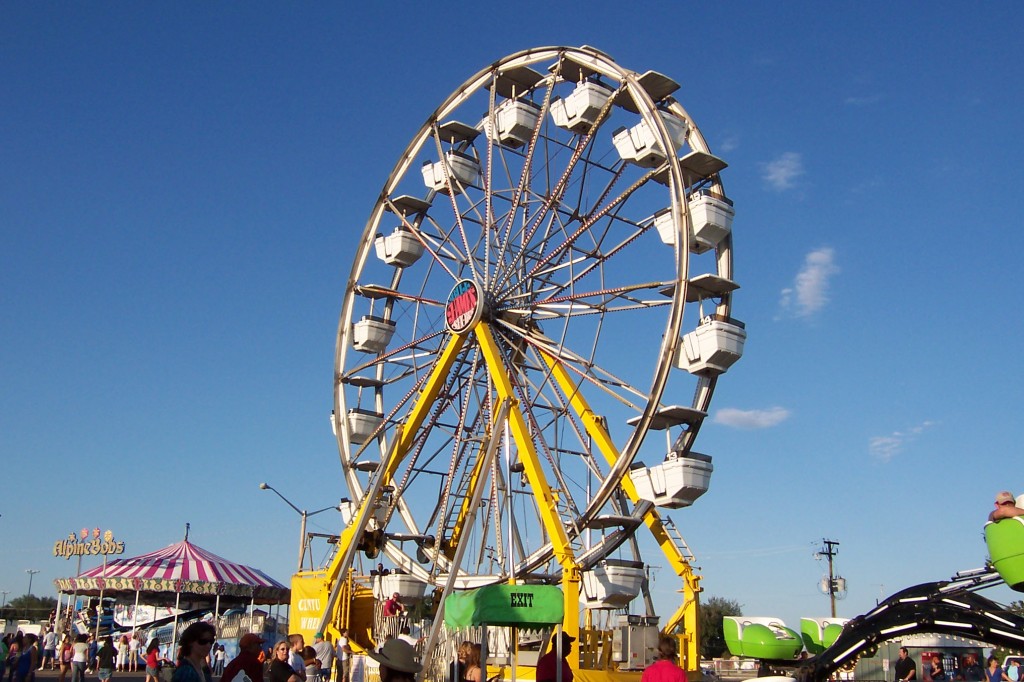 Events
Greeley's main event is the Greeley Stampede also formerly known as the Greeley Independence Stampede as it is the largest Fourth of July Rodeo and celebration in the US. It is about 2 weeks of carnival rides, rodeos, people walking around or riding horses with cowboy hats and boots, country music and rock concerts, food and fireworks. Most of Greeley can hear the festivities and see the fireworks over the Stampede.
Food
Greeley is like most towns in that there are a lot of chain restaurants like Chilis, McDonalds, Starbucks, Applebees, that make it look like any other town out there. But if there is some distinction in food it would probably be the local steak restaurants and Mexican restaurants. Because this is an agricultural area with a focus on beef and a large number of Hispanic workers that come to work at the packing house, it is pretty easy to see why that would be. Here is a list of our favorite restaurants in Greeley, including our favorite menu picks and the approximate prices.
Weather
Like most of Colorado, Greeley is sunny more days than not, even in the winter. The winters can be pretty cold with a lot of snow and the summers can be very hot. It can also get pretty windy sometimes.
Secrets of Greeley
Greeley is the best kept secret on the front range or in Colorado in general. The cost of living in Greeley is about 75% lower than in Boulder for instance. Specifically, you can buy a nice 4 bedroom 3 bath house like ours with a million dollar sunset view of the mountains (check out our sunset view here) for about $150,000 whereas in Boulder this would cost anywhere from $400,000 to literally a million dollars. Living in Greeley, buying properties here and saving our money is truly what has allowed us to be able to save enough money to buy a house in the Caribbean tropics (here's our property in Rincon, Puerto Rico)!
Other secrets include that Greeley is a beautiful city filled with many parks and open spaces like the runner's park Josephine Jones Park, the gardener's paradise Houston Gardens, the most enchanting Glenmere Park and so many more.  It has all of the modern amenities that you could ask for in a city. The parking is free everywhere -even downtown! Compare that to Denver where it takes a long, aggravating commute and $10 for a primo parking spot!
Greeley is not pretentious at all. What you see is what you get. It is a bit of a good-ol'-boy, conservative town, but it is big enough that there is room for all types. You can make a difference here and have your voice heard, or you can opt out and remain relatively anonymous. To me, it is the perfect size. Not so big like Fort Collins, Boulder or Denver that you are just a number, and not so small like Nunn, Holyoke or Gilcrest that you feel like everyone is watching you. Greeley is a city that is an acquired taste, but just like most things in life it's 10% what there is and 90% of your attitude is towards it. Greeley will always hold a special part in our hearts and history.
For more info about Greeley you can visit:
Ten things I will miss about the great city of Greeley
Greeley Tribune, The local newspaper
University of Northern Colorado
Thanks for visiting, and let us know if you have a specific question!
bckauffman @ comcast.net (take out the spaces to send us an email)
Please enjoy our site and learn a little bit more about living in Greeley through our experiences in this blog.