Our niece and nephew wanted to hang out a little bit this weekend, so we decided to make a whole day of hanging out with family. The kids, my dad and family, and Britton's dad and family for Father's Day fun.
We thought we might go swimming since the forecast said it would be 92 degrees. It was a lot cloudier and cooler out than that, so we decided to just hang out instead. We picked the kids up and then went to a small tortilleria shop (La Espiga Dorada) for some barbacoa. We even taught Dawson how to ask for the food: "Dos paquetes de barbacoa". Barbacoa is basically some shredded beef, cilantro, limes, onions, fresh salsa and freshly made tortillas -either corn or flour. It was really good.
We stopped by our house and played with the chickens, weeded and hung out for a bit before we brought the barbacoa over to my parent's house and visited with Dad.
Then because we weren't going swimming we decided to go down to Glenmere Park. I think we've written about it before, but Glenmere Park is one of our favorite Greeley parks. It has a lake, some side ponds and streams, lots of trees, a gazebo, a pier, and all sorts of pond life like ducks, geese, lily pads and cat tails.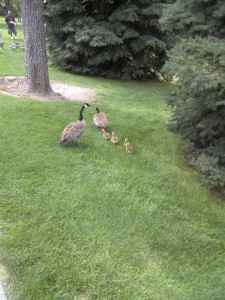 Look how sweet these goslings are!
Our nephew Dawson was getting a little rowdy with his sister, so Britton warned him that if he didn't knock it off he was going in the lake. Dawson just laughed and did it some more. So Britton grabbed him and put him in the lake! It was so funny. His shoes were squishing water out everywhere. But once he was wet, all he wanted to do was get back in! So much for teaching him a lesson -lol.
Then we decided to walk all the way over to Britton's parents' house (about 1 1/2 miles). We were still stuffed from barbacoa, but managed to eat a little more BBQ there. It was a fun day. Kids always make you see the world in such a different and refreshing way. Of course they can wear you out too!