This is a list of the best restaurants in Greeley, or at least they are our favorites. A lot of these you have probably seen mentioned in some of the posts before, but I thought I'd focus on them this time. Living in Greeley, Britton and I go out to dinner about once a week, so these are the top picks in our opinion. There are a lot of restaurants out there, and there may be new favorites in Greeley that we just haven't been turned on to yet, but this is the list so far.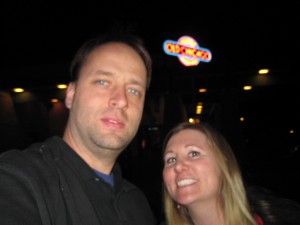 At Old Chicago in Greeley on Valentine's Day
We try to frequent the non-chain, mom and pop diners and restaurants more than the big franchises. The big franchises don't need any extra help with marketing, so here's our pitch for the best, non-national , non-chain local restaurants in Greeley, Colorado. I'll also include the price and my and Britton's favorite picks off the menu (we don't usually order drinks besides water, nor any appetizers or desserts except on rare occasion, so if you do, factor that into the cost).
El Charro -This Mexican restaurant has been around for many, many years. It was only about a block from the house in Greeley that I grew up in, so we would often walk there for a meal. It is still probably the closest restaurant to our current home, so we like to ride our bikes there in the summer. The larger meals can be in the $10 range, but we usually don't eat that much. I like the chicken chimichanga a la carte and Britton likes two beef soft tacos. This meal usually costs us about $12. When we do splurge on a dessert it is here with their fried ice cream that we share!
Roma -Although the name is Roma, most people around here call it Roma's. It started out as a small restaurant down by the college on 8th Ave where they played loud reggae music and served up pizzas and calzones or caroli as they call them. Now there is another restaurant on west 10th as well. It is a bit nicer and cleaner, but doesn't have quite the same vibe as the original. I like the taco caroli and Britton likes the supreme known as The Caroli. I also like the Nutty Idea -it has cashews and cream cheese on it! You can also build your own caroli or pizza from a long list of ingredients.  Ask for honey to eat any remaining crust for a sweet ending! And make sure you bring in the 1/2 price coupons too and you can get a meal for two with tip for less than $10!
Cattlemen's Steakhouse -My family, and especially my dad, really always liked Cattlemen's. That's why it was so neat to have his memorial poker party there. When they took away the salad bar for a while, it took a good part of the fun away. So many people complained that they finally brought it back. It is a little more expensive than some of our other favorite restaurants, but it is a steakhouse after all. I like the shish-kabobs or the pepper steak with the salad bar. Britton usually goes for the the cowboy steak. Total cost for the two of us without a coupon: $30-$35.
Pho Duy -This is new to Greeley, but already one of our favorite restaurants (and we tell anyone who'll listen about it, like our niece and nephew). For those of you who don't know what pho is, it is a traditional Vietnamese beef broth soup. They bring out a plate of bean sprouts, limes, thai basil, culantro, and jalapeño peppers. We usually order a medium bowl of pho each. I get the rare steak and Britton often get the brisket cut. When it arrives it is piping hot and filled with rice noodles, a few onions, cilantro and the meat. We load it up with all the fixings from the plate and enjoy a healthy meal for about $6 each. Make sure to get your card punched to get a free meal after 10 punches.
Canton Garden, Hunan and Wonderful Inn- Usually when we are thinking Chinese food these restaurants come to the top of the list. Both Canton Garden and Hunan have excellent lunch specials where for about $6 a plate you get rice, the main meal, soup and at Canton (but not Hunan) you get an egg roll too! We go to Wonderful Inn for take-out and sometimes an evening meal because it's close to our house. I like the spicy meals at both Hunan and Canton Garden (Szechuan chicken) or sometimes the chow mein. Britton likes mu shu chicken at Hunan and hasn't settled on a favorite at Canton Garden. At Wonderful Inn, I like the #1 or the veggie lo mein for take-out.
Los Comales or La Espiga Dorada -These aren't exactly restaurants per se, (they are tortillerias) but we love going to them for real authenic Mexican food. At Los Comales we get our fresh made local tortillas. They have even started making whole grain tortillas! They cost about $2 a package. We also like the tamales and always pick up a pack of 6 (for $6) when they are available. At La Espiga Dorada we like their weekend special of barbacoa. It is a package of tortillas, a container of shredded and seasoned beef, cilantro, onions and limes with a side of salsa. It costs about $11 and lasts us days. We like to grab it in the summers and eat it in the parks around Greeley.
Fat Albert's - We don't go to Fat Albert's too often, but it is a Greeley classic. Their most famous meal, and our favorite, is the Monte Cristo served with honey. They also have excellent homemade pies and an Irish motif. Total cost: $15-$20.
For restaurants that have chains outside of Greeley, but are not national in scope, here are a few we enjoy:
Rio Grande - This is the gathering place for working professionals and fun-loving young people alike. The courthouse is right diagonal from it, and there are a variety of bars down from it. It has a nice big outdoor patio and it is at the epi-center for summer musical events that we ride our bikes to. They are probably the most famous for their super strong margaritas. Britton and I both usually pick the chicken burrito. I also like their homemade salsa and chips. The margaritas are pretty expensive at about $5-$6 each and the chicken burritos are about $7-$8 each.
Old Chicago- This is another hang-out place where you go with friends to watch a game, shoot pool or just hang out. The food is not fantastic, but rather pretty decent bar food. We like the mini-pizzas with artichoke hearts at happy hour. I get one mini-pizza and a salad. Britton gets two mini-pizzas and a salad. Total without any beer is about $15.
Coyotes Grill- This is another fun place to go with friends. It has a nice outdoor patio and boasts southwestern cuisine. I really like the tortilla soup and Britton goes for a burrito or enchiladas. It's a lot farther than the Rio or El Charro, but we can ride our bikes there on 10th Street too. Cost for two people is $15-20.
And that just about covers most of the places we eat out at in Greeley. You may have noticed that Farmer's Inn is missing, but that is because it is La Salle, a town about 5 miles south of Greeley (at Farmer's I recommend the Mexican Hamburger at about $6). For chains, we like Qdoba, Chipotle, Subway and TCBY before they closed. We'll occasionally go to a chain like Chili's or Noodles but for the most part this list showcases the best Greeley restaurants, at least in our minds!
For those of you from the Greeley/northern Colorado area, what are your favorites? If you recommend it, we'll most likely try it out!  We're always up for new places. Thanks and Buen Provecho!