This was the first attempt to buy something in PR.  We learned a lot about the process of buying a property on the island. Unfortunately the title wasn't correct and or registered correctly.  We would have been taking a gamble to buy the property and would have had no recourse if something went wrong.   We wish Alwilda (the seller) and her family the best and thank them for allowing us to stay with them while we tried to work through those issues. While it ultimately didn't work out, they were wonderfully inviting.  She is one of the kindest souls a person could know.
If it weren't for our experiences with this first property we tried to buy in the deep jungle of Puerto Rico south of Lares, we wouldn't have had this great experience on our journey toward the property we now own in Rincon. So we post this here for "historical" purposes as one of the stops on this fun adventure.
————————————————————————————–
July 2008
The place we are looking to buy in Puerto Rico is a tropical farm, or finca in the Cordillera Mountains of Puerto Rico. It consists of 25 mountainous jungle acres that have already been planted with coffee, bananas, plantains, oranges, chironja, breadfruit, starfruit, yucca, pineapple, lemons, limes, avocados and many more that I have never even heard of before. There are three units. One is the main house with 3 bedrooms and 2 baths, and there are two small cabanas. One of them needs some work. It is on a river and has natural spring water. Compared to the semi-arid dryland of Colorado, it is a paradise covered in lush vegetation. Here are pictures. You can click on them to see a larger view.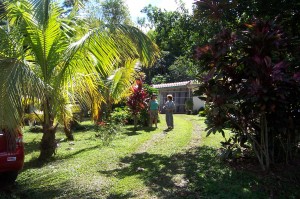 The main house with Awilda and Charlotte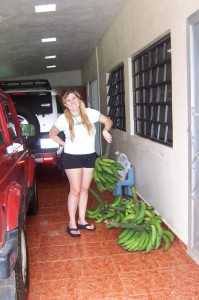 The Garage Area of the Main House with Platanos from the Groves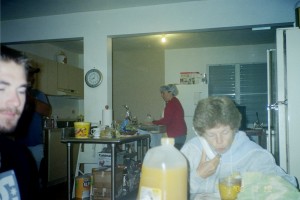 Inside the kitchen of the main house