Colorado is a nice place to live. We will always be tied to Colorado, as we are Colorado natives. We have nothing against Colorado except maybe the weather sometimes. I have heard it said, and believe it to be true, that Colorado has two seasons: Snow and Road Construction.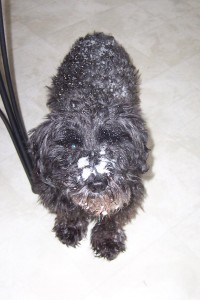 Schnoodle coming in from the snow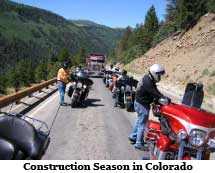 We also have another Colorado saying that goes something like this: If you don't like the weather, just wait and it will change. That is also very true because I have witnessed 70 degree weather days turn into 3 day-long blizzards with 20 inches of snow in a matter of hours. It is so unpredictable I am sure that being a weatherman here is a karmic torture for past-lives wrong-doing. A recent tornado in this area was not even identified until about 2 hours before it hit.
Overall, however, Colorado is a nice place to live. We have beautiful mountains, and the summers are just gorgeous. Of course there's snowboarding and skiing in the mountains in the winter and in the summer there are mountains to climb, rivers to raft and lots of bike trails everywhere. Colorado is a healthier, slimmer area than most any other state in the nation, and we have some of the best drivers. Education and employment is decent and most people are happy to live in Colorado. And we are too! It's just that we are ready for an adventure.
If we live until we are 99, we figure we will have given at least a third of our lives to Colorado and the lifestyle here and that is ok. That will always be a part of us. But we live on a planet full of opportunity and have more mobility as a species than any time in the past. Therefore, we will enjoy Colorado while we're here and when the time is right, the other parts of this great world as well. We will live a life transplanet.