What is so fun about living on a "vacation destination" is that you're already here! So when we go out to celebrate something like my birthday or our (10th!!) anniversary, we didn't have to go very far at all. We were just talking about how if we were in Colorado and planned a 10 year reunion trip to Puerto Rico in memory of our honeymoon that we took here, how much of a hassle that would be. Researching, buying tickets, getting time off, packing, arranging someone to take care of the house/animals, getting to the airport, getting screened, waiting, cramming in to the seats, waiting, cramming in again, getting unfamiliar food, finding a rental car and accommodations and then getting to the destination and fun that awaits. The reason for the trip!
Instead, now that we live here we just get straight to the fun! We just get in our truck and head out to the beach, small island (like Desecheo that we went to last year), waterfall, cliff, cave, garden or new restaurant/club/bar/event of our choice. And we get to know these places and people who live here (friends!) much better than we would if it were just for a week or two.
Here's how we spent a few special days on our "vacation" island we now call home.
For my birthday this year, we decided to keep it low-key and just spend the day at the beach and then go out to a nice restaurant that we've been wanting to check out for some time. First we stopped by our favorite little food truck: Jack's Shack which serves up local organic goodness. Then we headed to the beach. Even though it was a Saturday there weren't very many people out and we enjoyed the long sandy beaches of the Corcega area in Rincón.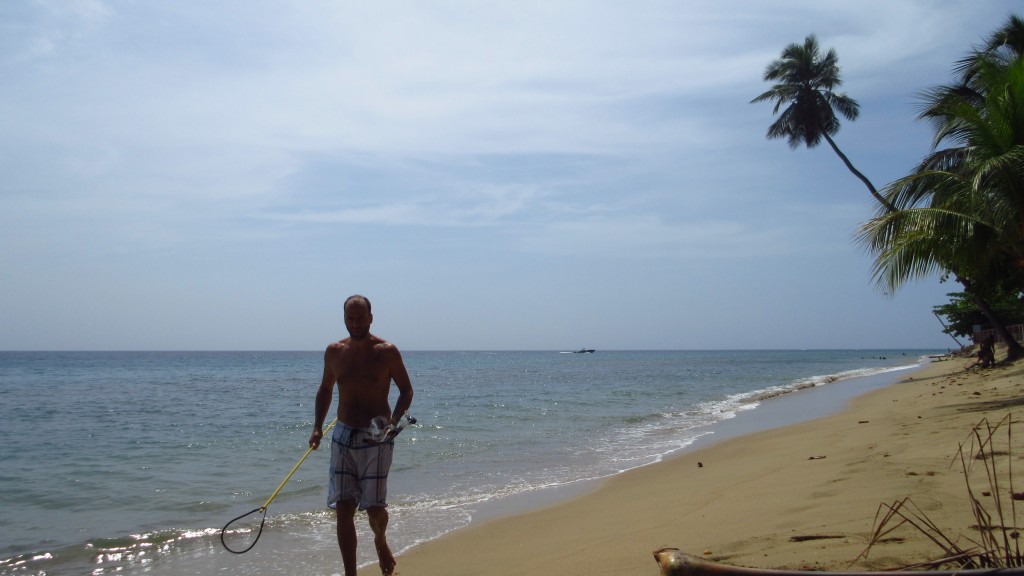 Britton even did a little spearfishing, though he didn't see much
We dressed up a little (hey just wearing clothes sometimes has become difficult with our new lifestyle) went out to Mahi Mahi in Añasco for dinner and I enjoyed, surprise!, the fresh caught mahi mahi AKA dorado. Then we went out to the little ice cream parlor in town called Tip Top. They even make some of their own ice creams with things like local mangos and tamarind.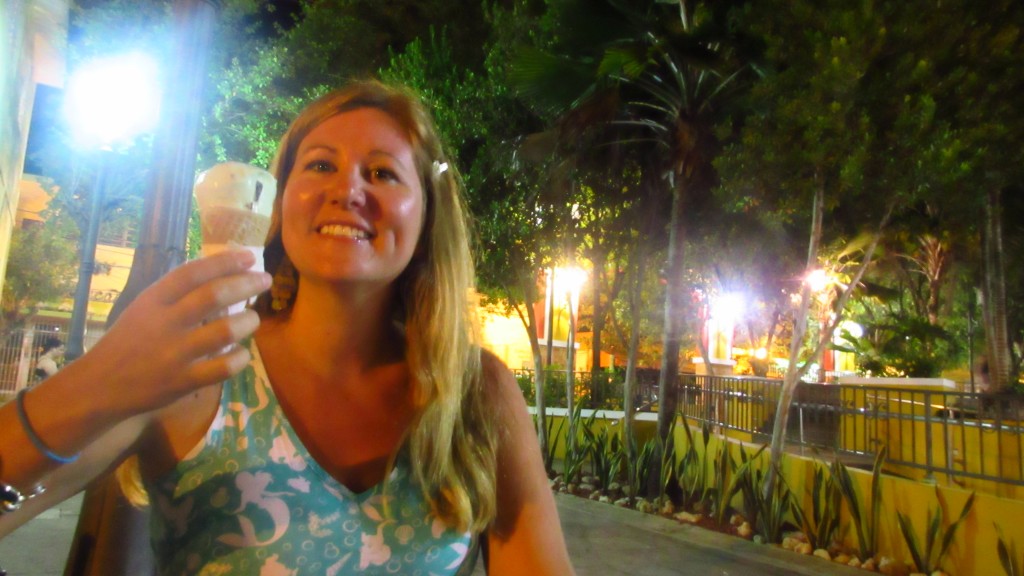 Mmmm ice cream in the Rincón Plaza!
Our friend Ariana also shares the same birthday as I do and planned another get-together at Borinquen Beach in Aguadilla as we did last year. Everyone brought something to the potluck and we were enjoying the day but the sky looked a little foreboding. People took a swim out to the rock caves and munched and talked. Then it started to rain a little…and then it dumped! We all huddled under the tiny little tent and laughed and thought that it felt like we were on Survivor, living outside in a torrential downpour. Everyone was soaked. We all shared towels and hugged each other for warmth. And it truly was just so much fun.
Next up was our anniversary. Ten years is a pretty big deal and we had thought that maybe if the cabin was finished we might throw a party, but that was just not in the cards.


2005-2015! Where has the time gone?!
So Britton and I decided to just enjoy another day at the beach and out and about. We spend a lot of time at our property (we love it!), so when we leave it always feels extra special. I wanted to go to a beach we either hadn't been to or hadn't been in a while. Maybe Table Rock? Crashboat? But we decided upon Tres Hermanos in Añasco.
This is a HUGE public beach with a nearly equally large parking lot. The whole thing is fenced in so cars can't drive right up to the beach but you can park along the road and there are little pedestrian entrances all over so you, or your horse, can walk right in.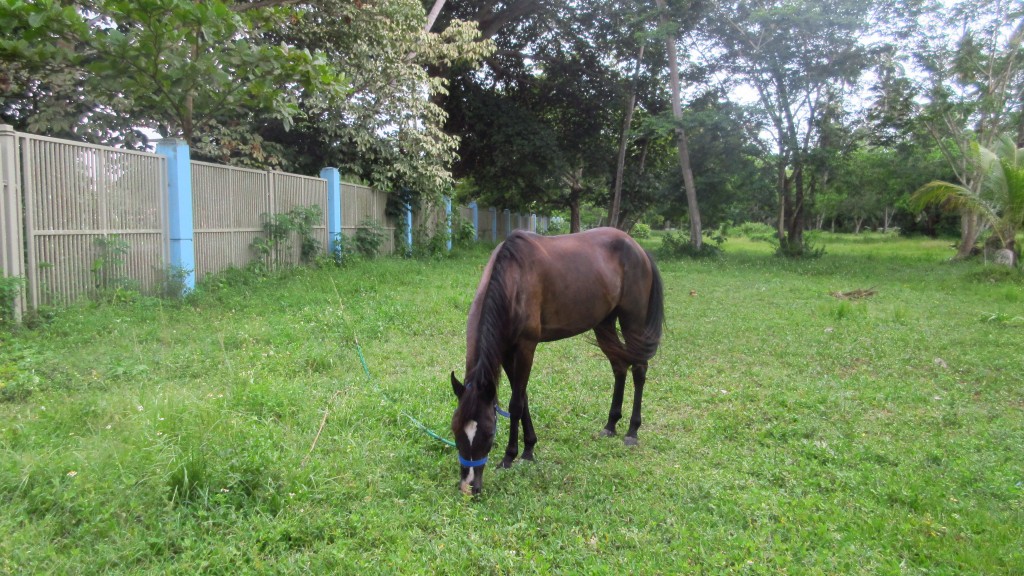 Tres Hermanos fence and horse tied with a hose
It was a cloudy day, but no rain. We hung out and swam for a while and took a walk to see this old boat. From a distance we thought it was possibly a ditched Yola from the Dominican Republic, but it wasn't.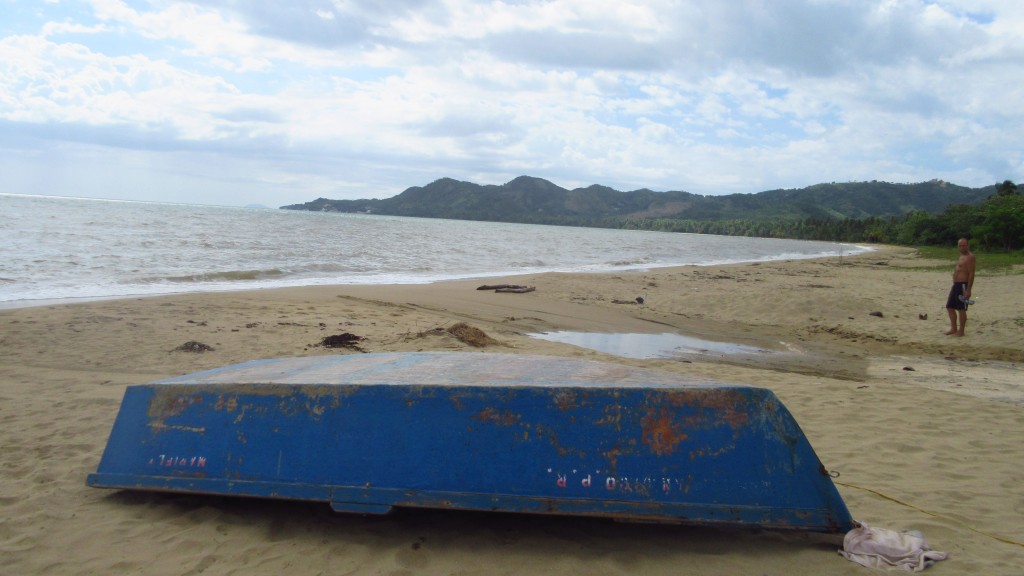 This beach is really cool because you can see the Rincón peninsula from a distance and it gives you that depth that you really do live on an island! Plus, there are tons of coconut palms!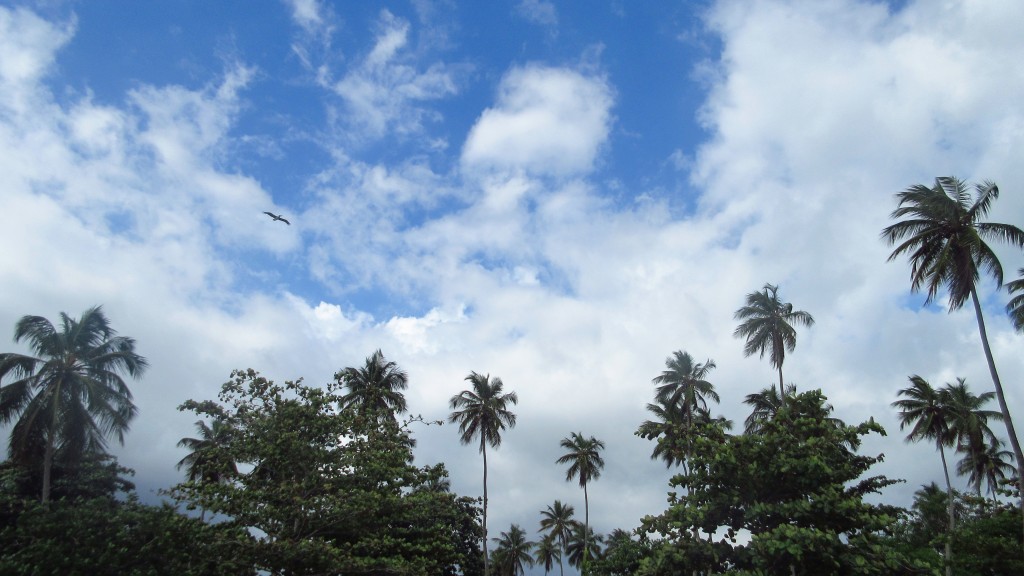 Pelican (I think?) soaring the palm-lined skies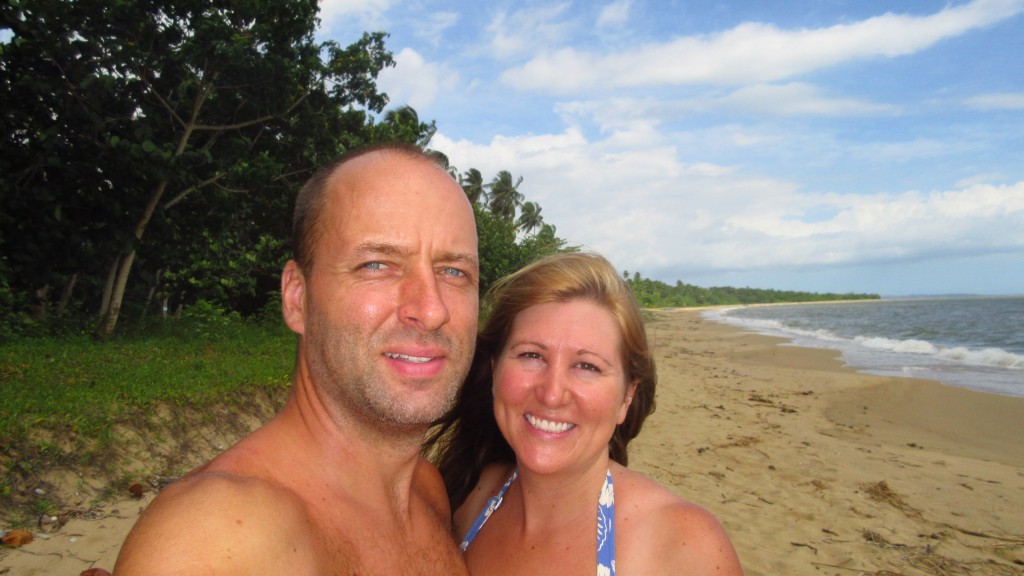 The obligate selfie at the beach on our anniversary!
Since it happened to be a Thursday, later that evening we also went out to the Art Walk in the Rincón Plaza, had dinner at De Bocas and saw a few friends. Art Walk is always the social event of the week!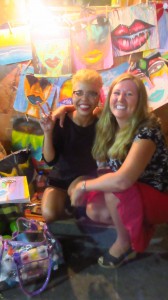 With my creative friend Jessika at the Art Walk
We love our never-ending summer vacation and on special days like these are reminded even more so how fortunate we really are to live here.