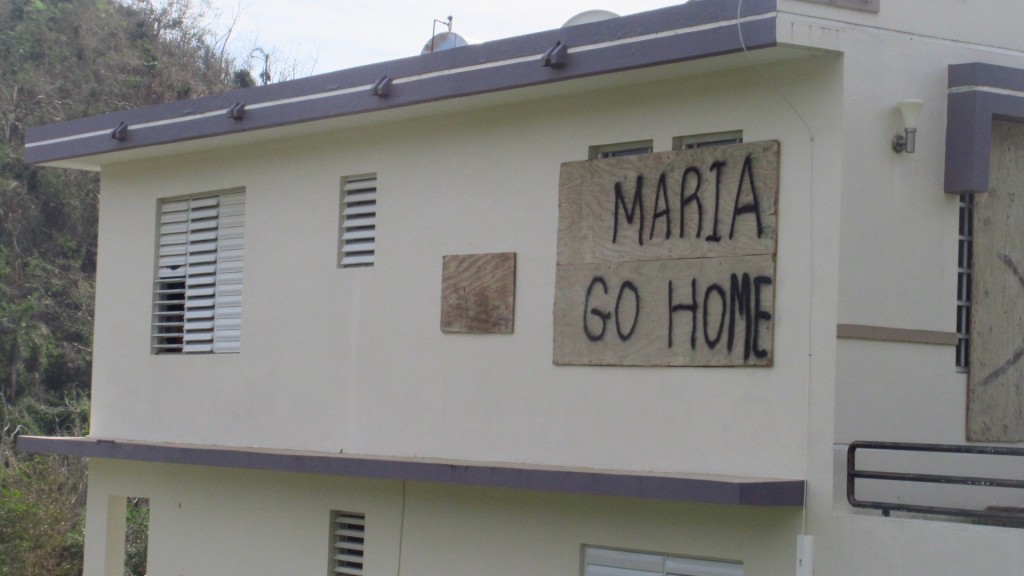 Here we are at the 3 week mark. It has become apparent that this state of living will be a long-term thing. The apocalypse life, or apocalife if you will!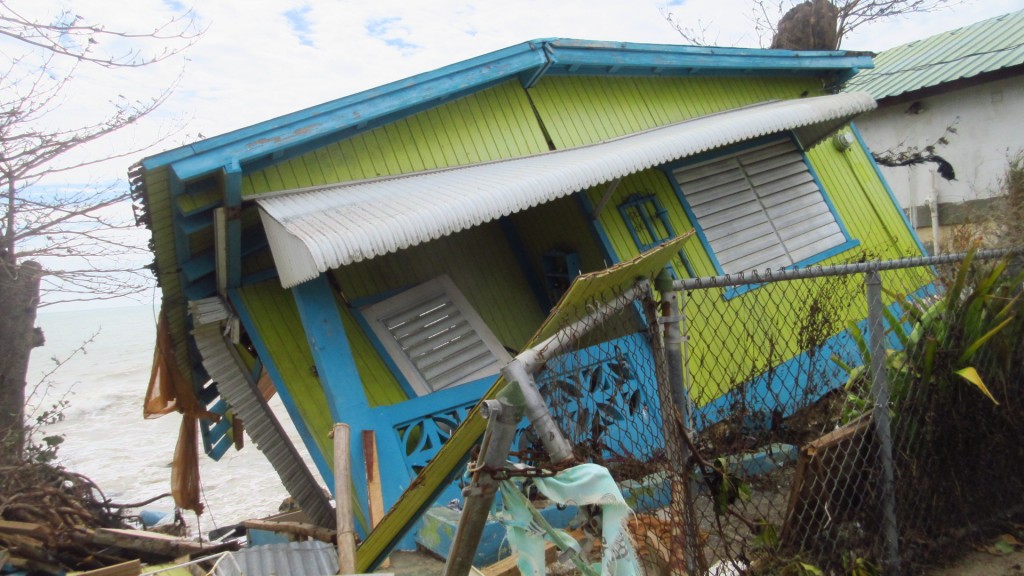 Some people try to prepare for something like this.  In zombie movies. The preppers. But it really depends if you are trying to prepare for something long-term or short. In this case, it is something in between. We know that EVENTUALLY we will have power and water and all the usual things in modern life, but when? That is the question. We know it will come back, but we have to live as if it won't. These are a few ways our life has changed to the apocalife.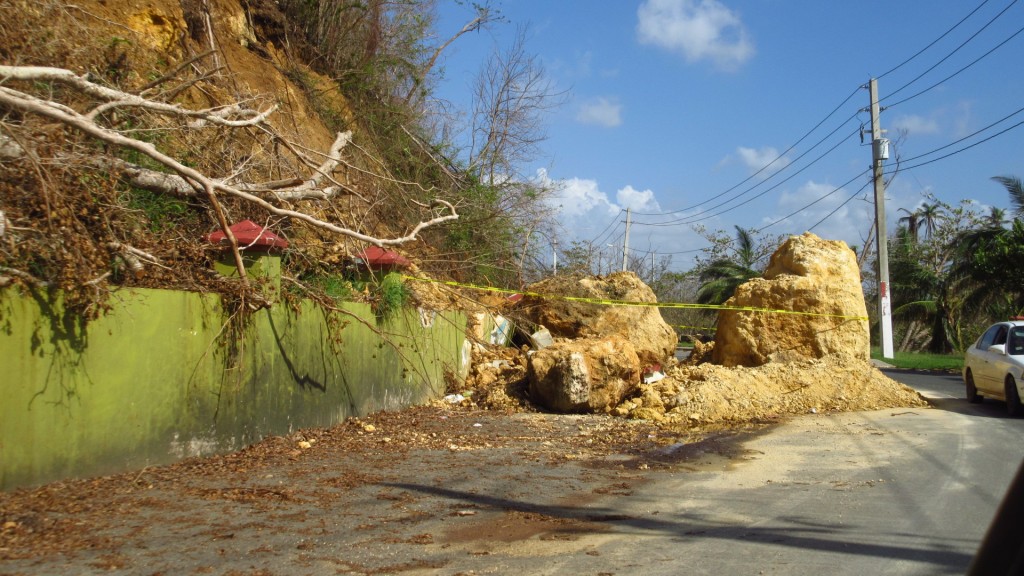 Landslides and falling boulders abound
Gasoline- In the early days there was little to no gasoline available. We had a full tank in our cars, generator and a two-gallon can. We used less than 2 gallons in the generator and about 4 gallons in the car in the first 2 weeks. This was a smart move because the lines for gas were tremendous, if it was available at all. We walked to the nearest gas station with our can, but most days there was none to be found. We found how dependent we are on gas, which is not too much if you never drive and rarely use the generator. Gas now means movement in a car as well as electricity to our house. We need it to power the chainsaw too, to cut ourselves out of some very dangerous hanging trees and clear the property a little more. Now, gas is a lot easier to find, though it still runs out. At least when it comes, it comes to all the stations and there is not much of a wait.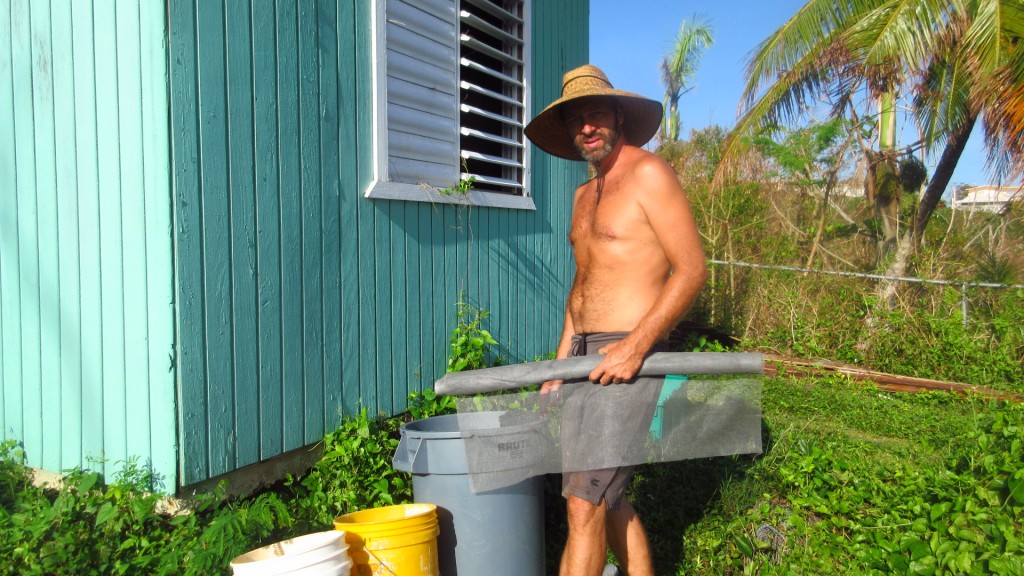 Britton screening out some of our rainwater before it goes in the cistern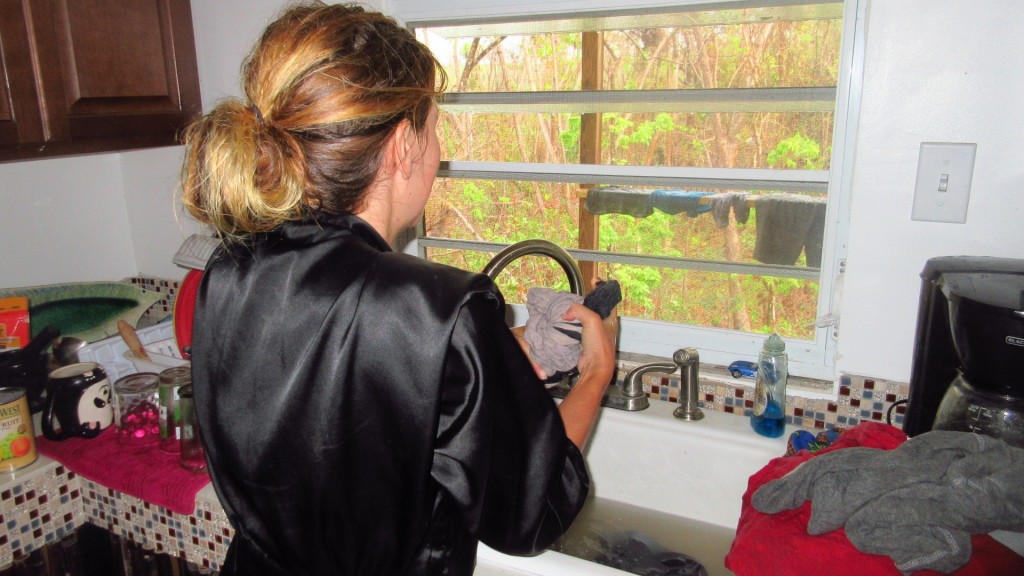 Washing clothes by hand during a rain storm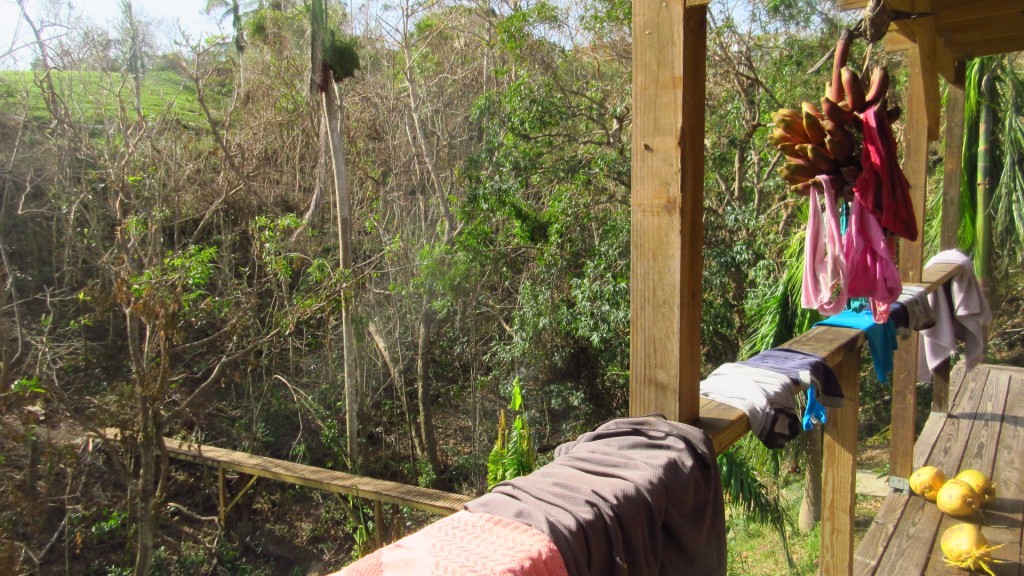 Hanging our laundry out on the deck and bananas!
Water- The 400 gallons in the cistern is going quickly. We have set up rain water catchment with lots of buckets and trashcans. Like gasoline, we have learned the importance of water. The non-potable water we use it to wash clothes by hands in buckets or in the kitchen sink, to flush toilets (if it's yellow it's mellow is now a mandatory rule!), to wash floors and counters, and take showers which have been outside in order to heat the water through the hose. We drink filtered rainwater as our main potable water source. The most shocking thing to me has been how much I took for granted flushing the toilet!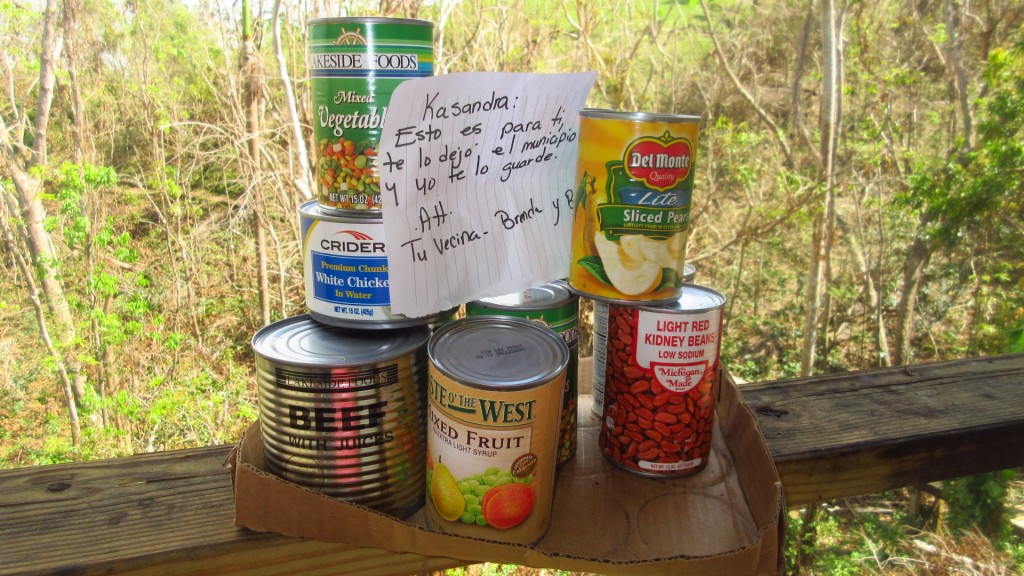 Our neighbor dropped off some FEMA food
Food- Many of our meals have a base in canned and dried foods. Fresh meat, fruits and veggies have become luxuries as well. There is virtually no meat in the stores and very little produce. Anything perishable is not smart to have around. All of our food goes in the freezer to chill the 1-2 hours that we run our fuel-efficient generator while we also charge our lap-tops, phone and other small appliances. We really appreciate warm and home-cooked meals! Really anything other than something straight from the can is amazing!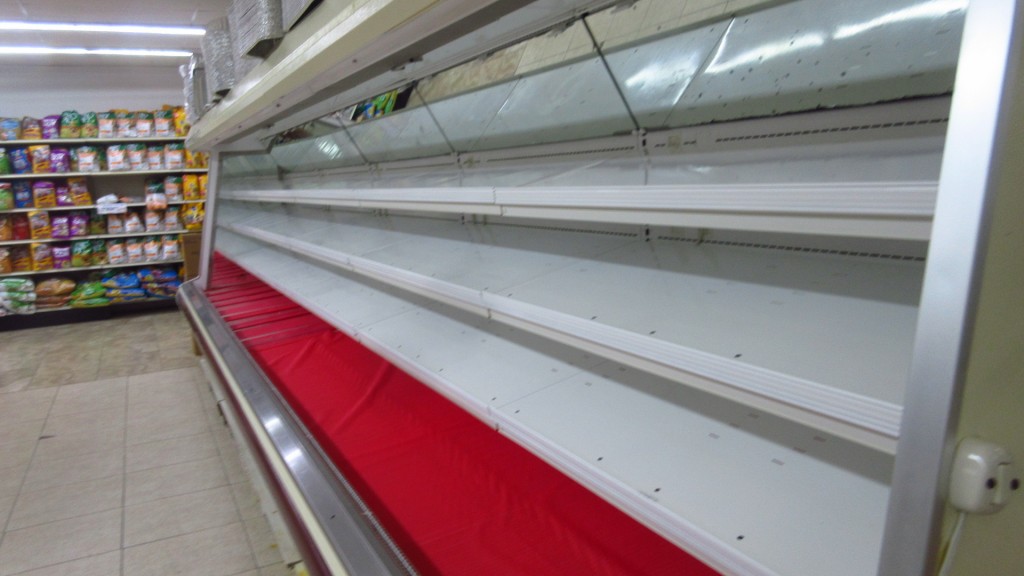 Empty freezers in the grocery store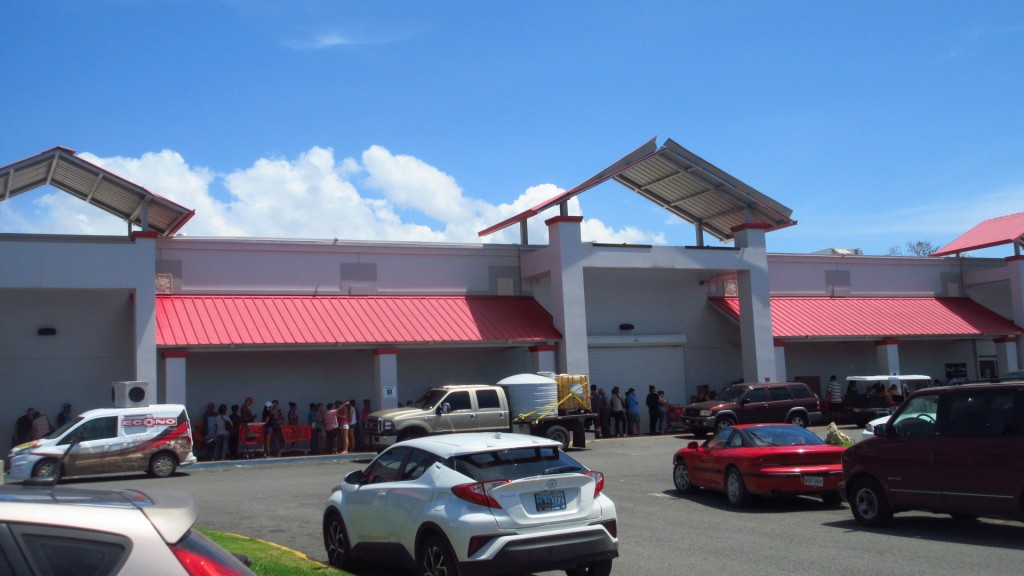 The lines to Econo have decreased now from this
Alcohol- Early on there was ley seca, the dry law. This law prohibits the sale of alcohol. People still drank at home and even in some small bohios, but the idea behind this law is to try to keep people somewhat sober and serious in a serious time. Similarly there was a curfew early on. First until 6pm then they extended it to 9pm and now I think it may be nearly gone. Without water or electricity or even gas to run a generator there wasn't ice. If there is no ice, a warm rum and coke is not nearly as refreshing. Nor is warm beer! So when we saw the first bags of ice being sold, there was much rejoicing!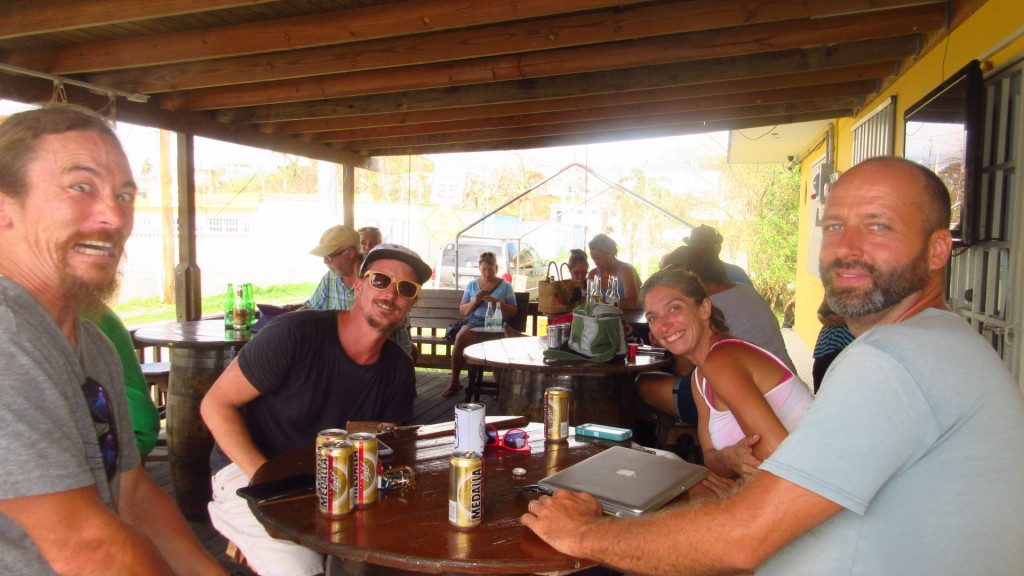 Internet and Entertainment- Internet is so useful for so many things. Especially entertainment. We downloaded some shows prior to the storm, but are running low on them. It's difficult to do much on a clogged system with everyone on it at once. We have resorted to books, card games, acoustic music, parties and get-togethers with friends as the main form of entertainment. There has also been a mass exodus of people and I think this tourist season will be the quietest in a long time. People who rely on internet for work and people who rely on tourism are both jumping ship. Like the trees in the hurricane, only the strong and protected will survive in this new environment. We call this the anti-cruise, basically we went from a gluttonous adventure to living without. We also "celebrated" our 4 years in Puerto Rico in a hurricane! We have basically wiped out the property back to not much more than when we started. Always an adventure here!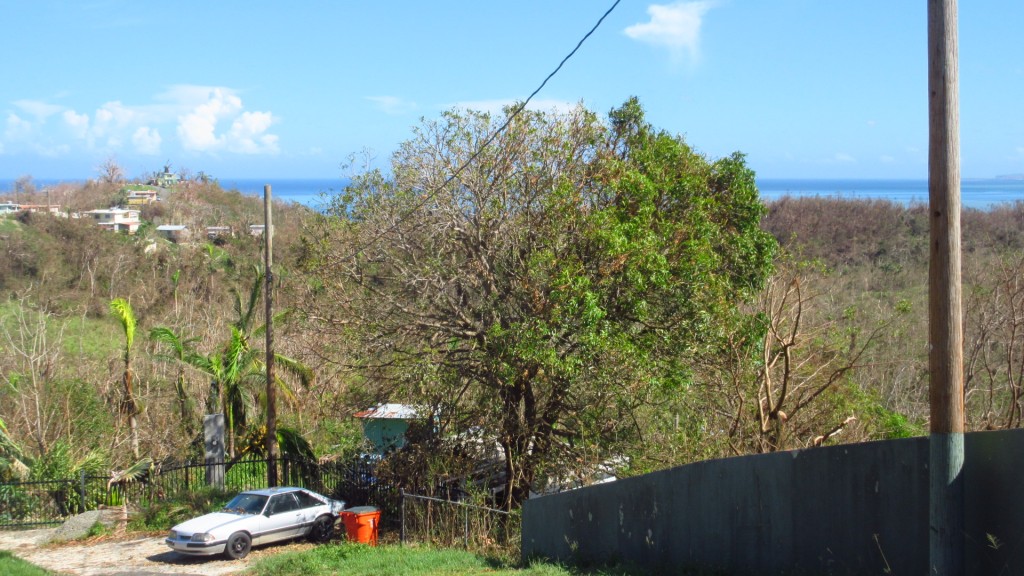 This mango above the cabana lost half of its leaves in the storm, but they are now coming back
It is not all bad though. I have come to appreciate quite a bit about this time. For example: Connection: though we have very unreliable internet and phone service, but have had much stronger connection face-to-face with friends and neighbors than I ever have. Yesterday I spent about 5 hours playing cards and compartiendo con mis vecinos. I have seen friends that are normally such hermits! Digital detox: Life is real. Really real. Maybe a little too much. What would have been an argument on Facebook may be an actual argument now but it is so much better than the hiding behind a screen. There is also no light pollution. The stars and lightning shows are incredible.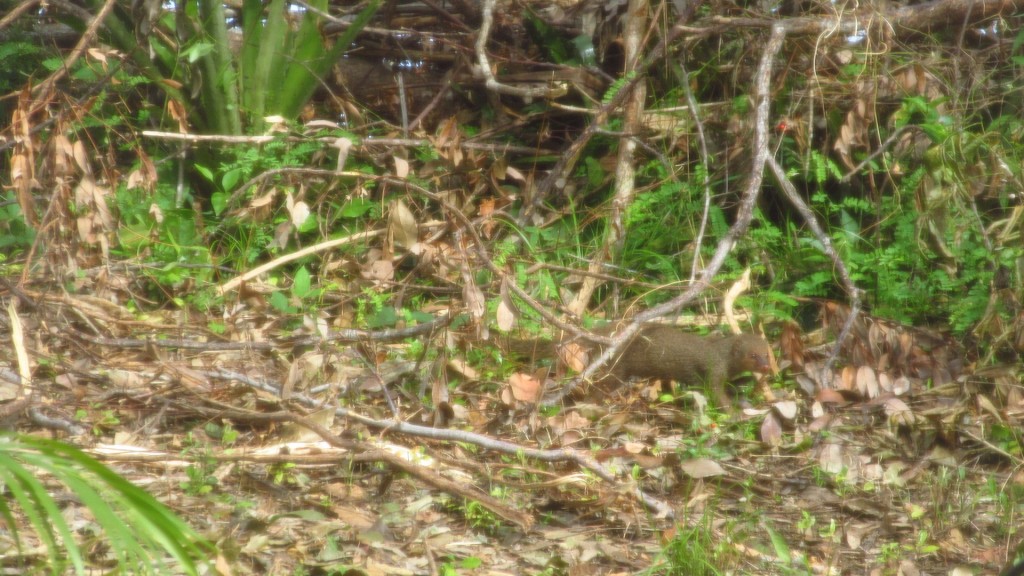 Mongoose

And I love watching the wildlife and nature as they sort through their new normal. There has been a sort of forced autumn with all the leaves dropping and a quick spring with many of the trees re-leafing and re-flowering. Bees and hummingbirds are scavaging, the mongoose have been fun to watch, and the iguanas are very territorial. Rain water: It tastes sooo good and feels so good to shower in the rain! Cleansing and clearing: the hurricane has a cleansing effect of both people and nature. Hopefully we will come back stronger than ever!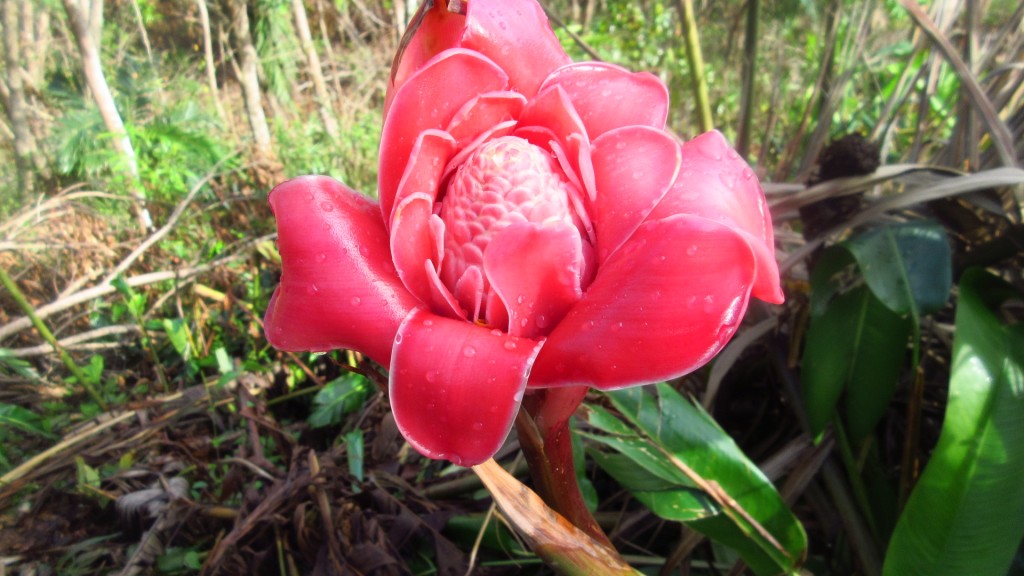 Even in apocalyptic conditions, the sun still shines and the flowers still bloom