I remember when we were back in Greeley, Colorado. We tried to replicate what we imagined our life would be like in Puerto Rico. We were both so excited about all the cool things we could do when we lived there. We had indoor coffee plants, mini citrus trees, even a banana tree in our living room! I looked for anything with Puerto Rico in it. Read lots and lots of books, blogs, articles, etc. We even had chickens against all convention and with a big fight because we knew we could have as many animals as we wanted when we were outside of the rigidity, rules and conformity of the states.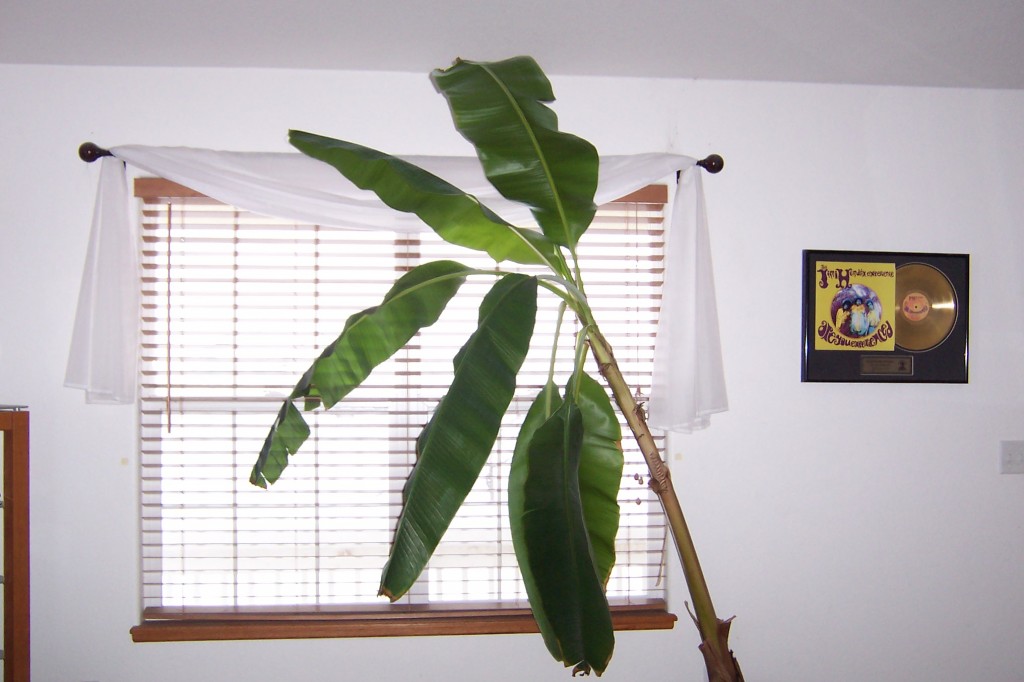 Seems pretty funny now…our Colorado indoor banana tree
We also tried cooking some Puerto Rican food. And it was an absolute failure. Not only is Puerto Rican food extremely difficult to find in Colorado (the closest thing I found was a Cuban restaurant in Denver), but even the raw ingredients were horrible! We could do rice and beans but beyond that, it was a complete loss. There are no breadfruits or traditional viandas in Colorado grocery stores, coconuts were basically rotten and we had absolutely no idea how to cook plantains. A good reminder to eat local-wherever you are! I remember one plantain we tried cooking. We couldn't even get the skin off it. We didn't know how long to cook it and so when we finally tried it, we were like…how did anyone think that eating these was a good idea?!

Our bananas growing now (outside)
So I suppose it's a good sign when plantains (and breadfruit and papaya and avocados and bananas and mangos) straight from your tree become part of your daily fare. I wasn't exactly taught how to cook with these things like a parent might to a child and I definitely would like to learn some traditional techniques, but when it is all around you, you learn quickly. Here is a video of a typical breakfast. Nearly all straight from our land.
Plantains (platanos) grow and look much like bananas (guineos), but they are considered a starch or main food group rather than a snack or dessert. Here they make all sorts of things with plantains such as tostones, amarillos, mofongo, empanadillas and many others. I stick with lightly pan fried amarillos. Amarillo means yellow and so unlike most other dishes which use the green plantains, I wait until they are yellow to cook them. They cook fast and don't need to be double fried like some of the others.
This is still very basic cooking. For one thing, we only have one single burner. And another is I don't know exactly how to cook some of the "fancy" things like mofongo, though I love to eat it! Con tiempo, con tiempo. It was fun preparing for our move, but there is really nothing like the real thing when you fully embrace it.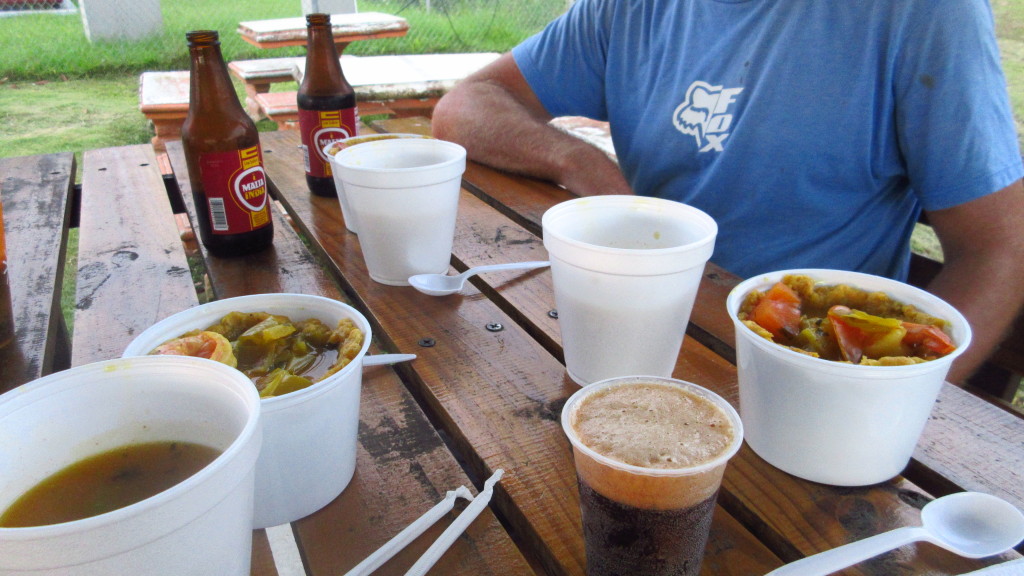 Mofongo relleno y Malta -something I never ate in Colorado but can enjoy any time here!
Growing, eating and cooking with plantains means we are adapting. Evolving. Becoming more Puerto Rican. And it is cool because plantains also have a cultural significance. La mancha de plátano or the stain of the plantain is considered a symbol of pride for the jíbaro, the Puerto Rican country farmer, who when cutting down bananas and plantains would invariably get banana sap on their clothing. This stain is nearly impossible to remove, like the love for the country itself.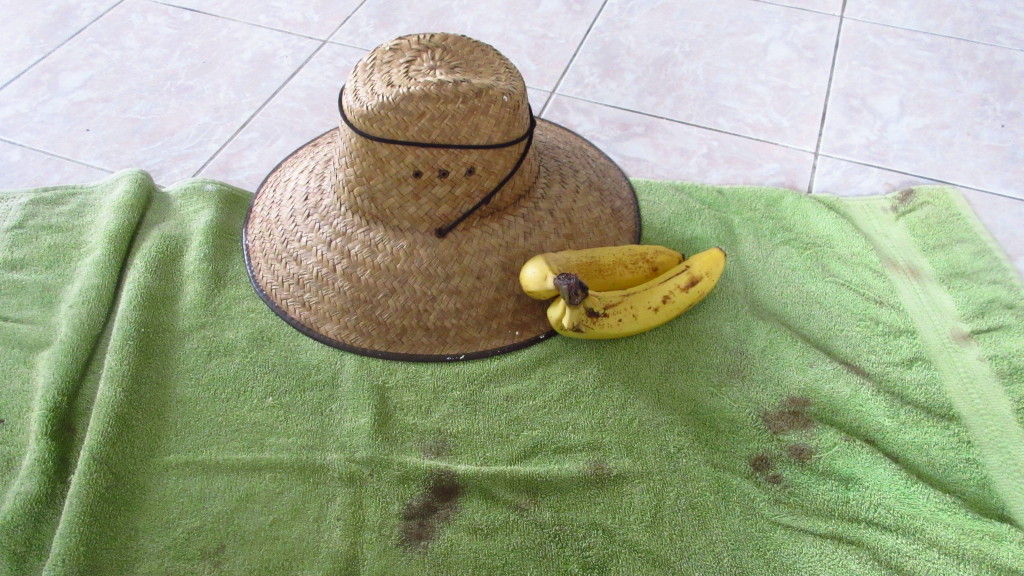 Plantain stain on a towel that we set plantains and bananas on after harvesting them
La Mancha de Plátano
Luis Lloréns Torres
(Translated by me)
Mata de platano, a tí,
a tí te debo la mancha
que ni el jabón, ni la plancha
quitan de encima de mí
desque jíbaro nací
al aire llevo el tesoro
de tu racimo de oro
y tu hoja verde y ancha;
Llevaré siempre la mancha
por secula seculorum.
Plantain tree, to you,
To you I owe the stain
That neither soap nor the iron
Can take away from me
Since I was born a jíbaro
To the air I bring the treasure
Of your golden corm
and your green and wide leaf;
With me I will always carry the stain
For ever and eternity.