In the states right after Thanksgiving you start hearing Christmas music on the radio. Lots of old stuff like Bing Crosby and Nat King Cole. And a few newer contemporary Christmas songs too.

Chestnuts roasting on an open fire

Sleigh Rides

White, snowy Christmases
We can tell a lot about a culture and traditions through its music. Those above are just a few Traditional North American songs about Christmas traditions, weather and food. There is a feeling of festivities, but not of partying so much. It's about family and gifts, of somber reflection, relaxation. Sometimes it's nostalgic or a longing for the family to be together since so many people live far away from one another. Many songs tell the nativity story. There are lots of songs about Santa Claus and Christmas trees. Also enjoying the snow and being outside in the cold or inside warming up near a fire.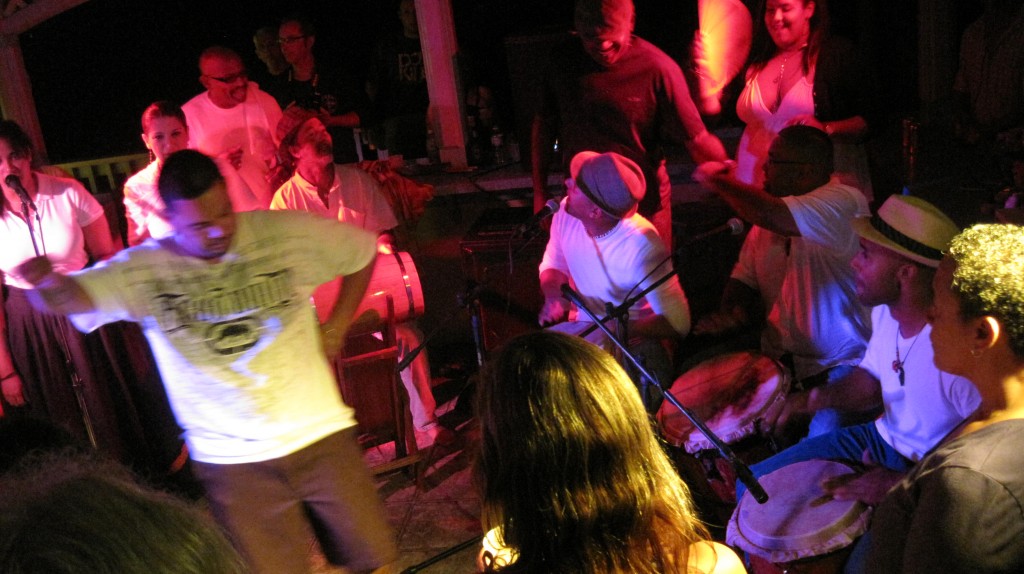 In Puerto Rico there is music and dancing outside all year long!
On the radio some channels are completely dedicated to Christmas music. The same thing happens here in Puerto Rico except that Christmas music, música navideña, is much different. And if you don't speak Spanish or know any better you might not even realize that this fun salsa music is, in fact, Christmas music.
It's not all salsa as you'll see, but a vast majority is. Here's just to give a little taste of what we hear on the radio nowadays at Christmas time.

Salsa! Lechón, lechón, lechón. Yes, pork, specifically a pig roast, at Christmastime is where it's at!

In Merengue style. Dejalo pa Enero means Leave it for January which is basically the motto for everyone at Christmastime. It's time to party and have a good time

Bachata style from DR. Singing about the Burrito de Belen -Donkey of Bethlehem

Esta Navidad. This Christmas. From a classic Christmas album by Willie Colon and Hector Lavoe. The whole album is a Christmas must in Puerto Rico
Christmas in Puerto Rico is anything but a somber time. It's time to party! It's time relax and have a few drinks. It's time to dance. It's time to be with family and friends and eat lots and lots of traditional Christmas food and drink like lechón, pasteles, morcilla, coquito, ron and more. And these songs reflect this. There's not much if anything about Santa Claus. Maybe the three wise men. But definitely nothing about snow. And only a few passing mentions of Jesus and the Nativity story.
Oh and don't forget that the classic Feliz Navidad is by José Feliciano, a Puerto Rican! After you've listened to all of these you can kind of see how this one song makes the jump and melds both the traditional American Christmas song sound and the party Christmas sound of Puerto Rico. We love Christmastime and the fun Christmas music of Puerto Rico!