A friend of ours recently posted a warning similar to this title. Shortly thereafter, we were working in the area under our newly found avocado tree and we spotted the tell-tale leaves. They are holly-like lined with spikes. The plants can grow small or long and almost resemble a viney tree.
I was careful of handling it, but then a small amount touched my leg. I expected a painful burn like the stinging nettles we also have in the yard. But no, there was nothing at all. No sensation whatsoever. I was relieved. I had expected either a pokey burn or perhaps to swell up with hives as I do when I touch sunflower plants. So I thought perhaps I was one of the lucky ones that does not react to Urushiol, the plant oil in poison ivy, poison oak, poison sumac, and Carrasco, this Puerto Rican poison ivy. We continued working without much thought again about the plant and cleared a nice sized area.
However, about two-three days later I started noticing rashes appearing in certain places, then more places. On my forehead, on my arms, on my hands, on my belly, on my back, all over my legs. I was covered in red welts. The next day they blistered up and then started oozing. They were super itchy and I sometimes just couldn't help myself but to scratch them. I tried every ointment and remedy I could find. Hydrocortizone cream, anti-itch cream, turmeric, zinc oxide and cocoa butter.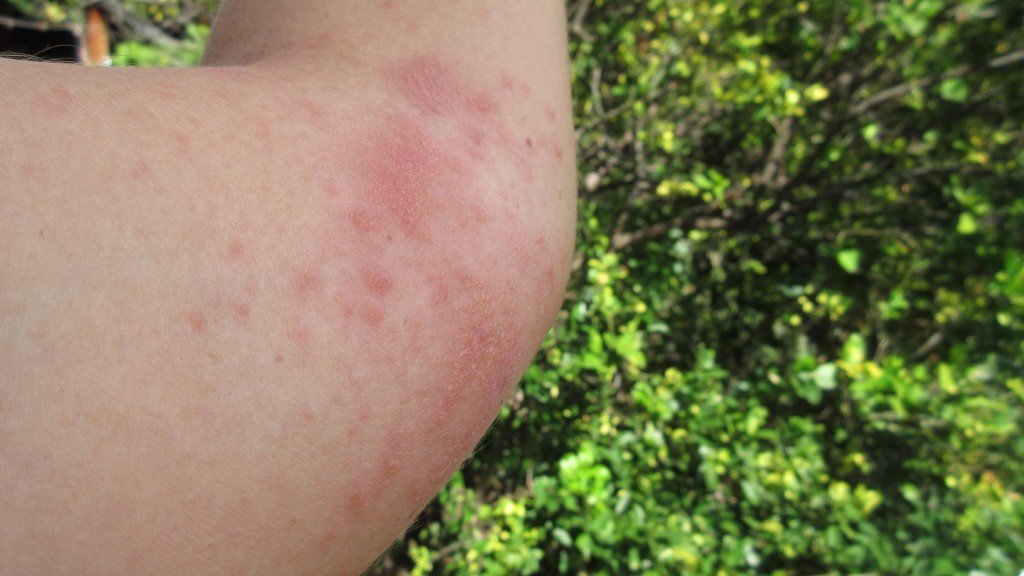 Of these, the zinc oxide was probably the most effective but really, I just had to wait it out. After about a week, they had lost the inflammation and started to scab and heal. Working outside in the jungle is a lot of fun and hard physical work. It is difficult to want to wear a lot of clothing when it is 80-85 degrees and high humidity, but if you see this plant, beware! I certainly will be much more careful the next time I do! Thankfully, it is not widespread like some of the other jungle discomforts (like the biting ants).
Urushiol, the active compound in the plant's sap can be neutralized with rubbing alcohol.