Long story short, today we bought a gua-gua.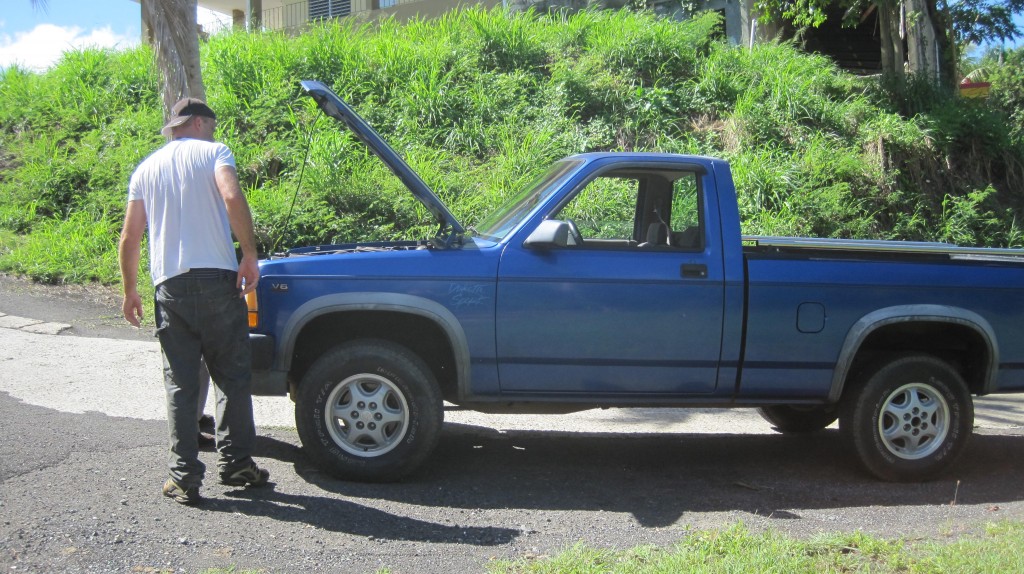 Now, here is the long story…
Yesterday we went to Mayaguez, the largest city on this western side of Puerto Rico, to run a few errands and also to start the search for a vehicle. We stopped at a couple of places, but really didn't see any small used trucks…what we quickly learned are called gua-guas (wa-was or wow-wows).  I had heard that buses and large SUVs were gua-guas, but didn't realize that pick-up trucks were until I said in Spanish that we were looking for a "troca" or "camioneta" and they said "Oh, si, gua-guas!".
Finally, we talked with one of the salesmen and he said that they didn't have anything except brand new gua-guas there on the car lot, but that he had his own personal truck that he would be willing to sell to us! He asked for our phone number, but we don't have one. Then, the motivated salesman offered to drive the truck over to our property in Rincon the next morning. Ok, sure, we said. We will be there working and hope to see you.
We sort of laughed it off and didn't really think we would be seeing him again. But I stuck around the property this morning, just in case. Britton is still trying to sort out the mail situation (another long story for another post), so he went down to the post office and then came back. The time came and went when the salesman was supposed to arrive, so we just started doing yard work. Suddenly, I looked up and yelled to Britton, "Blue Truck! The blue truck is here!" Then Britton dropped the weedwacker and we both went running to catch him -me with a pruner and Britton with the machete still in hand.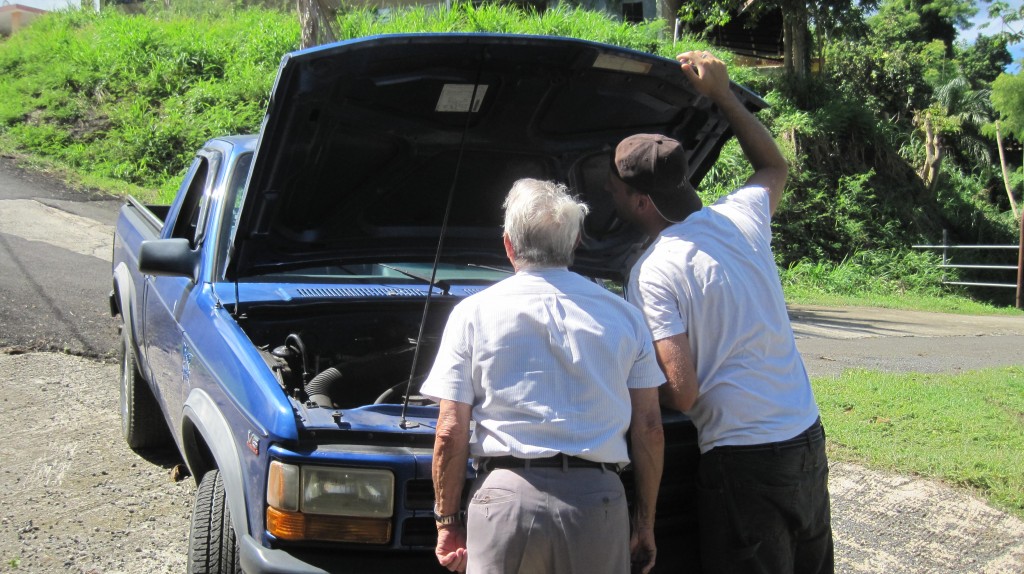 We managed to flag the salesman, Don Rafael, down. Then we inspected the truck and the three of us piled into it for a test drive. It was just about everything we needed except we were hoping for a slightly extended cab to seat people if we needed. It was also a little older than we had hoped (a '94 Dodge Dakota) but it only had 40k miles. So, we asked the price and he threw one out that was a little higher than we thought it should be. So we went back and forth a couple of times until we agreed on a number. Now came the exciting next 6 hours of the day trying to accomplish the task of actually buying the gua-gua…
The first stop was the bank (Banco Popular) to see if they would take a check from Colorado. They would, but it would be held for 5 to 7 days before the money would be available. Don Rafael thought if we opened an account that that would make it work, but the clerk said it would take the same amount of time either way. And wouldn't be available for 5-7 days. We thought this might happen, so we also had cash available and decided to just do a cash deal.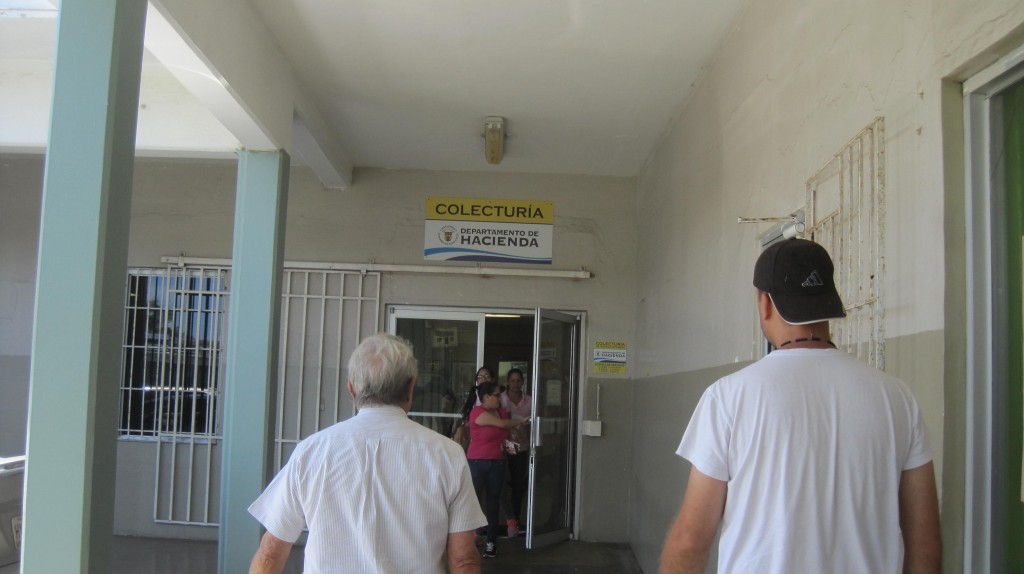 Don Rafael agreed to go with us to the Colecturia in Aguadilla to change the title over since we had no idea what to do for that. The title is basically the same as a title in Colorado, but you leave the plates on and the "marbete" also goes with the vehicle and must be renewed once a year. The marbete is a sticker that goes in the front windshield and acts sort of like liability insurance and registration. Because Rafael had recently paid the marbete, we won't have to do that until next July.
Anyway, we were off on the drive to Aguadilla to the Driver's Center. Rafael rode with us in our rental car and was our friendly navigator to the center that is hidden near the Ramey Base and airport. First we had to get sellos (stamps). Rafael bought these, so we are not sure exactly what they are for or how much they cost (around $10 we think), but apparently you need them before you can go change the title over. Don Rafael is over 60 years old, so he was able to go to the express line and didn't have to wait like everyone else in the "fila" (line). That was a nice benefit! I think we need to bring a senior with us anytime we have to do government business! Once we had the sellos, we had to walk over to the Driver's Center.
When we got to the clerk there, he said we had everything we needed (Colorado driver's license was fine for ID and social security card) EXCEPT we needed an electric or water bill. What? Why would we need an electricity bill to buy a car? They said it established the address that would go on the title and would be where they would send the notice for the new marbete. Can't we just tell you our address? No, we need something official. Well, we didn't have it with us, so what now?
We didn't even have one at home, so we thought for a minute and then came up with the idea to print one off from the electricity or water websites. Rafael checks with the clerk who thinks that would be fine. Ok, good. Now…where do we print that at? We also do not have a printer at home and we are in Aguadilla at this point, 30 minutes from Rincon. Hmmm. Rafael says he has a friend that works at the Rincon Coop (credit union) and he thinks we could print out the bill there. We asked if there was a Kinkos or Internet cafe with a printer or something, but Rafael doesn't seem to know much about the tech world, so we decide to go with his idea and drive the 30 minutes back to Rincon.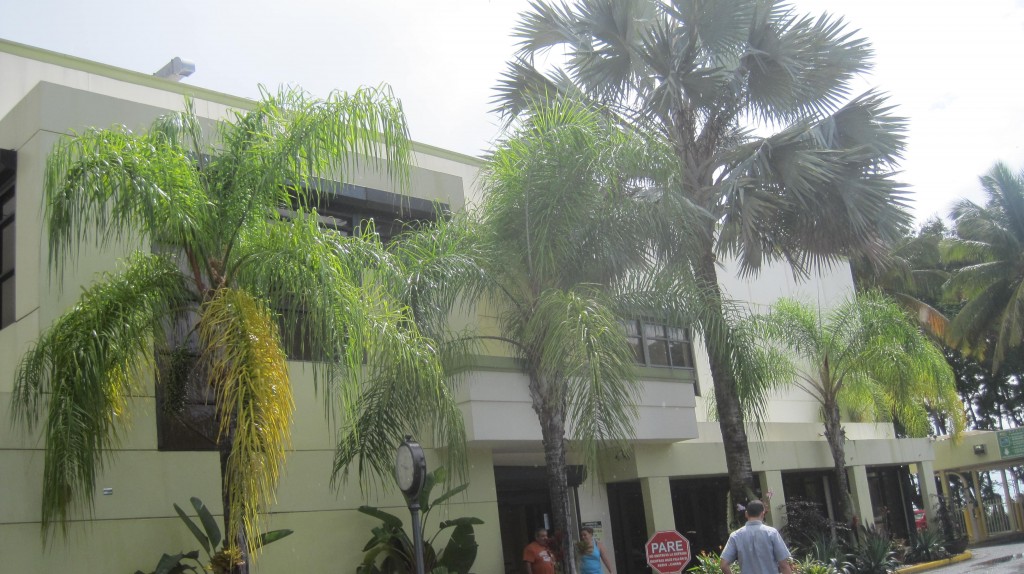 We went to the Rincon Coopertiva singly through the double locking doors only to be told that, no, they cannot let us use their computers to print anything, but that there is a little school supply store down the road that we probably could print from. So we walk about a block in the steamy rain, following the fast and agile Rafael as he leads us to the store.
At the school supply store, they were very friendly and we easily found and printed off a copy of our bills as well as made a copy of the driver's license and social security card. We also made a mental note of this store (Rincon School Supply).
Now we had to make our way back to Aguadilla to the Driver's Center through flooded roads and slow school zone traffic. I made use of our time and had fun asking Rafael all sorts of questions about Puerto Rico, his life, new Spanish vocabulary (for instance, they call cars "cajos" here whereas in Colorado in Spanish they are "carros", "chevere" is the best way to say "good", "guia" means drive not "guide", you need to watch out for "comejen" though I am still unsure what it is exactly and "limbers" are some sort of ice cream drink named after Limbergh).
Finally, we arrived and went through the express lane where the clerk said that what we had now was complete. In about 5 minutes the title was transfered. But, wait, the clerk said. Your mailing address is to Colorado. We need a mailing address in Puerto Rico. Ok, just use the physical address that is listed on the bill, isn't that why we went all that way to get the bill? We also told him that we are still working on the mail situation, and hope to have that figured out in the next week or so but we have only been on the island about a week. Finally the clerk relented and said that we just will need to come back some time before the marbete expires and update our address with a proper mailing address, not just the physical address.
We stopped by another Banco Popular branch to deposit the cash into Rafael's bank and then he asked to be dropped off at the Aguadilla mall. We grabbed a celebratory ice cream cone (after all that "limber" talk) and picked up the pick-up. The gua-gua is now ours…wow-wow is right.
….And tomorrow we make yet another trip to Aguadilla to drop off the rental car…lol.