This weekend we had a chance to attend a Quinceañera for a girl that used to be our neighbor.  They moved a few years back but they always make a point to stop by at Halloween and it's always cool to see them and how much they've grown!  Well the other week Lizeth stopped by and delivered an invitation to her 15th birthday (Quinceañera). I can't believe she's fifteen! She was just a tiny kid when she lived next door!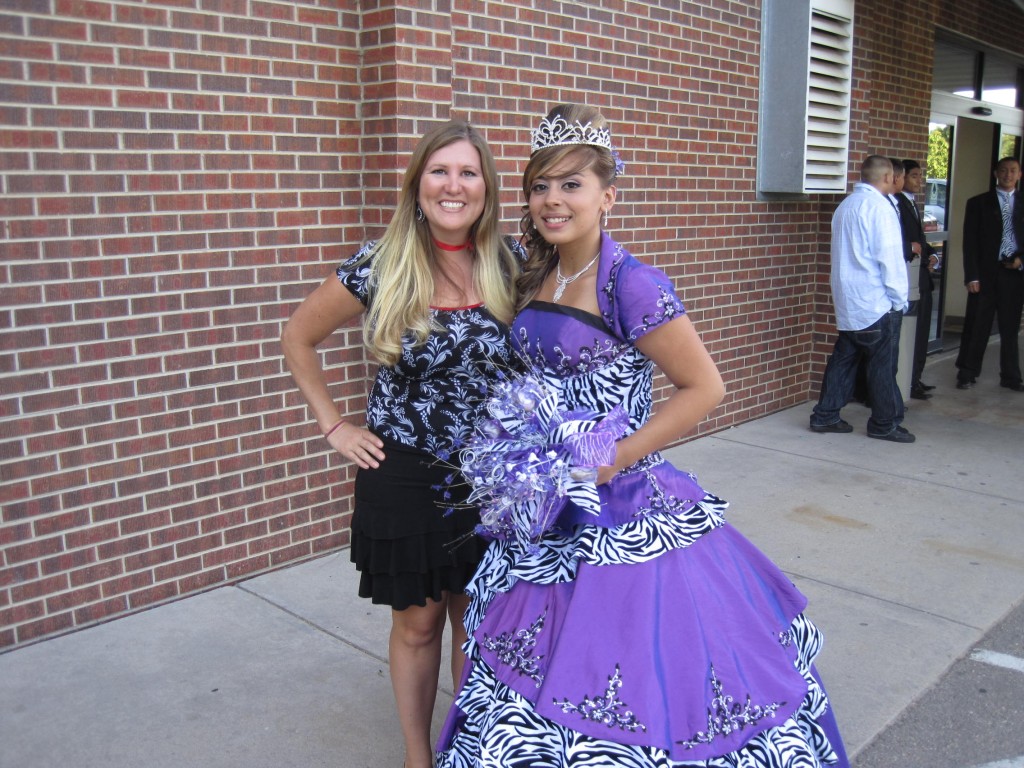 Cassie with our former neighbor Lizeth
It was held at Island Grove Park in Greeley.  There are numerous buildings out there that are used for a lot of different events.  There were actually two quinceanera parties going on at the same time in two different buildings. We accidentally went to the wrong one at first, but it was cool to see two different ways of throwing a similar party. Island Grove is also where the Greeley Stampede is held every year.
Living in Greeley has allowed me the opportunity to live closely with lots of people with lots of different backgrounds.  There are Russians, Germans, , Mexicans, Somalis, etc.  The Quinceañera is a pretty big Mexican celebration.  I hadn't ever been to one before.
I'd describe it like a wedding.  It's a pretty big production with lots of food, drink, music and dance.  The food was good.  Really good.  I love tortillas and meat and there was plenty of it!  In fact there were two buildings being used for separate parties.  From what I understand the whole family chips in.  Someone will buy food, someone entertainment, someone will rent the place, etc.  I imagine that makes these huge celebrations much easier to throw!  It would be pretty expensive for one person to pay for.

We got a visit by the Mariachi Singer that made Cassie turn bright red!
It was fun to see two different parties (Lizeth on the left and the other one on the right)

It really reminded me of a traditional American wedding -for one person instead of two.  Except instead of a garter belt they do a 'shoe change'.  From what I understand this is a change from 'flats' to 'heels'.  Traditionally in the past women weren't allowed to wear heels until after they turned 15 and started womanhood. A Quinceanera is sort of like an old fashioned debutante ball. Then they have chamberlains and dance. There are supposed to be 14 pairs of young people dancing together, plus the quinceanera (the girl turning 15) and her partner to represent 15 or in Lizeth's case, she just had the boys plus her.

After the traditional stuff, it is a big dance for everyone to join in on!