Well, it has happened once again. The first snow of the season. A blanket of white drapes itself over our whole landscape. Colorado is so strange. This weekend we had 80 degree weather. You would think it was summer if not for the  lack of leaves on the trees and the yellow coloring on those that remained. It was gorgeous and sunny. We went for a walk by the river and hung out outside. Then Tuesday we had our first taste of snow, but it didn't stick around.
Today I have the day off as it is Veteran's Day. So I slept in, nice and cozy. Britton still had to work, so there was no rush in getting up. When I finally roll out of bed it is WHITE. Everywhere. Cold, fluffy and white. A winter wonderland in Greeley. Kitty was sitting at the back door and so my aunt Laura (who is staying with us) let him in. He is an outdoor cat, but we are not that "cold" and so we let him in if he is being good. And he is. He loves warm soft spots, just like me. And that's where he ended up. On our bed curled up beside me.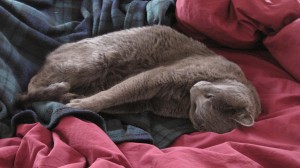 Kitty Snuggling up next to me in bed
Schnoodle, on the other hand loves the snow. She presses and nuzzles all around and in it and just gets completely covered in snow clumps all over her fur.
The chickens tolerate it, but they obviously don't enjoy it. How can you peck and scratch when everything is wet and cold? So they keep to the side of the house where the overhang protects them from snow. We had thought about moving them and their coop into the greenhouse for their winter home, but just hadn't done it yet. Maybe this weekend we'll do that. It stays relatively warm in there and they have a dry area to walk around on.
It's hard to believe that in just a few days Britton will be in Puerto Rico. No snow there. While it is certainly beautiful this shiny, shimmering snow, I think I could try a life without it in the tropics for at least a little while…