Today with Leadership Weld County, I went on a tour of Greeley where we discussed the culture of the area. It was a cold day, and even began to snow! We started the day at Centennial Village. Centennial Village is a museum recreation of what it would be like to live in Greeley in the late 1800s. They have moved in all sorts of old buildings like houses, an old church, a one-room schoolhouse, even a small train station. Inside of these buildings they have all sorts of artifacts from that time period. When I was a kid I was in a program where we dressed and acted like kids from 100 years earlier including using the slate boards to write.
We reviewed Greeley's history.  It was a community with a Utopian vision built on these values: temperance (these old no-drinking laws remained on the books until 1969 in Greeley!), religion, education, agriculture, irrigation, cooperation, and family values. In order to be part of the Union Colony, as Greeley was called at that time, you had to apply to come out and pay a share of money. Nathan Meeker was the main founder of the community, but his life ended unfortunately when he ended up getting scalped by American Indians. His house is still in Greeley as a museum as well.
Then we drove over to the Chamber of Commerce and walked to the Greeley Museum and learned about Rattlesnake Kate and her famous dress made from 140 rattlesnakes she killed, skinned and sewed into a flapper-style dress as well as hearing about other famous people in Greeley's history.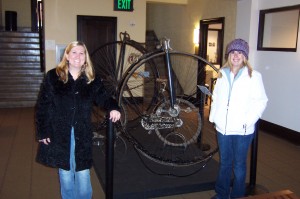 Me and Jamie with some old unicycles
Next on the tour was the Weld County Courthouse.  We got to see some of the architecture and heard stories of the ghosts that reside there including one of someone who was hanged out on the lawn of the courthouse. We also heard about drug court which sounds like a very good program that Weld County is proud to have.
Next up, we walked to the Union Colony Dinner Theatre, then off to the Union Colony Civic Center. This was quite impressive as we were able to go behind the scenes. We even got to go into the powder room that Lyle Lovett will be in tomorrow night. We climbed the catwalks and played with the spotlight. It is quite a thing to put on a show!
Overall, a lot of the information I had already heard, but there were some things, like the catwalk and some of the old courtrooms I had never seen or done before. It was really neat remembering how and why this area exists.