By Cassie
Saturday was a pretty fun day. We had to run a few errands, but then Britton and I went to an event sponsored by the local library district that was promoting Science Fiction in general and the book Fahrenheit 451 in particular. They invited Connie Willis, a local author who has written many sci-fi books and won lots and lots of awards including the Nebula and Hugo Awards, to come and talk about Ray Bradbury's book as well as science fiction and writing in general. Afterward, they had a book signing and Britton took a few pictures of us.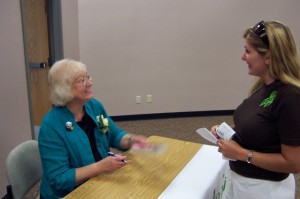 Connie Willis signing Bellwether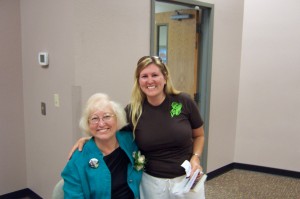 Connie Willis and Me
Later that evening we went out with Melissa and Alan to the new independent movie theatre that just opened downtown. It was pretty fun. We saw the new Woody Allen movie, Vicki and Christina in Barcelona, I think it's called. They serve alcoholic drinks and dinner, and you can eat dinner during the movie. The movie was so-so, and half the food order took FOREVER to come (I think Melissa's food finally came about half-way through the movie), but it was still a good time. I hope it is able to stay in business. Small, local businesses have a hard time thriving in downtown Greeley.
Afterward, we went back over to Melissa and Alan's place, chatted, drank more beer and watched the new Chris Rock show on HBO. It was a great night.