Things are going well for us here in Rincón.  We love living here more and more every day and we enjoy our new pace of life compared to our working lives back in Colorado.  We like to compare what we would be doing at any given time in our previous lives in Colorado to what we are doing here now.  There isn't usually any type of direct comparison.  The situations we find ourselves in are so drastically different and there wasn't any way we could have expected what it would have been like.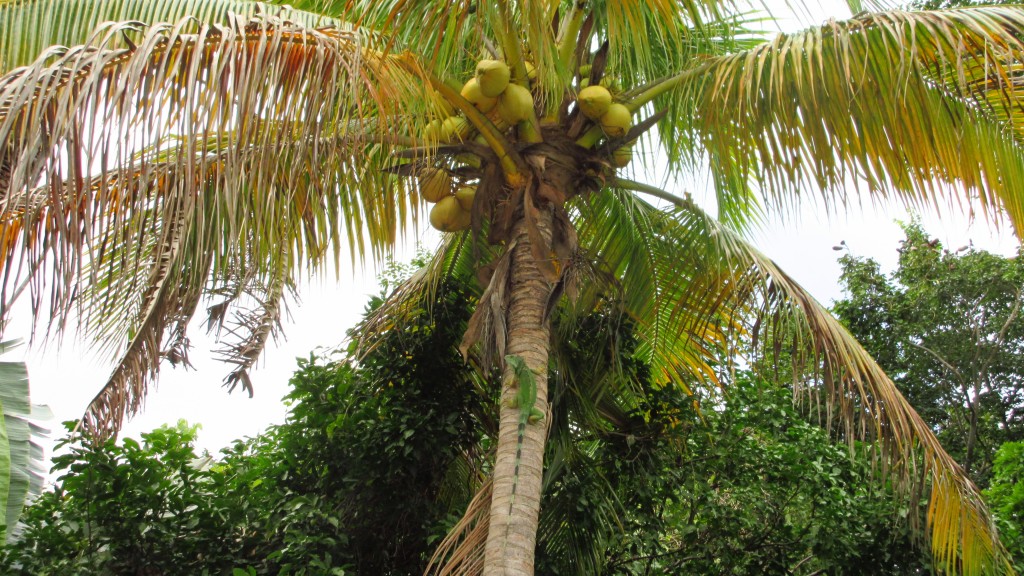 Lizards in coconut palms -things we'd never see in Colorado
We did try to prepare for things we could have expected before moving; we envisioned what it would be like, we tried to plan and prepare and learn ahead of time.  We even bought the property before making the move.  But when it came right down to it though we had to throw away at least 50% of what we had imagined it would be like.  Reality fills in those blanks and often times will either exceed, meet or not meet the expectations that we set.
We have found that expectations are very important to happiness in our lives. When you expect something and it doesn't happen it can lead to disappointment or frustrations, but when you expect too little, you may not shoot for the stars and go for your dreams. So there is a balance in there that is basically something along the lines of hoping for the best and leaving most expectations at the door while maintaining a positive outlook.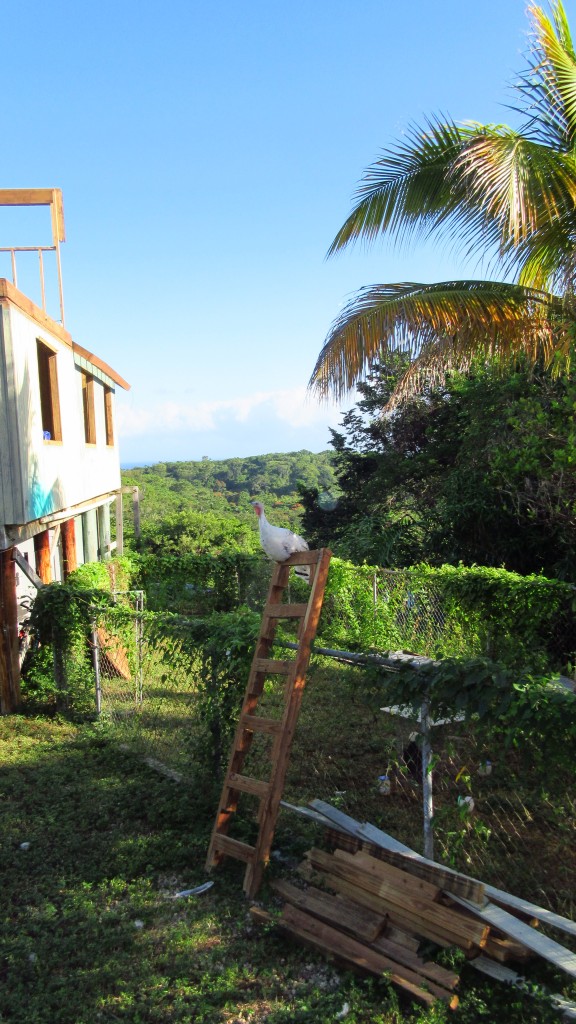 Are we all just turkeys trying to climb "the ladder of Success"? Or can we be content where we are?
We have had what some may consider very unrealistic goals for ourselves.  Retiring in our early 30s and buying land Rincón are just two of the major ones.  Since we have achieved both of those however, they have become realistic expectations.  I guess that is to say that if life isn't consistently meeting the expectations that you have, then maybe you are not being realistic?
Everyone has their own set of challenges and problems to work through.  It can be difficult at times to realize how trivial they really are, but sometimes after stepping back for a few minutes when facing a challenging problem it can been seen how most things in life aren't really that important in the end. We are all playing out roles that we have decided are important for ourselves. In our move here we chose to strip down to the bareness of what it means to be a human, as much as possible in this modern age. Things like giving up a telephone, internet and driving very often. And started doing things like eating from the land and learning a new language.  In doing so, we have found that most things that people worry about (including being constantly "connected", having the newest cool thing, rushing around, eating commercial food and even proper grammar) are just distractions from this crazy thing we call life.
They are conflicts for our life drama to try and solve, they are stories we can tell, they are a spice in life, but they are not that big of a deal. Even the biggest "problem" is really not that big of a deal. How do I know? When we look back at our biggest challenges of the past with even just a little bit of time in between after resolving it we realize it was pretty silly to have worried about it. Another sign of the triviality of life's ever present obstacles: Ever notice how unimportant other people's problems are to you (unless they involve you)? So when we face a problem we take it on as a challenge and don't expect everything to be perfect (whatever that is). We have learned  that when it comes to expectations, we can expect "unrealistic" challenges and so we try to take them on as a fun part of life. Of course, sometimes this is easier said than done, but it is a conscious choice that makes us happier.
"In the end, happiness is a matter of choice. Some people choose to be happy and others select a course that leads only to frustration and disappointment."
It seems also that when we seek out happiness, we tend to find it. Maybe that is why so many people who come to Rincon find happiness. Unrealistic expectations? Or is reality what we make of it?