When we first arrived at our property, we hadn't even walked the whole perimeter. When we finally did, we took a machete and a spider stick and just hacked our way along. We got lost multiple times. We looked for flattish spots to place our feet and eventually as we walked it over and over again, a few trails became apparent. This was true trail blazing. Since then, our trails have become more and more refined.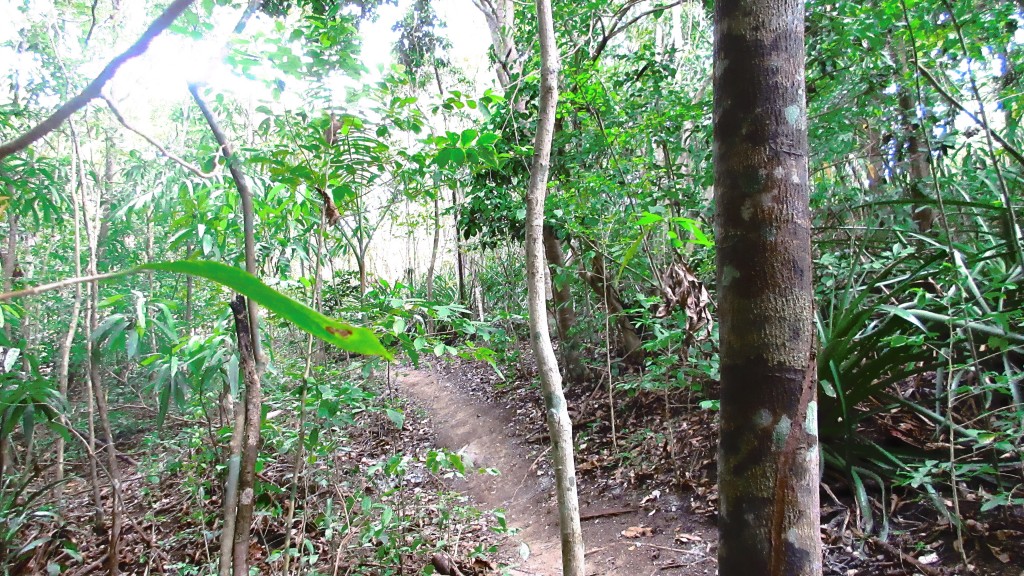 One of the more "raw" unworked trails
Most people would probably say that we should have built trails (or better yet, a road!) BEFORE we got started on the cabin in the woods. And that would make sense. But, we took the old wooden house down before we had selected the site of the cabin. So therefore we had basically set the timer on using the wood since it was sitting outside on the ground. However, since the shell of the house is basically done we are doing some of the trail building and access-work now, in between major projects on the house.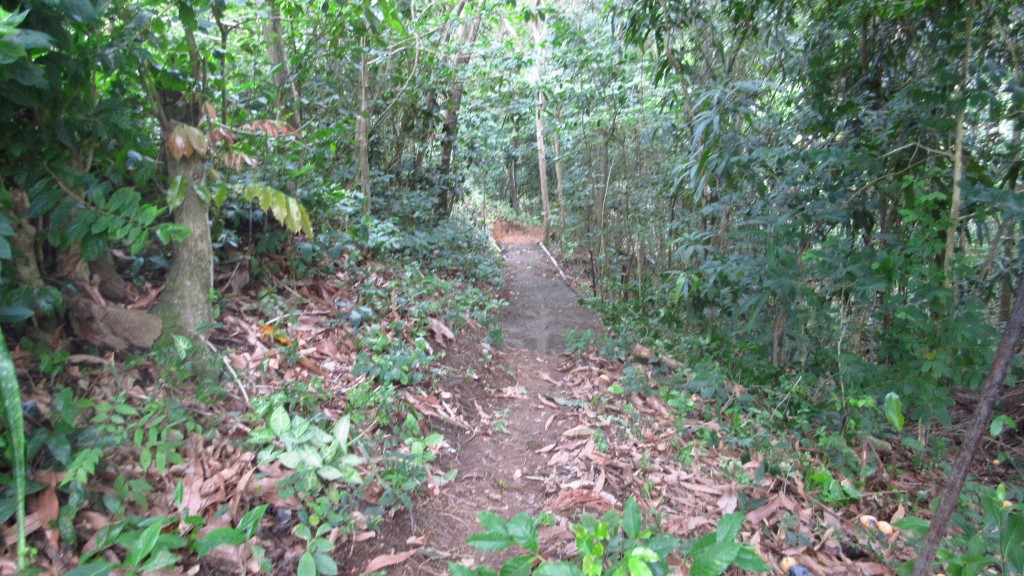 Single track path as it has been for a while that turns into the wider, flatter, more accessible trail
Building trails is important because most of the property has a slope to it and when it gets wet it can become super sketchy to walk on. Britton and I are used to slipping, sliding and occasionally falling, but if we bring over people who aren't, well, results vary wildly. Plus, when we live in the cabin and need to walk there in the rain with groceries or whatever, we're going to want to make it as pleasant and easy as possible.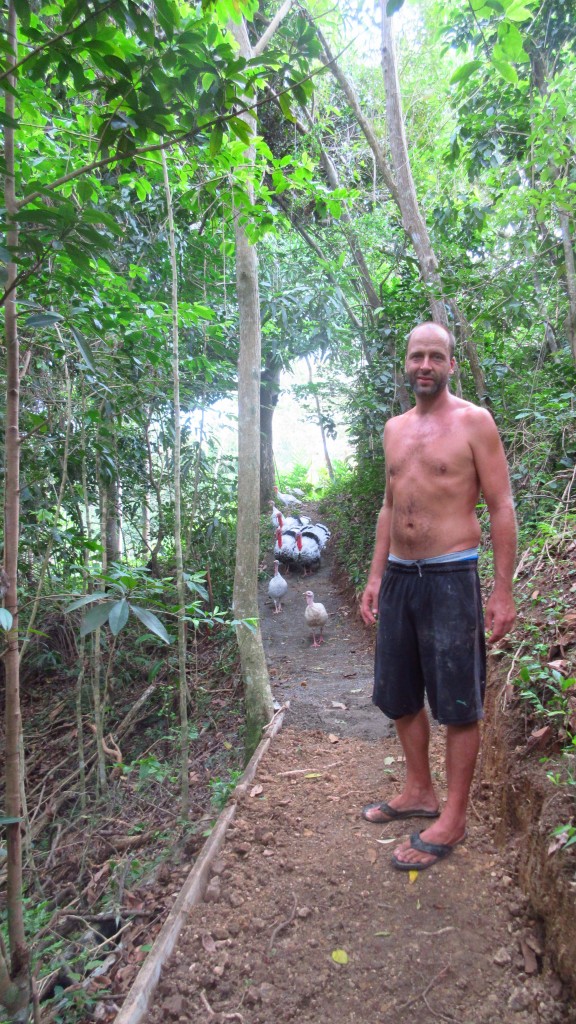 Britton standing on the newly flattened area and turkeys on the graveled area
Here's how to build a trail, or at least how we do it:
First, we bring over some of the wood that remains from the deck of the old wood house. Wood that is not structurally as great as the stuff we used to build the cabin but that will work for outdoor projects like this. They are about 12 ft long 2x8s. Then we stake them with some cut rebar. Next, we dig out the side of the hill a bit and flatten it to the wood.

Britton loads the arenon into the truck and brings it to the halfway point where he then wheelbarrows it over to the trail
And finally, we bring over some sand/gravel to pour over top. In the future we may concrete it, but probably just put pavers to keep it rustic.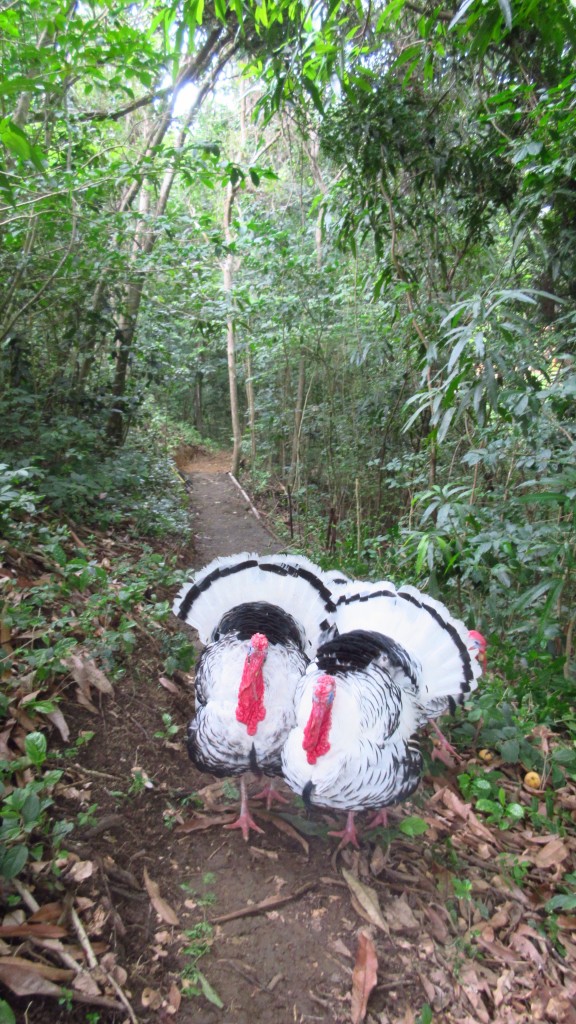 Turkeys are enjoying it so they can walk side by side
There are other parts of the trail that dip down with a more obvious incline and so we also have also learned how to make steps.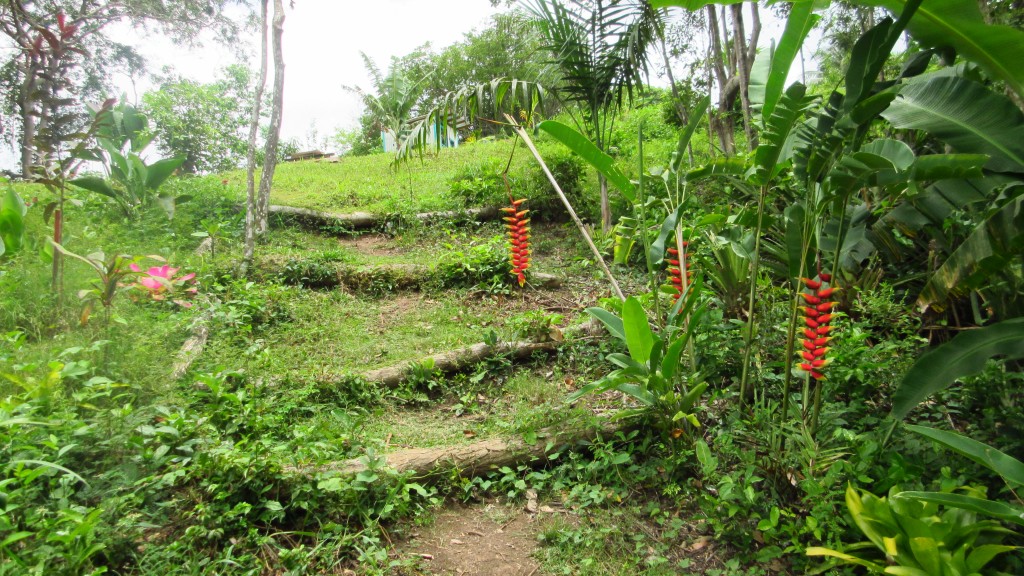 First steps we built. Need a little more work
Steps are basically the same idea except you want to keep the rise pretty standard at around 7-8 inches and the landing on the steps should be flat. Some of our first steps we are going to have to re-do a little because they slope downward and/or are too steep. They can be made with fallen wood, boards or cinder blocks.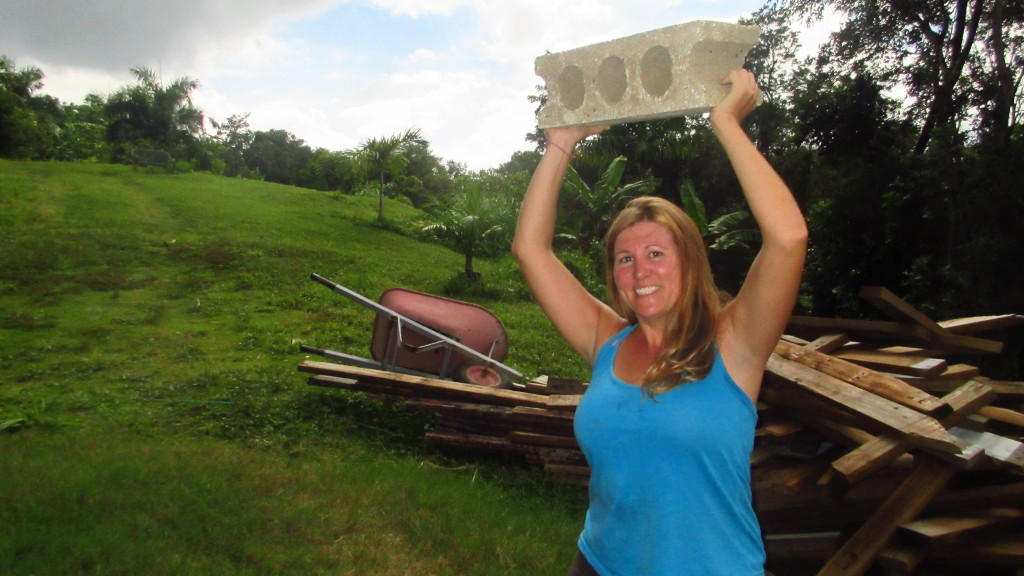 Moving cinder blocks for steps (with more wood to move!)
To make cinder block steps, just place them where you need (they are naturally about the right height for a step), place the rebar in the holes to stabilize them so they won't move. Then just back fill the top and inside the holes. Concrete them if so desired!

And, eventually, the biggest part of the trail/access to the cabin will be a bridge. It is actually not necessary since the quebrada rarely has any water in it, but it would cut out a lot of the up and down walking and we wouldn't have to make as many stairs. And if it DOES rain enough to have flowing water we wouldn't be without access (or have to wade through muddy water). We had been considering a huge suspension bridge that would be about 100 feet across the whole property, but now we are thinking of just a smaller 20 -30 foot span down below that could either be of wood or wire suspension. We are thinking of doing this once the exterior of the house is completely finished (with siding/windows/doors) but before we start on the interior.
Once the trail to the cabin is complete there are always lots of other trails to build throughout the gardens and jungle. And we love that we'll probably never truly be finished.