When the wood house take-down finished, two of the guys who helped in that project were interested in continuing with anything else we could give them by way of work. Well, around here there is always work, so we started talking about some projects we could put them on before we start the big ones (the cabin on the other side and the bridge).
So we tried to think of things we either didn't have the skills or motivation to tackle. We had them finish up a few things like plastering the new electric pedestal, taking out some of the fencing and general clean-up. Then I thought of one that is a bit of a luxury item, but something I have wanted since we moved in: Tile for the cabana shower stall! When we first moved in we painted it, but it was difficult to keep clean, the paint kept peeling up and it had little pink tile flooring.
So our team of Jorge and Waldemar (and us as needed) were happy to do it. The hardest part was removing the paint from the walls before mortaring. Paint is considered a bond breaker, so while it was a messy part of the job, it was necessary.
These guys did a great job and went above and beyond working longer than they had planned so that we would be able to shower soon. We only have one bathroom and it is extremely tiny so it was a challenge having all of us in there checking it out at various times. It's always tough living in a construction zone let alone one without any bathrooms (since the bathroom is the work zone)! But we all got through it just fine.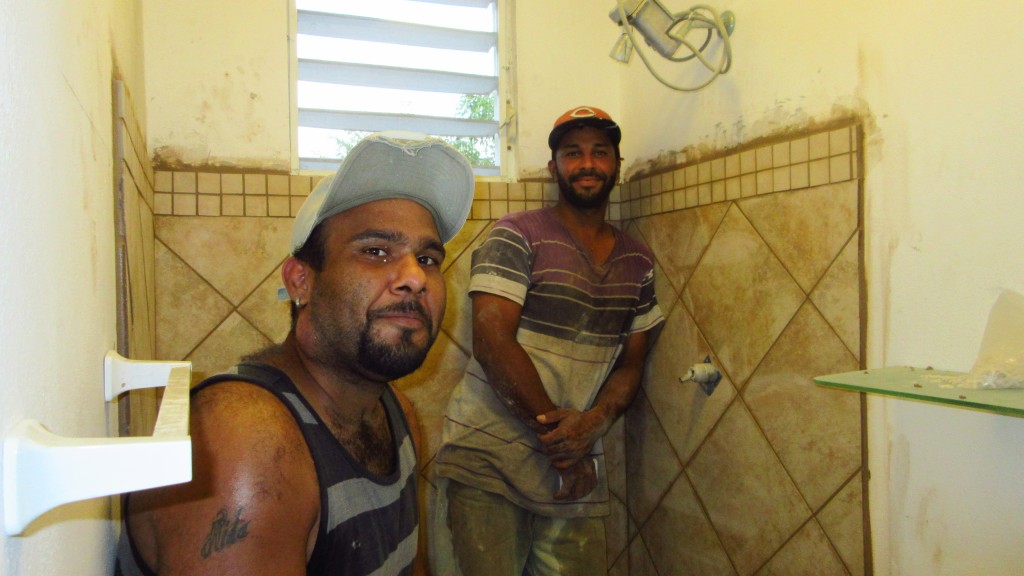 Jorge and Waldemar finishing up
Well, the tile, mortar and grout finished setting up and we were finally able to take a shower in there after 3 days and it was soo nice!