Our friend and neighbor Anthony invited us to join him in an adventure trip up to the Tanama River near Utuado in the middle of the island. He is a student at the Universidad de Puerto Rico en Mayaguez and he had off the week for spring break/Semana Santa (Holy Week) and thought this Friday would be a good day to head up there. He had the perfect vehicle for such an adventure: an old 70′s VW Bus decked out in all sorts of stickers and paintings including Taino and Puerto Rico symbols. When we saw it, we knew we were in for an adventure, but we had no idea how adventurous it would later become!
It was Good Friday (Viernes Santo) and there was very little traffic on the road. We wanted to pick up some supplies on our way up there, but many stores were closed. We stopped in Walgreens which was open, but they restricted the purchase of roughly half the items in the store. It was sort of bizarre which items could be purchased and which couldn't. I tried to decipher the pattern, but it seemed pretty arbitrary. The whole laundry detergent aisle was off-limts, but not the makeup. While we were hoping for a 12 pack of beer (yes, they normally sell beer, wine and even hard liquor at Walgreens -quite different from Colorado!), we at least managed to at least get 3 small tubes for floating in the river.
We stopped off at a local panaderia for a sandwich and at a grocery store for beer and ice (they apparently didn't get the same memo as Walgreens) and were on our way! The drive was beautiful and the air became a little more cool as we headed higher and higher into the island's jungly mountains.
We were planning on meeting up with some of Anthony's friends, but decided to start on the trek and meet them a little later. We found our way down to the river after having to cross from someone's private property. At first a guy wanted to charge each of us $2 to cross his land to the river area and then he changed his mind and just let us pass.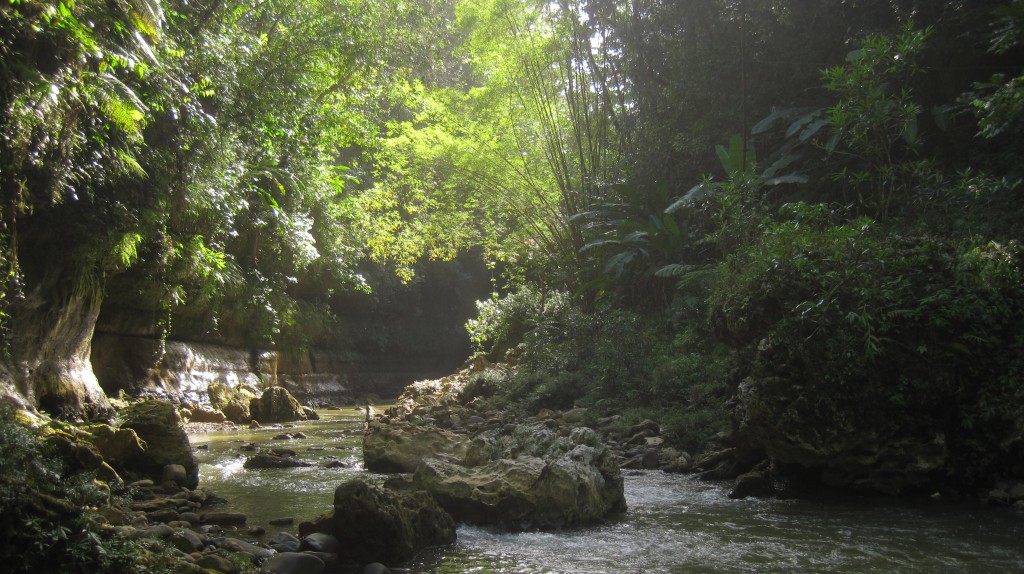 It was absolutely gorgeous and was at one point in history a sacred place for the Taino Indians that lived on the island long before the Spaniards came. While we didn't go to church or watch the processions of Good Friday I felt that we were in one of the most beautiful cathedrals of the world!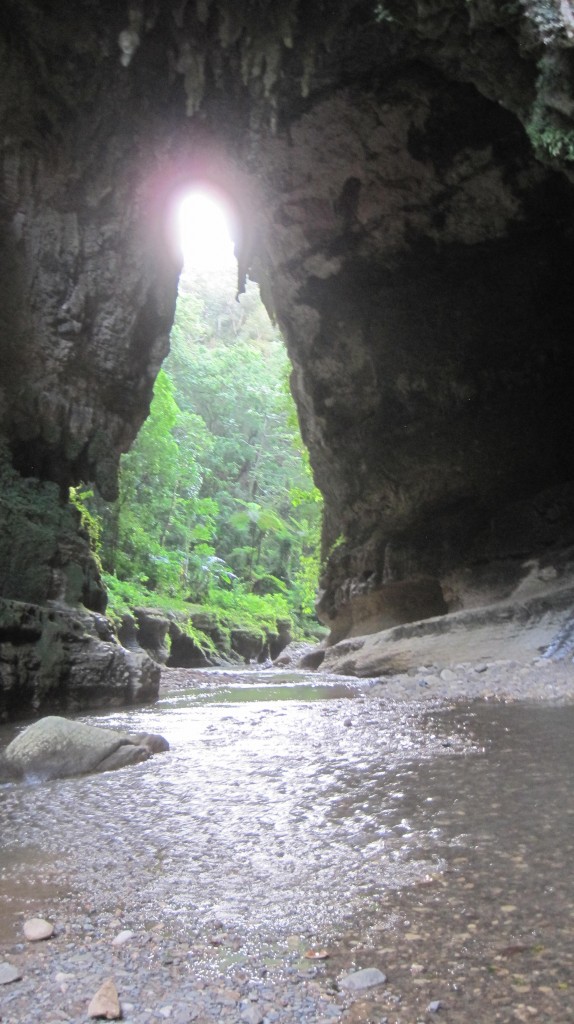 The river cuts a path into cave formations
We floated as best we could with the little tubes, but we found the water was so low that we could just walk through most of the river. The tubes were used more as resting devices and fashion statements!
We hung out by the river for some time and enjoyed the fresh air and sounds of the river. We also found some really cool fruit laying all around the ground that looked almost like lotus flowers.
We hiked some pretty steep trails and found another cave that overlooked the river cave.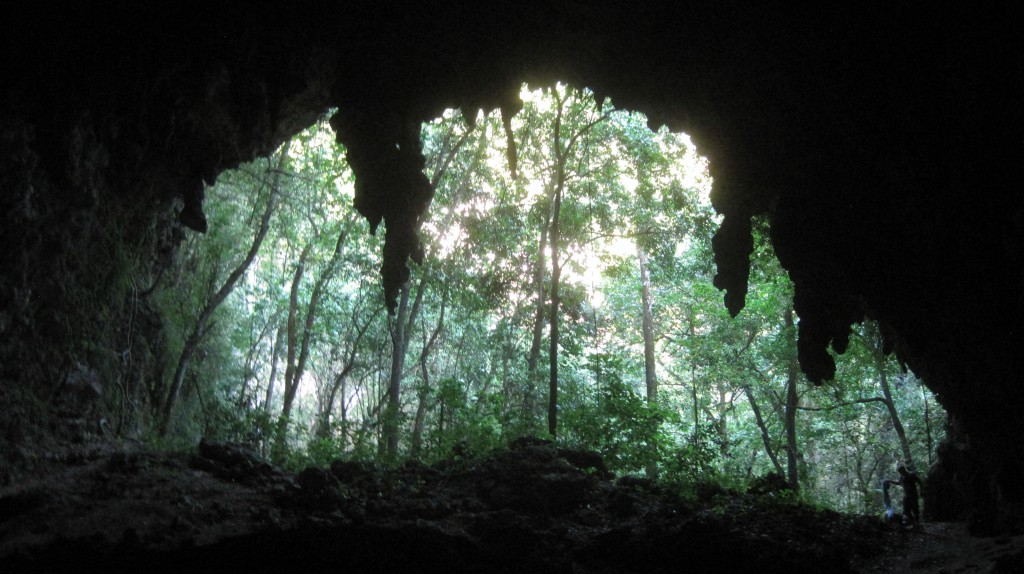 It was starting to get a little dark and we thought we had better head back. We saw Anthony's friends and they were going to be camping there, but we had planned only on a day trip.
By the time we got back to the bus, it was completely dark and we could see the stars shining over the mountain tops. We got all loaded up and started the VW back up the steep mountain side. We were putting a lot of strain on the poor VW's low-horse power engine but it was doing pretty good. Then…we approached a long hill that had a probably 60 degree angle. We were climbing and climbing and climb…and stopped. Halfway up the road. The VW was hurting and we were practically vertical. All the loose items in the bus rolled or fell backwards. Anthony began to panic a little because if we slipped, we would be tumbling off the side of the mountain.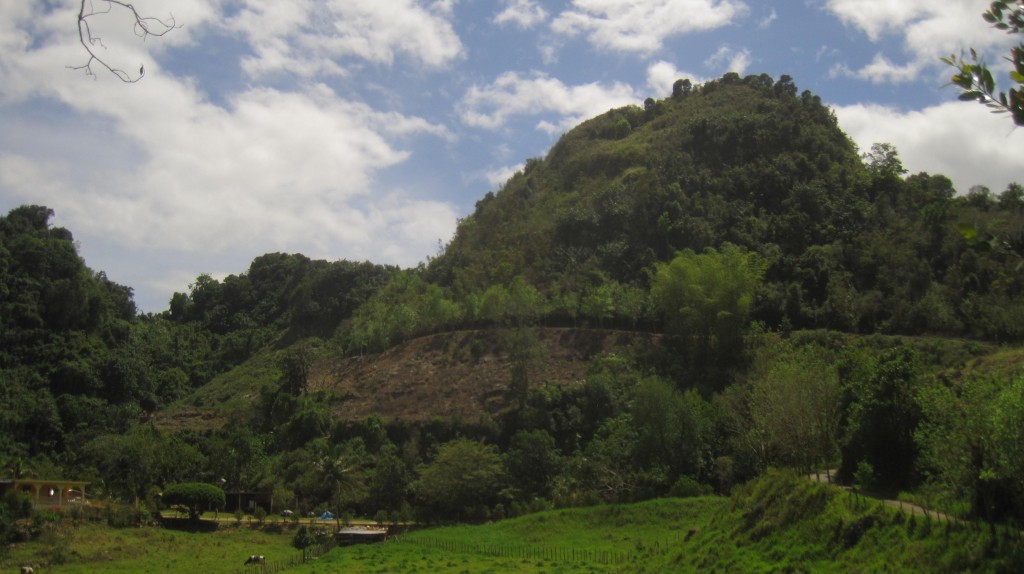 This is part of the mountain we were trying to climb (earlier that day)
Britton and I got out of the bus and tried to calm Anthony down. Britton didn't think we would be able to go backwards as it was so steep  the tires could start slipping on the concrete and slide down uncontrollably. And we would have to go around a huge curve. Anthony didn't think he could ride the clutch and get it up. So we chocked the tires with rocks for a few minutes and Anthony made the call that he wanted to try going back down the hill in order to give him a running start up it.
We slowly helped him back down the road with Britton on one side and me on the other guiding him so that he would avoid the railing over the cliff. Carefully and slowly we made it to a semi-flat area in the road and Anthony got out of the bus visibly shaken and stretched out his foot that had been pressing so strongly on the brake.
We made a plan that both Britton and I would get out of the bus in order to lighten the load and then Anthony would gun it up that hill as fast at the bus would let him. I would wait at the top and Britton at the bottom in case he had to come back down. We crossed our fingers and Anthony sped up the incline and made it! We were all so relieved, but I think no one moreso than Anthony. Whew!
The bus was pretty quiet there for a while reflecting on the whole day. We got into the Lares area and had another sandwich break around 9pm and were thankful to have lived through another day and another adventure.