Being new to a hobby or sport can be frustrating, expensive and possibly very time consuming.  With that said I have picked up spearfishing.  I describe it as "snorkeling with a purpose."
Snorkeling was already fairly new to me, I had only gone a few times while on vacations.  I always enjoyed looking at the creatures that are beneath the surface and wondered if you can eat them and if so, which ones were the tastiest?  Traditional fishing with a rod and reel hasn't ever really appealed to me; it is a slow pace and you don't really have any idea as to what is going on beneath the surface.  Spearfishing in contrast is an action sport where you are very involved with and immersed with and in the environment.
Being a noob (newbie/new/beginner) I am still trying to identify what types of fish are what and what equipment is needed.  I got a Hawaiian sling from a local store and have a mask, snorkel and fins.  The Hawaiian sling is a spear with an elastic band that you wrap around your hand and use to propel the spear thru the water.  It gives you about a 3 foot reach or so which means you still need to get pretty close to the fish to spear them.
I went out today and snagged two small fish (I figure I can feed what I can't eat to the chickens and turkeys).  I wasn't sure what they were, but they didn't look too exotic.  After asking my friend I think one is a blue runner and the other is a mojarra (See below pic)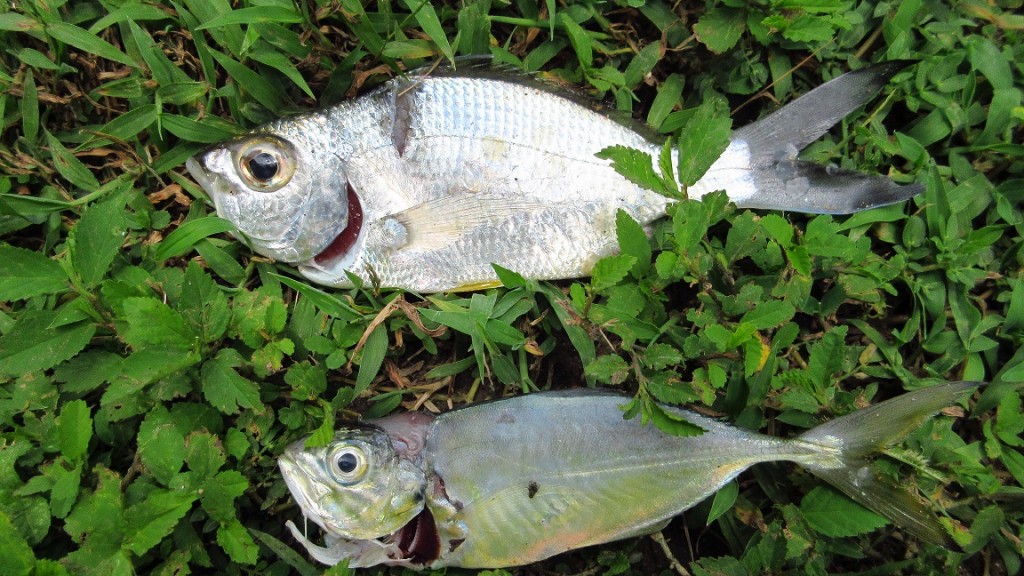 The best part of being new to a hobby is having fun with being new.  Catching any fish for me is a thrill and I am already getting better and better!  My expectations are pretty low and easy to meet.  However I am already finding that I don't want these small target fish anymore.  I want to spear a larger fish and pan fry it for lunch afterward!  Just like anything, step by step.