There is a joke people sometimes say here. What's the solution to Puerto Rico's problems? Ron y cloro. Rum and bleach. Rum, because well everything is just better with a little buzz and bleach because it will wipe everything clean again! So I thought I would write a little about how we use each of these to solve our daily problems in Puerto Rico.
1) Things just break down and get so much dirtier here than it ever did in Colorado. We have to keep a cover over our washing machine because the dust settles so heavily over the course of a week and then makes the clothes or sheets dirtier than they started! So you must use more bleach! ¡Más cloro!
2) I always wondered why so many people had a broom in their hand whenever we would drive around Puerto Rico. Now I know! I must sweep the house at least 2-3 times a day. And it still gets grimy. So…then I need to mop! Más cloro!
3) Not only are we near the sea, but it is constantly humid and so anything metal starts rusting and corroding very quickly. We have learned to buy most metal things out of aluminum or galvanized steel because it is much more rust resistant. But, even still, never trust anything that is held together with metal. Here's a case in point when the deck to the cabana completely broke!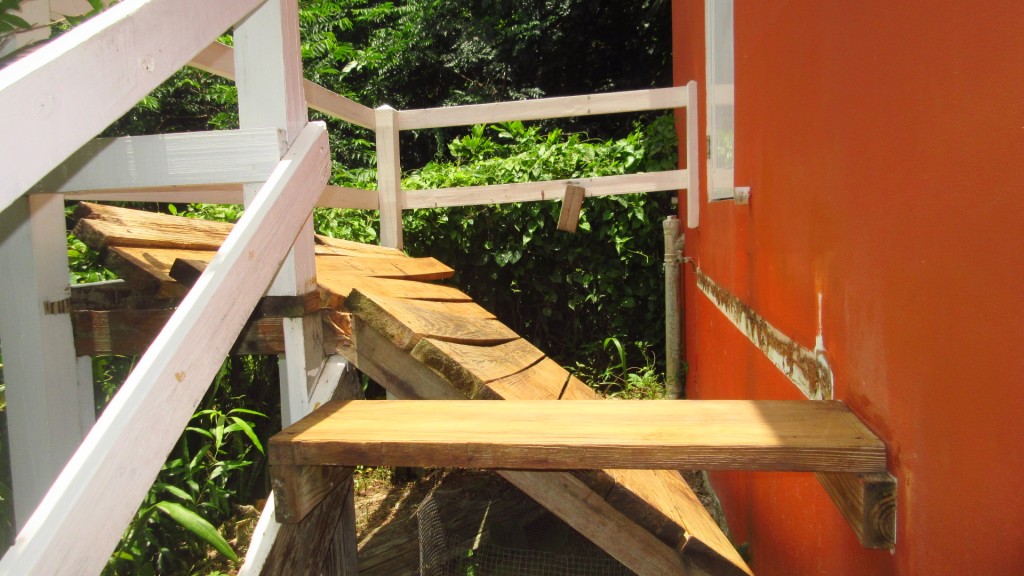 ¡Ay, bendito! The screws rusted out on the ledger!
So you learn that you need multiple back-ups. Especially because on this island you NEVER know if you'll be able to find the part you're looking for. Even if you buy online don't expect it to arrive anytime soon. Britton ordered a part for the Mustang from Ebay and it took nearly a month to arrive because they put it on a ship rather than airplane! ¡Caramba! No wonder things take so long to get fixed, if ever! Island time…means you often have to wait and be patient, so why not go have a drink. Más ron!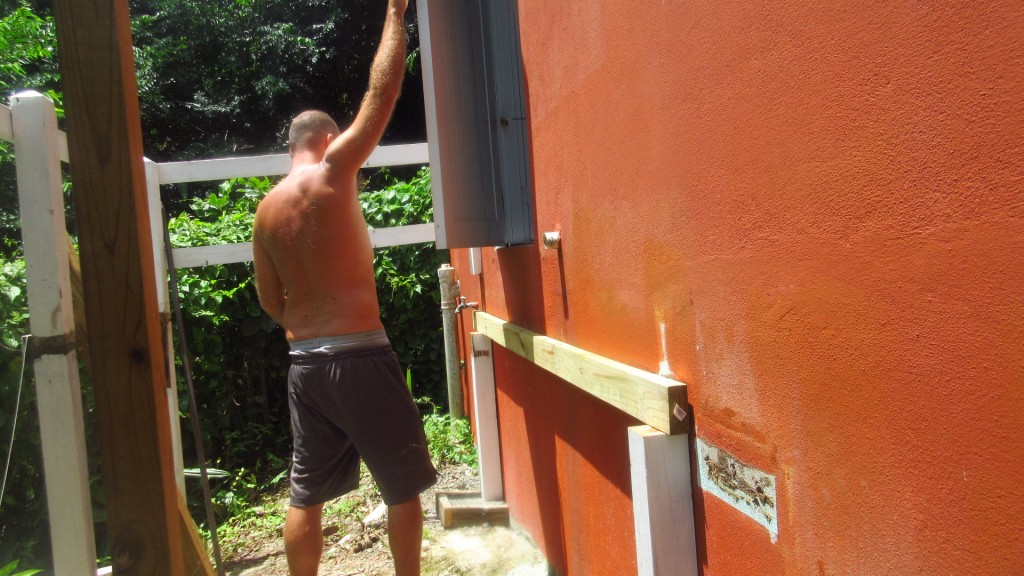 To repair it we added two more legs to the wall and cross-braced. Must be prepared for the inevitable future breakdown
4) Even clothes break down faster here! The elastic in our underwear breaks down and the clasps on swimsuits rust out! When I was in Colorado I had clothes for 10+ years! Not here! Plus you have to clean clothes with bleach which breaks down the fibers even faster! But at least we don't need to wear as much since it's always warm out! Más ron =menos ropa! :-)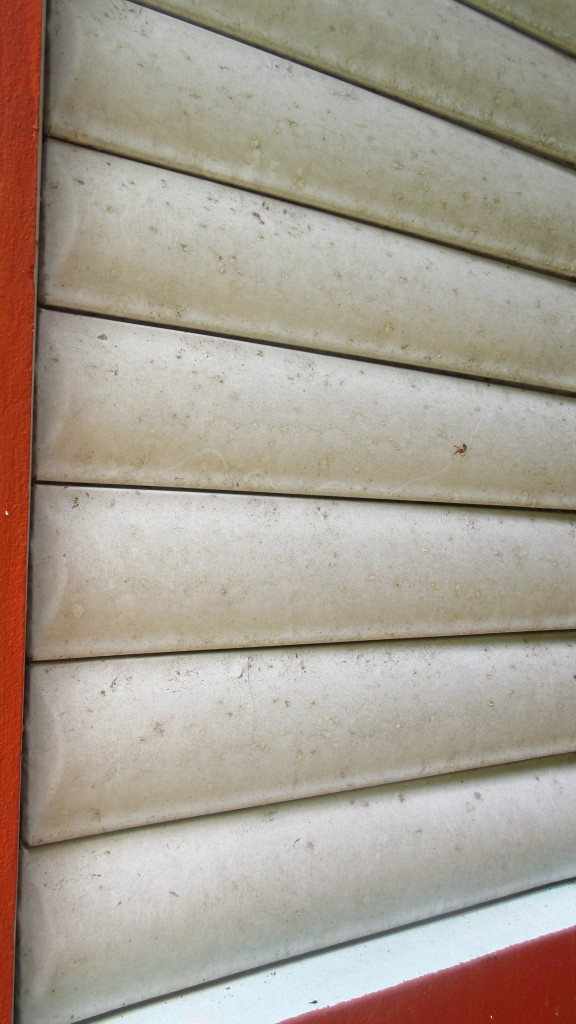 Even aluminum windows start breaking down after a while! And windows constantly need cleaned (Más cloro!)
5) Bugs! Of course there are bugs everywhere, but here there are a couple that most people who are not from the tropics are not as familiar with: termites and cockroaches. ANY wood you use here including for cabinets, furniture and of course structurally should be made with pressure treated wood! (Madera tratada). We bought some beautiful eucalyptus doors for the cabin, and it said they were insect resistant. What it should have said was that this wood was the most delicious food ever for a termite! Bleach will kill them, but you have to get to their main hive and so we had to take the whole door apart and put it back together again. Más ron!
As for the cockroaches, unless you live completely sealed in an air conditioned house surrounded only by concrete (and even then), you will have some. They especially love any kind of fresh produce or old food. They poop and are just plain gross with those long antennae and I do not want them around! So this means you must keep your kitchen super clean and no dishes in the sink and everything must be organized and reorganized on the regular. Easier said than done!
6) But they do not like bleach! So bleach floors and counters often to keep cockroaches somewhat away. Another trick we learned with cockroaches is to grab the spray bleach bottle and spray the heck out of then. It slows them down enough that you can then smack them with your chancla (flipflop). (Haha, yes, this is part of our life!) Más cloro!
7) Bleach also takes away most of the mold that will grow on all sorts of things. Even our pillows, behind framed pictures, anything leather and plastic trashcans! It is just amazing how much life there is here!
8) Rum or rather its boring cousin rubbing alcohol (as well as H2O2 and Neosporin) is the preferred method for all the infections and scrapes we get here. A simple splinter can cause a pus-infested swollen finger in a matter of days because there is just so much stuff always growing here. My skin always breaks out from the various forms of life -whether plant, bacteria, fungi, whatever! Alcohol neutralizes the poison in carrasco, it also helps clear up the stinging red ant bites. We also eat copious amounts of garlic since it is a natural anti-bacterial/anti-viral/anti-fungal agent. It's no wonder garlic is the main seasoning in Puerto Rican cuisine!!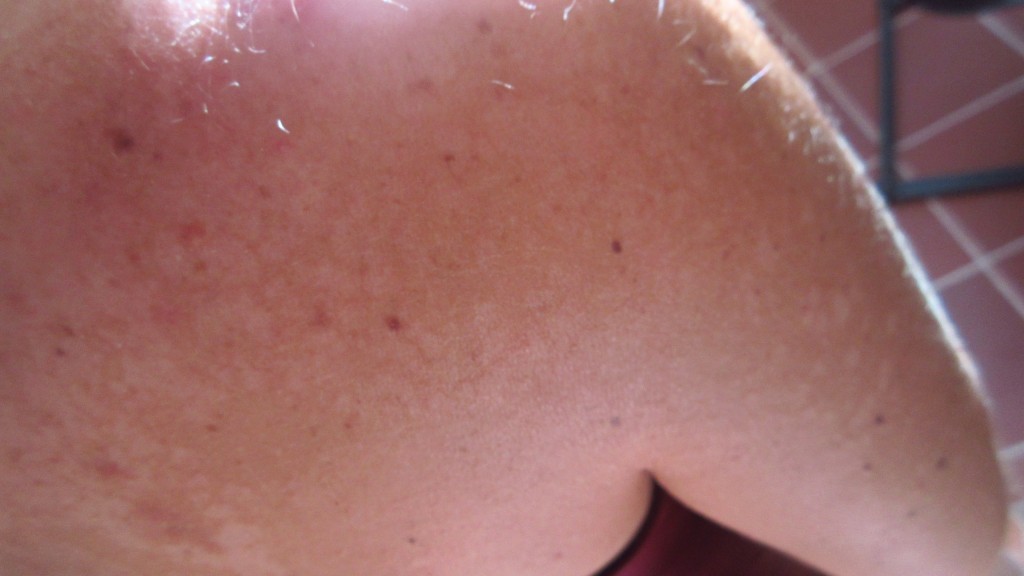 In Hawaii they call it Haole Rot because it affects white people more I assume -tinea versicolor
Todo tiene solución. Everything has a solution. And for these problems, and more: Ron y cloro! But don't forget a nice course of Vitamin Sea with a rum piña colada and a good sense of humor to help these problems and others just melt away!