It is often hard to make new friends anywhere you might move, but for people from the states without many ties it can be even harder. However, it is important to establish a social network that you can rely on during life's ups and downs especially as a stranger in a strange land.
Coming from a working class city in the middle of Colorado (Greeley), both Britton and I never experienced much in transitory populations coming into our town. If people moved it was just to a nearby town maybe 5-10 miles away. No one really came there for vacations. It was not a tourist destination. The only transitory population was that of the university and even there, many of the students came from other places in Colorado. Because of this, when we made friends we would often know them and see them (for better or worse) indefinitely.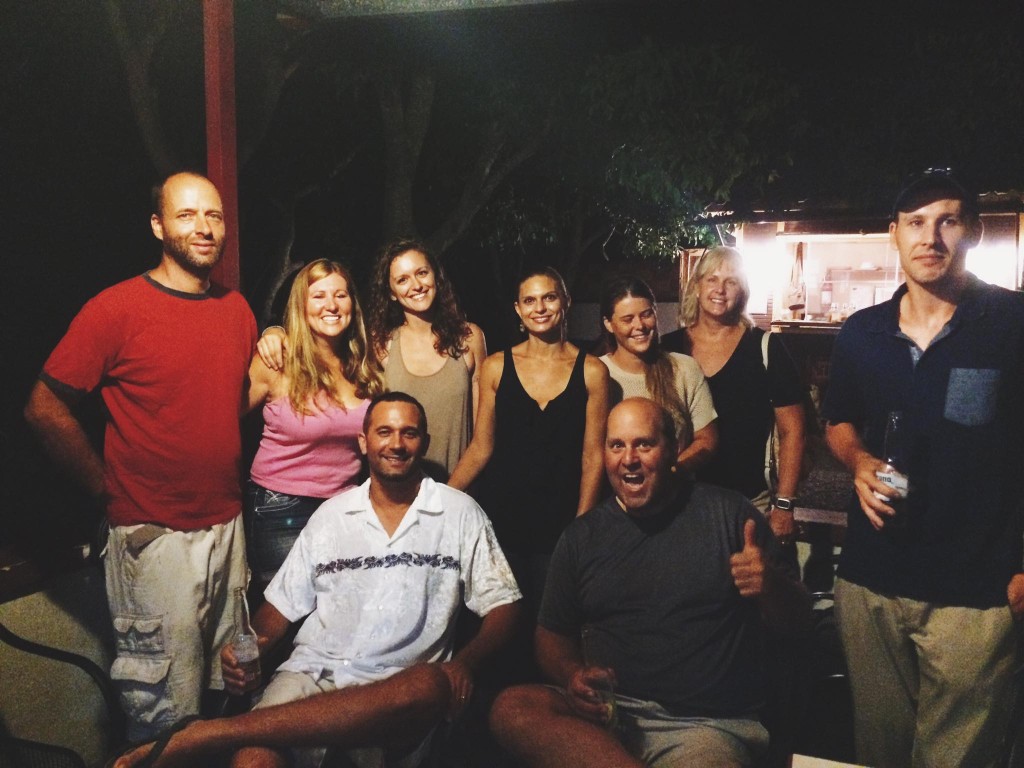 We've met some great friends along the way, but many are no longer here (at a going away party a while ago)
Coming to Puerto Rico, and specifically Rincón has caused a shift in perspective on friendships. I suppose looking back now, we were naïve when a long-timer asked us, "So how long do you think you'll last?" and we answered, "Forever, hopefully!" What we had missed in that short exchange was that this guy who has lived here for over 20-30 years has seen many people with long-term intentions stay for pretty short times. We also started to get what we call the "friend interview." Things like: So how long have you been here? Did you buy a place? What are you doing for money? All of these were to filter out tourists and very short term people.
Everyone's path is different and this just happens to be one of those places where people love to get away and think they could live forever but end up oftentimes finding that they want to get back to some of the familiarity of wherever they left. We have seen many people leave and lost many friends due to them moving for better job opportunities, going back to school, having a baby on the way, getting divorced, more or less getting chased out of town, having health problems, having family issues, or they find just don't like living here and so on. We have been to so many going-away parties in the last 3-4 years (and become the new owners of the stuff that gets left behind) that it gets a little hard to know where to put your time.

We are thinking of joining a car club to find friends with similar interests like cruising the coast on Sundays
We have found that we at first subconsciously and then slowly consciously started our own "friend interview" with people we meet here. This is not because we don't want to meet new people, on the contrary, I learn something from every encounter. But developing a deep friendship or relationship with someone, in my experience, takes a lot of time and commitment. Once you have made the commitment if they were to suddenly leave, there is also a deeper loss. So for a friendship that is anything more than just "acquaintances" people become categorized by their likelihood of sticking around in our lives. In making this list, please don't take it that any of these are better than anyone else, but just a guide for long-term friendships in a transitory town. In fact, we have at one point in time or another been pretty much all of these. Some "long-timers" have stricter criteria and won't talk to anyone who hasn't lived here at least 2 years. We're not that exclusive and there's always exceptions.
Here are the categories and benefits to each. Some people fit into multiple categories.
Tourist: A person you don't already know who is just visiting. There is not much chance of a long-term friendship, but they can often have very interesting stories and it's always refreshing to see the island from their new perspective.
Tourist with plans: This more than likely will pan out to be another tourist visiting, but they may mention that they want to buy property or they are going to move here soon. There is a slightly higher chance of a long-term friendship, but still pretty unlikely.
On a Wing and a Prayer: These people made it here, but just barely. They saved up maybe $1000, got on the plane and said, "We'll figure it out when we get there." These people are often very interesting as they probably have had this tendency throughout their lives to go out and try new things. I love meeting them and they often have really cool talents. They, unfortunately, will probably not make it past one tourist season though. When the money dries out and the rains come in the summer, they are often gone.
Hustlers: The Wing and a Prayer people who made it through the first season. They found their niche. They made the connections and did the hard work to make enough money to stay. Many transplant people are hustlers in Rincón. The drawback to the hustlers is that they are always busting their butt to make money, so they don't have much time for just chilling out with friends.
Long-term renters: These folks are probably also hustlers, but now they can finally settle down into a place that feels more like home. With a long-term lease, they are more likely to stick around at least until the end of the lease. Most people rent in Rincón because it is so cheap. The drawback to a deep friendship is that if they are renters, they can also just up and move if they want.
Snowbirds: These people generally come from up north and like to spend the winters or part of the winter in Puerto Rico to escape the cold weather. A deep friendship is much more likely if the snowbirds also happen to own property.
Seasonal: Basically the younger, broker version of snowbirds who come down every year for the season for work and partying, but will go back north in the summer. They more than likely do not own anything that would tie them here long-term.
People who own property: People who have bought real estate here are basically saying "We are committed and have the resources to stay!" These are very good candidates for long-term friendships. Some people own property, but rarely visit. They are still good to know and often have great parties, but since they are just not here you can't just meet up and hang out on the spur of the moment.
Long-timers/Year-rounders: How long a person has been here will give you something of an indication of how they have weathered the storms both literal and figurative of island life. It is not always easy to live here. The long-timers know this and they will be the first ones to try to categorize you in order to know the likelihood of running into you again. These people also often have great stories and histories. There is a high chance of developing a friendship with these people as long as you are also worthy of investing the time.
Boricua/Family ties: The best chance of knowing someone long-term and building a deep friendship is to meet someone born and raised here. They are generally immune to the whims of the tourism economics and have a lot of resources, most notably their family, to help them stay. They are comfortable living here since that is what they have always known. They are great candidates for long term friendships, though they are often even more leery of letting an "outsider" in to their inner circle. Like all friendships, it helps to have a common cause (work/hobby/kids) and, especially in this case, to speak Spanish.
I am not sure I will every feel the same amount of security and familiarity as I had in Colorado, but having a good group of friends definitely helps.