Ave María is a religious expression that is commonly used in Puerto Rico. It's sort of like Ay, Caramba or Mother Mary please help us and in this case it's: Really, there's another hurricane headed right for us?!
Religion, science, camaraderie and legends all try to help us make sense out of the craziness that life throws at us it seems.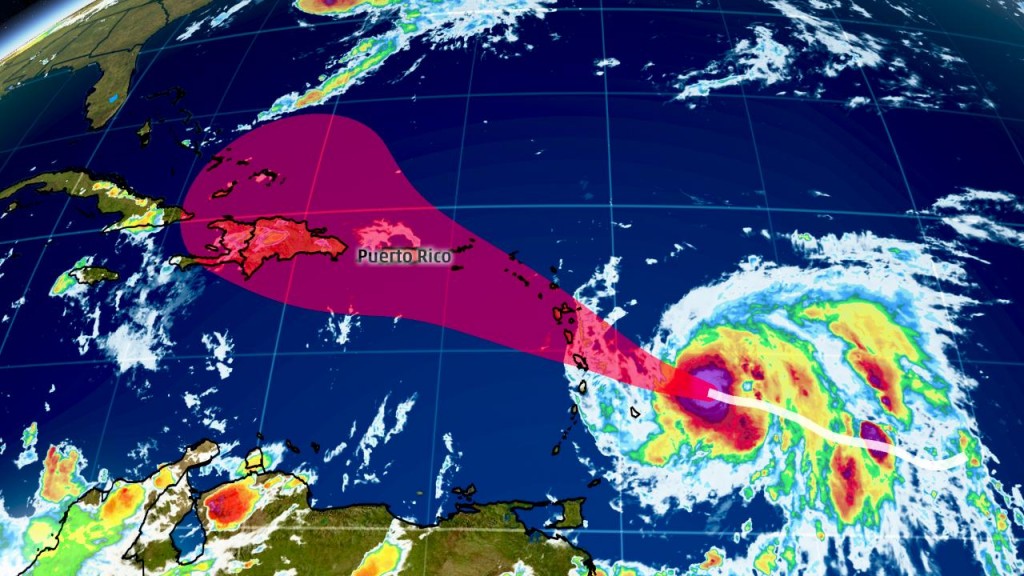 The projected path of Hurricane María could be anywhere in the red
After the last hurricane, we've decided not to move out of the wooden cabin to the concrete cabana for María. It's actually far less windy in our little protected valley of the cabin. The worst part of Hurricane Irma wasn't the hurricane, it was waiting for the power and water to come back. So we again got more gas for the generator and are again filling up the water cistern.
The stores are out of drinking water again. I asked a woman at the grocery store why they don't just fill up their bottles from the last storm with tap or rain water like we are going to do. And she seemed a little confused. "Pues, las usamos y luego las botamos…Well, we use them and then throw them away!" Hmm. I guess I have a harder time just throwing stuff away, especially knowing how useful they are. It's pretty simple to sanitize them!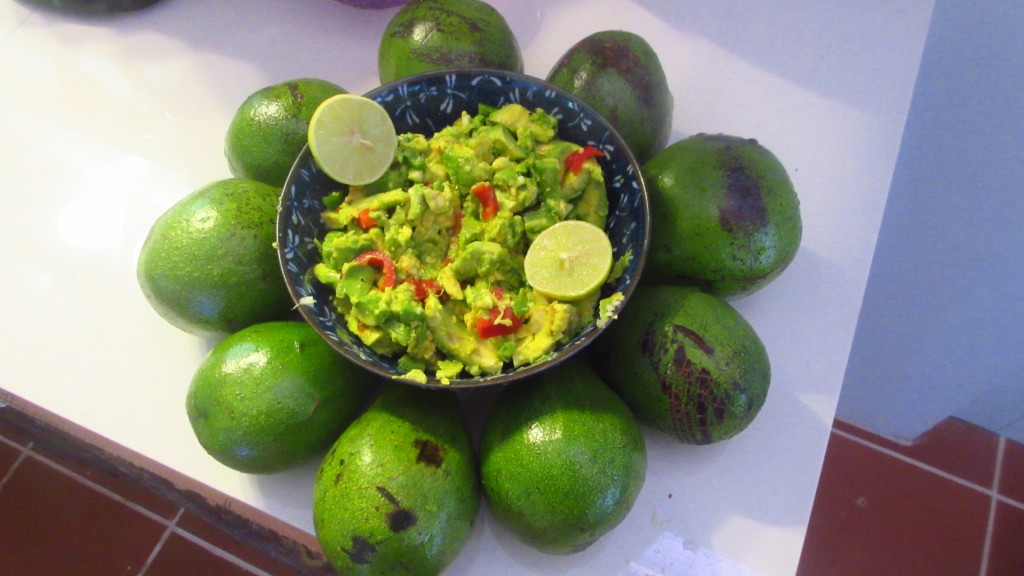 Is it a coincidence that avocados are so abundant this time of year and guacamole is so easy to prepare even in a hurricane?
We also learned from the last storm that it is open game on junk food! Calories don't count if you have to live without water, internet or electricity, right?! In Econo, not only was all the water gone, but also all of the Chef Boyardee, an apparent hurricane favorite!
In addition we heard a cool legend story that the Tainos (natives of the island before Columbus) apparently believed. Hopefully I don't screw it up too much: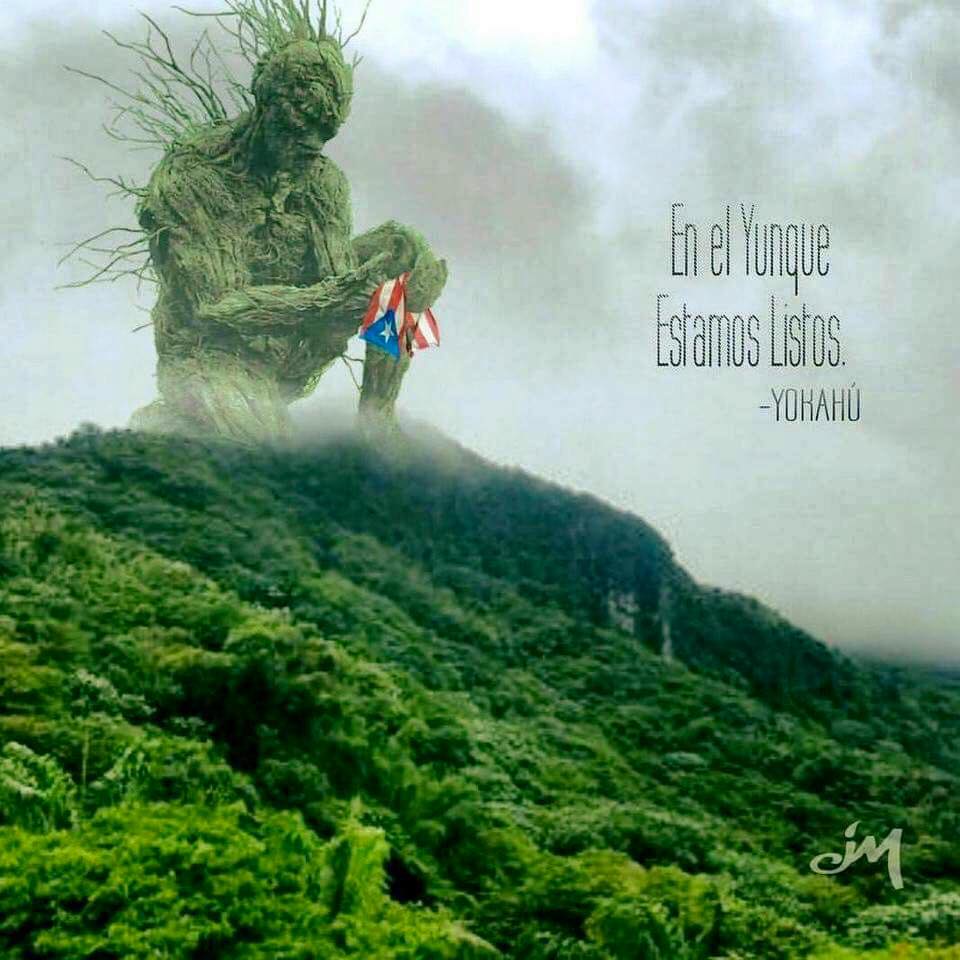 There were two twin brothers. One was named Yukiyu (which was later translated as Yunque the same a the national park near San Juan) and the other was Huracán. Yukiyu was the good god who cared for Borinken (the island of Puerto Rico) and all of its inhabitants and was especially present in the mountain areas. Huracán was the evil brother who was always jealous that the islands loved Yukiyu more and so he would try to come around nearly every year to destroy Yukiyu and his beloved ones. He and Yukiyu fight and most times Yukiyu wins. Therefore you must give thanks to him by being kind to the land. But this battle rages on to this day.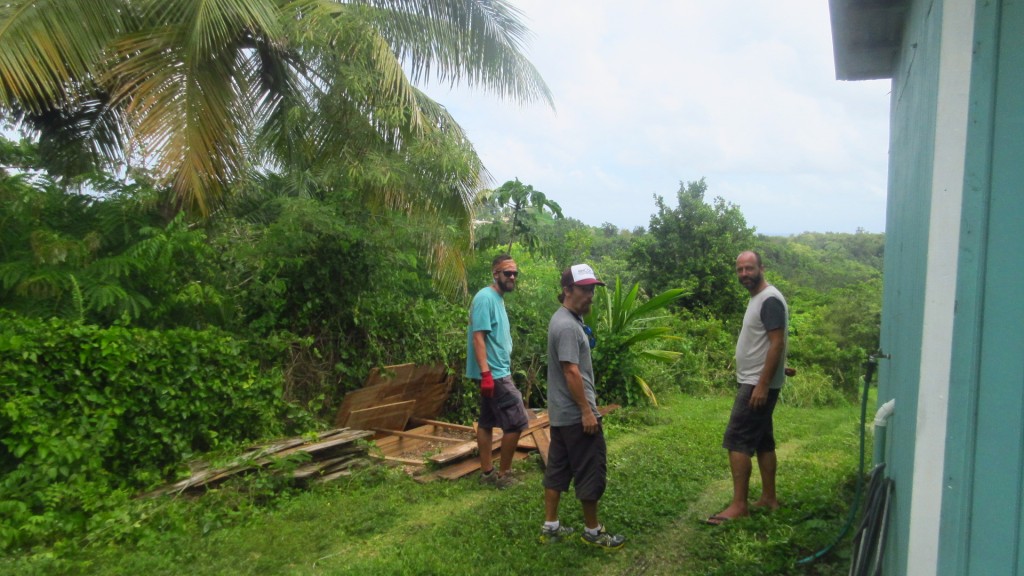 Some of our old wood is being repurposed as hurricane boards
Some people get really worked up about these storms and many others are pretty calm about it. You can tell who are the (calm and collected) veterans and who (ahem, lots of gringos) are the newbie scaredy-cats. We are trying not to be as freaked out about this one as the last even if the storm is super hyped. There is a real psychological screwiness to watching the models as they descend RIGHT OVER YOU! It makes even the calmest person get a little agitated.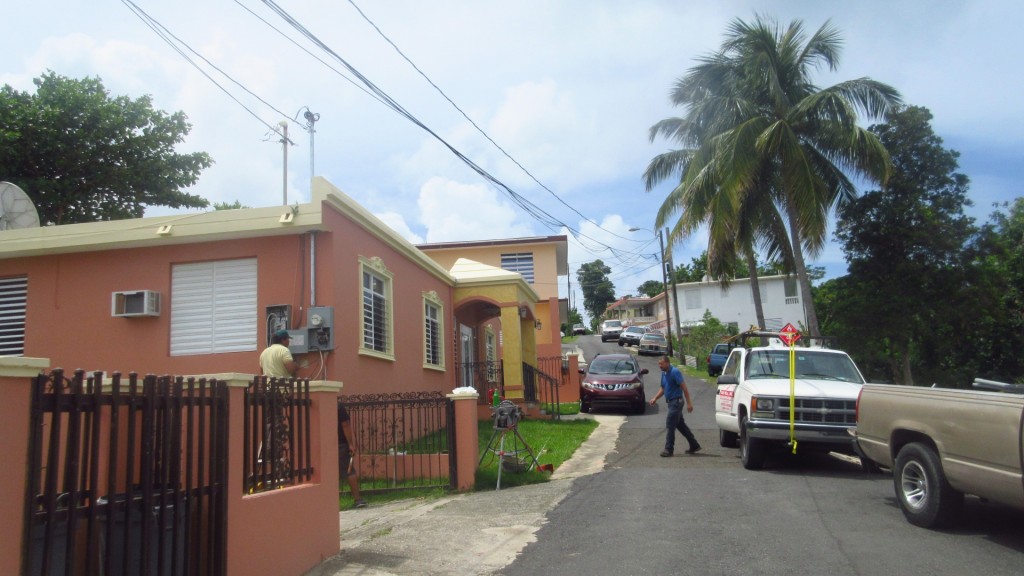 In our neighborhood…hooking up a new generator and propane delivery
We are learning from our neighbors who have lived here their whole lives and have survived many tropical storms and hurricanes. We figure, they know much more than we do about living through a major storm. Some people are boarding up windows, but mainly just those with full glass fronts. We stopped and talked with Julio, our 86 year-old neighbor who must weigh about 100 lbs, and Berto who's in his 50′s to see how they were doing for the storm. Berto said he was tying some things down with rope and that they better tie up Julio so he wouldn't blow away! haha!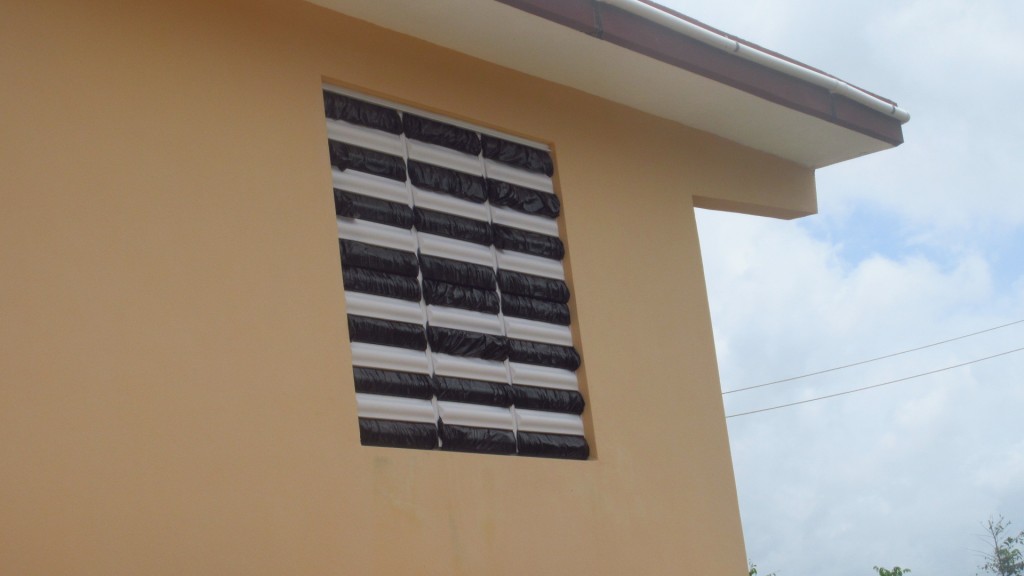 One neighbor is weaving plastic trash bags through the window to cut down on the water spray
I am trying my best to be calm because I know the odds and I know what we can do during and after. The storm seems to be moving north and losing some steam and the only real danger is directly in the eye. Anyway, there's only so much you can do and the worst case scenario (afterward everything is ravaged and there's no water or electricity for weeks and weeks), we just take a month-long (or longer) vacation to visit family in CO before dealing with the mess. Don't sweat the small stuff as they say, and it's all small stuff.
We've learned a lot throughout this very active hurricane season and feel even more connected with this land, people and culture by going through this. We are all in this together!
Also, just FYI, we were contacted by Channel 31 (which is also Channel 2 News) out of Denver last night and did a Facetime interview with them explaining our connection to Colorado and Puerto Rico and what we are going through with Irma and María. The segment should air sometime tonight around 9pm local Colorado time. Let us know if you see it!
Ave María, please be good to us! And Yukiyu, please convince Huracán to leave us unharmed (and preferably with power and water quickly too)!