Today marked my last day as a Health Educator with the County. I've worked there nearly 8 years and made many friends and memories along the way. It was always a changing field and I did a variety of different jobs in my position. From tobacco education to H1N1 to healthy eating/active living to translations and interpretation and decreasing health disparities.
I helped to put on countless events,write articles, give speeches and presentations, host community forums, write grants, balance budgets, do inspections, promote best practices and policies, go to conferences and trainings and so much more. As I look back on all the projects we did, I am surprised by how much we really do!
It is hard to encapsulate what 8 years of doing anything is like, but my time doing it there has come to a close and a new chapter is just around the corner.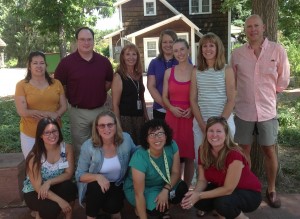 Some of the great co-workers in my division
I will miss many of my co-workers and friends and wish them well on their journey as Britton and I commence our new one together.
P.S. Thanks for the great send off!