Cassie and I have been thinking about the place in Rincon a lot more lately since the weather in Colorado has turned cold and grey.   One of the decisions we have been tossing around is what to do with the wood house that is currently on the property.
We go back and forth between tearing it down and remodeling it.  It is a unique type of house for Puerto Rico seeings how it is made out of wood instead of concrete.  This creates some problems with bugs, rot and the chance of hurricane.  However it has a feeling to it that concrete doesn't have.   A warmth if you will.
Well perhaps we can do both.  Tear it down AND remodel it.  We have 4 acres to work with so we figure we can move it from its current spot, which is the prime location for a house on the property, to a location down lower on the property where there is a palm tree oasis.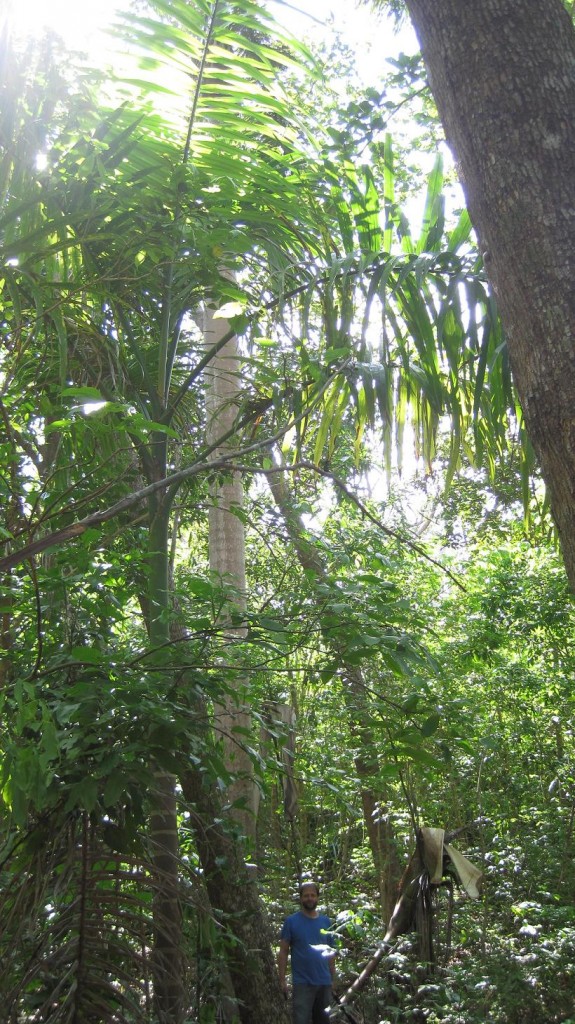 Me Among the Palms (where the 'tree house' would go)
We figure there is enough wood to make a sort of 'tree house' type of structure or a 'Swiss family Robinson' type place.   That is kind of what we have now, but then we would build a concrete villa where the wood house currently sits.
We can then rent out the wood house for people to stay at when they are on vacation.  The property has very little human created noise at night and the jungle really comes alive.  It sounds fantastic.
We both drew up an idea of what we were thinking for the 'treehouse'.
As you can see, we have similar ideas of what we would like. We also found this site about tree houses in Puerto Rico that are built on a single point. They call them "hooches". We'd like to possibly talk with the owner of this one about their place. We have been toying around with this idea because it would allow us to keep the wood house AND build a more secure / substantial concrete villa.  We could connect the two places with a nice walking path.  This is one of the reasons we wanted to have a bit of land, so that we could let our imagination run a bit wild.
We like this idea because it "saves" the wooden house, gives us more room for the house of our dreams, and creates a pretty cool spot -a type of tropical tree house! That's the type of option we really like -a win-win-win!