As I was trying to stay warm in our flannel sheets this morning, I just realized that we have quite a bit of tropical things in our house. This must be part of our subconscious desire to be in the tropics considering that Colorado is in the USDA plant hardiness zone 5 and Puerto Rico is in zone 11 (same as Hawaii). What this means is that the low temperature that can be expected  in most of Colorado is -10 to -25 degrees F and the lowest you should ever expect in Puerto Rico (or Hawaii since they don't list Puerto Rico on the map for whatever reason) is +40 degress F. So the only tropical things you can grow here are houseplants. Last night the low at night was  about 0,  and we are not even half-way through the winter season. But in good Colorado fashion, Saturday's weather was in the upper 50′s which confuses things even more unless you are from Colorado like us, and then it's just normal.
Here are a few tropical things we have in our house sheltered from the snowy, cold world outside.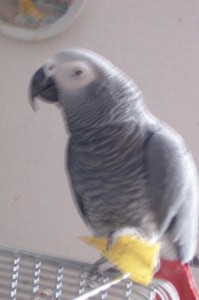 Josh, Our African Grey Parrot eating a tortilla chip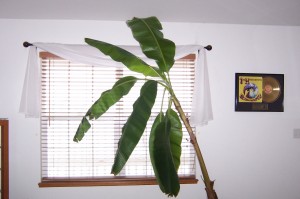 Our Banana Tree in our Living Room looking out to a snowy scene
We got this drawf banana tree from a seed catalog in the houseplants or exotic plant section. When we first received it, it was only about an inch tall, but we kept watering it and now (after about 3 years) it is about 6 feet tall. It has never had bananas yet and I think that is because it is so dry and the varying amount of sunlight it receives. Still, it makes me smile and it gets a new huge leaf (like 2-3 feet!) every so often. Also from the seed catalog we got some coffee plants that have never born any fruit (coffee) either but have beautiful glossy dark green leaves.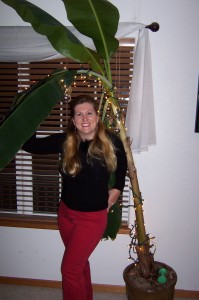 Me with the Banana Christmas Tree
Because the banana tree and another tall houseplant in our living room are so big we decided to just put lights on the banana tree in front of the big picture window with a couple of ornaments and call it good.  We have had a real pine tree before from the mountains and we had a nine-foot fake tree for a while, but this is kind of fun for this year. It kind of reminds me of that Corona commercial where they light up one big palm tree…
Plus, while some holiday lights in this dark time of year are welcoming, I think too many lights and decorations are kind of corny (more on that later).
**CHICKEN UPDATE**
I was worried that the -10 degrees F might be harmful to the chickens. I checked some online references and apparently they'll be fine as long as they are out of the wind and / or rain. Well the greenhouse is dry, but cold. It was 0 degrees a little bit ago.
I have to remember that they come with down jackets. 100 years ago nobody had a heated coop, they seemed to get by just fine.