Our normal morning routine is to wake up, make some coffee and zone out on the internet for a bit until we start our daily do-ings.  Lately however our internet setup hasn't been working!!  So my routine started to include walking over to the other side of the property and checking out our wireless bridge.
I can usually check segments of our network from the cabin, but lately the cabin has been completely cut off!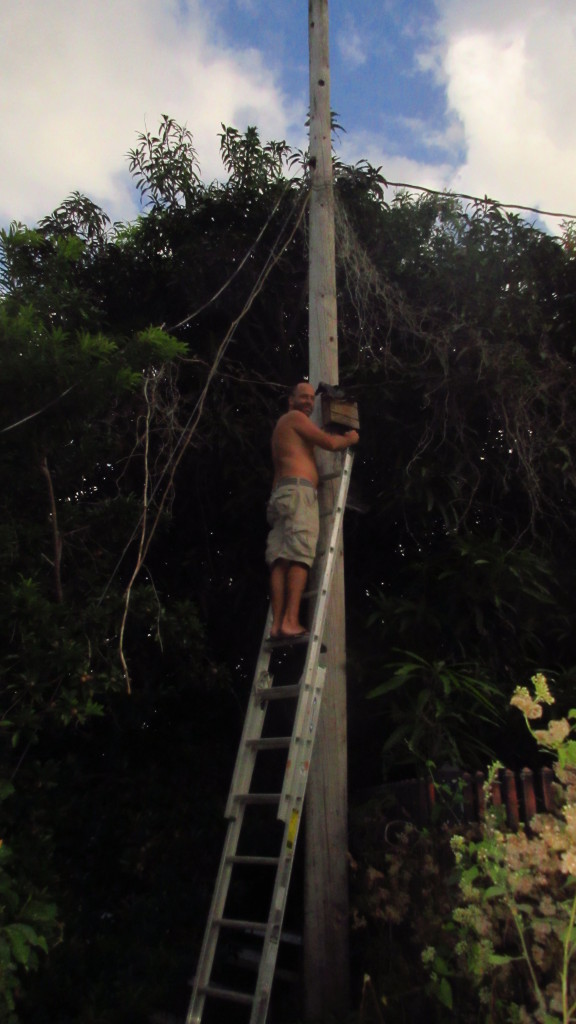 Climbing the Pole
The higher the wireless router inside this little box on the utility pole, the better signal we get from our neighbor's router that we share with.
Pretty much every day there is rat poop on top of the box, with some leftover parcha or starfruit.  So I know the rats have been hanging out on top of the box.  But these wires are inside of the cage I built!  They can't be getting inside?!
I saw this one on top of the goods one day too.  But again, it is waayyyy too large to get into the box and be able to chew the wires up!  So probably not the one I am looking for.
It wasn't until the other day I finally saw the culprit!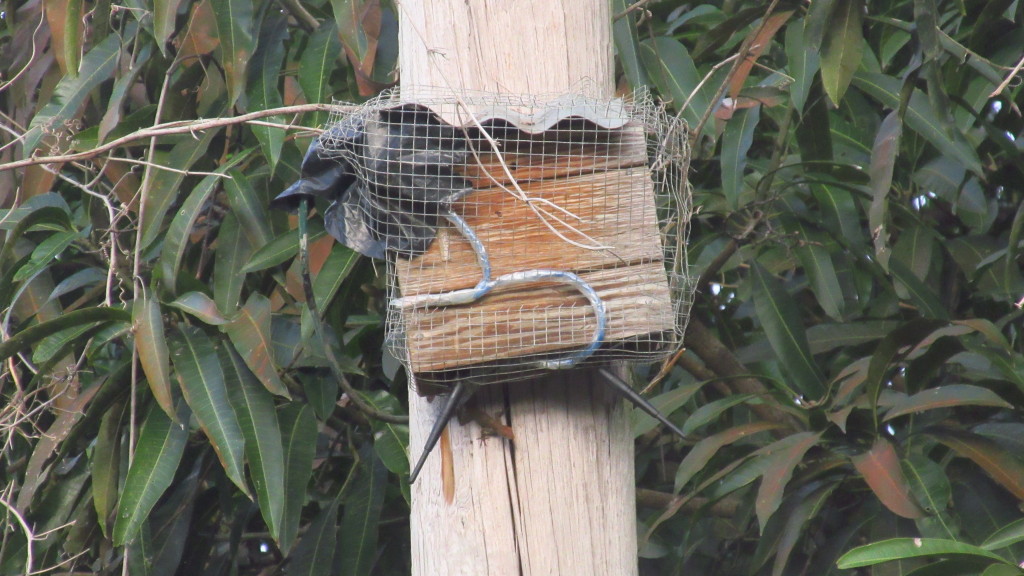 Ah Ha!!! (click to enlarge)

There has been a small lizard living inside the box and eating the cables every night!  The power cables are pretty chewed up but power cables shock them once they eat all the insulation, so he stops.  With the Ethernet cables however, he just chews right thru them.
I've mended the Ethernet cable probably 5 or 6 times now.  I covered it in some really thick waterproofing tape and that seems to be working for the moment.  I also will be hunting this little pest.  He is fast and I found myself chasing him with a stick the other day!  It was really quite humorous.
The other idea I had was to electrify the wire cage so that it isn't such a nice spot for critters to sit and hang out.  I don't think it will take much to do, but something I'll have to figure out!  Maybe in the next revision?!