Recently we have seen some more cool sights. Will it ever stop being cool to us? Doubtful.
Halloween in Rincón is more about costumes and partying for the adults than it is for kids. However, our friends told us about a kid event that they were taking their daughter to and we were interested in checking it out because the alternative school (Semillas) is also a 5 acre farm just down the road from us.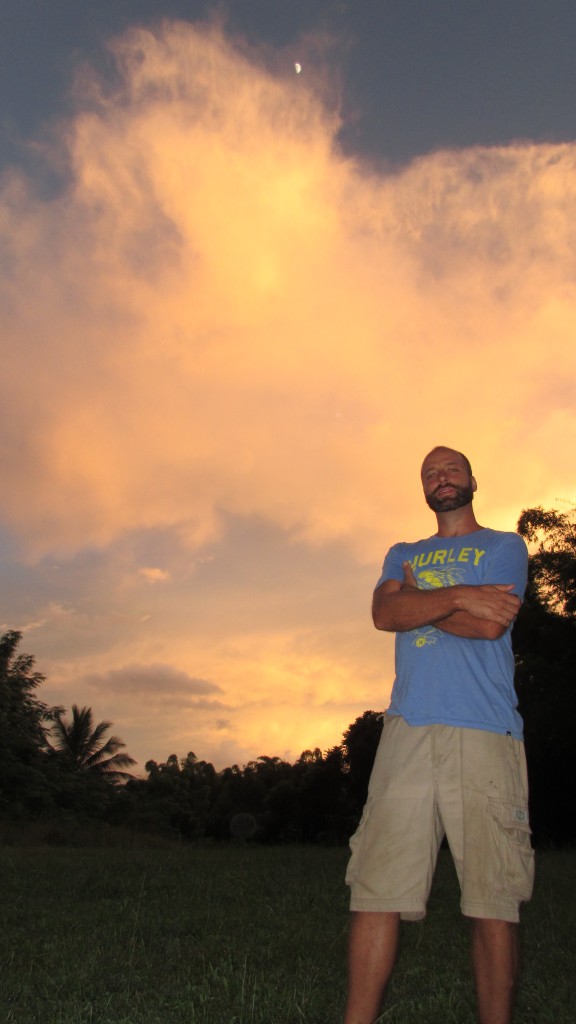 Britton posing with the moon above
It was quite beautiful and Halloween evening started out with a beautiful sunset setting the clouds ablaze in colors.
Later that evening Britton and I dressed up to go out. We didn't have much time to put together a costume since we were without a vehicle for so long, but we did have a couple of wigs and so the costumes came together pretty nicely. Me as a disco dancer and Britton as a corporate castaway on a deserted island complete with shredded shorts.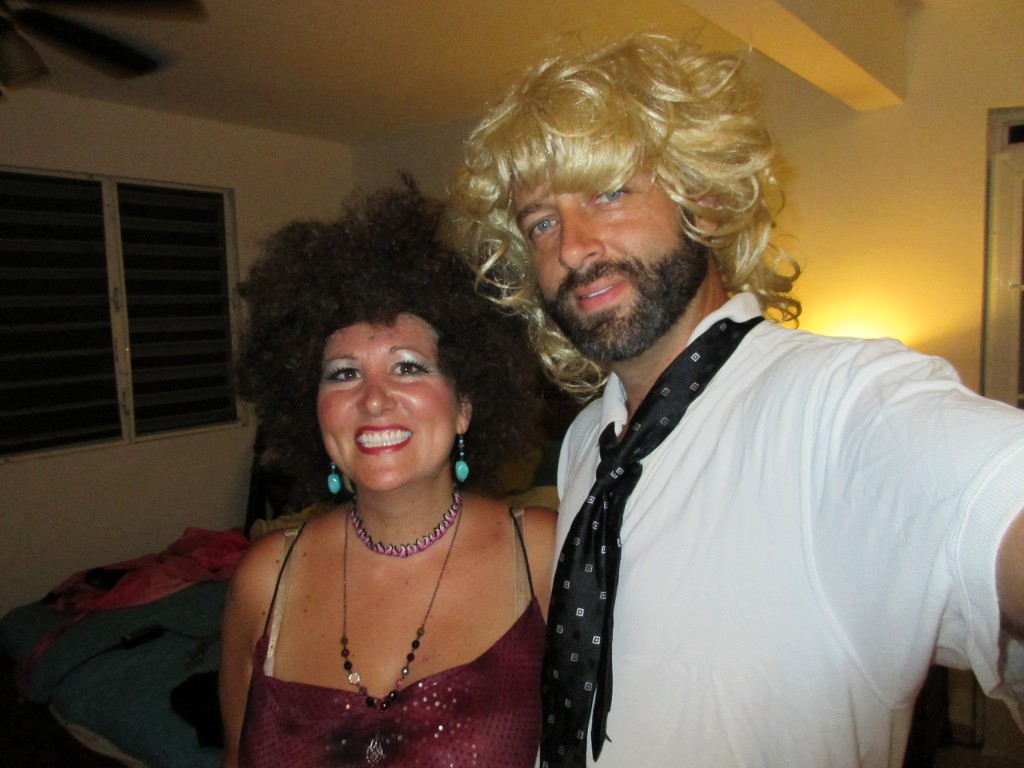 Because Halloween fell on a Friday this year, all the bars had parties. Down at the Tamboo in Puntas, whole roads were closed off. We heard that Calypso was pretty fun too. We chose to go to Shipwreck and then ended the evening around 1am at Rincón Beer Company. The costumes here are so creative and gorgeous. I love the level of originality everyone puts into them!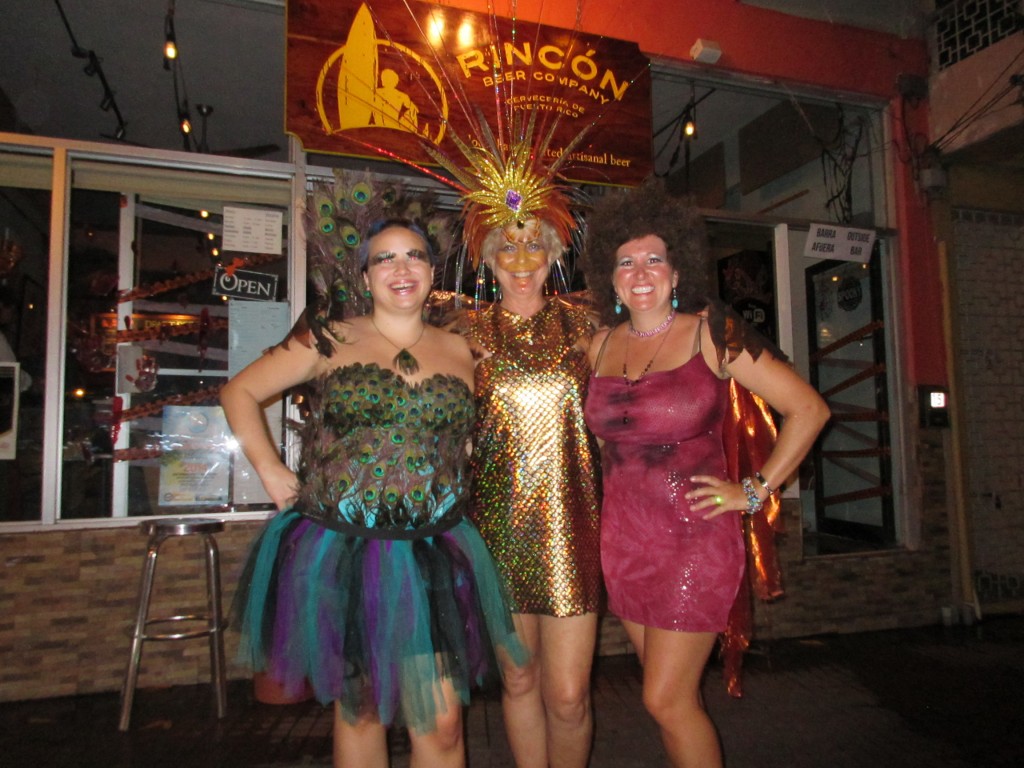 Back at the homestead we have recently found some pretty cool things as well.
Britton walked right out the cabana and found the largest hermit crab we have ever seen in our lives! The shell blended in so well with the environment that at first he thought it was a rock that was moving!
Then as we were walking down below in the jungle area, we stopped to admire the bromeliads that are blooming.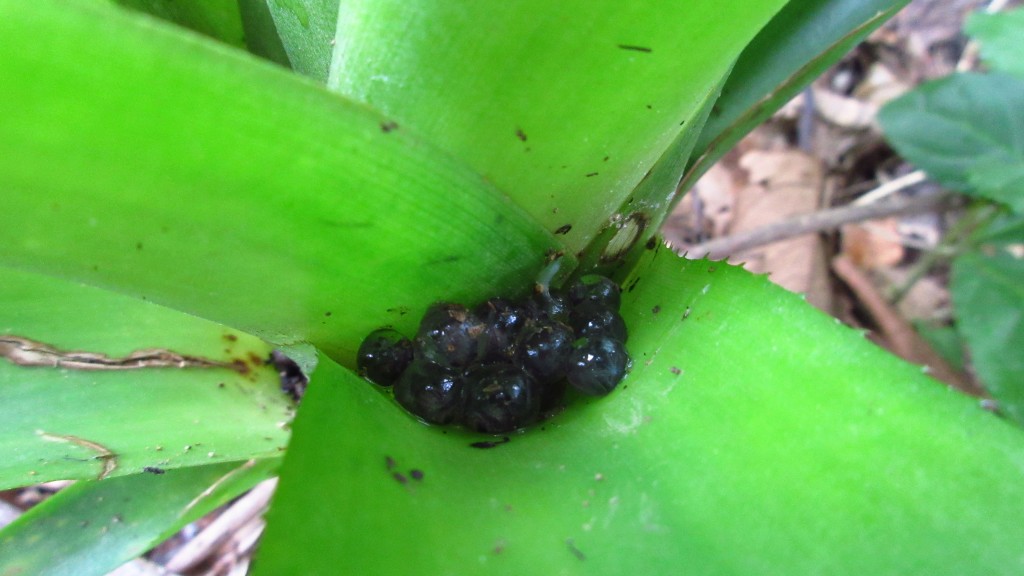 How about now?
When I looked inside the leaves of one of them I spotted a bunch of little slimy marbles. I carefully took a couple of them out and looked at them. They were frog eggs in various stages of development! Sometimes they would kick and swim around in their fluid. I was happy to see these frogs because frogs are often the indicator of a healthy ecosystem free of very many contaminants or poisons. So cool!