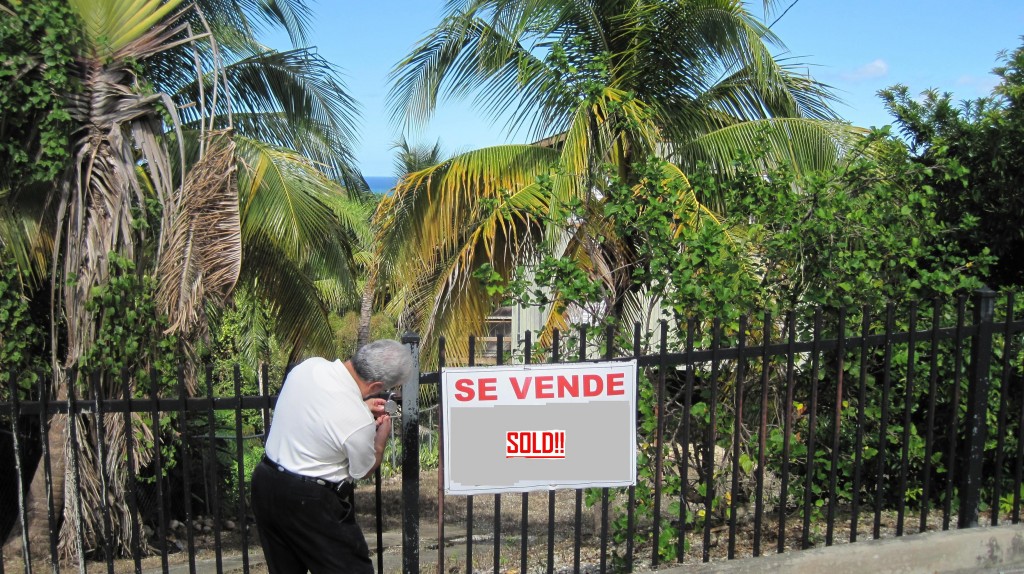 The gate to the property, if you look straight above the agent's head you'll see the ocean!!
Well, things are moving right along. We are on our way to living in Rincón, Puerto Rico -or at least we're at the first step of buying a house there. Here's a list of things we've done so far to buy this place:
We have received the final signed contact by all parties.
They've deposited our escrow/earnest money.
We've contacted and started the inital work with our lawyer (a friend of the Kruses, thanks for the recommendation guys)!
We've received approval for our time off of work (two weeks, end of May).
We are pulling our money together from various accounts.
Things we still need to do:
Book a flight to BQN-Aguadilla. Britton says we will never again fly into San Juan if our final destination is the west coast of Puerto Rico!
Get started on the lawyer stuff -title registry look up, writing up the deed of sale, etc. Our lawyer says we can wait another month or so to make sure nothing ties up the property (like a lien) between now and the sales date
Cancel the Isabela deal
Pick the closing date
Reserve a rental car
Confirm where we'll stay when we get there before we close
Get the cashier's check for remaining balance
Get a blow-up mattress to sleep on when we first stay the night there!
Prepare for the adventure of our lives!