Last night Britton and I went to meet the Boyles Family at their farm in east Greeley. It was really nice meeting Claire, Matt and their adorable kids, Simon and Madzie.  We got a little tour of the farm that grows small fruits and veggies, chickens, pigs and turkeys, but also very beautiful flowers. Since it is the end of the season and frost will shortly be upon us, Claire invited us to cut some flowers and take them home in a huge 5 gallon bucket.  So we did! And when we got home I knew I wanted to make bouquets out of them.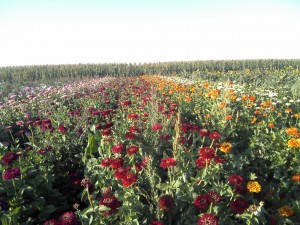 Britton took this picture of the flower field (zinnias) with his cell phone

Here's our dog, Schnoodle next to the bucket-o-flowers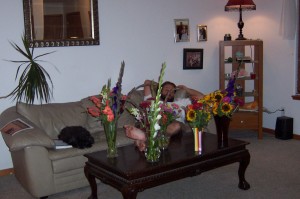 Then I arranged them while Britton and Schnoodle relaxed!

Then I put them all around the house -our bedroom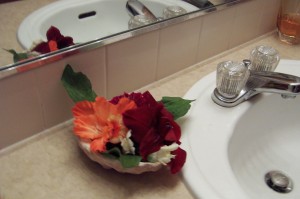 Our hallway, living room and even our bathroom!
I made this one out of an abalone shell and some of the flower heads that fell off in transit.
Thanks Claire and family for so much beauty and bounty!