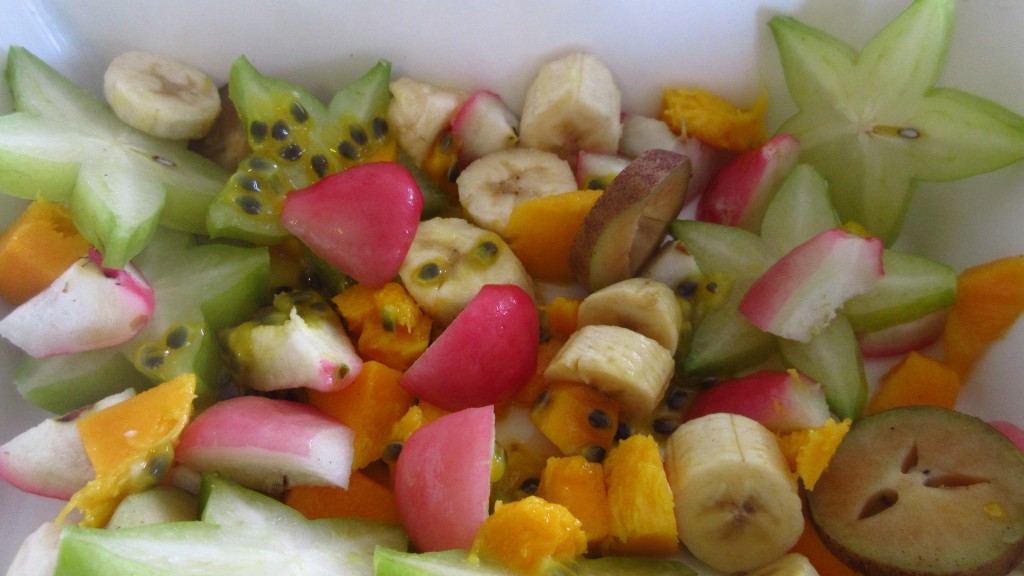 We have been making lots of fruit salads (like this 100% home-grown one)!
Though we can grow food year-round here in Puerto Rico, summer definitely gives us an extra boost in abundance. Here in Rincón it is mango season and avocado season is just around the corner, but those two main crops are not the only things! At our little finca we are harvesting so many bananas, quenepas and passionfruit we just can't keep up with eating them all!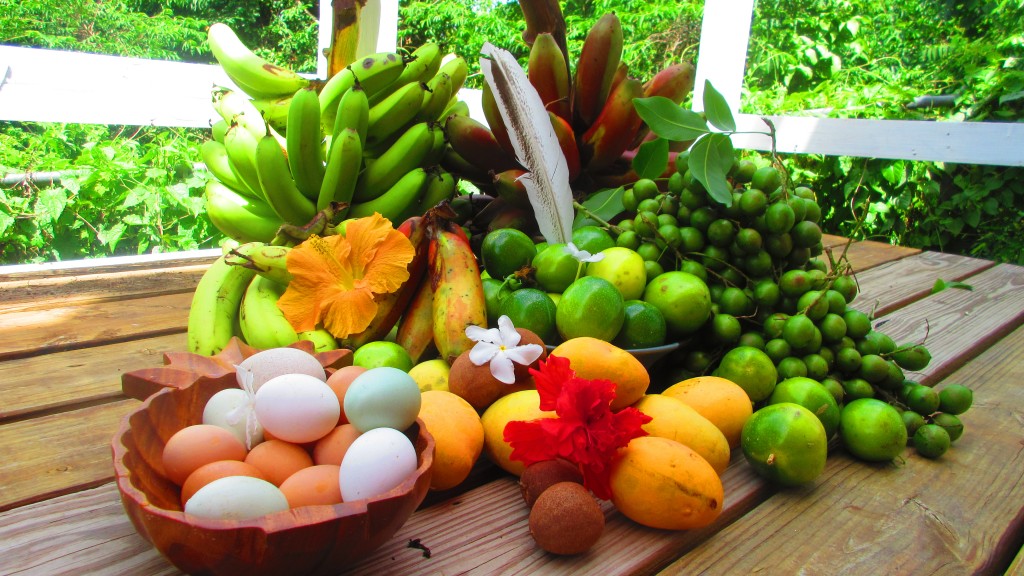 A bounty filled with eggs, bananas, quenepas, passionfruit, mangoes, and sapodilla
We had thought about bringing some to the farmer's market since we couldn't eat them all, but we never did. So we decided to go around and drop some fruit off with friends and neighbors. People were so grateful it was incredible! It is amazing how sharing your abundance creates a reciprocal reaction. Our neighbors gave us mustard greens and avocados or said they would bring down plantains later, other friends offered starfruit, the mail people were super excited about the fruit, especially the passionfruit.
One of our friends wrote a beautiful post about being thankful for a meal composed of friends' gifted food. We randomly gave a guy on a bench a bunch of bananas and he blessed us in Spanish! And our other friends gave us some fruit they had dehydrated and took us around their neighborhood where some empty lots filled with huge ripe mangos and avocados were just dripping off the trees! These are not just regular mangos and avocados but rather varieties I have never seen in my life. Awesome things!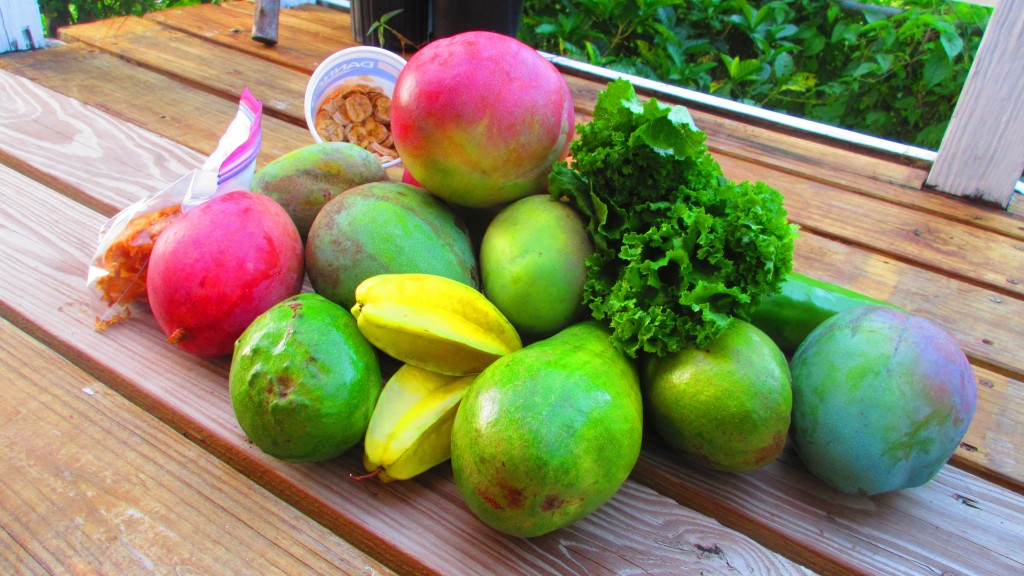 Just a little of the abundance in return from friends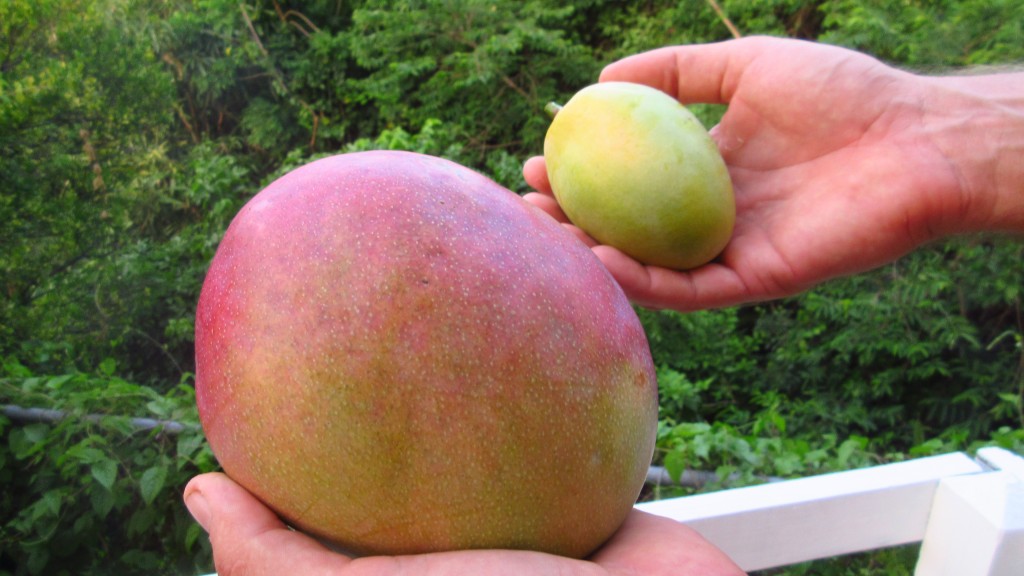 Humongous mango on the left and our little "common" mango on the right
We had so much fun just getting out and handing out a smile and some fruit that the returns we received far exceeded what we gave. It's a great reminder that giving IS receiving! We are so thankful for the food we can grow and the people and animals we can feed with the food. And when you share your abundance it becomes "soul food"; it nourishes the soul as well as the body! What's even more cool in this simple cycle of giving is that all of our banana trees were also gifted to us by friends! Abundance and gratitude all around!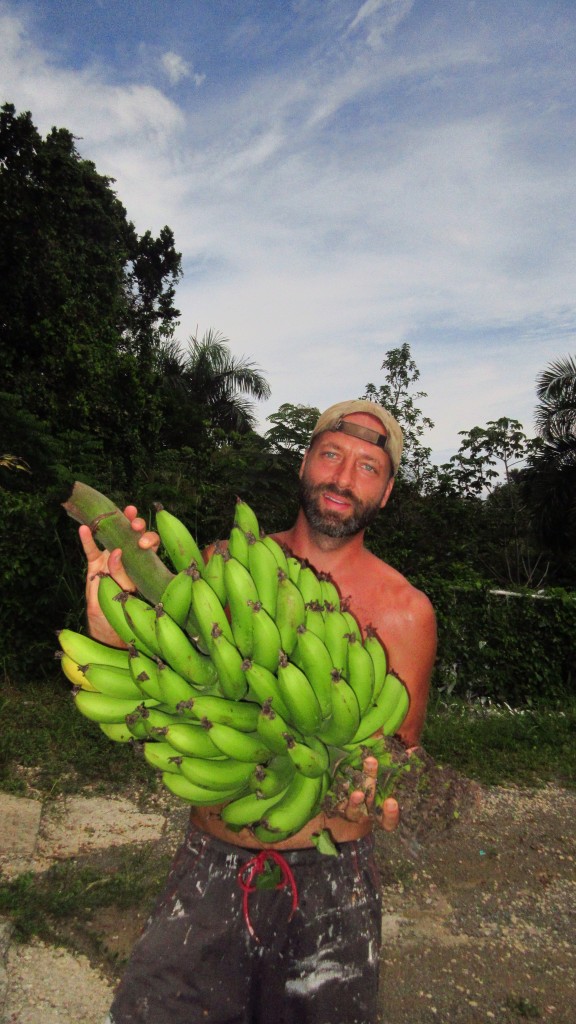 These banana bunches are HUGE and HEAVY!