Today we didn't really have too much on the schedule, so we decided to use a gift card we had been hanging on to and go up to Broomfield to Buca di Beppo, the Italian restaurant. Since it's quite a ways away from Greeley (about 50 miles) we went ahead and made a day of it. We stopped off at a couple of stores and then we went to Boulder to walk down Pearl Street.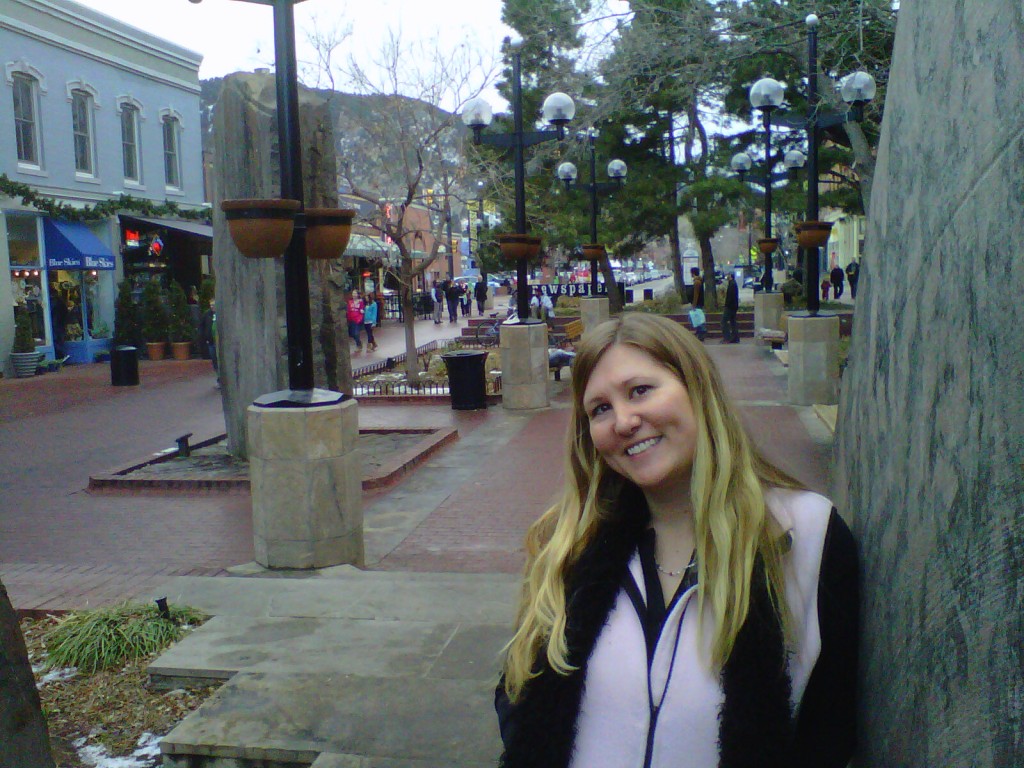 Standing between two boulders in Boulder on Pearl Street
Boulder is a pretty cool place and very different from Greeley. It was kind of cool to see it at Christmastime too. In Boulder you'll see lots of street performers -there was a lady singing Christmas songs on the corner when we were walking by. There are all sorts of unique boutiques and local shops. We stopped into the Boulder Bookstore which is an old converted building that is more like a maze filled with books than a typical store with stairs every which way and nooks and crannies filled with places to sit and read.
Boulder is a much more progressive and also more expensive city than Greeley. You see both hippies and yuppies all over. Britton works right outside of Boulder about 5 miles from IBM so he gets the benefit of higher wages in what some call the Silicon Valley of the Rocky Mountains but lives in Greeley where you can buy a house for about a third of the cost of Boulder. I think it works out great!
I was accepted into CU (University of Colorado- Boulder) for college, but I received a bigger scholarship to UNC (University of Northern Colorado) in Greeley and I could live at home for free so I didn't end up going there. I think it probably would have been a pretty cool experience, but ultimately I am happy I stayed here (especially financially).
It was a great day out. Boulder -and especially Pearl Street- is just one of those places you have to visit if you come to Colorado. While I am excited about living in the tropics there is just something about Colorado at Christmastime that is magical.