The 4th of July, or America's Independence Day, is not very celebrated in Puerto Rico. In spite of Puerto Rico being part of the U.S., Puerto Rico is very much her own in terms of culture. In all the days leading up to the 4th in Greeley we would hear and see lots of fireworks going off around town (legal or not). We didn't hear a peep in our neighborhood in Puerto Rico. None-the-less a few people from the states thought it would be fun to celebrate the 4th Rincon style: on the beach! Add in some fireworks, a couple of frisbees, some music, a bonfire, and a potluck BBQ and we were in for a good time!
Some friends had a connection that let everyone have access to park at the Landing, an old abandoned restaurant right on the beach. We had never been on this beach though it is just an extension of Sandy Beach, really.  It was a great spot for a party!
It was large enough that a lot of people could hang out, swim, socialize, play etc but also a little hidden away. Once the sun went down they set the fireworks off. We could also see far off in the distance the firework display at the Coast Guard Base in Aguadilla.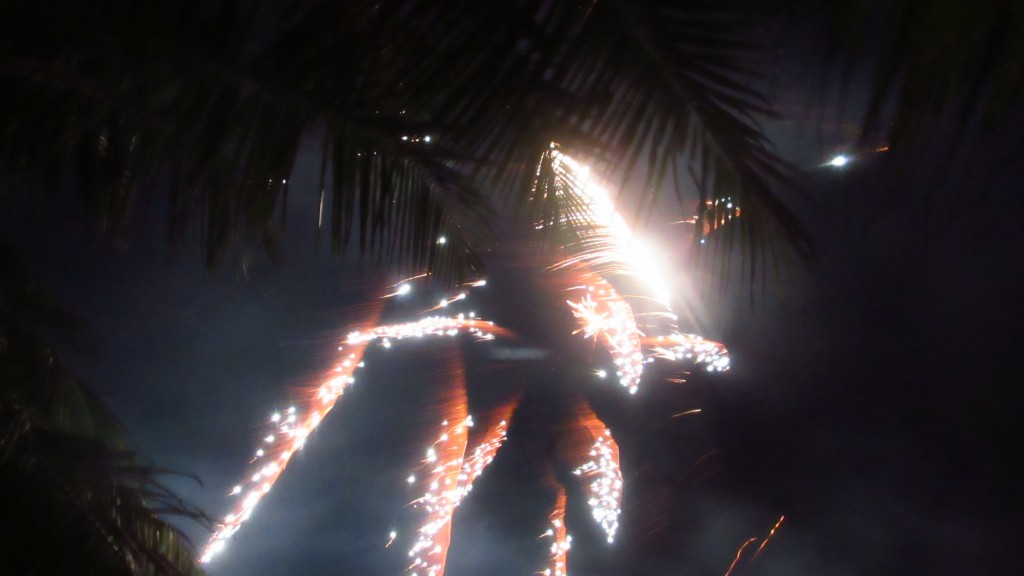 Watching fireworks beneath palm fronds
It was a great night with a great bunch of people. We love our community. People always have awesome ideas (and parties) here. Hope you all had a nice 4th as well.