Saturday night we went out with Damon, Shana, and Clifton to the Island Grill in downtown Greeley for a blues band. Damon's friends Jessie and Dee came down to hang out with us since they hadn't seen Damon in a long time ever since he moved to Santa Barbara, CA. We also ran into JR (of course!).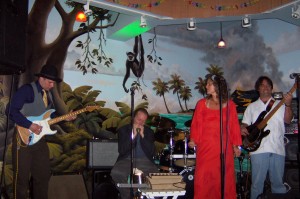 Blues Band at the Island Grill Greeley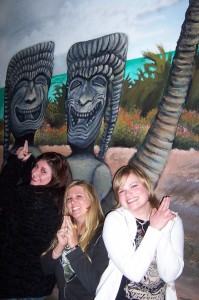 Shana, Me and Jessie at Island Grill
The band was pretty good, but slow and loud, so we went to Pitchers on the other side of town by UNC. We drank one pitcher of beer at Pitchers and then decided to go to our house. We played cards but the only cards I could find were Easter Egg shaped. Both Britton and Clifton played for push ups which was pretty funny to watch. Then we played Catchphrase until about 2 or 3am.
Finally everyone was either too tired or had too much to drink so they all stayed the night. Every couch and the futon was taken. It was an interesting night. Some other highlights: We saw a bike crash that laid a guy out in the middle of the road. Another guy wore a bike helmet all night long in the bar (maybe he saw the wreck too and wanted to be safe ??).  JR dropped Shana when he went to dip her. And I got a Landshark beer glass to take home. Who says Greeley doesn't have much of a nightlife? There are things to do in Greeley at night, but you have to pay attention. It was pretty lively last night anyway.