Every year here in Greeley (at least for the last 80 or so) we have a July 4th celebration put on by the Stampede.  It used to be a community "potato festival" as that is what was grown in this area..Potatoes.
Somewhere along the line a private company took over ownership of the fair.  Since then it's turned into a bigger and bigger deal.  They run the parade every year, the rodeo and the island grove park carnival.   One of the benefits to this is they draw in some pretty big names in music. They've had Def Leopard, Kid Rock, Keith Urban and numerous other acts.
Last night we had tickets to Cheap Trick and rode our bikes to the fairgrounds.  Blue Oyster Cult opened up for them.  I think we were the only people that rode our bikes.  The people watching the gate kind of laughed as we rode past them and bypassed the $10 parking fees.
The fair has increasingly gotten more and more expensive.  I'd imagine back in the days of the Potato Fair it was pretty cheap to walk to the park.  They'd have some games and maybe a baking contest.  Now it's $10 to park your car and another $5 just to get into the park.  A Turkey leg will cost you $8 and a lemonade $4.  That makes the regularly priced tickets to see Cheap Trick($17) not so bad in comparison.   We got them for $5 which is usually the cost to just walk around.  Not bad!

At the show! You can see the meat packing plant in the distance

The concert was pretty good.  We recognized a few of their songs from the radio and there were a few people that seemed to know every song.  I am sure this was a pretty big deal for them.
We got an "Indian Taco" (that isn't really a taco and isn't Indian either) as we walked around the food court.  We ran into a few people that we know and then watched the concert.  Overall it was a fun night .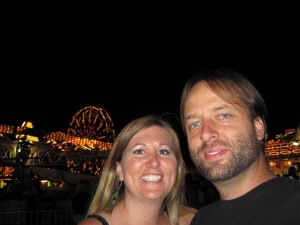 Walking around the fair grounds after dark