We were contacted by someone who left a comment on this blog. His name is George and he wanted to know what we knew about Puerto Rico because he had some business ideas that he would like to see go to Puerto Rico.  We exchanged emails a few times and decided it would be fun to meet up in person.
So since they live in Colorado Springs and we live here in Greeley, we decided to meet at a halfway point. I thought Cinzzetti's in Northglenn would be perfect since it is right off I-25. It's an Italian Buffet restaurant.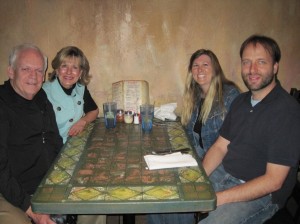 With George and Sandy at Cinzzetti's
We had a lovely meal and time with George and his wife Sandy. They are trying to start a new business sort of like Avon where they sell supplements direct to customers. It sounded interesting and we told him about our connections with Awilda and the naturalists in Puerto Rico.
I don't think we would probably sell the products ourselves, but you never know. It seems a bit too pricey, and I'm not much for sales. I read a little about glutathione (one of the major ingredients in these products) later on. It is an important nutrient and energy source in our bodies, but I was surprised and happy to see that milk thistle also makes glutathione more abundant in the body. Milk thistle is what we gave our dog Schnoodle when she was really sick and jaundiced with some sort of liver disease as I mentioned before. Milk thistle, unlike some of these supplements, is also dirt cheap and the weed grows all around here.
So anyhow, it was a fun adventure and another example of how our blog connects us to the world around us with people of similar interests. Thanks George and Sandy for the meal and a very nice time. We wish you luck on your journey and hope that our roads will perhaps intersect again in the future.