As you may remember, we were worried about the black chicken before we left for Puerto Rico. She was not moving much, wasn't eating, and had some problems "going to the bathroom". We thought she might be egg bound, but weren't sure. Before we left she was walking around again, but her tail feathers were down. While we were gone in Puerto Rico my mom came over and fed the chickens and Kitty. She said the black one was walking around and greeted her at the greenhouse. Well, when we got back, she was laying on her side with her feet sticking out to the other side and her eyes were all glazed over. When we would pet her or pick her up, she would awaken, but wouldn't move or sit on her feet. I had a feeling that if she wouldn't even sit on her feet anymore she was probably on her last leg so to speak.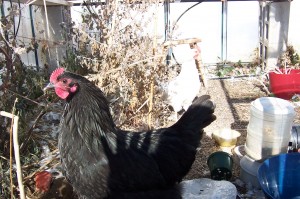 The Black Chicken in Happier Days
This morning Britton went out to feed them and she was stiff and dead. It feels silly to mourn a chicken, but we feel bad that we couldn't do anything to save her. At least she didn't die while Mom was watching them…she waited until we got back to pass away. Well Black Chicken AKA Pepper we'll miss you, you were a nice chicken and we wish you well on your way to wherever chickens go when they die.