Britton and I went on the Tour De Farms events from the Rocky Mountain Sustainablilty group on Saturday. It was pretty fun. We loaded up the bikes in the Honda Civic and met at the Farmer's Market in Fort Collins. There we had a discussion about local food economies and the benefits of eating organic. Then we looked around the Farmer's Market and ate some Grand Junction peaches.
From there we headed off on bike as a group to a couple of urban backyard gardens and discussed the importance of this.
Then we rode a little more and saw a couple of commercial operations including an organic nursery and greenhouse operation that is part of a larger farm out in Wellington and a Community Supported Agriculture farm that has over 125 members.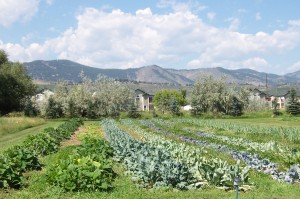 Rows of Food with a Mountain backdrop
It was pretty cool to see over 50 people in a row on bikes going from farm to farm in a 5 mile radius in Fort Collins.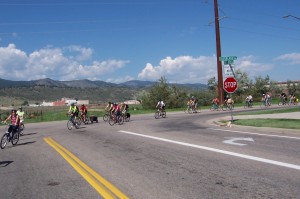 The last event at Happy Heart Farm was probably the best. We talked about the importance of transportation in the equation (biking) to reduce our carbon footprint and even had a bike courier deliver lunch from a local co-op. It was definitely a pretty hippie and awesome day. The speaker even talked about moving from a "locavore" society to a "bike-a-vore" society. Which made me think, who eats their bicycle anyway?

Even the sandwich choices were either vegetarian or vegan -that's pretty rare. I would have liked to have seen a few animals as part of the discussion on farming -especially for the kids to play with, and maybe a little more diversity in the people who turned out for the event, but overall, it was a great way to spend a morning. And we ended up at New Belgium's again which made Britton all the happier…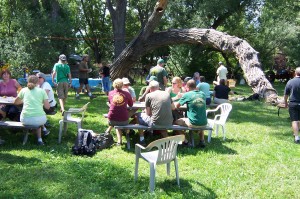 Hanging out at Happy Heart Farm under the old tree arch
When we came home, we hung out with Matt and Jamie at our house for a little while and then slept out in our backyard in a tent to complete the hippie day.
The whole day overall was yet another training for Puerto Rico. I believe there are very few organic farms or CSAs there. It would be wonderful to create a farm-stay program where people could stay at the place, work and eat. It gave us renewed vigor and strength that this is going to be one of the coolest things in our lives. We probably would do it here in Colorado except, well, we have a winter season that goes from about the middle of October until the middle of April. I am ready to live like this -well maybe not the whole tent thing

– year-round.