The party was great last night. We had a fun time early on with the kids chasing chickens around the yard, we had lots of food and music, and a couple of games. Midway through the night, we gave out the raffle prizes: 2 bouquets of flowers from our yard in mason jars, a mojito pack that included cane sugar, club soda, fresh mint from our yard, a lime and shooter of bacardi, a salsa pack with some ingredients also from our garden: tomatoes, cilantro, jalapeno and garlic. Britton's deviled eggs from our chickens' eggs and cucumber California rolls with cucumbers from my mom's garden were gone within 2 hours after making them.
We launched potatoes into the empty field behind our house while it was still light, and again later, had an interesting garlic eating contest, and in general had a great time. We drank cherry wine and dark chocolate and everyone enjoyed the cheese and olive tray downstairs. The food and drinks that everyone brought and made were excellent!! Thanks everyone for coming out and for all you brought to the party (in both senses of the word)!
Here are a few memorable moments: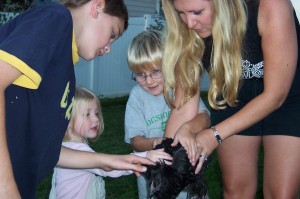 After the kids chased the chickens till they were breathless, I picked up "Pepa" so they could touch her

Then I did the "trick" and put the chicken to sleep. All you have to do is gently stick the head under her wing and rock up and down. She woke up about 10 seconds later.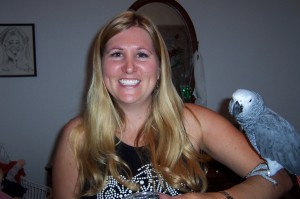 A lot of people wanted to see and hold Josh, the parrot
We used a whole bag of potatoes and a few other items throughout the night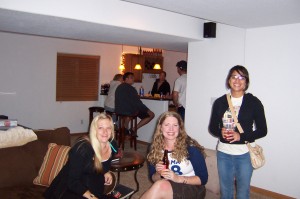 Hanging out in the basement (Jody, Melissa and Lorena)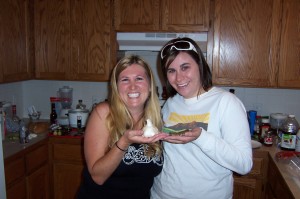 Cassie and Erin Ready with Garlic and the Bait (quarters)

Setting up the bet
Shortly after this video, one of the kiddos also ate a whole clove of garlic and ended up throwing up. But he was a champ!
If you came to the party, we would love for you to let us know how you liked it (click on add comments below this post). If you didn't come, you missed out, and we missed you!