Last night we went to Rafferty's bar in Greeley to watch our friend Shana belly dance. Rafferty's is kind of known for being a run-down bar, but they have fixed it up quite a bit. We hung out with our friends Kelly, Lorena and a few more people before it started. It was neat seeing all the costumes, dancing and hear the music. I think it would be fun to do belly dancing. We stayed a little bit longer to watch a rock band called Kung Fu Grip because I also knew the drummer. Anyway, it was fun, except one thing.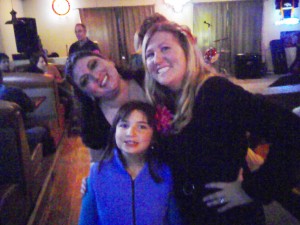 Shana, Me and her niece at Raffertys
The only thing that really bothered me (and that I'll probably have to look into doing something about) was all the smoke. They built this "patio" on to it, but it is basically another room -it had walls, windows which were shut and doors. So whenever anyone went into the "smoking patio" all the smoke went right back in to us. While I should notice this sort of thing, Britton, who rarely complains, even noticed it. That was part of the reason we left so early -he was getting a headache from the smoke. It's amazing how quickly you get used to not having to go out in smoke! It reminded me a little of the early days when Britton played in a band in all those gross smoky bars and how I'd have to take a shower just to get the smoke out of my hair before bed.
So we went home and hung out for a while. Then Shana who was so excited about her performance wanted to come by and gush and take pictures. It was kind of fun. I was showing her the way to take the best pictures and the angles that are the most flattering. Here are a few I took: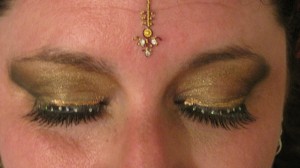 Shana's Eye Makeup

Her belly dancing costume down to the toes
She tried to show me a few moves and we just played around with it for a while and Britton took a few pics of us. I think I need a little work