After traveling throughout the night we arrived in Kralendijk, Bonaire making it our first stop of the cruise. Our cruise, as it turned out, was to all Dutch or formally Dutch islands. I know very little about Dutch or Holland, and barely skimmed the surface of Dutch colonialism in our stops. Three of the four stops were also to the southern Caribbean closer to South America than north, the exception being St Maarten.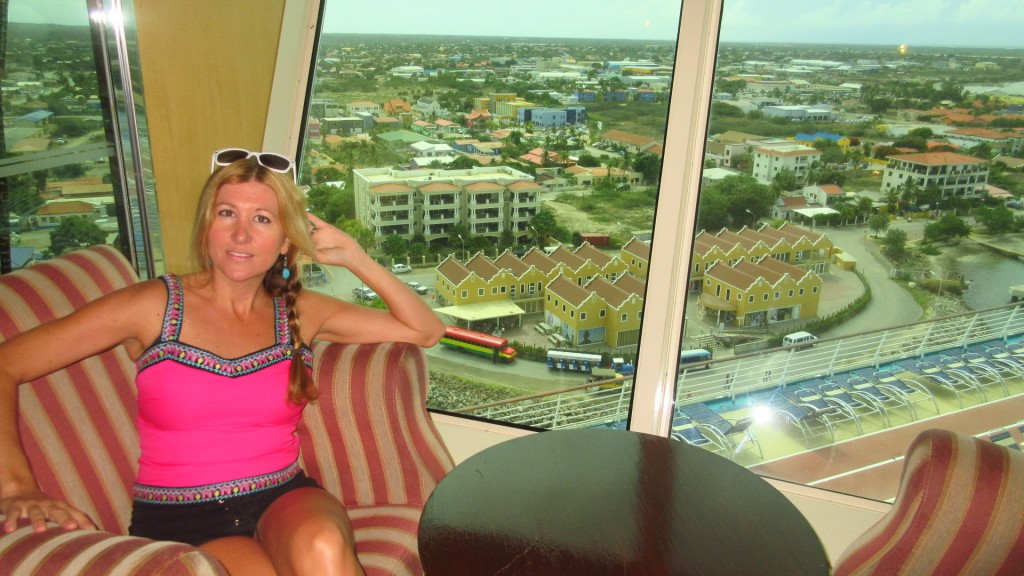 Overlooking Bonaire from upon high -notice all the lounge chairs are empty as nearly everyone had left.

We got in the habit of checking out the port cities from high above on the cruise ship each day before exiting. This gave us the ability to see from a bird's eye view what was walkable and anything else of interest. The boat was eerily vacated by the time we descended and left, but I much preferred it to the crowd of masses on sea days. It was only on port days that we enjoyed the pool and other areas that were otherwise way too packed.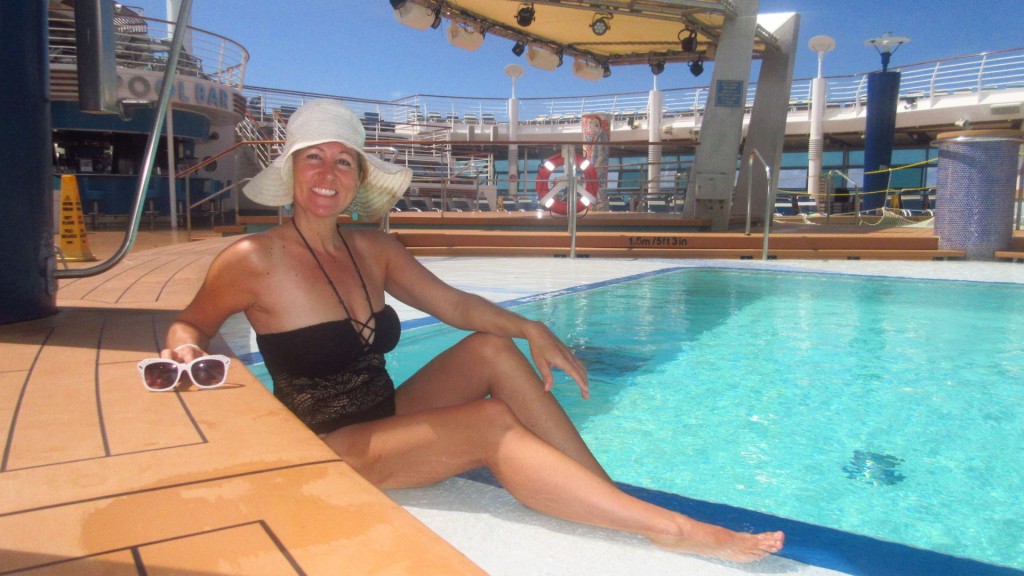 Enjoying one of the empty pools on a port day
Since it was our first stop, we thought we would play it by ear and just wander around near the port of Kralendijk. The process to leave the ship was very simple. There were no customs agents of any sort. No passport stamping at all coming or going. When we exited the boat, they simply scanned our Sea Pass card and we descended. To reboard, we rescanned and went through a metal detector by the security company hired by the cruiseline.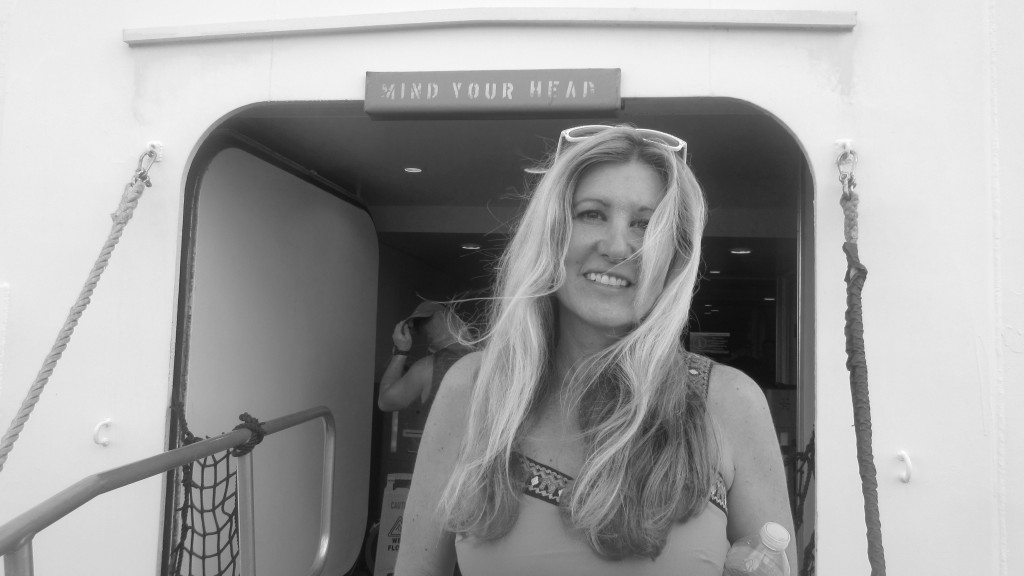 Mind Your Head -I thought this sign was interesting for a few reasons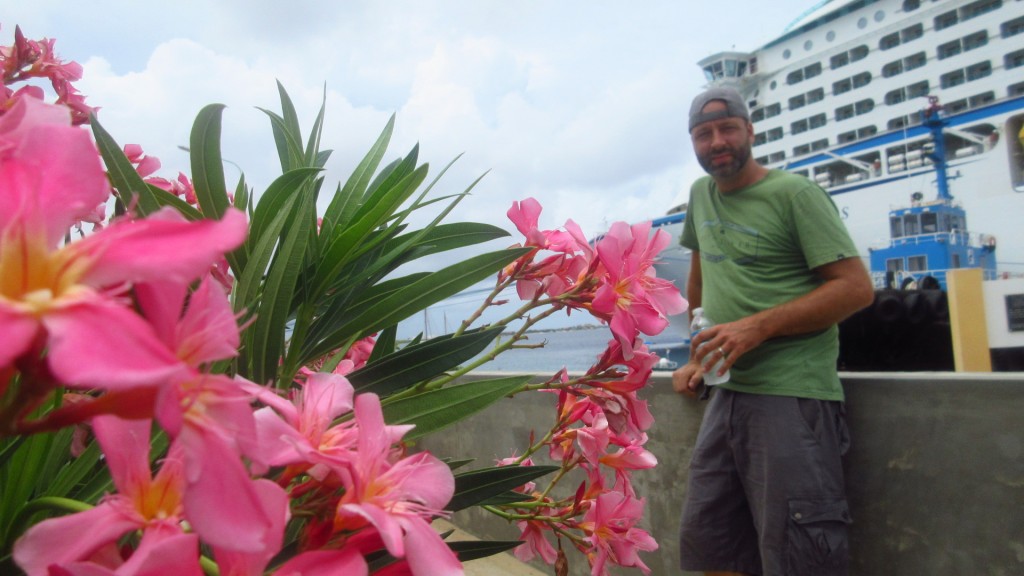 It started as a bit of a cloudy day and then turned hot and sunny
Being the anti-authoritarian rebel I am (haha), when they said to go left for "great shopping" we went right to see what Kralendijk was really like. We ended up in sort of a ghetto neighborhood and in an Asian grocery store.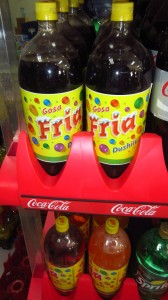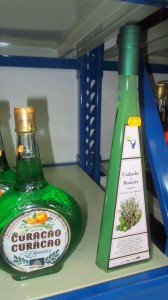 Some things on the shelf of the store
I enjoyed looking at all the products I have never seen elsewhere. One thing about being on a cruise with all the gourmet foods you can stuff in your system is that you don't have a desire to try any of the local cuisine of the stops you take which is a shame because you can learn a lot about a culture through its food.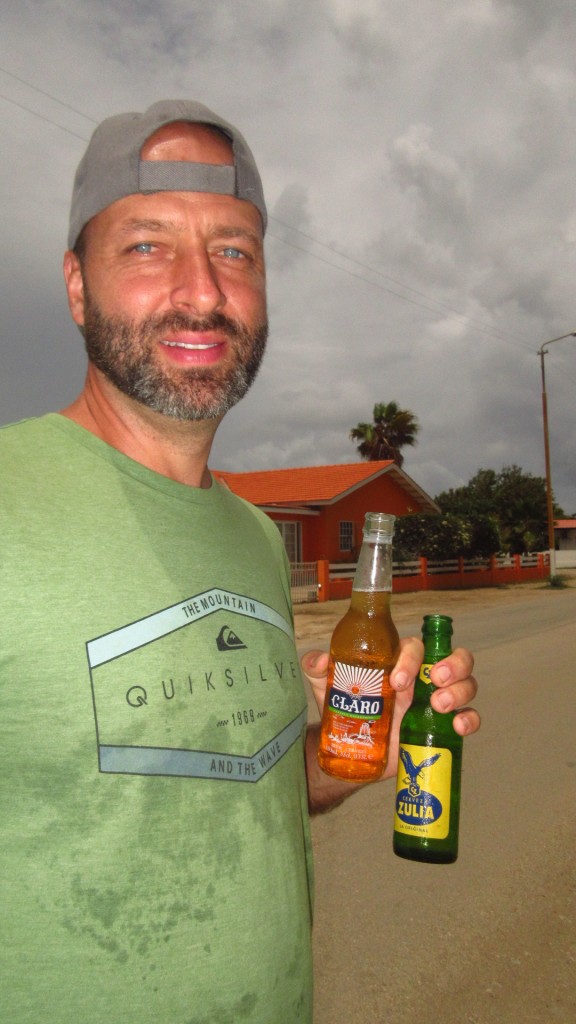 Britton hot and sweaty with two different beers we have never seen before
We did, however, get a chance to try local light beers at each of our stops. These included Zulia, Claro, Bright, and a different variety of Amstel.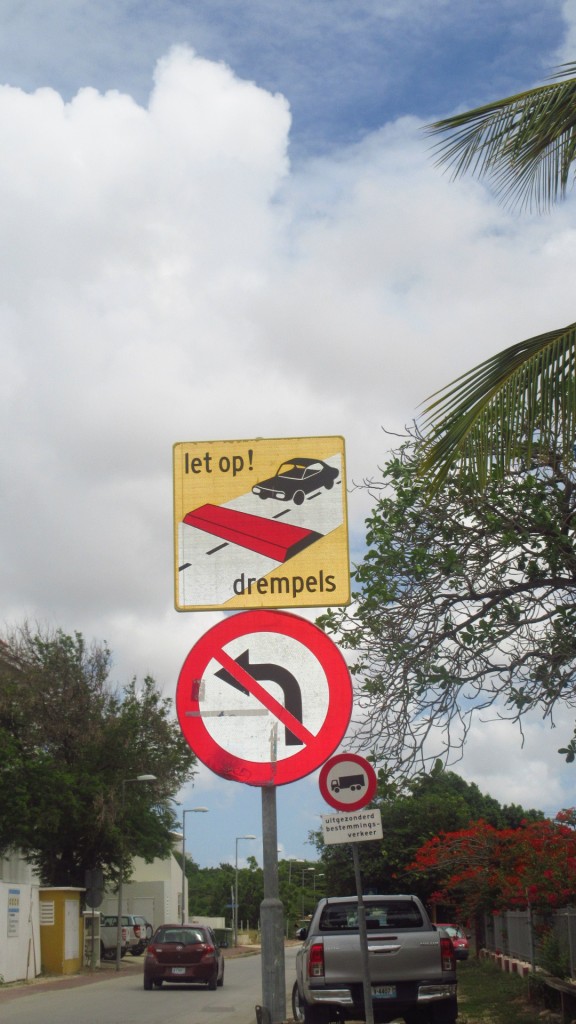 I loved seeing all the road signs in Dutch. Let OP! Drempels
I stopped in to a photocopy shop to get copies of our passports because they said onboard that we should have some sort of identification with us, but that a copy would suffice. I talked with the woman behind the counter and she spoke more Spanish with me than English though it was interspersed with what I think was Dutch. I ran into some Dominicans, Colombians and Venezuelans in the stores too, a reminder of how much impact Latin America has on these Dutch islands.  This was also our first introduction to Papiamento, the pidgin and commonly spoken language in the A, B, C islands of Aruba, Bonaire, and Curacao.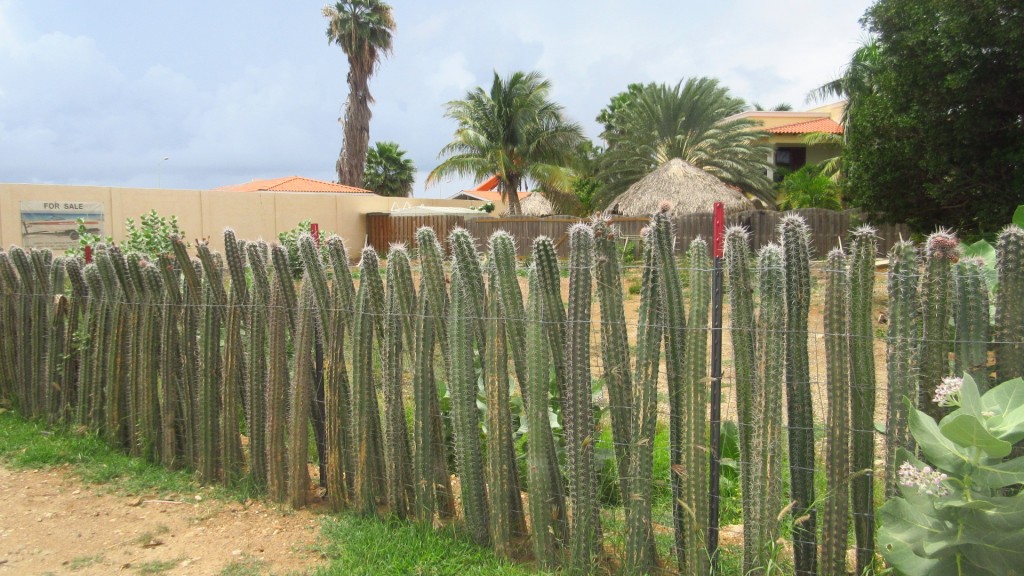 The first signs we weren't in the lush tropics anymore, but rather a desert were these cactus fences. Also, note the milkweed to the right where we also saw a lot of butterflies feeding
As I was inside the photocopy shop, Britton waited outside and set down the bag of goodies that we bought in the grocery store in order to throw away a beer bottle. When he came back to it 30 seconds later, he found someone rifling through it. He yelled that it was his bag and the guy started to give him aggressive attitude and posturing. Britton said he started to feel the heat rise and tried to diffuse the situation speaking in Spanish and English "it's ok, amigo, friend" and finally the guy left the bag alone. After that we grabbed it, got the heck out of there and went left after all.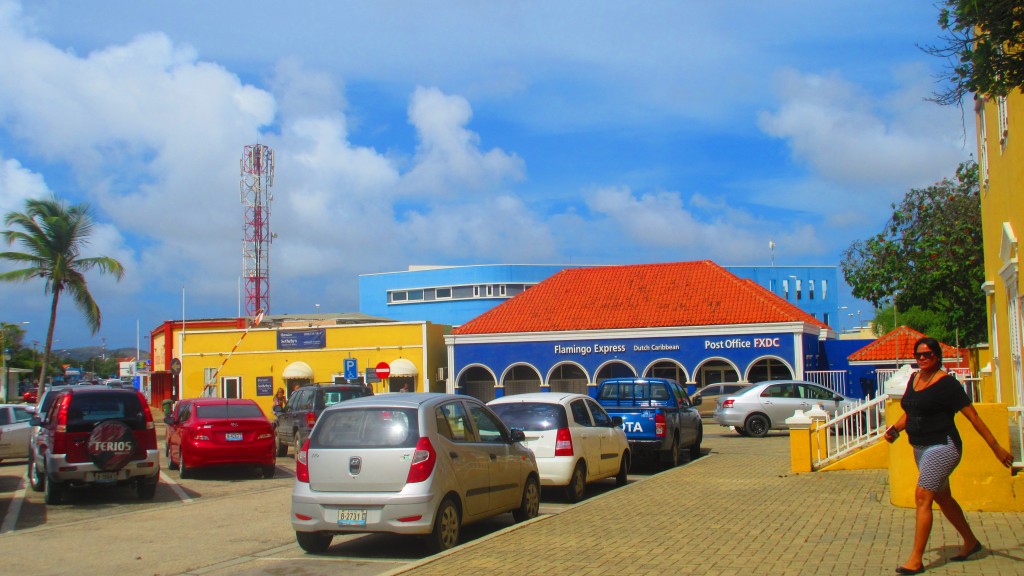 Bonaire is known for its flamingos and nearly everything uses this spirit animal including the post office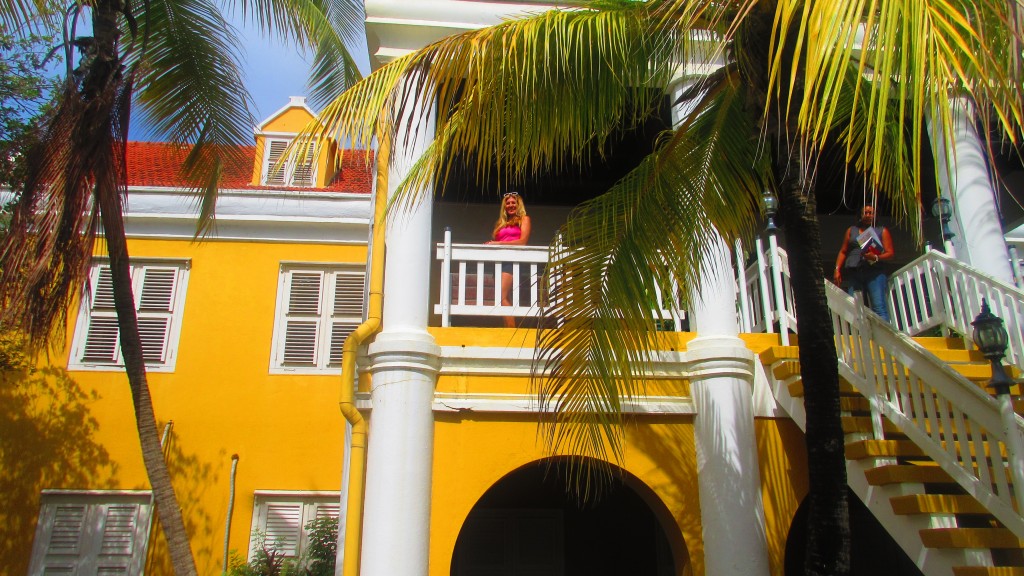 Apparently this was some sort of government building whose sign I didn't understand because I again got ushered out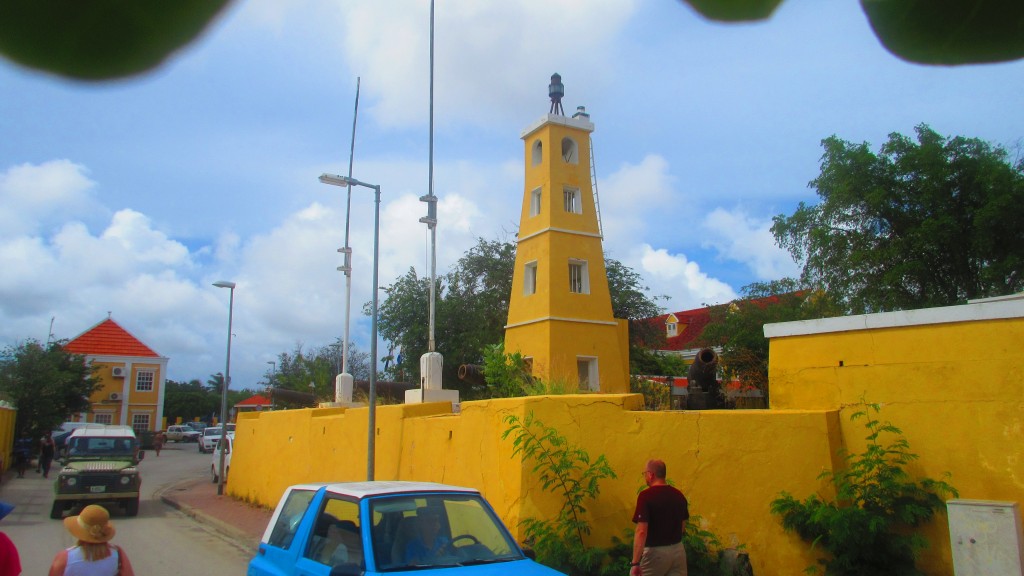 Cool old Dutch architecture – and cannons!
Our day in Bonaire was pretty short with a departure time of just 5pm, so we just barely got a feel for it and went back aboard the ship to take more pictures from above. If we had gotten up earlier or had more time in general I would have liked to have seen the flamingos, some of the beaches or gone on the ATV tour, but for our first stop we felt pretty content with just walking around a bit.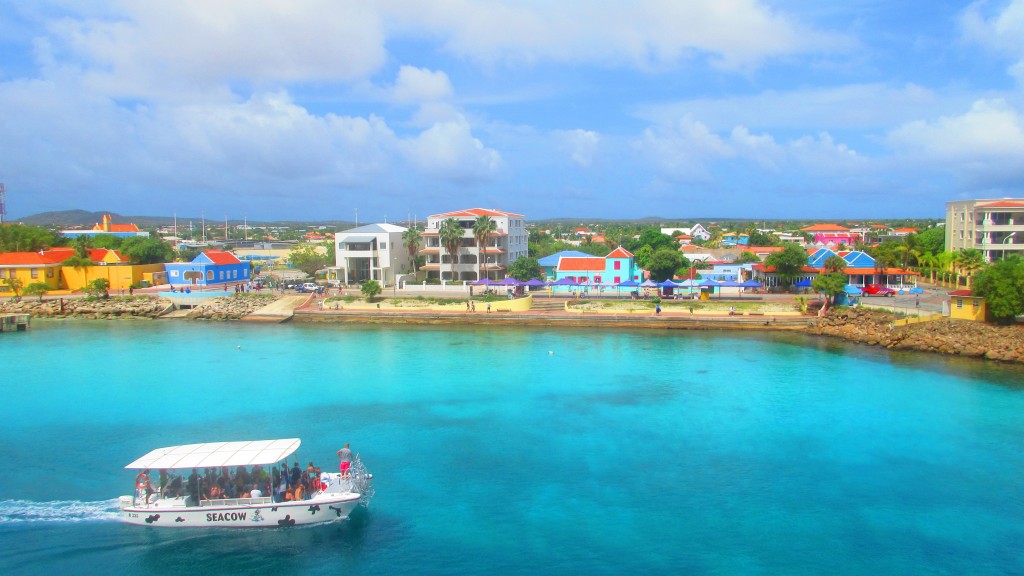 I thought the Sea Cow was a pretty funny little boat
That evening as the ship left Bonaire on the way to Curacao, we watched a lovely sunset off the deck and prepared for another exciting port day.