Power was out all day yesterday 6am-10pm.  This also means that the water is out because they use pumping stations to get the water up the hills and to the houses.  It isn't uncommon to have the power out, but it usually comes back on within an hour or so.  Many of the houses here have water tanks on the roofs and generators; we don't.
When the power is out to the neighborhood we can hear the generators humming in the background.  It makes me wonder what they're powering in the middle of the day?  Almost all the stoves here are gas and a fridge will hold its cold like a cooler for hours on end if not a day if you don't open it.  Are they watching TV?  Running an air conditioner?  I can only speculate.
For us we still have water that flows in the pipes because we live at the bottom of the hill.  We both had enough to take cold, quick showers (lower pressure), watered all the plants and even filled our swimming pool but we eventually ran dry.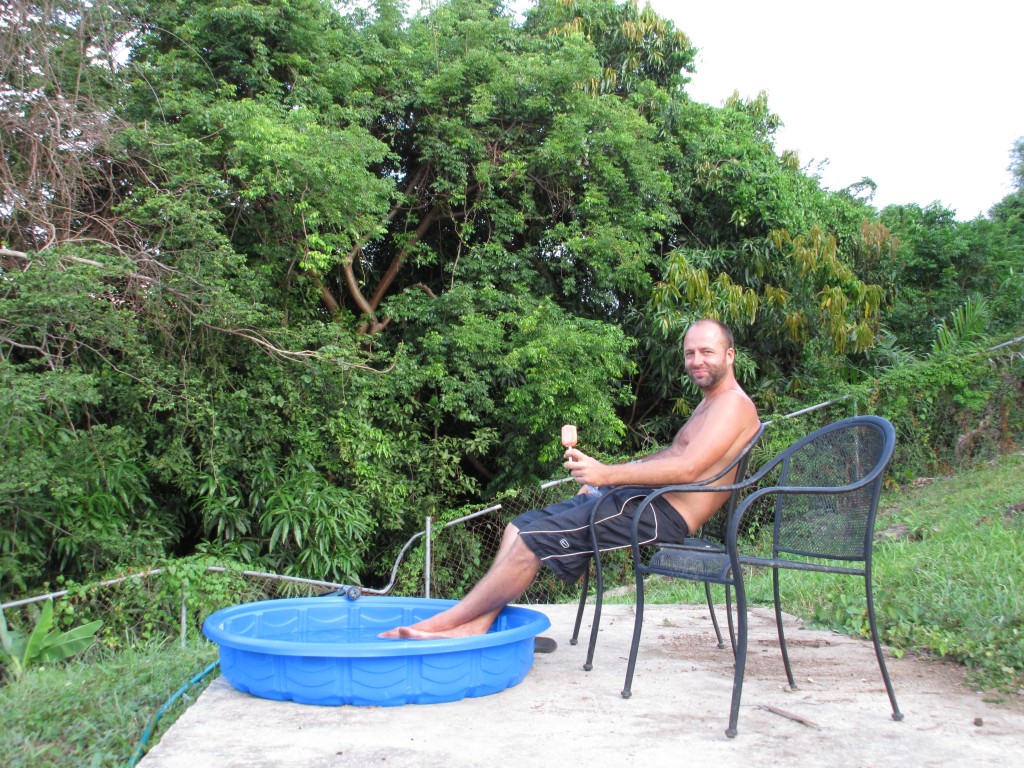 Enjoying a cold popsicle before it melts while dipping my toes in the pool
We found out that we became more ingenuitive.  We were using the pool water to fill the chicken and turkey waterers, we were using battery power on the laptop to watch TV and movies, used fire to cook and even caught rain from the sky to drink.  Eventually we realized that we really don't have to do anything or be anywhere so we slept…a lot.  It was a power down for us too.
Later that night we went for a drive to meet up with a friend and saw that the whole town was without power.  Stores were closed, places were dark.  Signs everywhere "No hay luz".  People were playing dominoes under the city building lights that obviously had a backup generator, there were people at the beach sitting around drinking in the dark.  I suppose these folks also realized they didn't have to be anywhere either and there wasn't a way to force that to change.
So it also becomes a practice in patience and not having control.  We noticed it aroused a lot of anxiety in some people too, especially when the repairs were 'supposed to be done at 4pm' and the lights were still out and there was no internet to tell us what to do! When people are out of power, some feel out of control, powerless!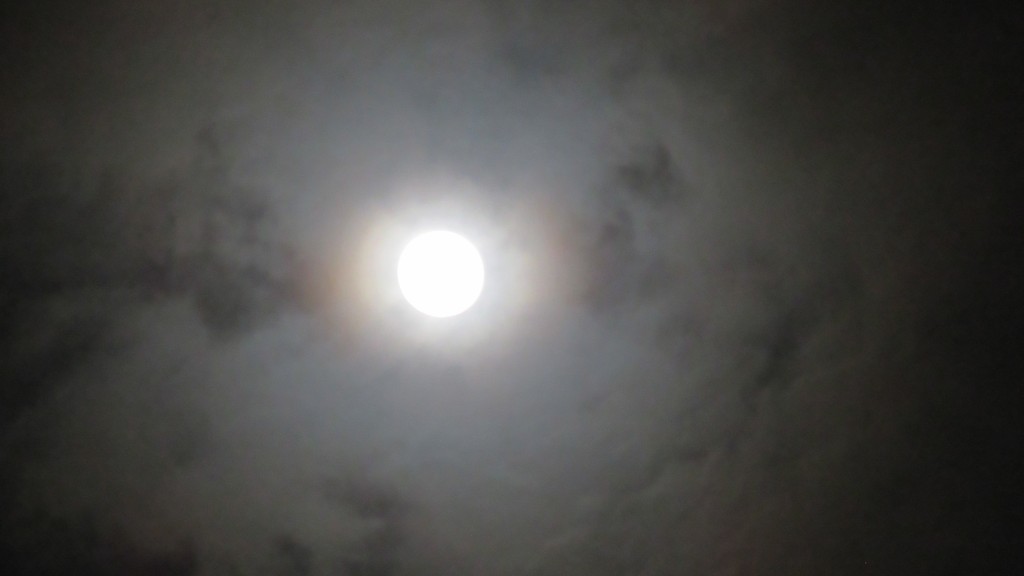 The light of the moon seems brighter when there is no other light
Not having these basic services makes me reflect upon how dependent/independent I am on services and how dependent society as a whole is upon them.  We were dependent upon it because of the food we keep in the fridge, yet independent because we can pick some fruit, kill a chicken or iguana and eat it fresh on a fire with no need for electricity if we needed to.  We use city water but can catch it from the sky.  It sparked conversations about consumerism, survivalism and humanity.  As consumers we look to buy gadgets to fix things we perceive as a problem like buying a generator or tanks to hold water.  As homesteaders we try to look to ourselves and resources on hand to satisfy those needs and purchasing as a last resort.  The realization is that independence is both essential and impossible at this stage in time.
For now things are back online in Rincón. Electricity, water, internet and even the trash trucks are doing their thing.  I think it is a good thing to go without services every once in a while.