Yesterday we went to a fundraiser for Hospice called An Act of Grace. It was a showing of The King and I at the Candlelight Dinner Playhouse in Johnstown just off of I-25.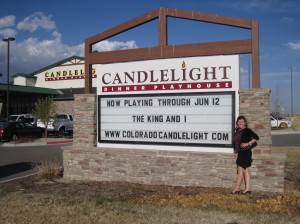 At Candlelight Dinner Playhouse
I love going to dinner theatre and this was for a great cause so it was win-win all the way. My mom, grandma and aunt all came out with us as well. It was a nice event and they also had a silent and live auction. The meal was good and the acting, singing and dancing were fun. Our favorite part was the play within the play about "The Small House of Uncle Thomas".  The actors who played the King of Siam and Anna were great.
My mom really liked a huge watercolor painting that was for sale of some  parrots in tropical foliage. She was the winning bid in the silent auction at $400 of this painting that was valued at $3000!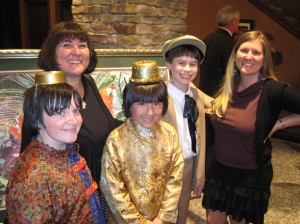 With some of the young cast members and the painting
Hospice helped out a lot when my dad was in his last few months of life. So it was nice to get out and show some support and have a nice meal, watch a live play performance and have a fun night out with my family.