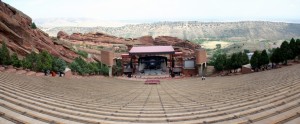 Well things have been getting pretty stressful lately with my job and rentals.   I have been thinking to myself "self, you need a break or you'll go crazy".  The universe responded and my friend Jimmie invited me to go to a concert with some tickets he got for free from a radio station!
It had been a while since I've been to Red Rocks.  It is by far one of the best places for a concert.  It's outdoors, it's in the foothills and the rocks and soil as the name implies is/are red!  That is where Colorado gets it's name from "Red Colored". 
The show was great, the energy was amazing and the light drzzle of rain was refreshing.  It really has lifted me up and given me some very postitive energy to attack some of the things I've been going thru.
Videos have already hit the internet!  They have signs everywhere that say "no cameras or recording devices".   Well…Everyone has a cell phone. The sound quality sucks, but it gives and idea of what it was like.