I've been getting text messages and phone calls from Britton with updates on what's going on down in Puerto Rico. Sounds like it's nice and warm and tropical as usual and that the houses are looking good.
Back at the homestead, things are so weird without him here. Even the animals don't know what's up. (But they manage as long as I feed them

)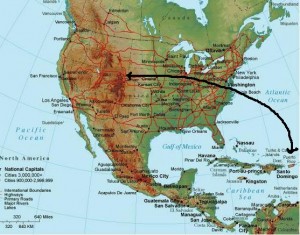 Britton is currently about 3000 miles away!
This is the farthest we've ever been apart since we got married. When we were still dating I lived in Querétaro, México for a summer, and that was really hard to be apart for that long!  
It's so different doing everything by yourself…cooking, cleaning, taking care of the pets. I'm glad we planned this trip during the week, because at least I have work and that keeps me busy. On the weekends we spend the whole time together usually, so it would have been a lot tougher. And I have a few things lined up before Thursday when he returns. Tonight I think I'm going to go to Trivia night at Old Chicago's and Wednesday night together with my friend Shana, my mom and my aunt, we are going to watch Eat, Pray, Love and have dinner and drinks. (Girls Night In)
But I still want to know what is going on down there in the tropics. It's hard to only get the play-by-play and not see the action myself. Lots of questions…So, how was the flight? How was the new airport? What time did you get in? Is it three hours or two hours ahead of Colorado time? Did you get to spend any time with the Kruses? How was the first house? Was there a stream? What did it look like? What kind of view does it have? Is it really hilly? How far is it to the beaches? Etc, etc. I'm excited to know the details, but he's busy looking at them!

I really hope that we find one that we can work with, so the next time we can bridge these 3000 miles -together!