I hope everyone had a great 4th of July and Happy Anniversary to my parents!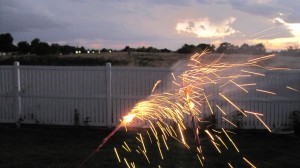 Sparklers were the extent of our fire works
Speaking of anniversaries, I was just reviewing some of the old posts from this blog and realized that we just passed another anniversary of blogging! Our very first post was on June 28, 2008! It's funny reading it now, because I remember that I had no idea what hosting and writing a blog would be like, let alone all the technical aspects of it (thanks to Britton for working most of those out…). The content of the post is basic and used mainly as a test, but it still reflects many of the summer posts here we've written about life in Greeley -messing around in the greenhouse, spending time outside, enjoying the hot weather.
However, we had no idea what would happen between then and now. I figured we would be living in PR by now, but a few twists and turns in life and here we still are. And actually we have had some great opportunities pop up that we just couldn't turn down. The cost benefit analysis of some of the investment and work opportunities here outweighed our immediate and strong desire to move. And while the date has been pushed out and out, we are getting more and more ready to be able to move without too much of a worry once we arrive. These last two years have been creating a great launching pad for us whereby we might not even HAVE to work in the traditional sense of wages for hours of our life.
It looks like my job will be saved and I will continue working past August 1 which is overall definitely good news in the sense that losing a job is always really stressful and it will give us more time to save money and invest. On the other hand, it also keeps us here. Britton says we have to know when to get out. Kind of like in poker -know when to hold them, fold them or walk away.
We are definitely emotionally and mentally ready, but financially I think we want to be prepared for the worst -no job, no income generated there, not understanding fully the system and also dealing with isolation away from our family and friends support network.
We have another investment in the works right now, and when it goes through I'll blog a little more about it. Another step. That's all you can do, just keep moving forward. Having goals (like for us moving to Puerto Rico) helps you to know which way to go, but you just have to keep moving forward.