"Oh, no! I just peed in a fresh bowl of water and then flushed it! I am so sorry, Cassie! I haven't done that in over a month, I can't believe I did that!" Britton exclaimed.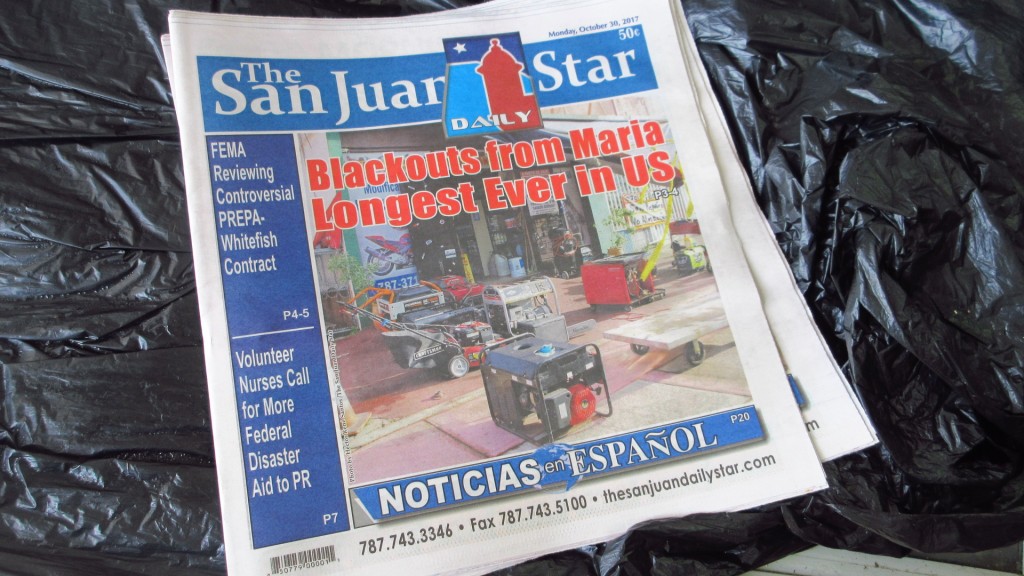 This is just one of the surreal comments that make absolute sense in our current situation. We are now in this hurricane survival situation over 40 days. Over 40 days without water, electricity, internet, very little cell service, limited credit card acceptability or cash availability, or even food security. We are slowly adapting, but it has not been easy.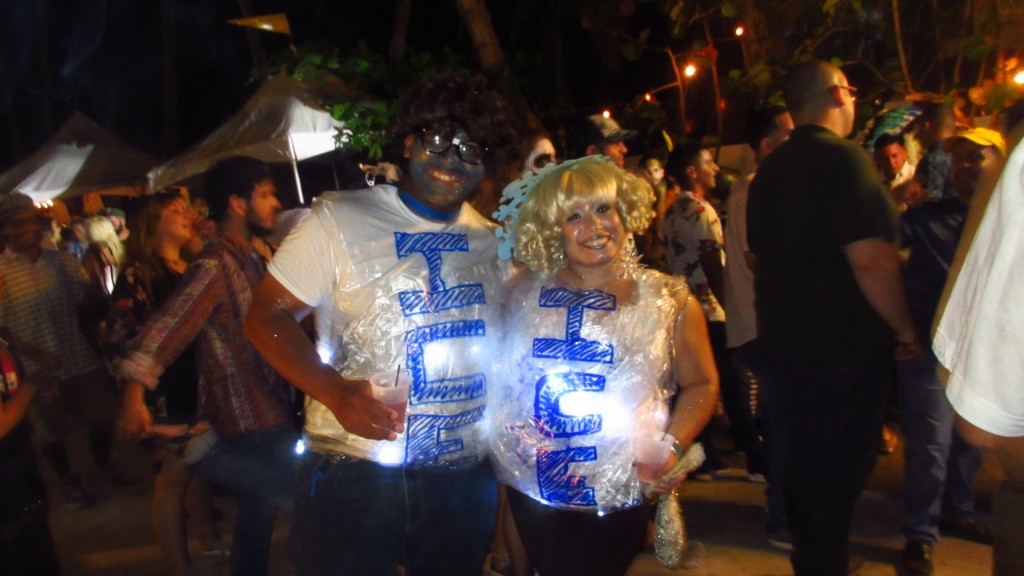 Ice: a great Maria-themed Halloween costume
Everything is about resources and the web of effects that spirals out from the lack of them. You cant buy gasoline without cash and cash is mainly available at banks and ATMs which are not often online. Ice is scarce unless you know someone or are willing to wait in line for an hour for one bag.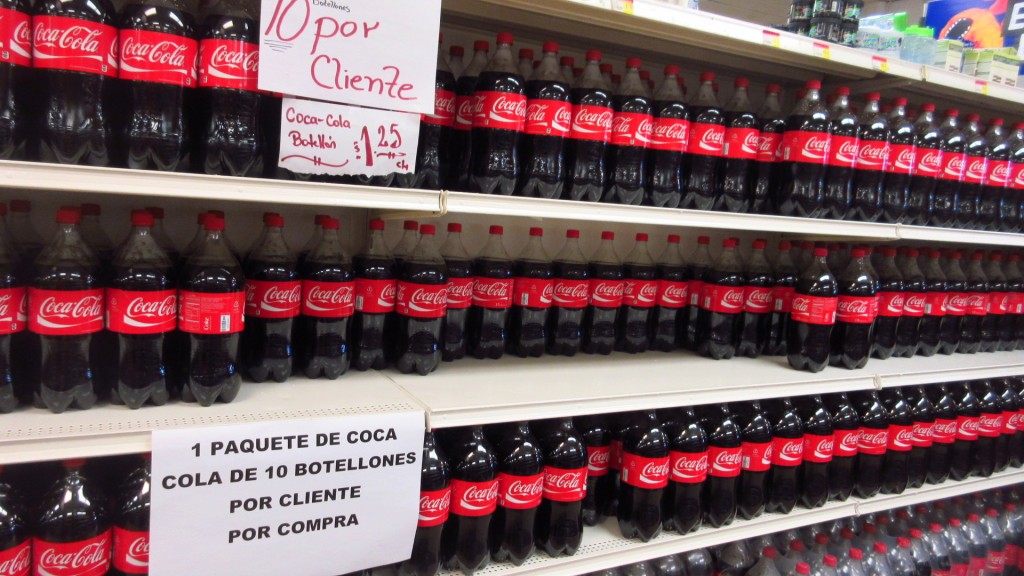 I am not sure why Coca-Cola is so popular right now, but it definitely is to the point of rationing it!
Working outside clearing trees or mowing means sweating. Sweating means needing water to rinse off and to drink. Getting water entails going down to the plaza or a local fresh water spring and filling a trash can and 5-gallon jugs with water that we then move into the cistern. It also means catching as much rain as possible.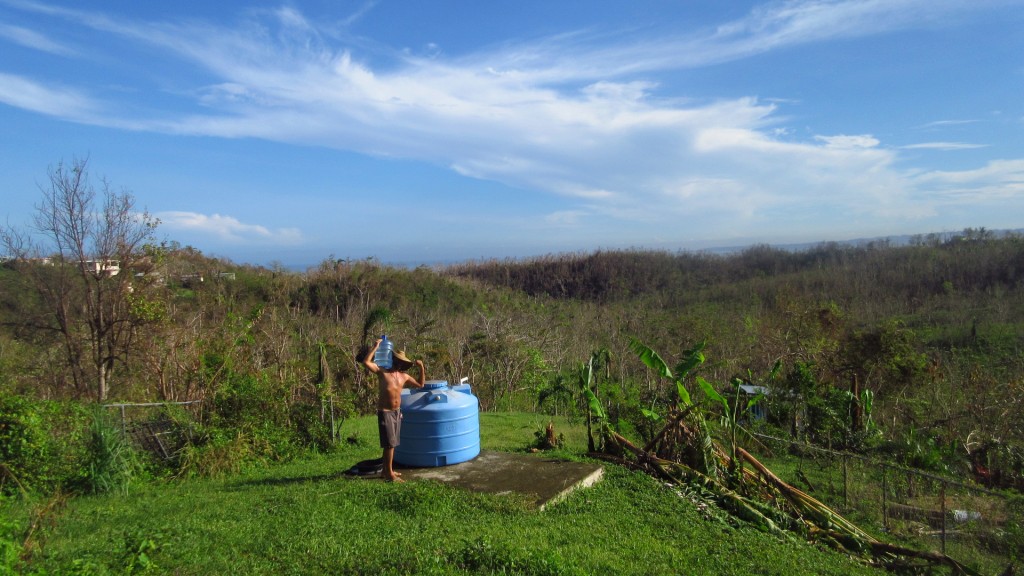 Moving water by hand from one bucket to the cistern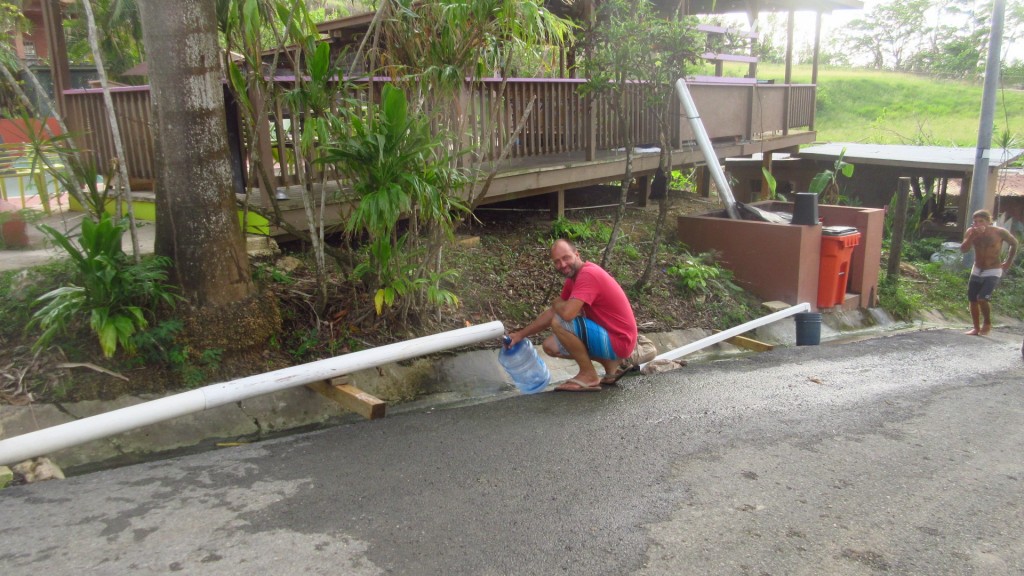 Britton filling the jug at the literal watering hole -a natural spring by Pool Bar in Puntas
I have to wash everything by hand and a full hamper and sheets takes at least 20 gallons of our very precious water. But at least we have found these resources.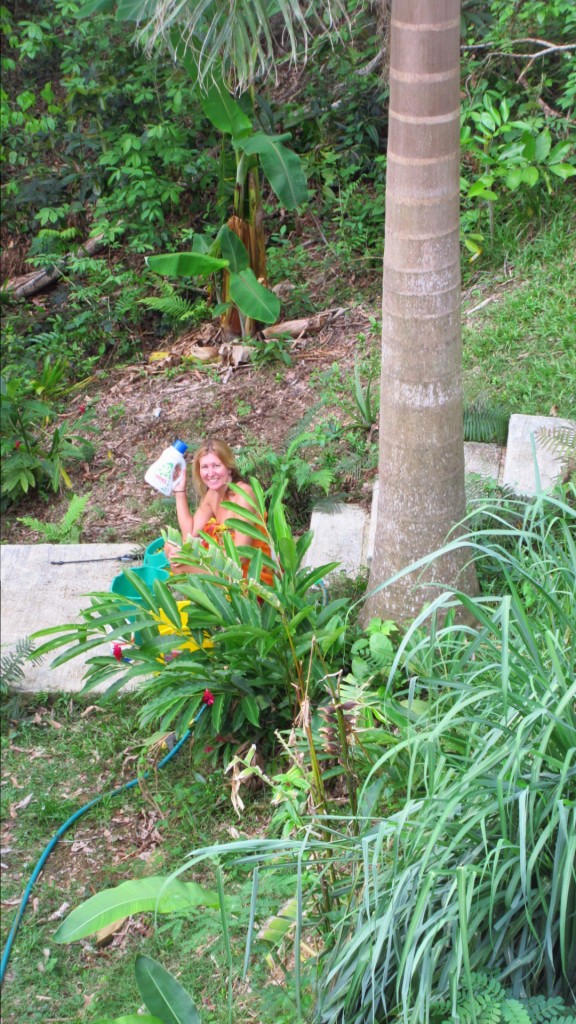 Washing clothes outside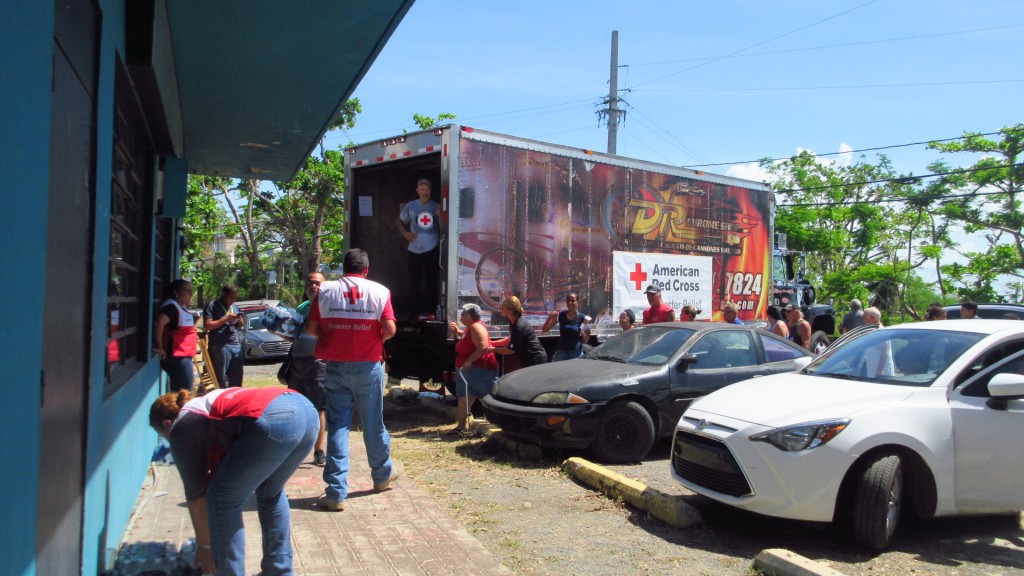 The Red Cross was out of food boxes and water within about 30 minutes of showing up
Sometimes we get food that just shows up such as from the military or Red Cross. These are basically just boxes of junk food. I don't have any idea how they can call a convenience store meat stick an "entree" but like the quote above, things are sort of surreal and crazy right now. I've eaten more junk food during this hurricane period than in the whole year I think.
The "entree" is a beef stick and the "starch" was saltine cracker snacks
There are signs of life, however. Many places are getting water The grocery stores are starting to get a little more fresh and perishable foods again, though I am still hesitant to trust the meat or dairy.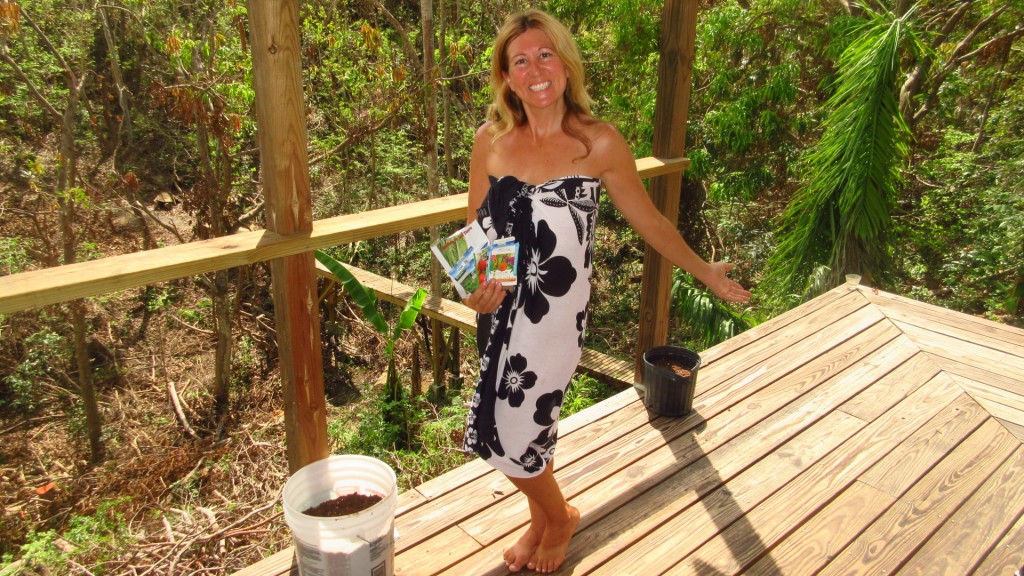 Since there is limited greens, we decided to grow our own
The one time we bought fresh milk, it was spoiled and came out in stinking clumps. We have therefore resorted to the boxed ultra pasteurized milk for our coffee and cereal in the morning.
Electricity is still probably a while away, but a great night was when the plaza in Rincon was relit. It was almost like lighting the Christmas tree in New York City. It felt strange to see lights in a sea of black darkness all around.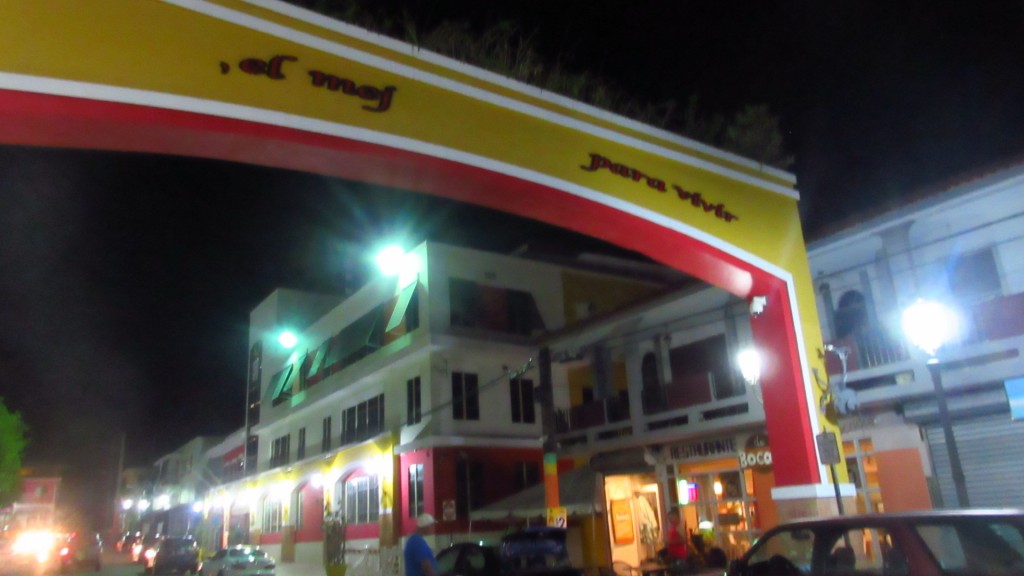 The night electricity arrived to Rincon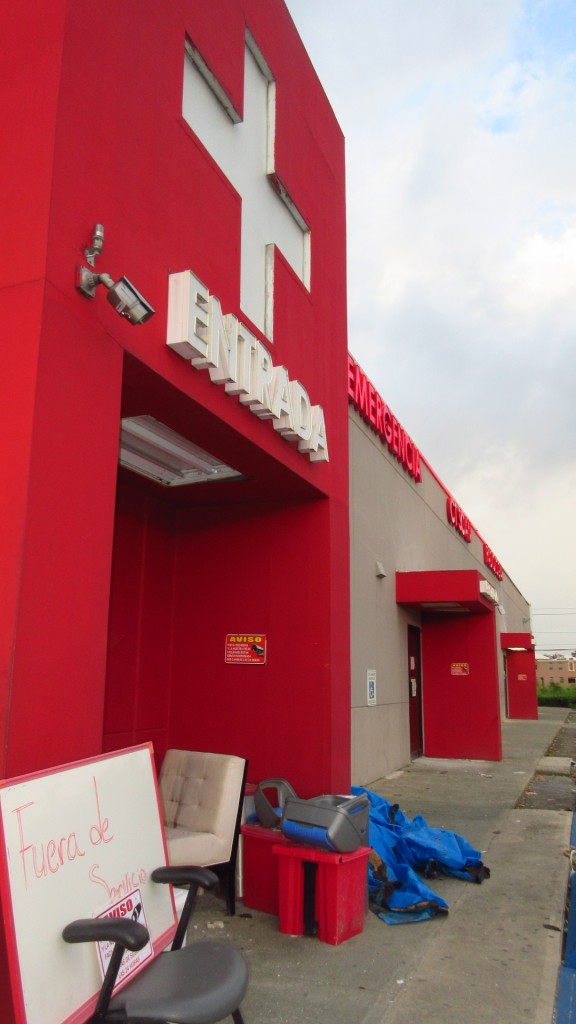 Like a scene in a zombie movie…emergency room out of service
Internet is still very hard to find since we don't have smartphones. And even if we did, cell service is not exactly stable. We have found a few spots we like for internet like the Aguada Plaza, the Rincon Plaza especially Roots, and El Galeon in Aguada. Mail is still hard to get and even basic things like health care cannot be counted on.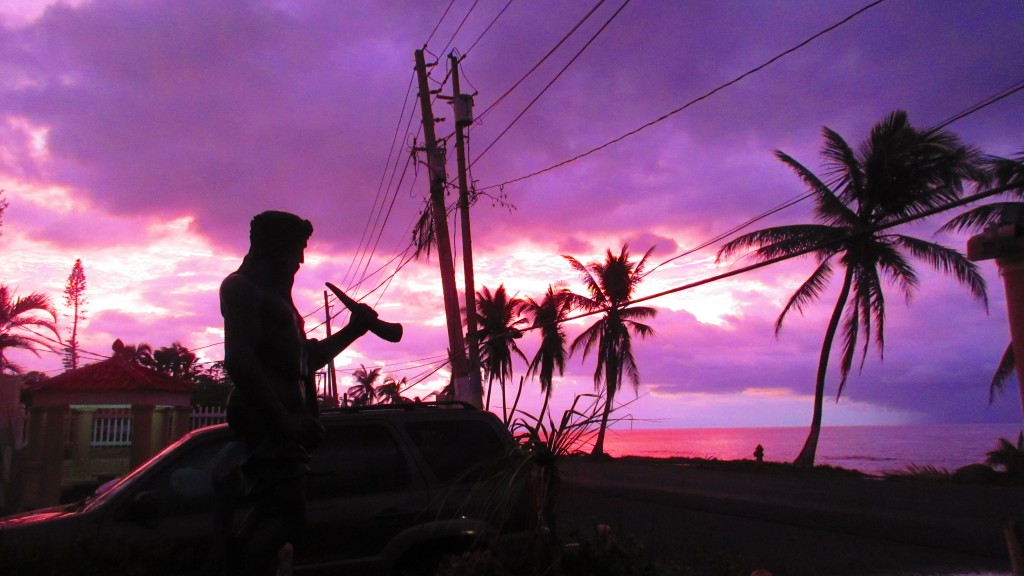 Sunset at El Galeon where we found internet (and I am currently writing)
Without much screen time or other usual activities, we have resorted to old-school entertainment. Britton mentioned that a lot of this time feels like his youth. We play cards in the morning when we run the generator which powers the fridge, charges the laptop and other devices, runs the fans and plays some music. We dance around and with Halloween I had fun playing dress up and doing a spur-of-the-moment silly photoshoot using costumes from the box like a kid in the toy box. We have started planting seeds for fresh greens and day dreaming of projects when normal life is fully restored. We are getting a little crazy and sillier, but maybe more creative too with all this time on our hands.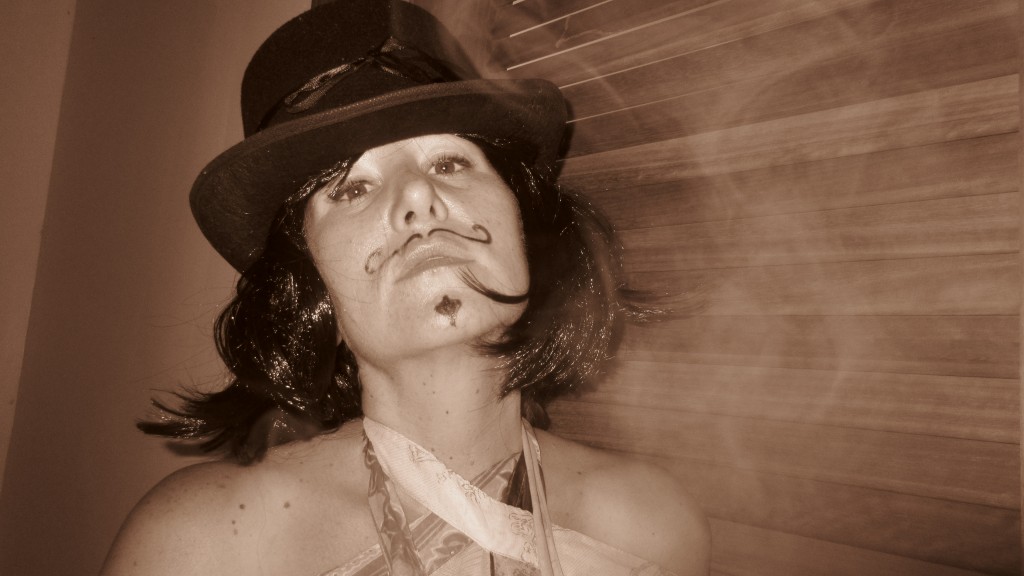 Creativity comes alive when you're bored and have nothing else to do but play
Art evoking emotion (or are we just going stir crazy?!) haha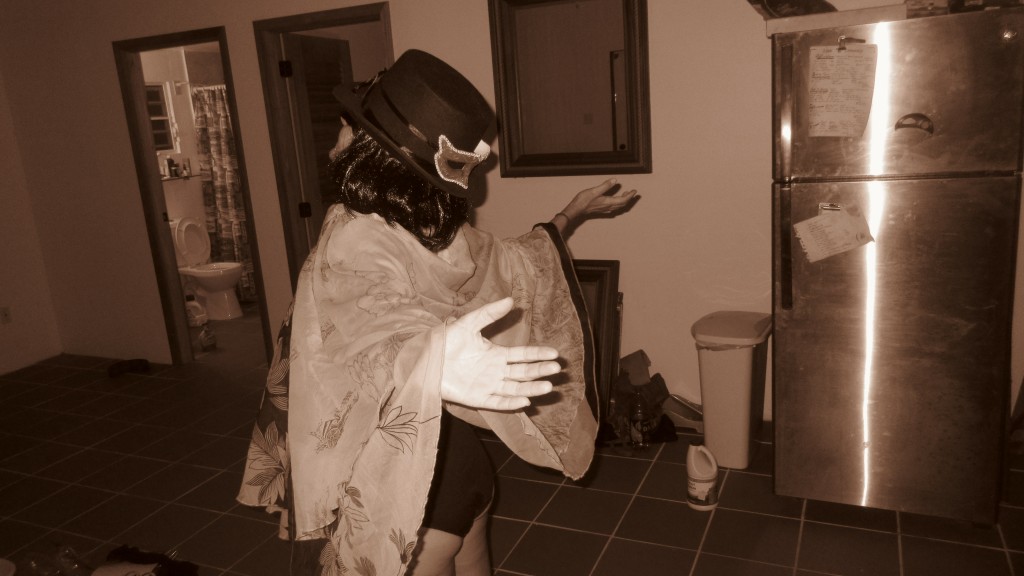 2 faced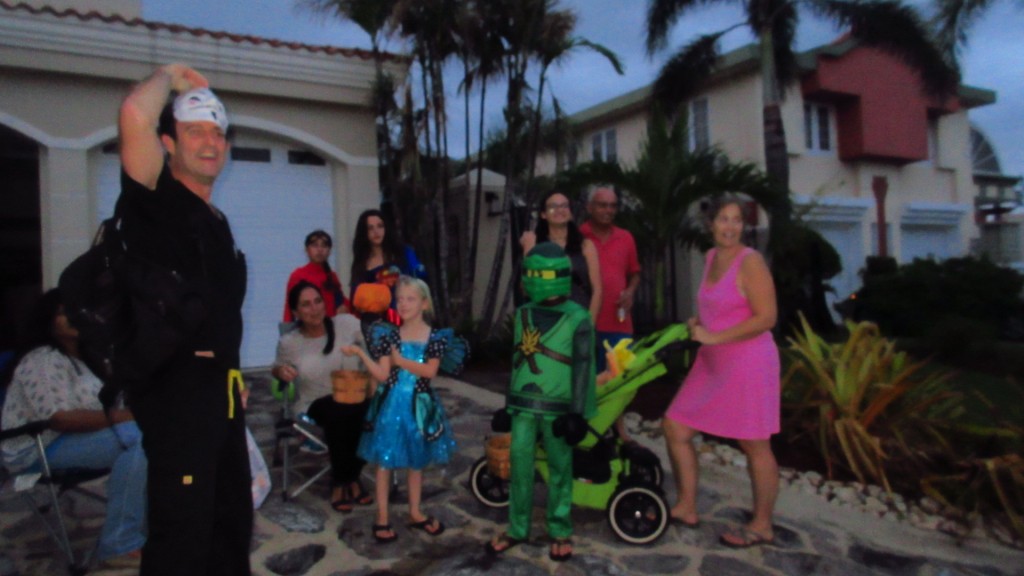 Llego la luz? No, just to some lamp posts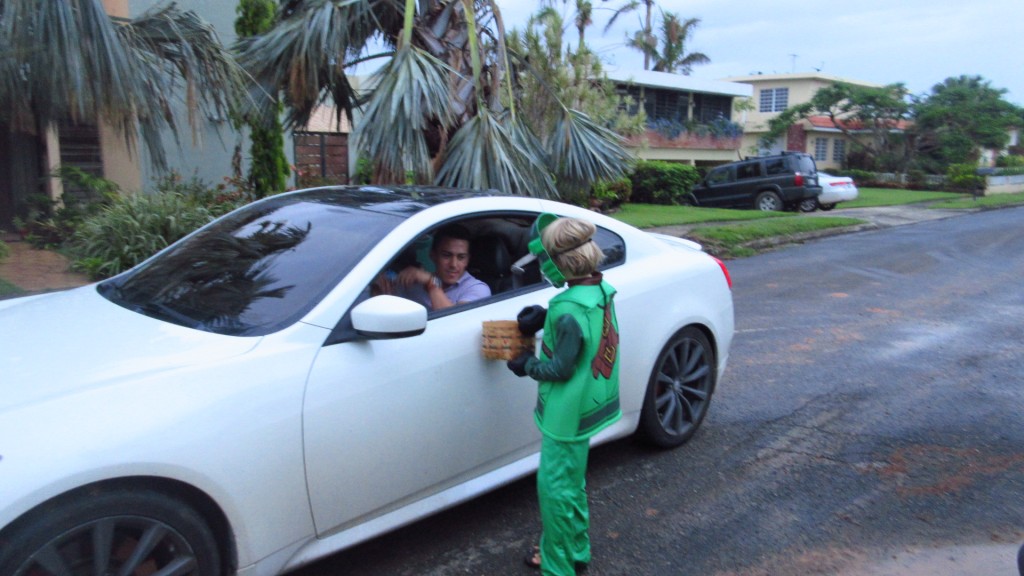 Halloween trick-or-treating in PR is only amongst people in the know…including from a car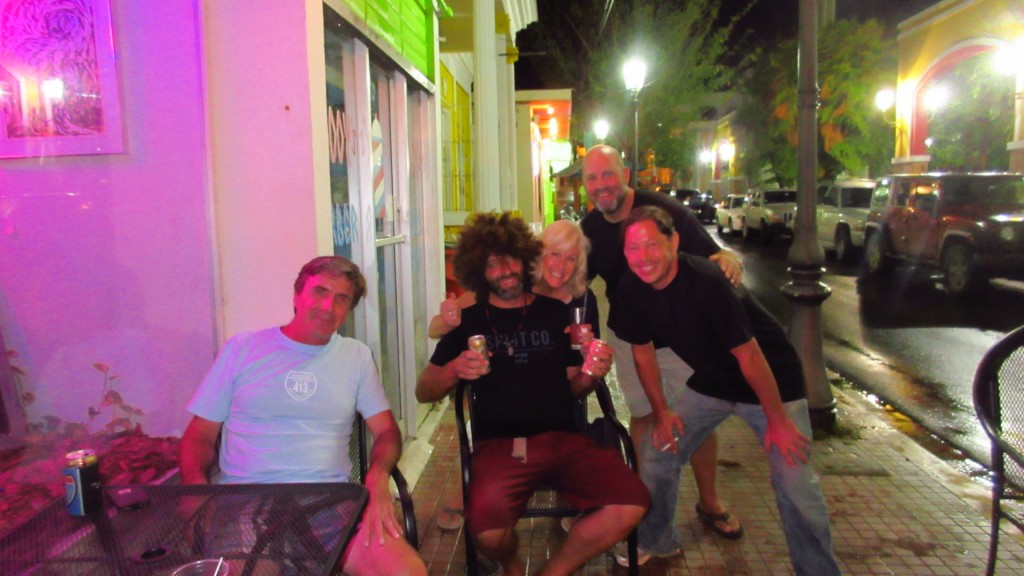 Fun at Roots on Halloween
Halloween day was pretty fun. We visited some friends in Mayaguez and the light posts came on while the kids were trick-or-treating. I learned the Spanish Puerto Rico song for Halloween:
Trick-or-treat, Halloween
Dame dulce, no mani.
Trick-or-treat, Halloween, give me candy, not peanuts. But I think everyone would be far happier si llego la luz instead!
It was our the first time since we moved here that we went to the Halloween party at Tamboo since Shipwreak is undergoing repairs. It was the main/only party in town this year. I loved the hurricane-based costumes. It was a great chance to take a breather from the normal survival routine.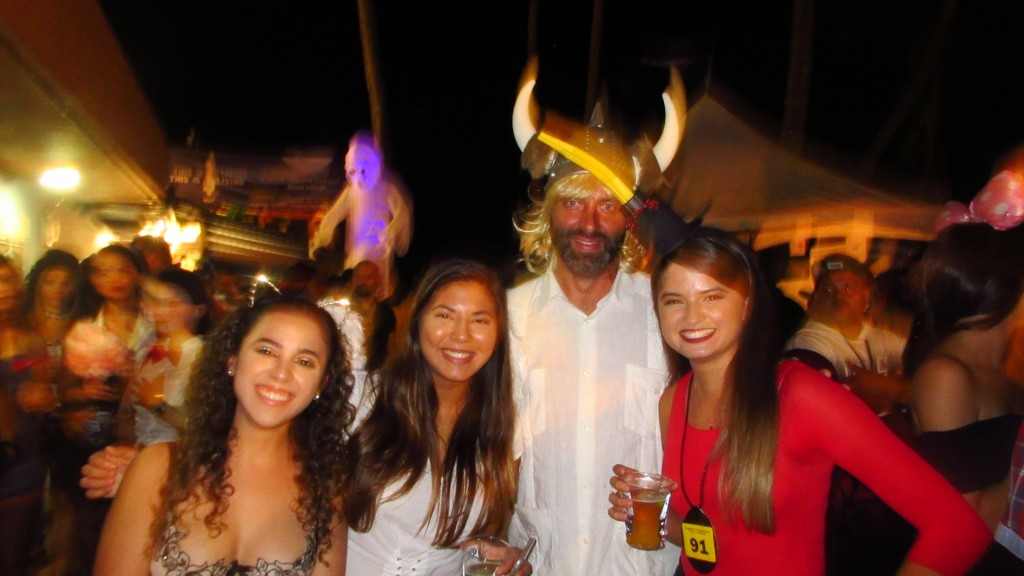 At Tamboo with the Gas Can girl!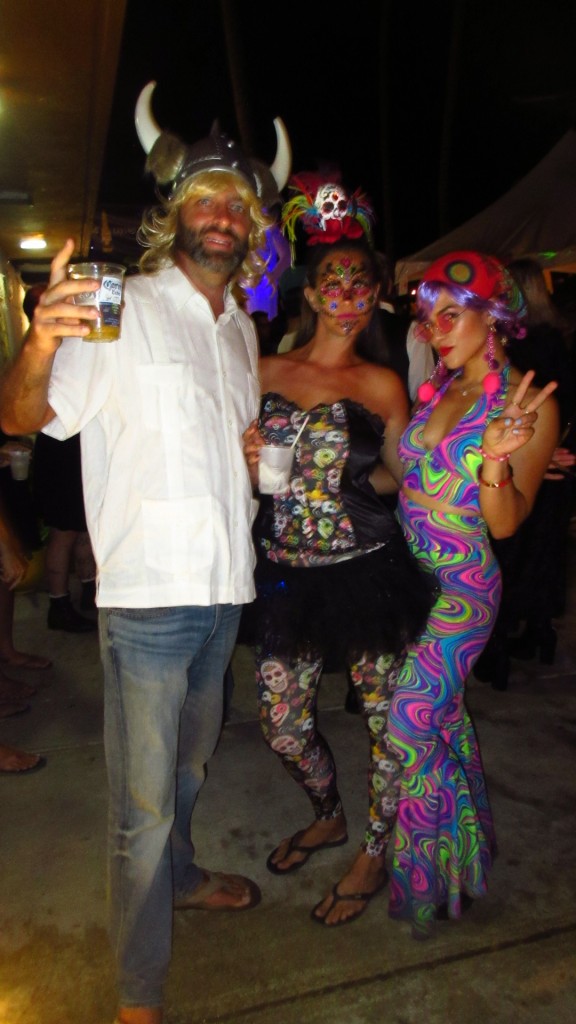 Vikings, Voodoo and Grooviness
We have discussed leaving for a while, perhaps back to Colorado. We would be able to visit family and friends and spend the holidays there. But we are on the fence. It's cold in Colorado this time of year and we don't have our own place to decompress. I am not sure if the stress of travel and imposition on our families would make up for discomfort of living here without water and electricity, but in our own bed in a nice climate… This has been a test of wills, strength, mental health, and stamina to stick through it this far. Some say it may be a Christmas miracle if the electricity arrives by then….but…Puerto Rico se levanta. Puerto Rico is (slowly) rising up.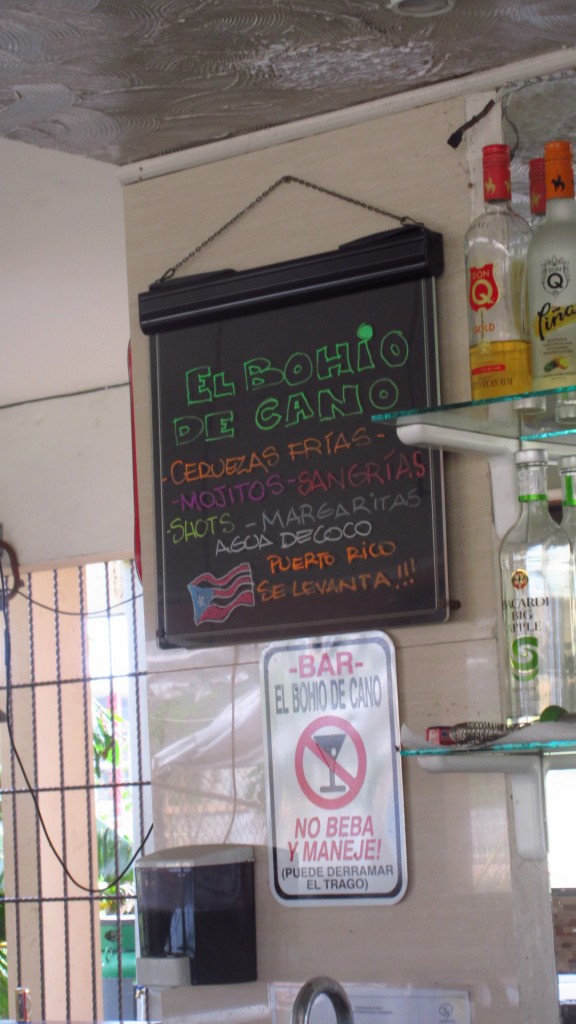 Flags are everywhere and the phrase Puerto Rico se levanta is on everyone's lips