Aruba, Jamaica, ooh I wanna take ya…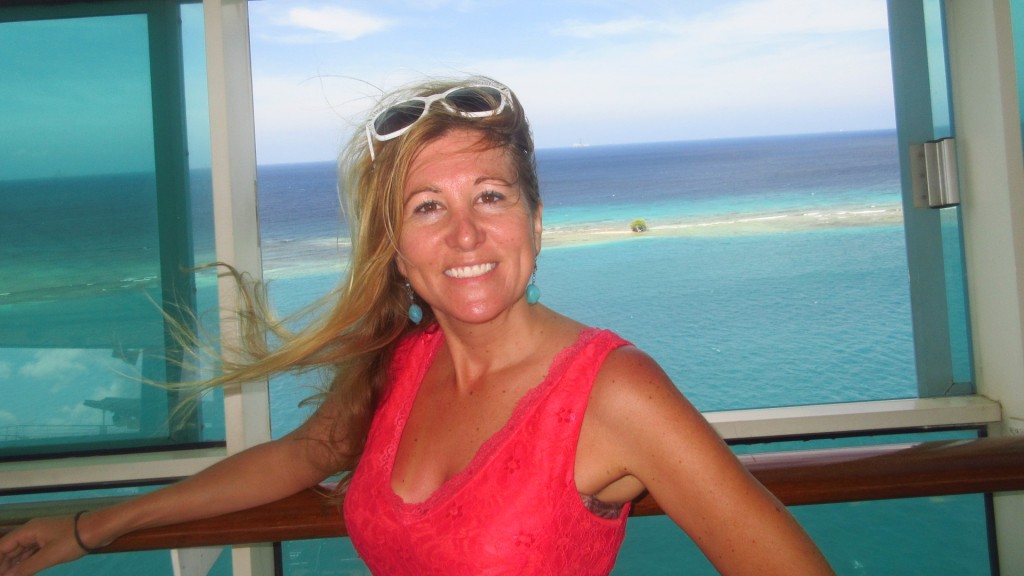 Our first morning glimpse of a sandbar off the coast of Aruba from on high in the ship
We couldn't get that song out of our head as we arrived in Aruba and sang it throughout our time there, which would be our longest day in port. From 8am to 11pm! We decided since we had extra time that we would make this day an official "excursion day" in which we bought the trip from Royal Caribbean at their desk located next to client services. We chose the "Best of Aruba tour" which was an air conditioned bus because Britton's ankle had swollen up and he wanted to do a little less strenuous activity than the days prior. We were also super sunburnt from Curacao the day before, so we needed a break from the beach and brutal southern Caribbean sun. I wished I had brought some aloe for my poor skin! We had some time prior to the tour at 1pm, so we explored near the ship as well.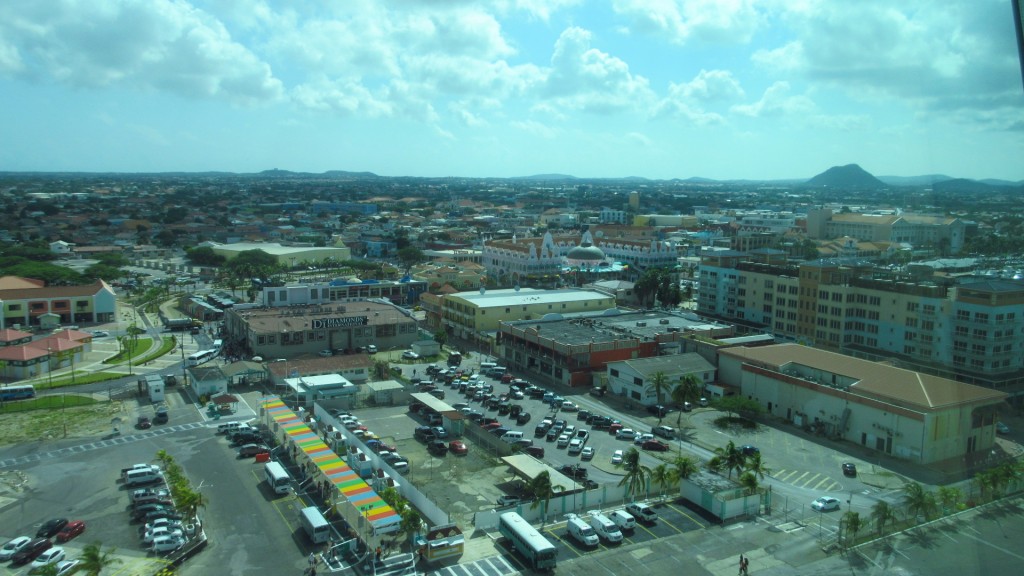 Oranjestad, Aruba from the ship
All of the stops accepted the US dollar, but in Aruba, they had their own currency, the florin, as well. I really liked the little square coins we got back as change from our stop at the gas station where they spoke to me in Papiamento and my Spanish was understood better than English.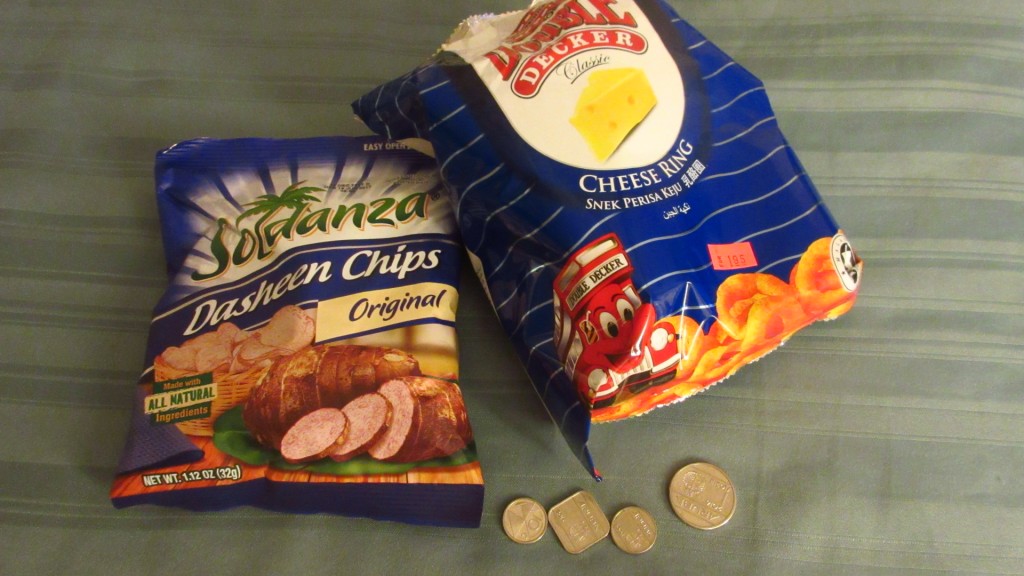 Local Aruban junk food and change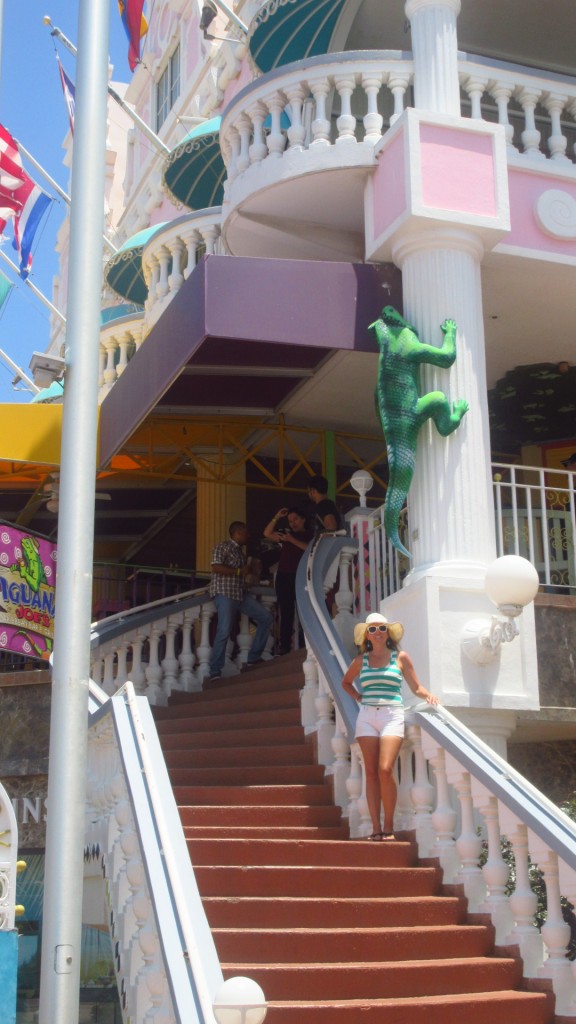 Exploring the area near the port -this building was like a wedding cake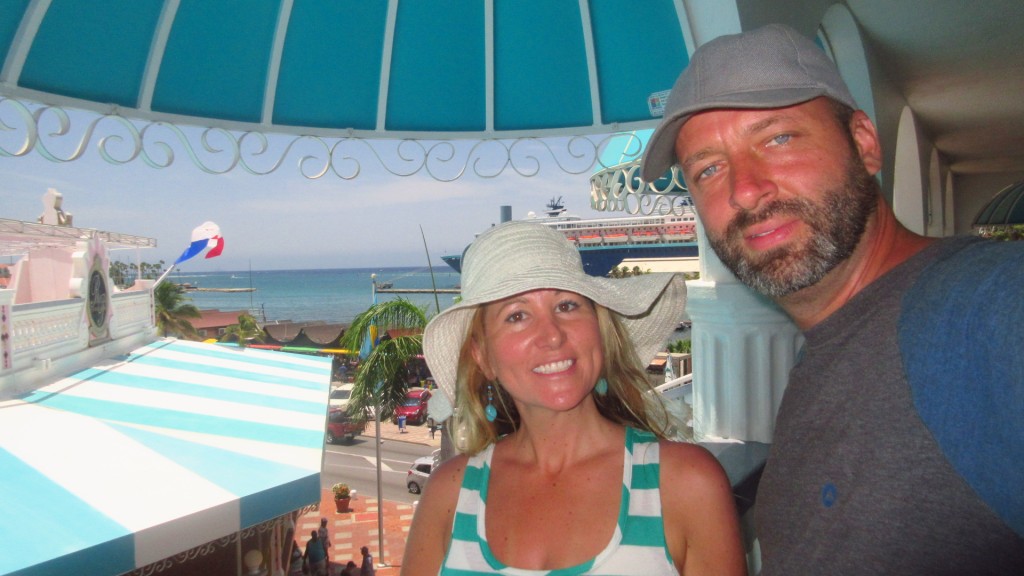 From the wedding cake looking toward the ship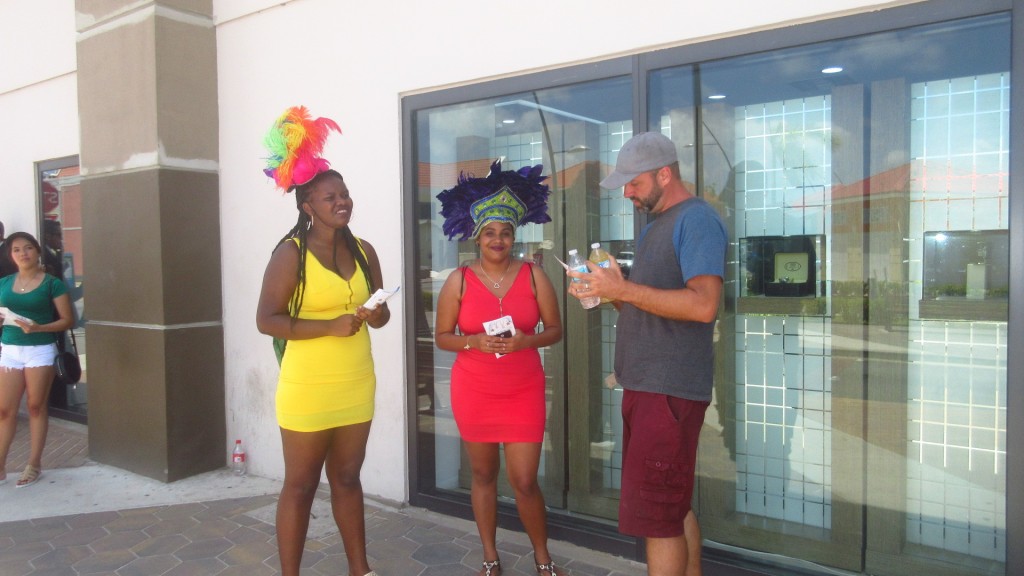 A lot of people tried to get us in their stores, mainly jewelry shops
Around 12:45 we loaded onto the bus for the tour of northern Aruba. My main impression of Aruba was that it was the Arizona of the Caribbean. Hot, dry, and windy! There was a cheaper open-window bus tour that seemed a little more fun, but I think we chose well to get the air conditioned bus instead. We are used to heat in Puerto Rico, but I was shocked by the dry heat, the searing sun, and the lack of shade trees nearly anywhere in Aruba.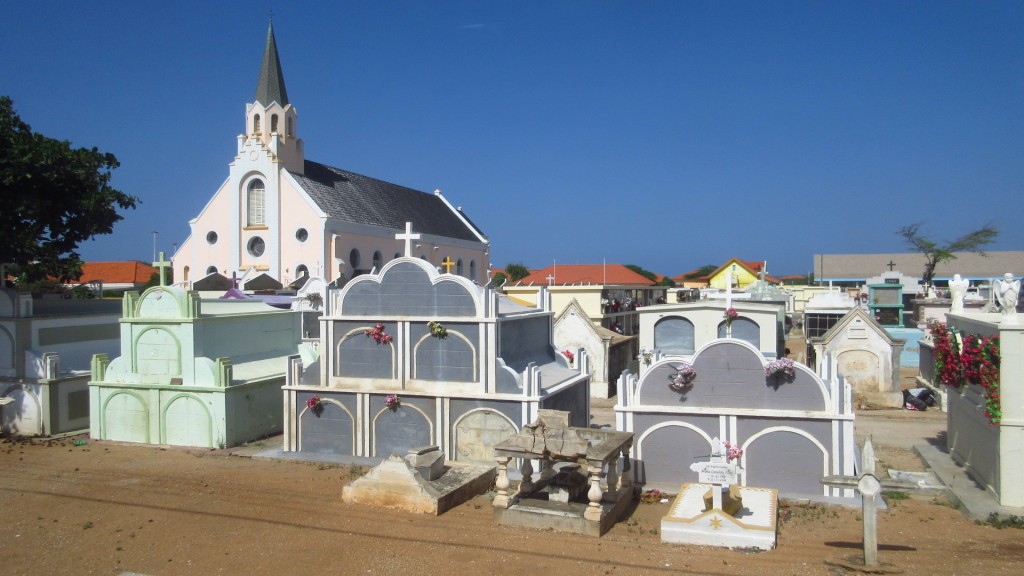 A few things we just drove past like this 1700s church and cemetery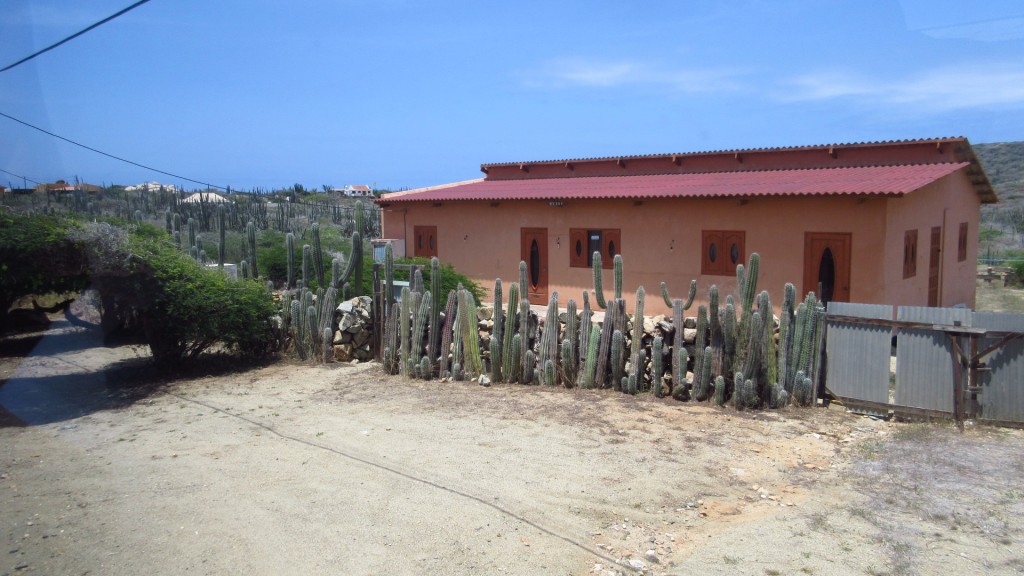 Private residence with cactus fence like in Bonaire
We drove past a lot of things such as an old church, an ostrich farm and private residences. We made a few stops at various locations such as the rock formations, collapsed natural bridge (which must have been spectacular but now is not nearly as interesting), the cool California lighthouse and I think we probably got the best feel for Aruba than any of the other islands because of this 3-hour tour! What was a little disappointing was just how stick-in-the-mud everyone on the bus was save for the bus driver, us, two Puerto Rican women behind us and a Dutch kid who liked fart jokes. We were the only ones laughing and having a good time. It was like death warmed over with the average age being around 65.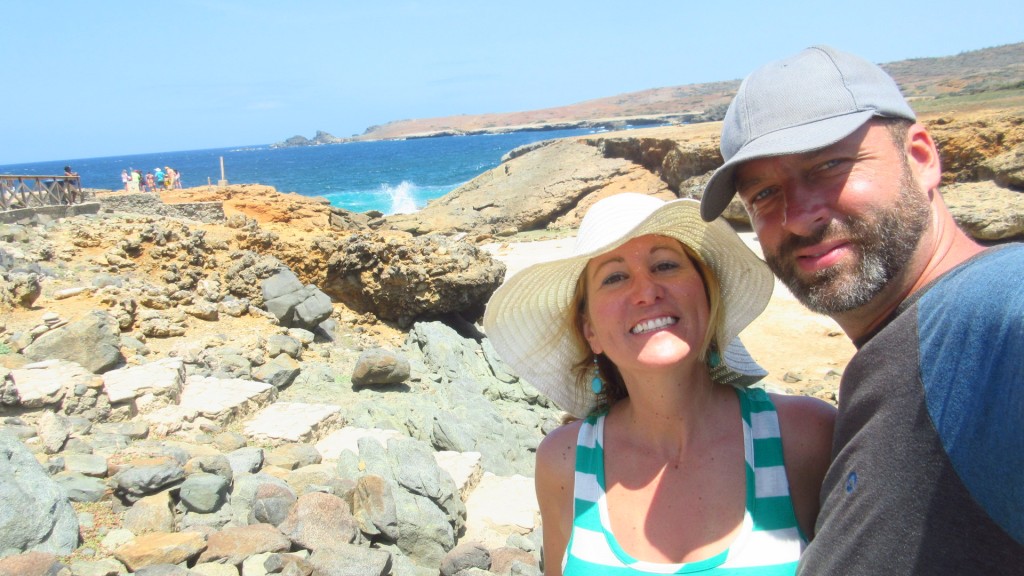 At the collapsed Natural Bridge in Aruba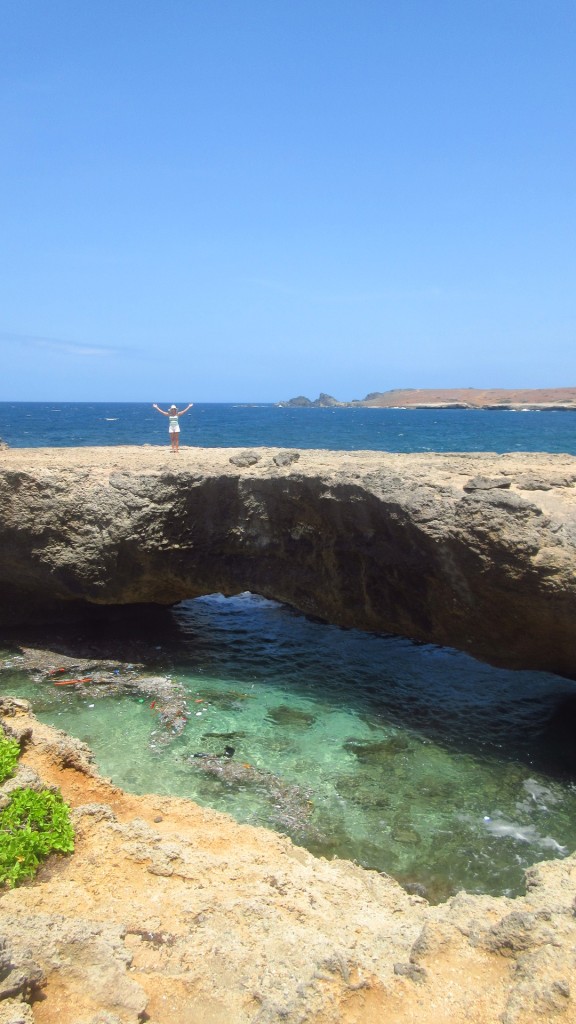 A smaller bridge near the large natural bridge (son of a bridge as the busdriver called it) that they say will soon collapse too
At the Natural Bridge area they had a gift shop and small café. They tried to charge us $1 each to use the bathroom and wouldn't refill our water bottles with tap water. As jungle hillbillies, we have become comfortable peeing in the bushes, or in this case in the cactus.
Our next stop was to the Ayo Rock formations. This was pretty cool because it had a beautiful view of most of Aruba including the haystack mountain. They also had a little bar with decent priced beers, filled our water bottles with ice cold water and let us use the bathrooms like normal modern human beings.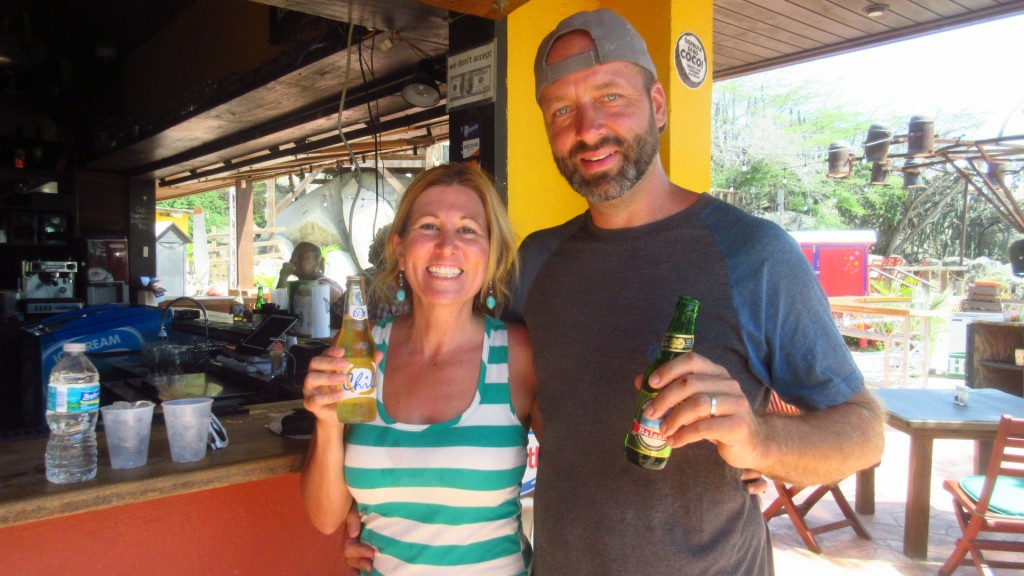 Bon Bini (welcome) to a friendlier place in Aruba than our first stop!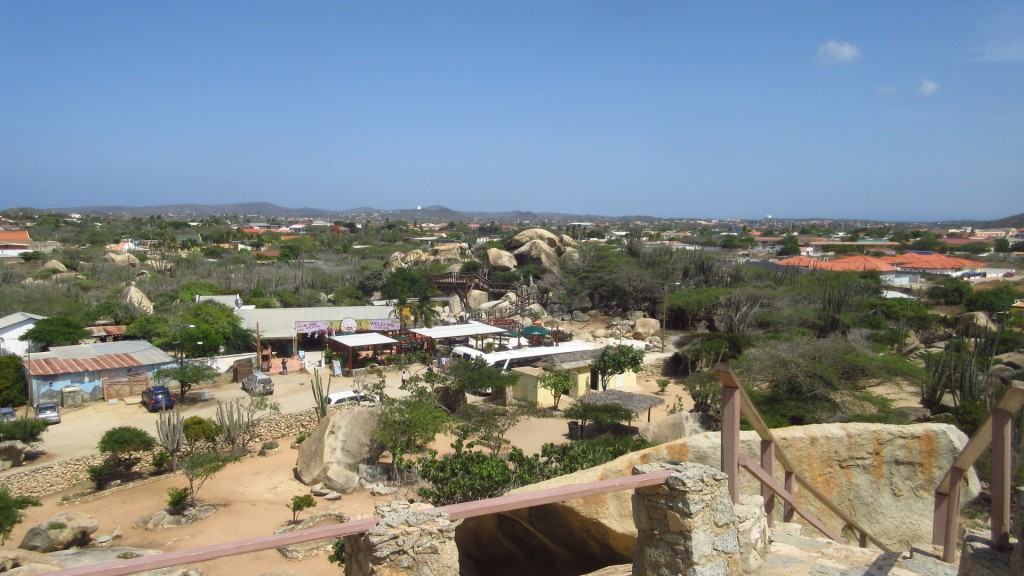 View of Aruba from atop the rocks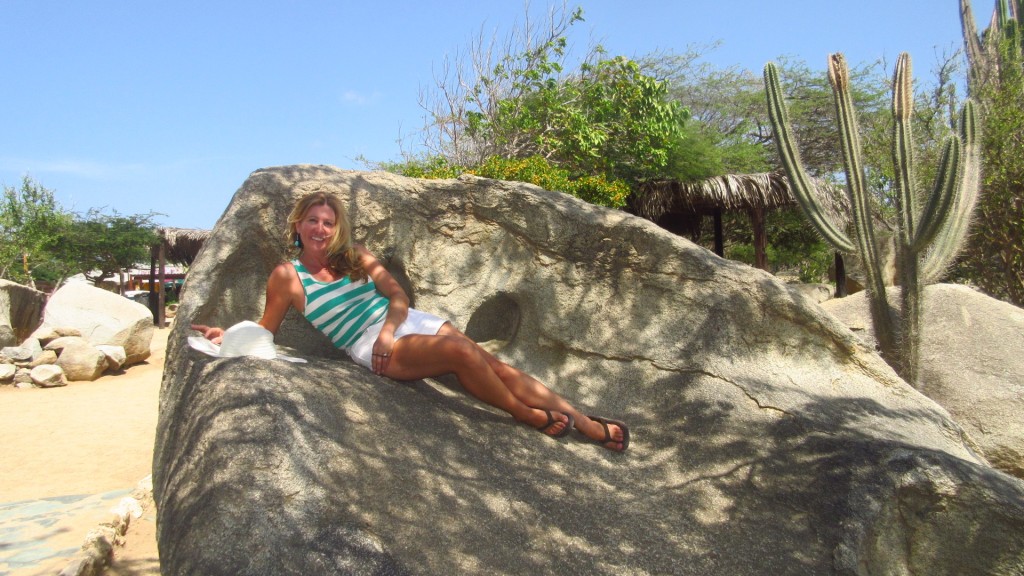 What else can you do with rocks and boulders besides sit on them or make granite counters?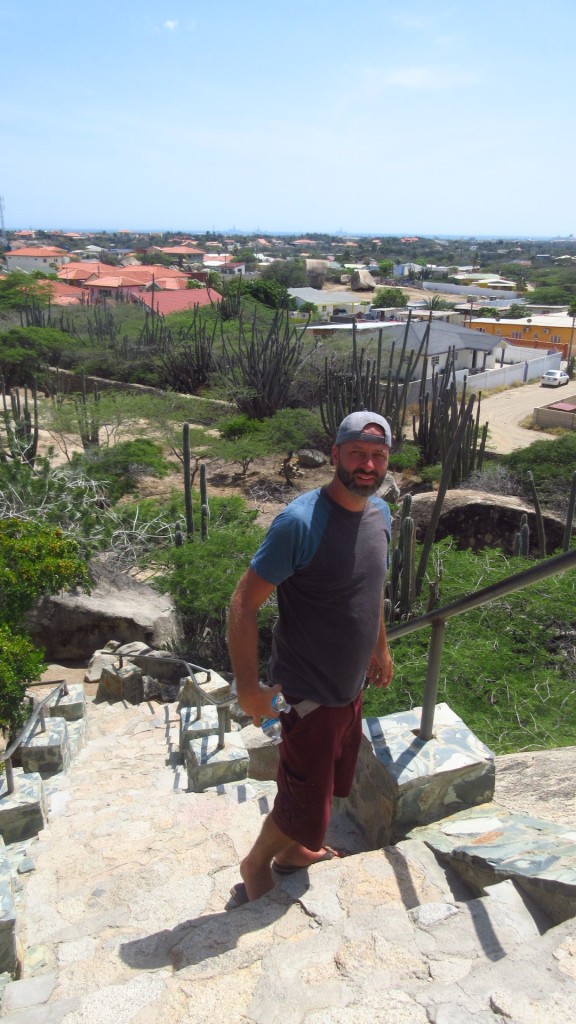 Britton and the view

Because we got so sunburnt from our beach day in Curacao I had been looking for aloe all day. Ask and you shall receive. Not only did I find aloe on this tour, but a whole aloe vera factory! ha!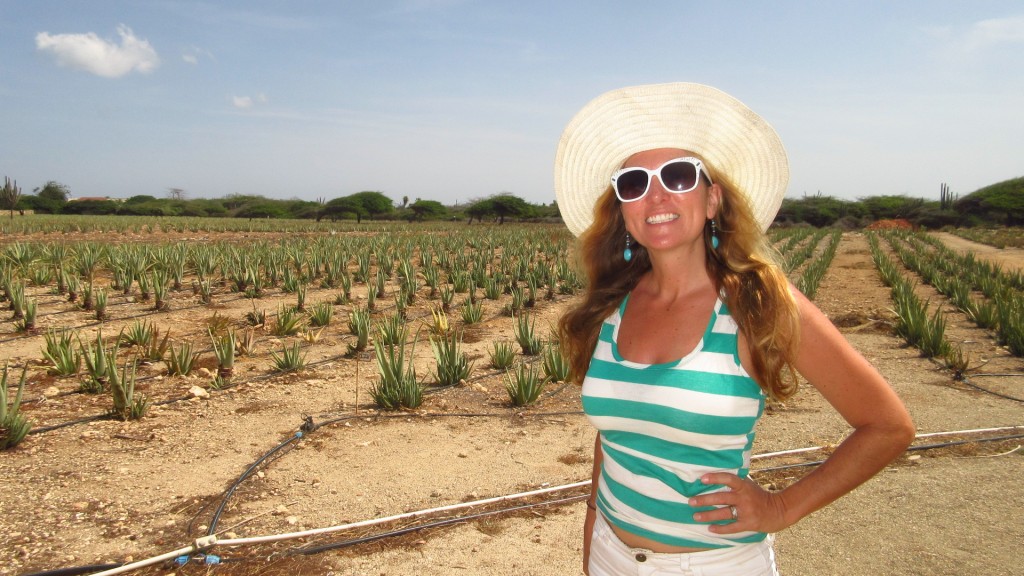 At an aloe vera farm/factory in Aruba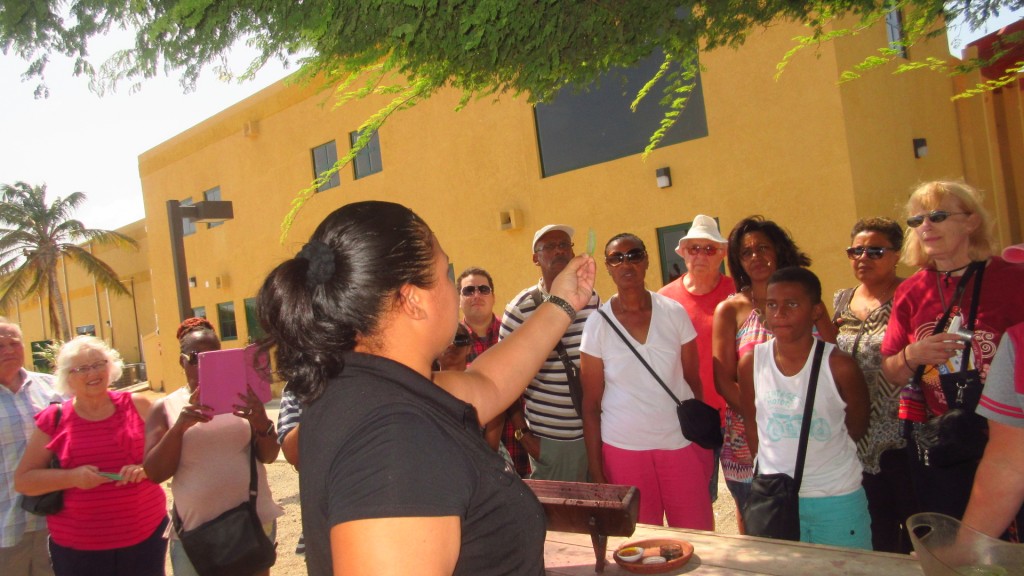 Aloe vera demonstration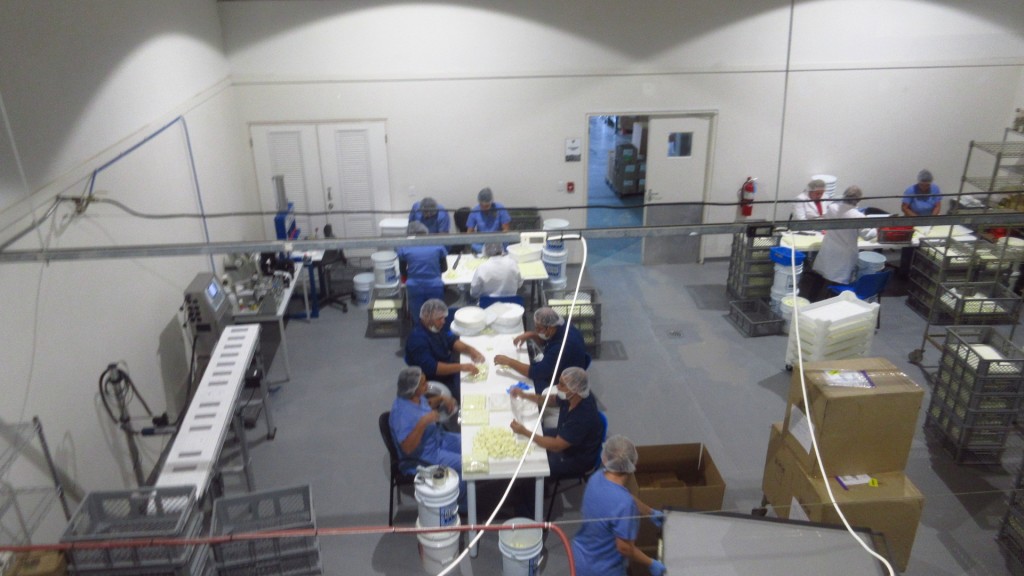 Inside the factory as they made soaps and lotions with the aloe
Our final stop was to the California Lighthouse in northern Aruba. It was a very iconic lighthouse and from the restaurant we enjoyed a panoramic view of the rest of the island.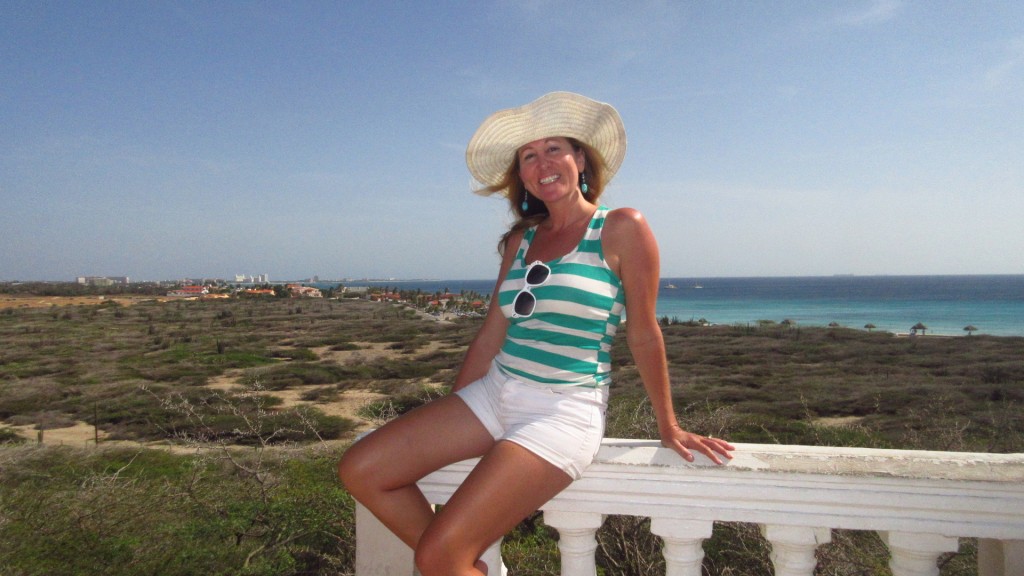 View from the restaurant of the California Lighthouse

A short video of the tour
When we returned from our bus trip we still had a little more time before we needed to get back on the ship for dinner so we walked to the nearest grocery store to refill our stash of illegal alcohol. A friendly Colombian woman pointed us in the right direction. As we arrived near the store, a drunken homeless man started talking to us in English and Spanish and asking us what we were doing, what we needed etc. He ran in front of us to the store and told someone who worked there to show us the alcohol section of the store. We thanked him and told him we would give him a shot of whatever alcohol we bought when we exited.
When we left we sat down on a step near the store to pour the liquor into the water bottles and give him the rest of the bottle. He was not happy with just that though and wanted us to give him $5 for helping us. We said that seemed a little ridiculous, (especially because we didn't need nor ask for his help) but sat and talked with him a bit more. I was giving Britton the eye that we had better get out of there before something weird happened. The man said he was a portrait artist and he could draw me. I took this as an opportunity. "Ok, but where is your paper and pen?" He staggered up and ran off to find some. I told Britton we should book it. We grabbed our stuff, left a dollar under a quarter of a bottle of rum and literally ran off. We could hear him yelling "Come back, here! Come back!" but we were long gone around the corner and had another pretty good story to tell our tablemates at dinner that night.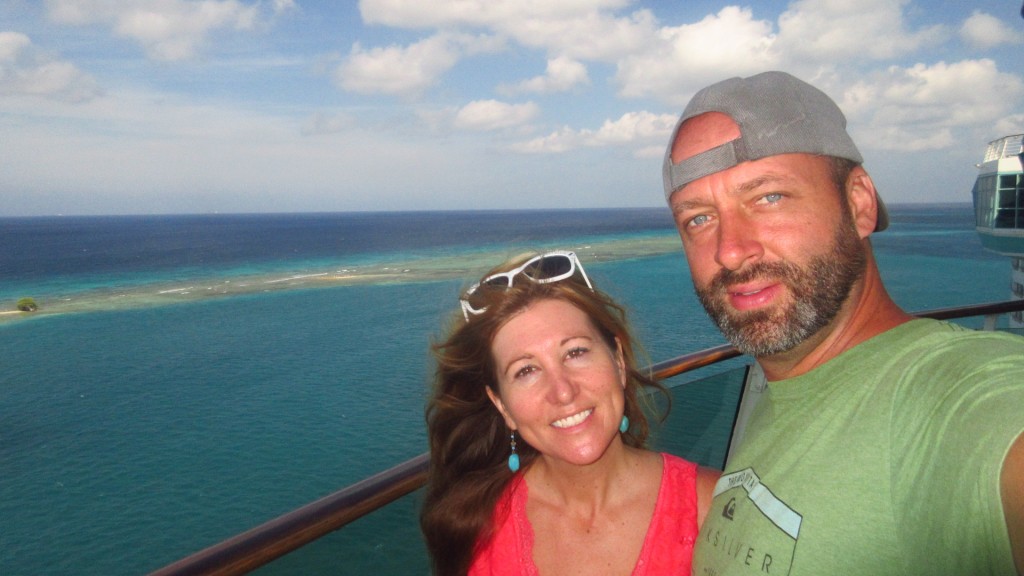 Goodbye (Ayo, Tanten! in Papiamento) Aruba and southern Caribbean!
The adventures are almost always found off the main roads in life!  Oh Aruba, I won't soon forget you!
Next stop, St Maarten!