Our day in Curacao also started with no set plans. We checked out the view of the city from atop the ship and wore our swimsuits and brought our snorkels in hope of walking or taking a taxi down to a nearby beach. We are so spoiled because we have beaches all around us here in Puerto Rico, but every beach is different and we wanted to see how Curacao compared. If you go on a Caribbean vacation, it is sort of a mandate that you spend at least one day at the beach, right?!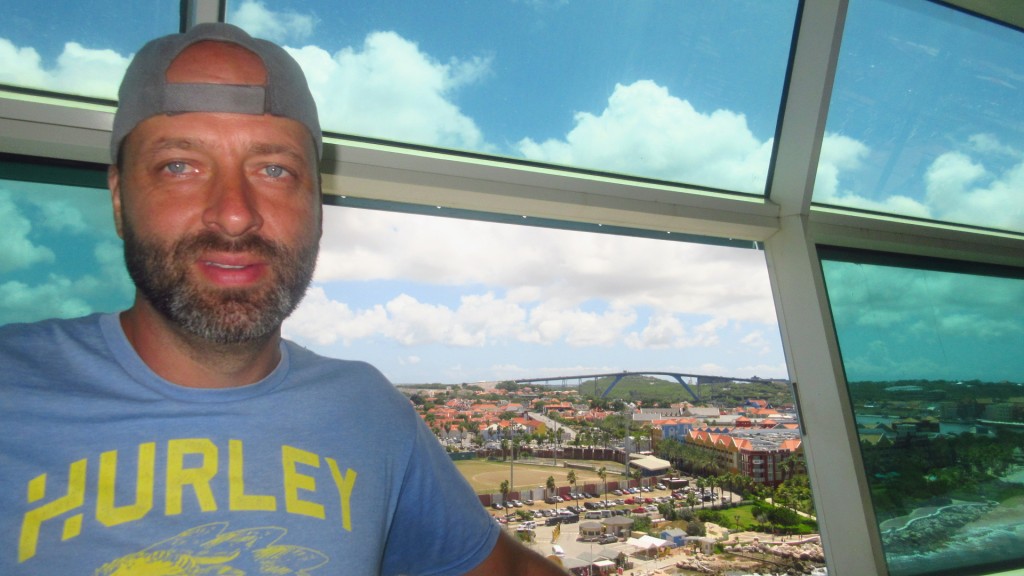 Britton with Williamstad, Curacao in the background with its futuristic looking skybridge
As we were collecting ourselves off the ship, we ran into our tablemates Tiffany and Keno and asked what their plans were for the day. They said they just wanted to go to a nice, not-too-crowded beach, just like us! So we decided to share a taxi. There was a closer man-made beach called Mambo, but the taxi driver persuaded us to go a little further to Blue Bay. As we drove along, I again remarked about how very dry everything was in Curacao and we did spot a flamingo quickly out the window.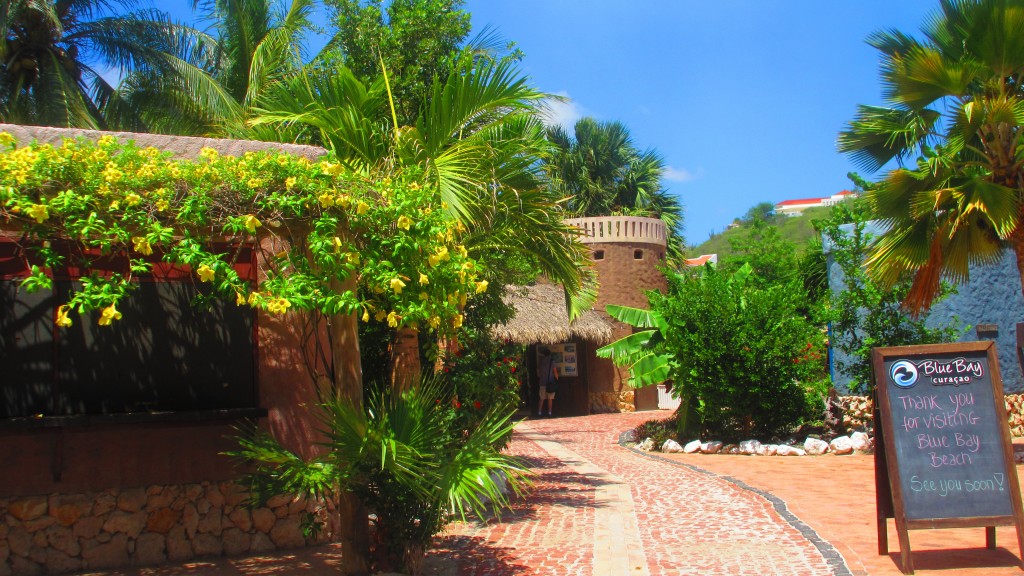 Blue Bay Beach  and golf course was very well maintained and obviously watered by some outside/municipal? source
Unfortunately, we didn't bring much money because we were anticipating staying near the ship. We quickly found out that unlike in Puerto Rico, there are private beaches in Curacao and they can charge you to use them!! It was $8 per person to access the Blue Bay Beach which was located inside a golf course resort. Thankfully, Tiffany and Keno helped us to cover the shortage we had so that we could stay and not turn around and take the taxi right back! It was a stunningly beautiful beach, but I am so thankful that in Puerto Rico there are no private beaches.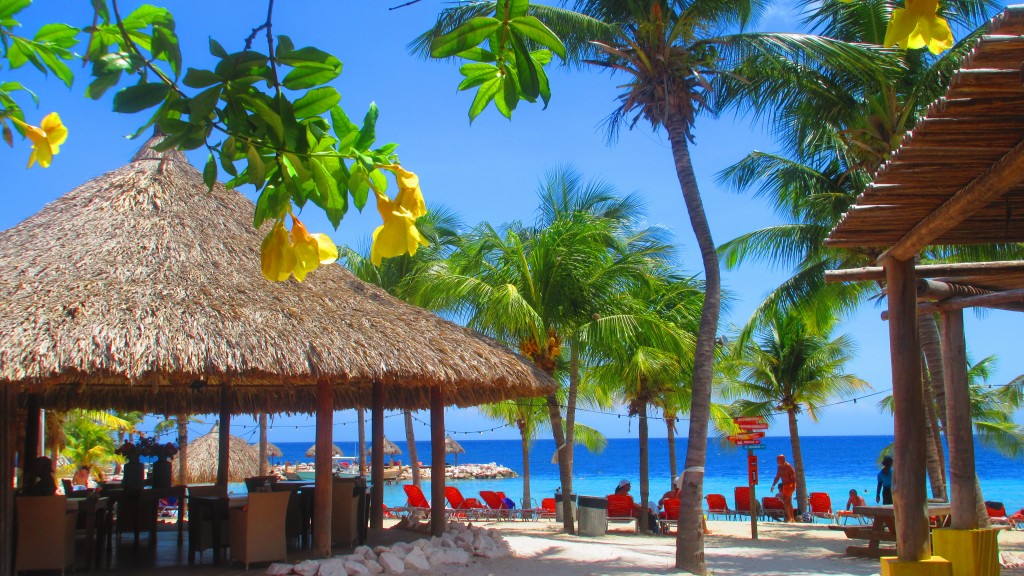 The beautiful waters of Blue Bay Beach. It's easy to see how it got its name and why curacao liquor is this shade of blue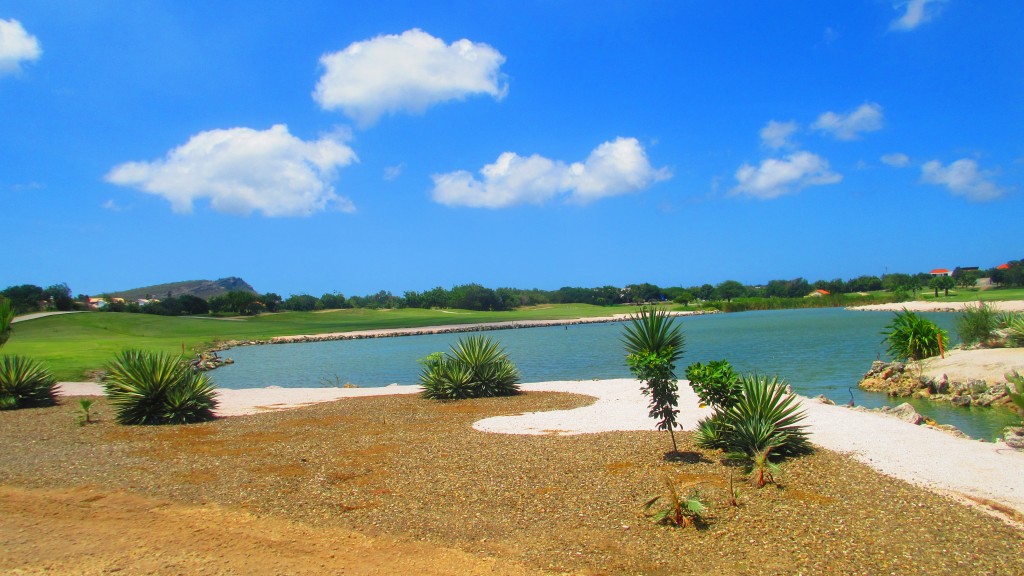 The golf course attempted to keep things lush, but it is obviously still a desert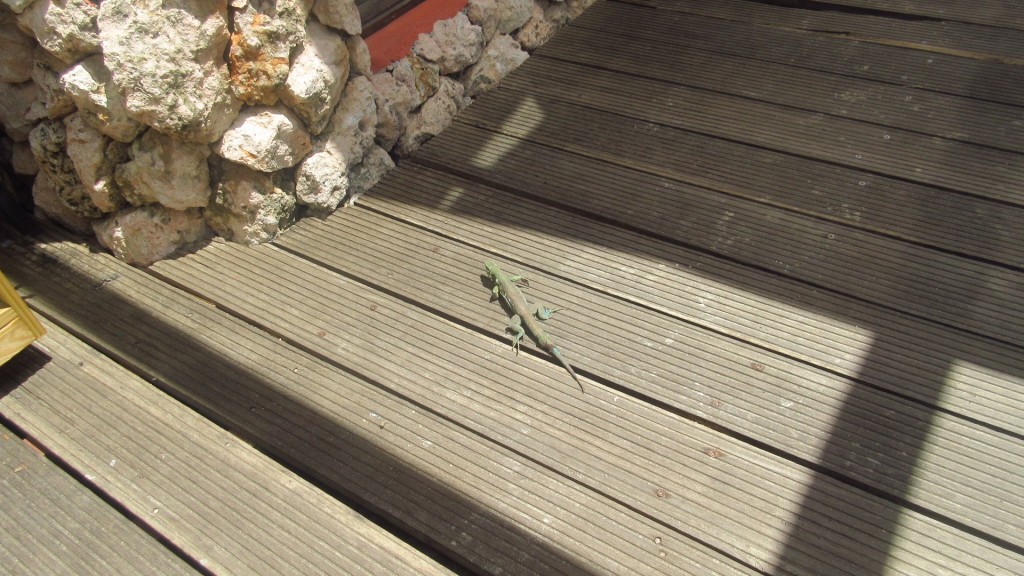 The lizards were a little different from what I'm used to as well. Keeping with the blue theme, this one had blue feet!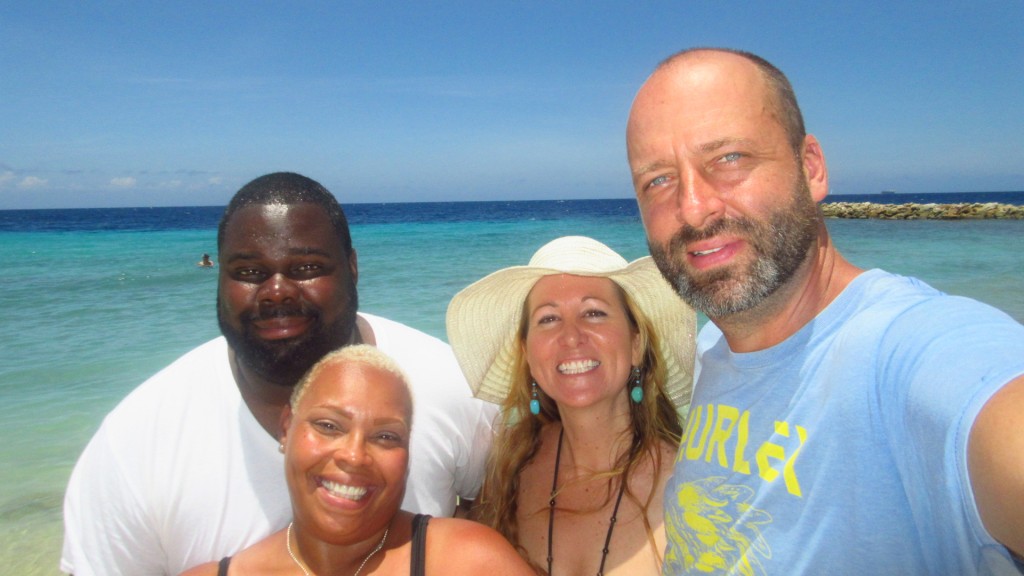 With friends Keno and Tiffany at Blue Bay
We swam around and snorkeled for a bit. Where the dark blue waters touched the turquoise there were some incredible things to see that I haven't seen while snorkeling in Puerto Rico such as the amazing purple tube coral (organ pipe coral) that looked like something out of a Dr. Seuss story. The way the dark waters blended with the light also had a faint quality of oil mixing with water. As I dove deep to touch the white sands and stir up the schools of blue tang, rainbow parrot, needlenosed eels and other fish I felt as if I were swimming in an aquarium. It was so fantastically wonderful.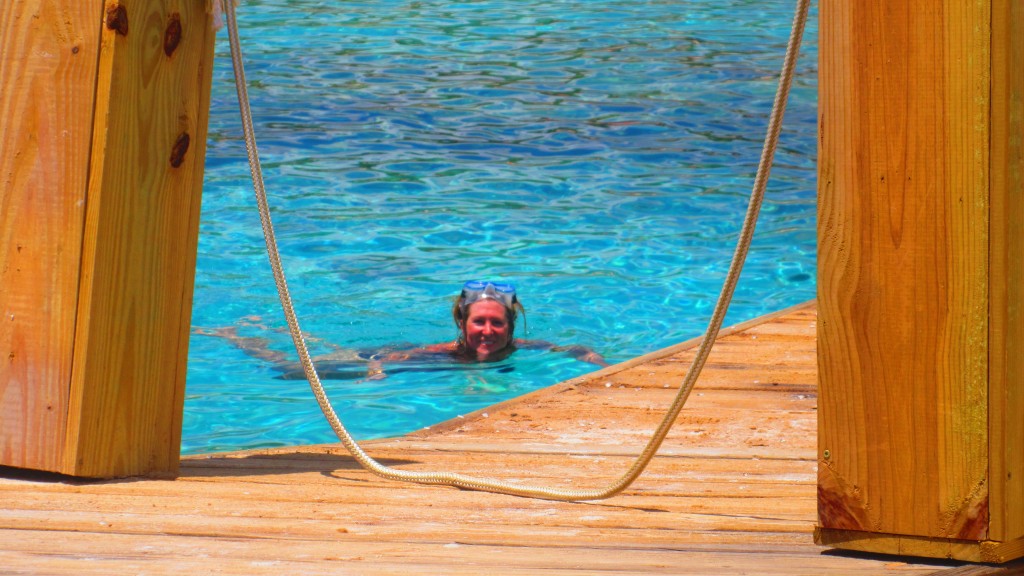 Peeking my head up for a moment while snorkeling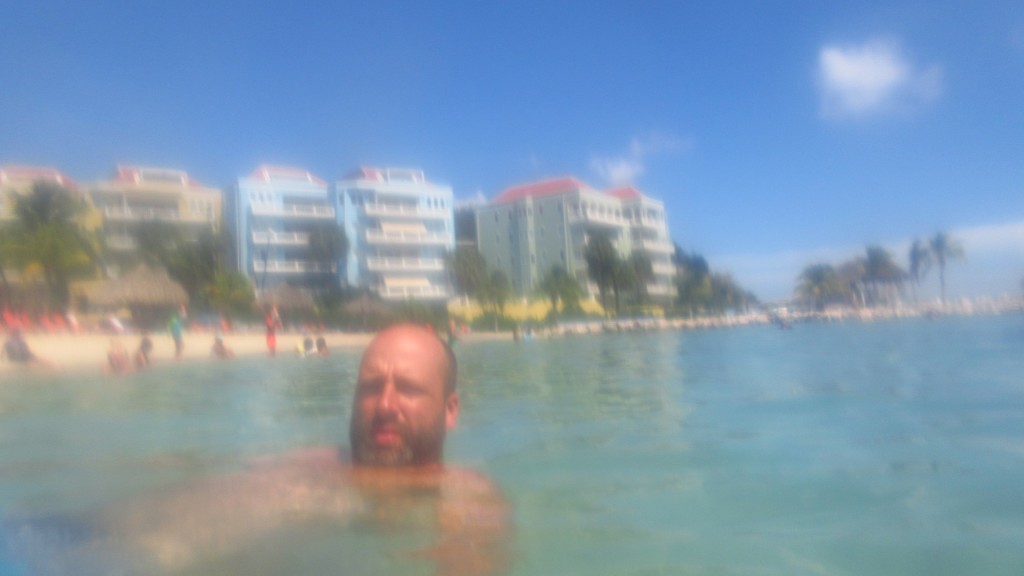 Britton relaxing in the warm Caribbean waters
When we went back to meet up with Keno and Tiffany we asked how their snorkeling was going. They said it was fun, but they hadn't seen anything really. I said they needed to go over by the piers and the little huts where the waters turned dark. Tiffany had a fear of deep water, but I told her there was nothing to worry about. You won't sink! She worked through her fear and after a good long time, she slid from the pier into the water and was so excited to see some of what I had seen, though she didn't go out as far or as deep.

Showing her how simply it's done
I scrambled up and down the rocks near the pier for a while until a Dutchman warned me of stonefish! I snorkeled with him for some time and he showed me three of them in a small vicinity. They are very good at camouflaging to their environment and I could have easy grabbed one or stepped on one had they been hiding out on the rocks.  These are fish you don't want to encounter physically, or our stay in Curacao could have included a trip to the hospital!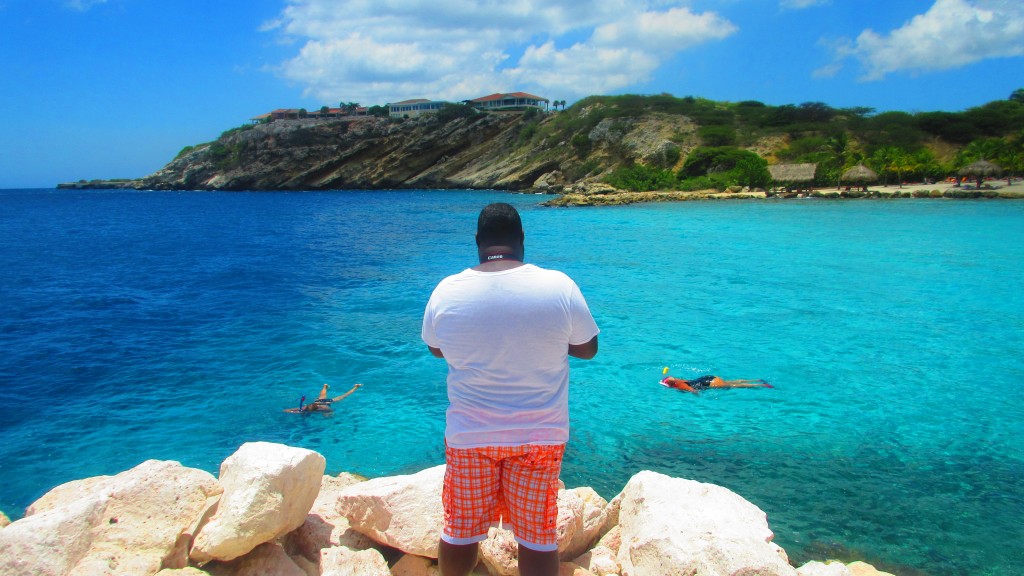 Snorkeling with Tiffany on the dark and light side of the water while Keno watched and snapped photos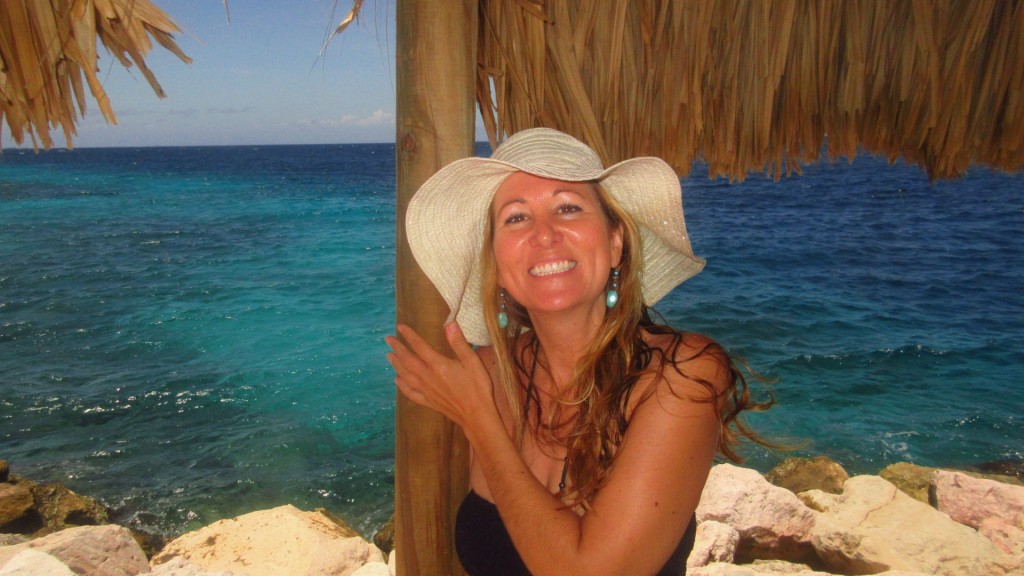 Hanging out under the palm frond palapa huts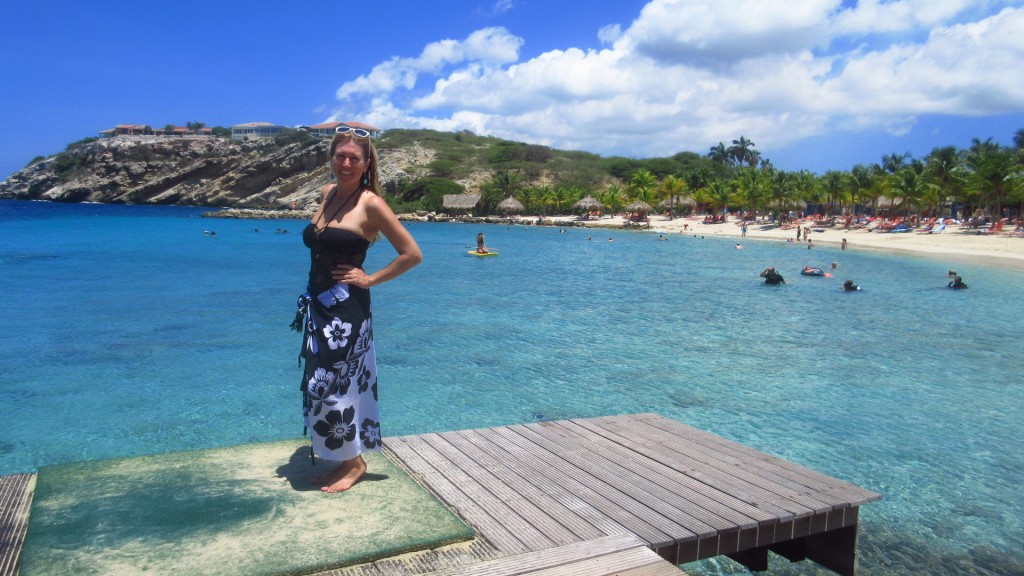 While the water was gorgeous, the raw landscape was harsh and dry!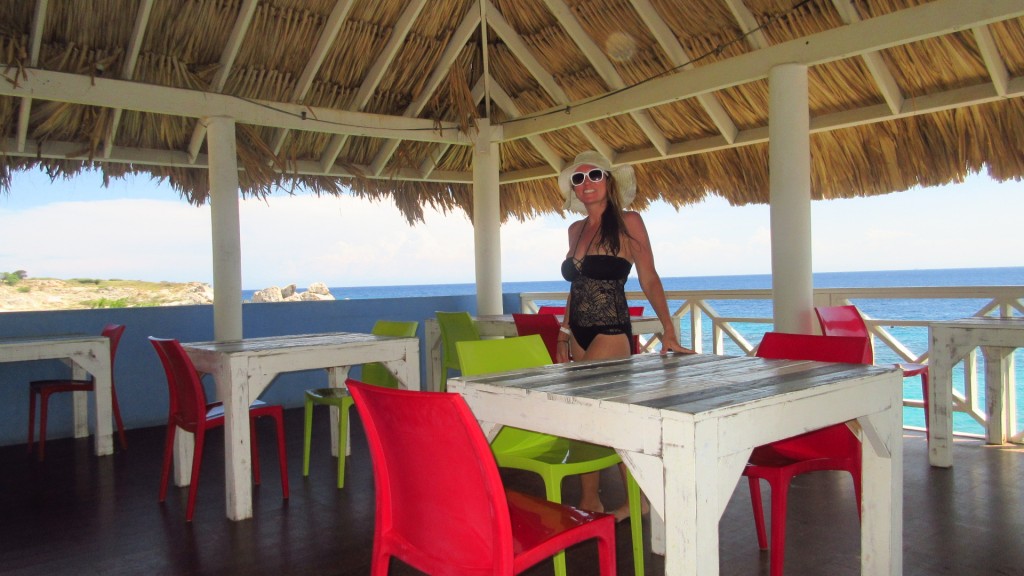 Checking out the little restaurant area

Something else we learned was that topless swimming was completely allowed. To our American eyes this started out as a little shocking, but slowly became normal as mothers and daughters walked and lazed around just as the men without anything on top!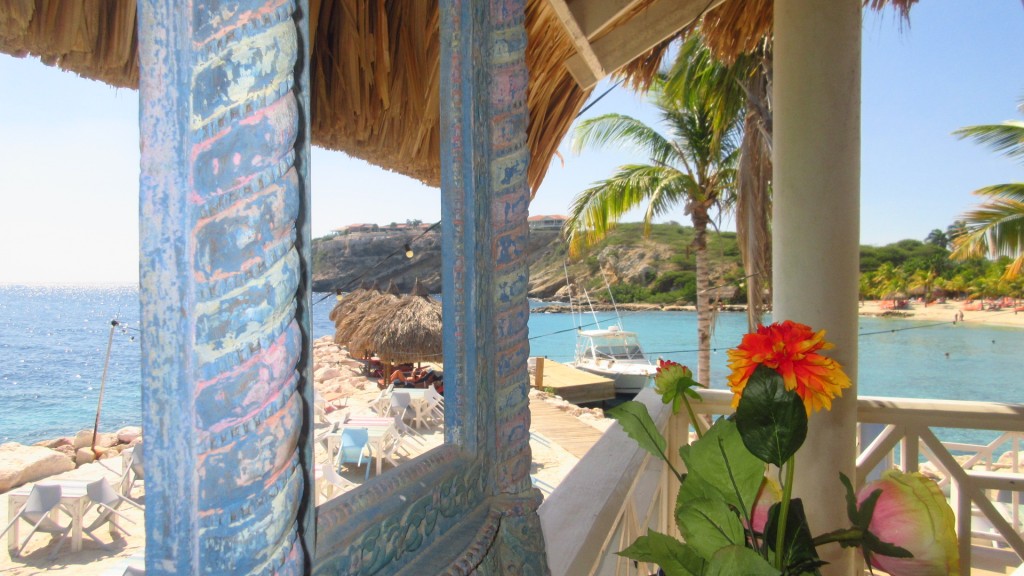 Through the looking glass of a gorgeous view
It was a wonderful day, but we came back sunburnt, salty and hungry! There also wasn't time to explore much else in Curacao before heading back onboard. I am sure that the rest of Curacao is very different from this resort, but it was just the perfectly picturesque vision many people have of a Caribbean vacation and I was ok with that too.