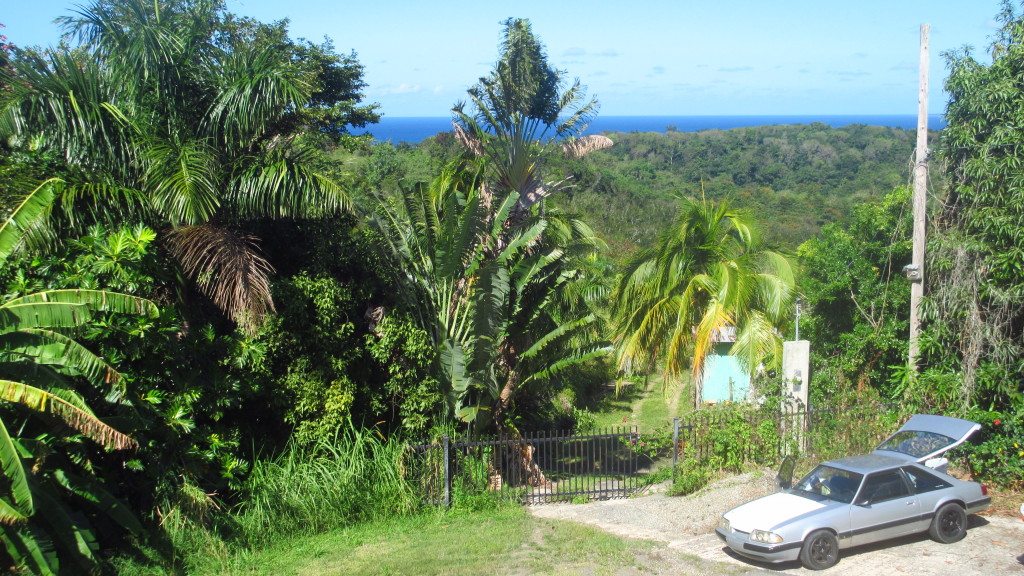 Looking down at our finca from the road you wouldn't even know a cabin existed!
I suppose it's time to do an update on the move to the jungle tree cabin! There is always something more to be done so it's a little hard to say we are "finished" moving over. But we have been sleeping in the cabin for about 2 months now! Once we moved the bed over, we were officially living here!
This, like everything, was quite the process because we had to haul everything over on foot.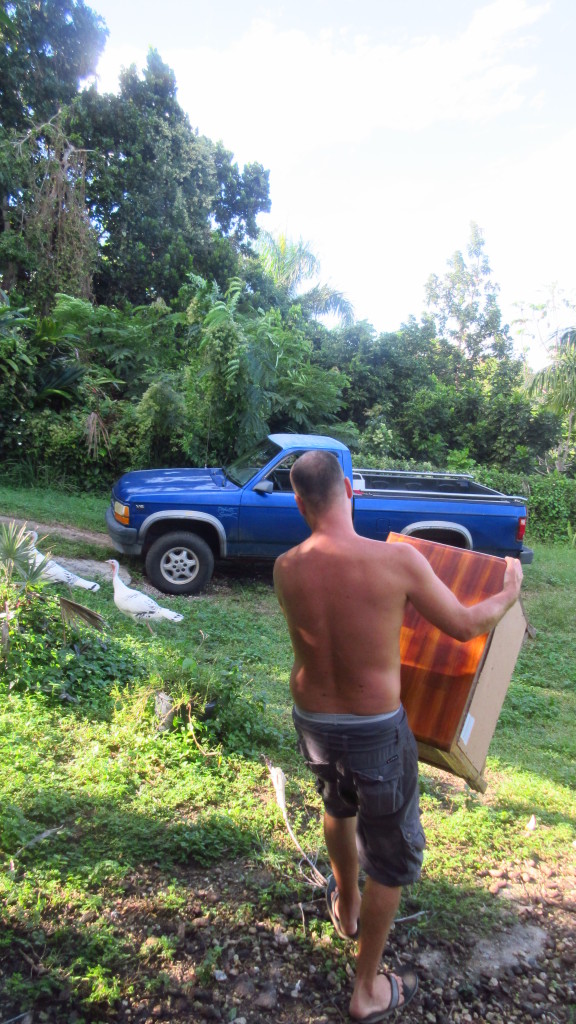 We loaded the truck and took the furniture half-way down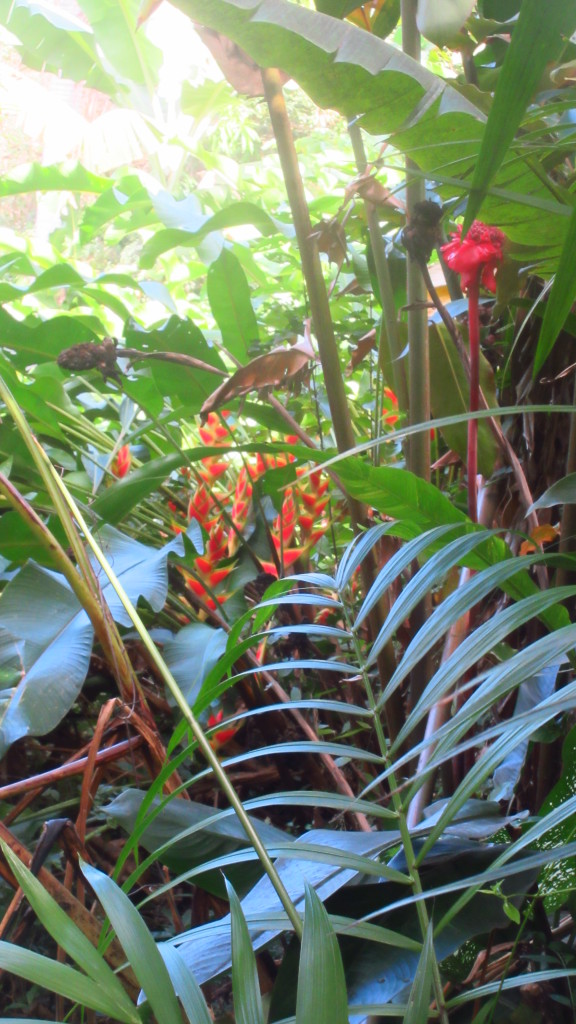 And then carried it through the tropical gardens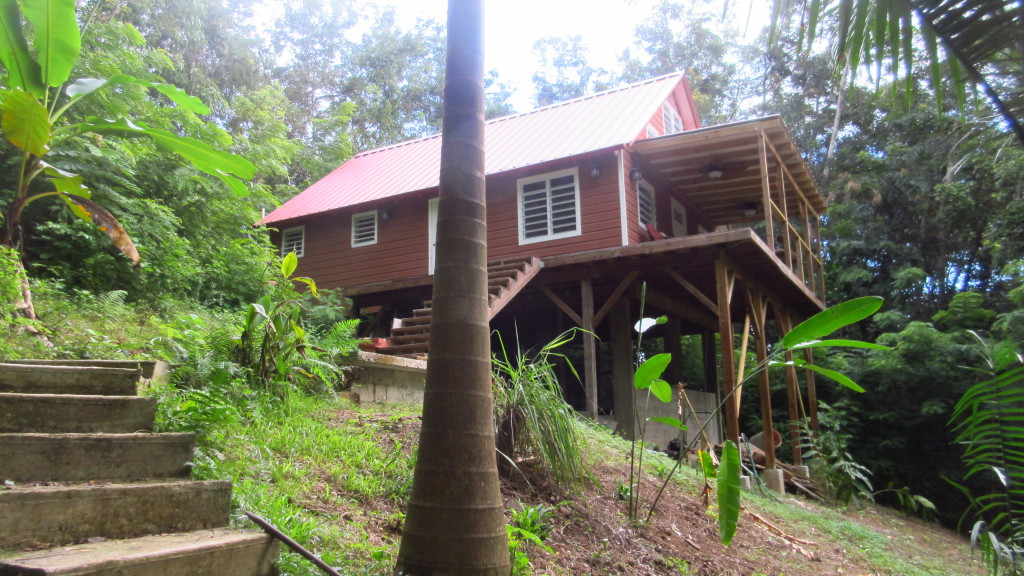 Up the stairs…and into the jungle cabin
We also cleaned out the studio cabana and it needed a full scrub down! Even though it is tiny, things still get really dirty here. Having all our stuff out made the job a little easier.

At least in the concrete cabin it's acceptable to bring a hose inside! Haha
Then we bought another bed for the cabana and cleaned it again so that it will be ready for visitors.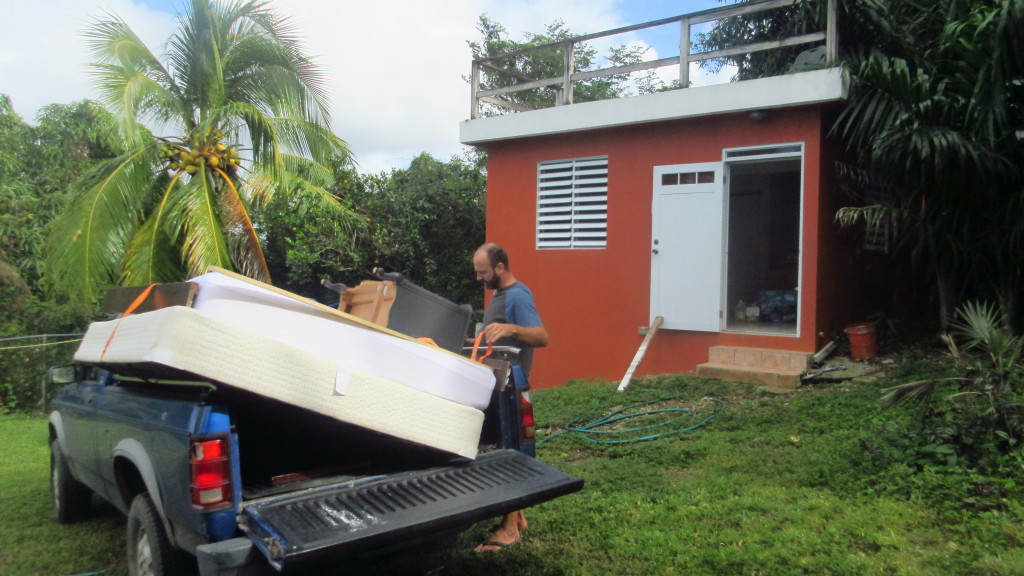 Unloading the bed for the studio cabana
So the studio cabana is now officially open for visitors! Contact us at lifetransplanet@gmail.com to stay with us! Here's the page with information on staying in the cabana!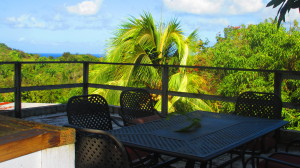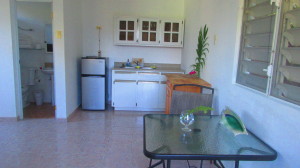 Roof top dining and view and inside living space of the studio
Back at the jungle cabin, while we had running water, electricity and even internet, we didn't exactly have a kitchen. Not that that was a deal breaker considering that we lived for 3 years with a mini fridge and a hot plate for our method of cooking, but I was pretty excited to have a full sized kitchen.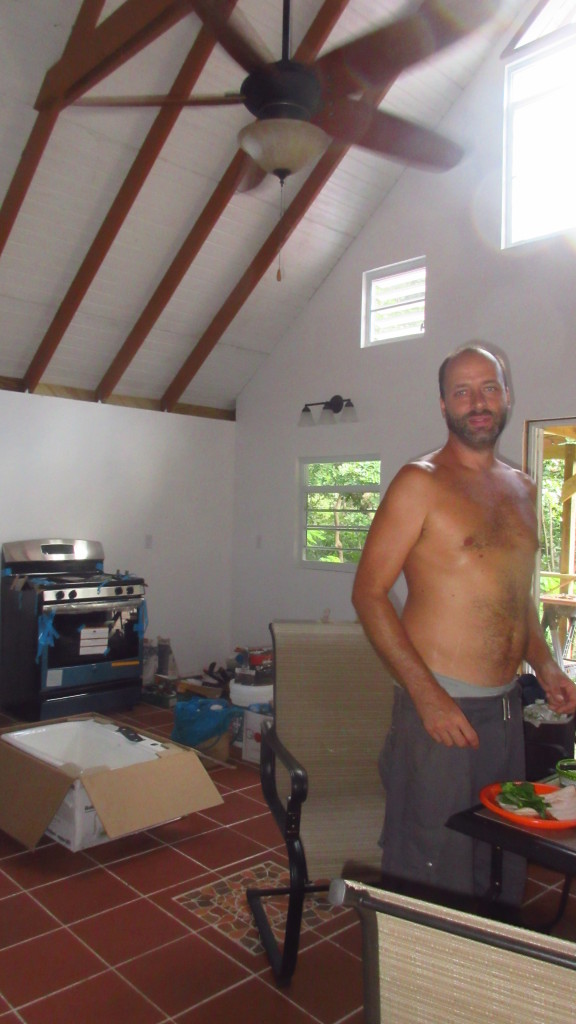 Britton in the kitchen/living room of the cabin with the new sink and stove just waiting to be installed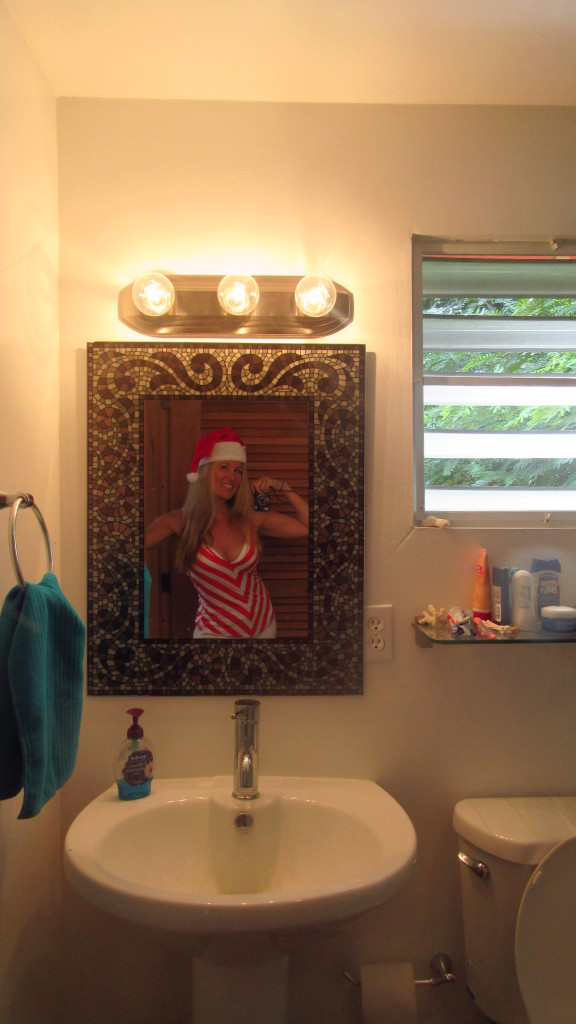 And though I have been loving our new bathroom, it just doesn't make the best place to wash dishes!

So we started building the kitchen including making our own counters/lower cabinets.  
Britton installed the heavy enameled cast iron sink but had to drill through our very thick floor in order to have a grey water drain out.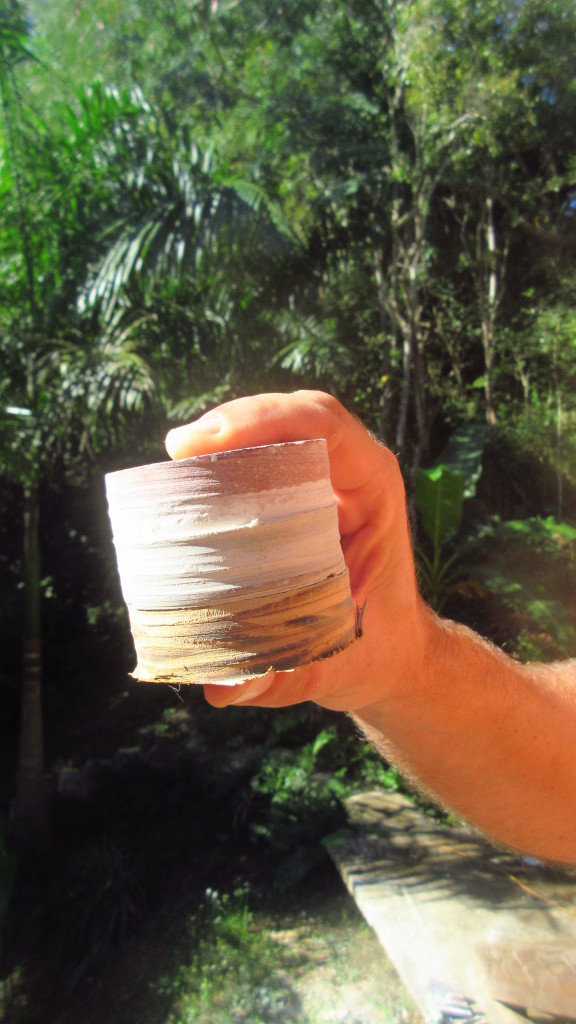 Like a tree core sample. The floor consists of 3/4 inch plywood, thinset, 3/4 cement board, more thinset and the tile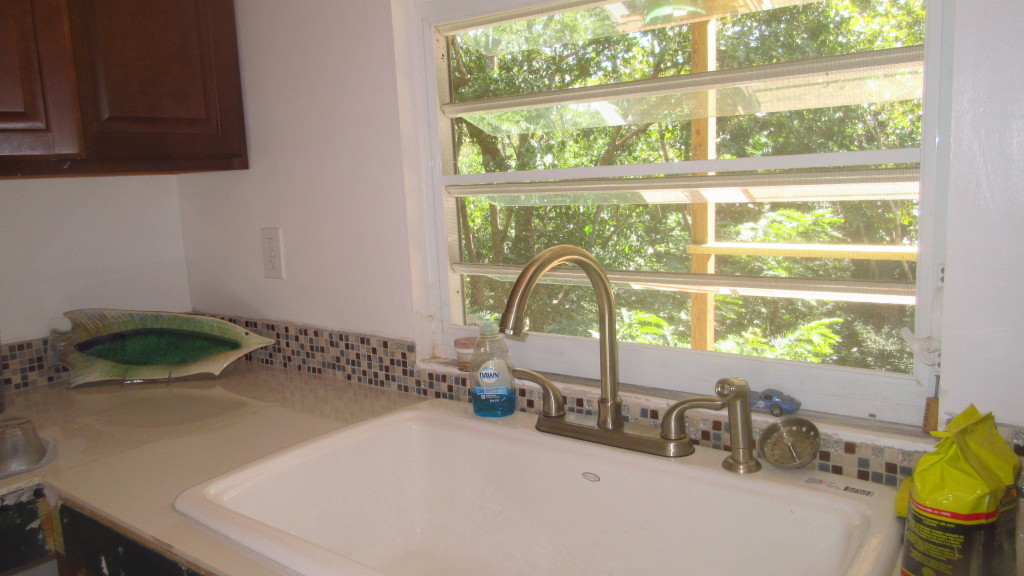 Kitchen currently with counter tiles and functional sink! Yay for washing dishes out of the bathroom!
The next big thing was to hook up gas to our new gas stove so that we would literally be cooking with gas! We went down to Rafucci's next to Ventana Al Mar to get the parts and the friendly owner said he would just send the gas guys down. We warned them that this was not a standard hook up and that you wouldn't be able to find us from the road, but he didn't seem worried.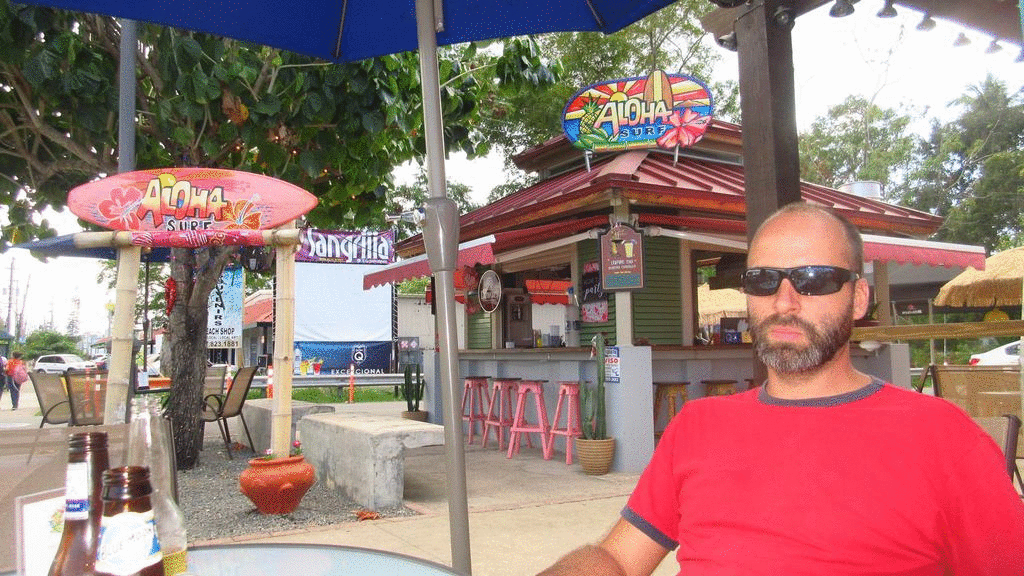 After stopping at Rafucci's we walked 20 steps to Aloha for a beer and that always makes BK happy
When the two workers showed up, they walked down the drive, through the meadow, past the chicken and turkey coops, through the tropical gardens, down the ridge line trail, across the bridge, up the stairs and quickly concluded that they would not be able to hook up a big propane gas tank. They said they would return with a 25 lb tank in about an hour. After waiting about 3 hours, we went back to Rafucci and talked with Alfredo again who said he talked with the muchachos and they said that the site was a little too difficult for them. (Would have been nice for them to have told us that instead of having us wait…)
So we decided to go ahead and do what we were going to do in the first place and just install it ourselves. We have found that often people don't like to tell others bad news so they will just tell you what they think you want to hear and then just avoid you. Because of that we always have a Plan B especially since we know that we are an odd case in general.
Last night we actually ate our first meal cooked in the oven: lasagna; and it was so good! We have been joking that we are going to get chubby again eating with a real kitchen with a full fridge and everything! haha!

We can't wait to cook lots of meals on this stove!
Overall, living in the cabin has been a lot of fun. Because there is no road and we are deep in the trees we are immersed in nature. The hummingbirds buzz around, the doves flap and the hawks are always swirling high above. We often see the mongoose running around and of course lots and lots of iguanas, geckos and coquis everywhere. The trees sway all around us and we feel like we live in and amongst them. It's a really cool feeling.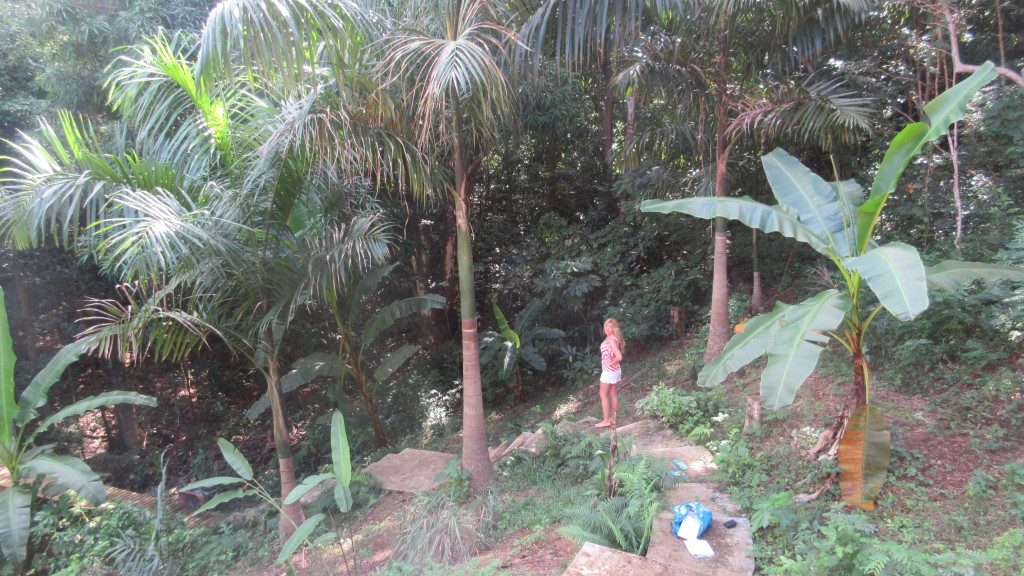 You don't want to forget anything or it's quite a walk back!
It can be a bit of a challenge to walk home in the night so we have to always remember our flashlights especially because there are very few guard rails. One night we forgot them and had to crawl on our hands and knees across the bridge because it was a dark and moonless night and…we had been drinking. But we laughed the whole way across.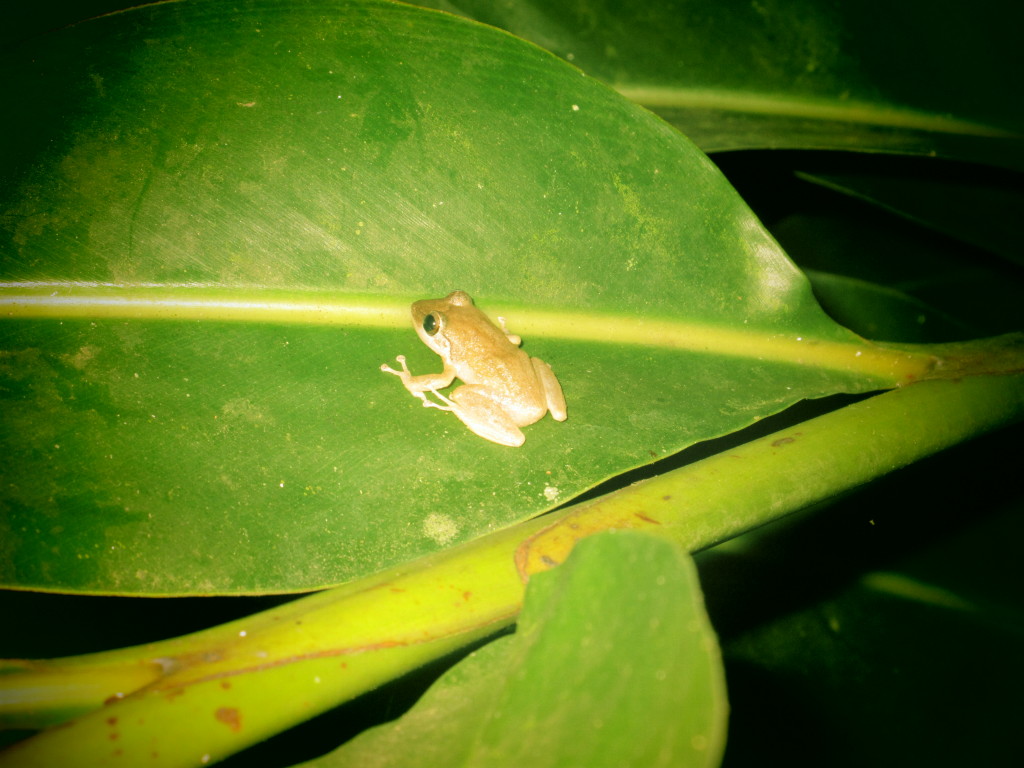 This cold, wet and clammy coqui landed on my leg and then hopped on this ginger leaf

We have even had our first "unofficial" get together with a few friends at the cabin!