This weekend has been very busy so far, and it's not quite over yet! It definitely reminds us how much life wakes up around here with nice weather.
On Thursday after work I was in the office hanging out on the computer when I looked outside and saw the chickens flapping and running around. Then I saw a little tan blur running behind them. My first thought was a prairie dog was chasing them. I ran outside to scare it out of the yard when I noticed it wasn't a prairie dog/gopher but rather a little dog! A chihuahua. When he saw me he just cowered next to the house. I wasn't sure if he was biter so I reasoned with it. I even said aloud, "If you don't hurt me or the chickens, I won't hurt you."
And slowly I approached him and was able to pick him up. He looked really tired and just sort of trembled and fell asleep in my lap. After a long rest we set him outside hoping that he would then run home wherever that was. However, a couple hours later after we had run some errands, he was still there. We don't have any dog food anymore since Schnoodle died, so we just gave him a little water and cat food.
We walked around the neighborhood on Friday and asked all the neighbors if they knew whose dog he was was, but no one knew. I really don't like to turn animals into animal control, because I know that most of them get euthanized. Especially in Greeley, chihuhuas and pit bulls are two of the most common dogs in the Humane Society, so his chances were slim if he went there. He was so chill and sweet, that I couldn't bear that. If we were staying in Greeley, we would probably adopt him ourselves.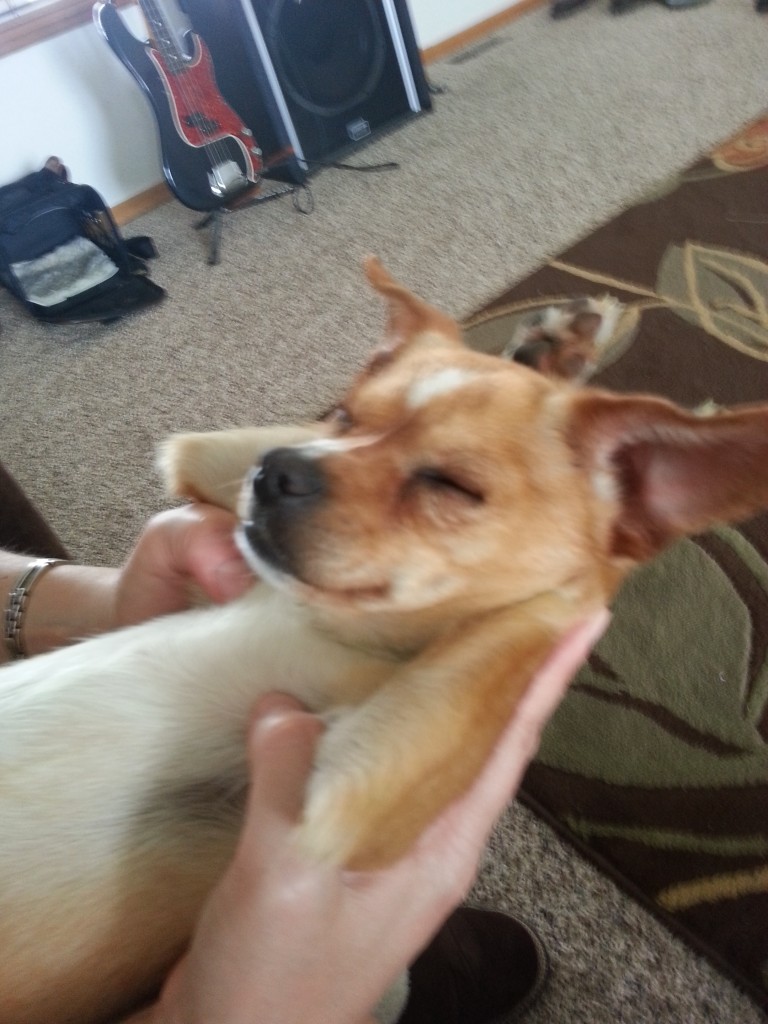 Chillin' chihuahua with his paws behind his head
I told my co-worker friend about him and she said she would take him and help look for the owner. If the owner could not be found, she offered to adopt him. He definitely added a fun aspect and reminded us how fun a little dog could be -especially one that could see, hear and play unlike Schnood in her last few years.
In addition to that fun diversion, we had some work to do. We wanted to finish a yard sod installation in one of our rentals where some of our friends live. Since we don't own a truck, we had to do all of it with our little Honda Civic.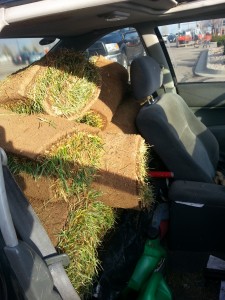 Sod in the Honda filled to the brim
We stocked the car full of sod and had to make about 3 trips before it was done. Sod is a little expensive, but it is nice to have an insta-lawn. I think it turned out great! See for yourself:
And after we laid the final pieces of sod, we rushed home to fix a dish to bring to a brunch and help build a coop with some other friends who are starting out with their first chickens.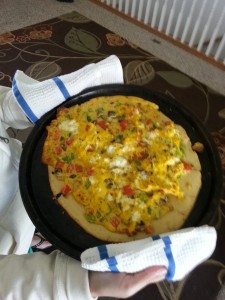 Breakfast pizza made with garbanzo bean flour, eggs from our chickens and a variety of veggies

Constructing a coop at a friend's house in Greeley
And today is Mother's Day, so we are off to lunch! Hope your weekend was as fun and eventful as ours!
UPDATE: We went out to lunch at the new Greeley seafood restaurant Lucky Fins and had a great time with our mamas.