Man, it seems that this winter has been going on a little longer than usual. Every time we think we are done with the snow and cold and have a nice 80 degree day, the forecast shows that another cold front will be working its way down bringing wind and snow. Tomorrow, the first of May, is supposed to have a high of only 39 with 4 to 7 inches of snow.
Maybe we get this extended winter to remind us of how great an endless summer will be when we move to Puerto Rico…a…long…drawn…out…goodbye…to Colorado winters.
So this weekend even though we were pretty sure it wasn't quite the end of winter, yet, we just couldn't help ourselves from kicking off the fun of summer, kicking off the type of lifestyle we will live in Puerto Rico nearly every day.
We started up the grill and ate tropical-style food outside a few times.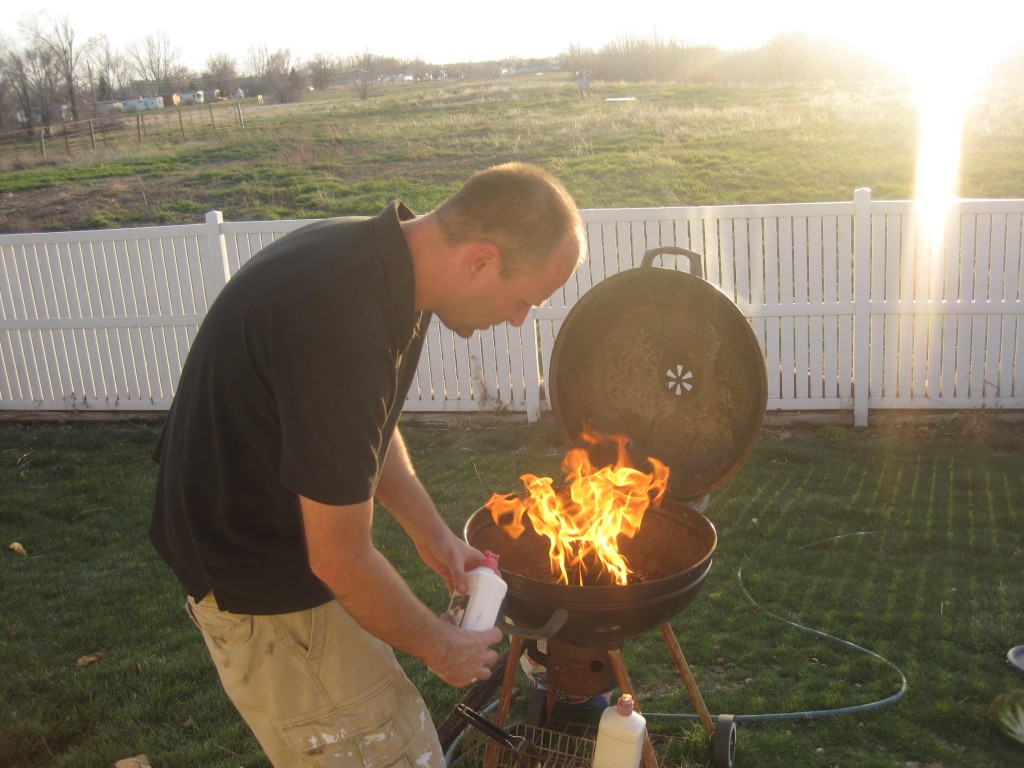 Woosh. Starting up the coal grill for the first time this year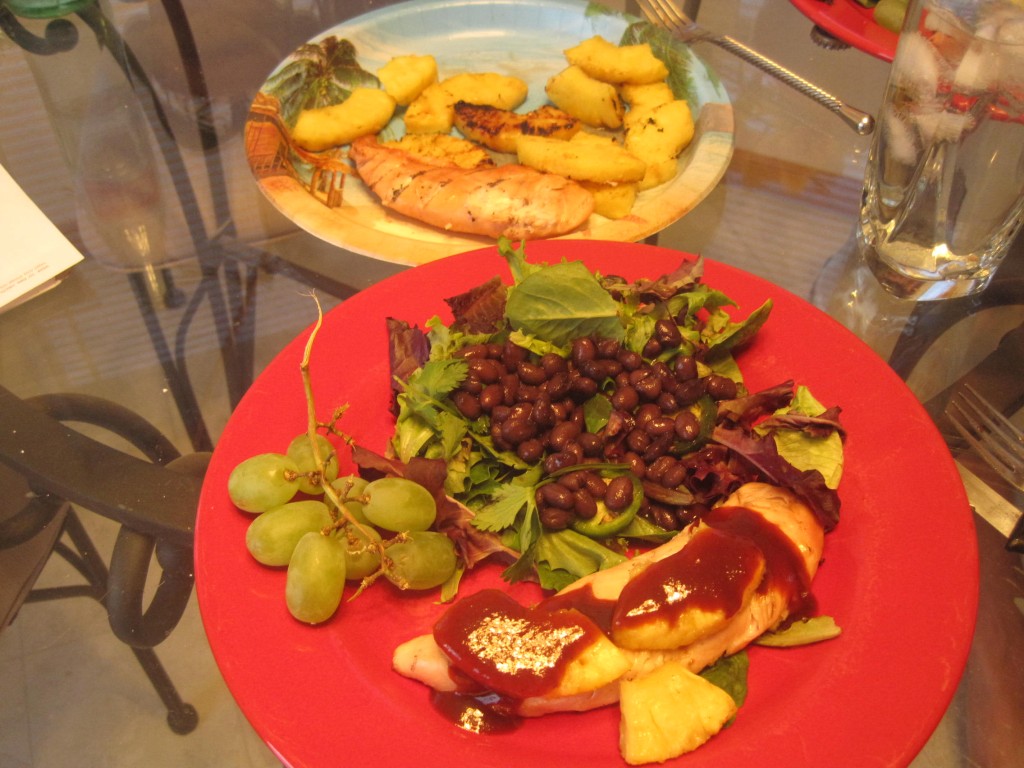 Yum! Grilled chicken, grilled pineapple, black beans, salad and grapes.
We bought plants for the flowerpots out front (that will have to be taken inside tonight since it sounds like we will have a pretty hard frost).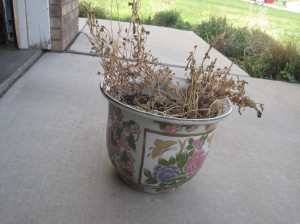 Sad old pot that had been sitting on our front porch all winter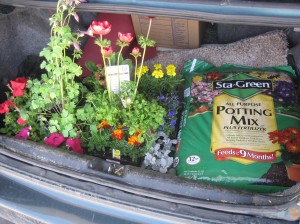 Trunk full of flowers for the pots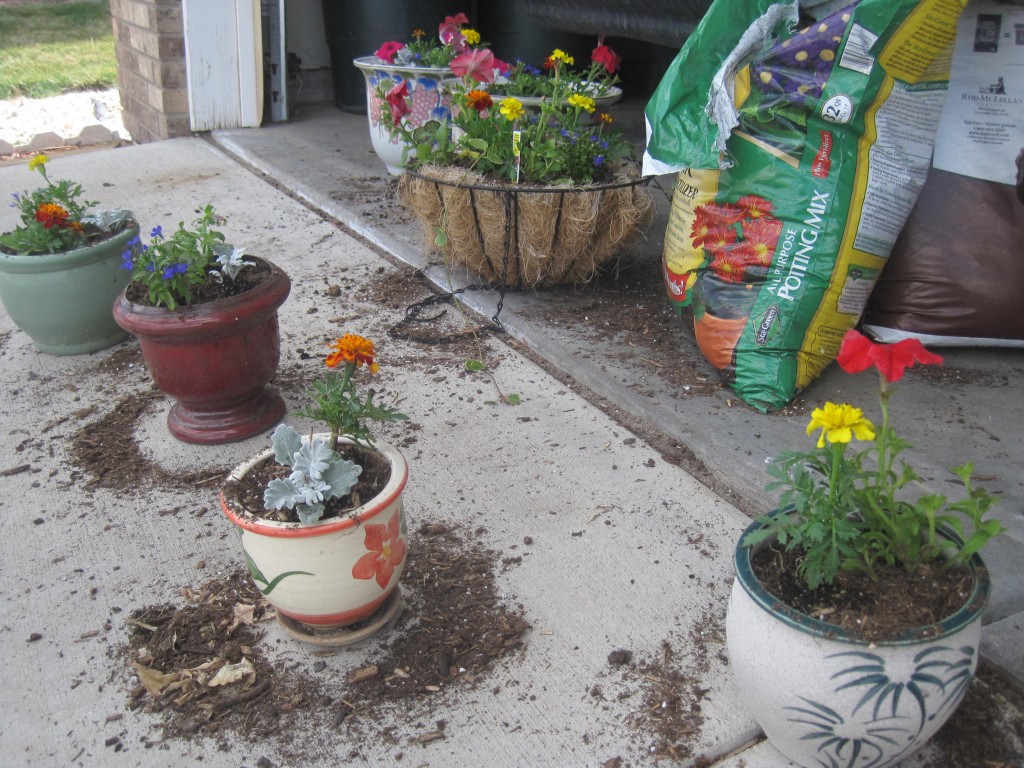 Working on the pots. I love the insta-beauty and have always enjoyed this type of easy "gardening"
We took long, sunny walks. We remembered HOW MUCH we love nice weather.
A lot of people ask us if we will appreciate nice weather less if we don't have the contrast of winter. And honestly, I don't know. There is a certain quality and feeling from a cozy winter house watching movies, reading, sitting by the fire drinking hot tea and looking at the sparkling snowy wonderland outside.
But I also know that I feel so much more alive in the summer. How I want to be outside. How I want to be with other people. How I want to grow plants and raise baby chicks and start new projects. I feel like all winter I have been hibernating and spring is time to wake up. Will that be different in the tropics? Probably. Because there is no winter to shake off and bolt off into summer, it will probably be a slower fizz, a constant brewing undercurrent, instead of a jolt into life. A lazy, languid, and warm "island time" sort of feeling instead of the rush to get everything done, everything planted, "hurry, hurry, hurry, take advantage of this nice weather because winter will be here before you know it" feeling.
While I can't know the future too far down the line, I know I have lived over 30 years with some pretty harsh winters, so at least a few years without them will be fine by me. Yes, I am sure of it.
UPDATE: The snow came down hard and cold and more than likely killing all the fruit tree blossoms. Let's cross our fingers that they rebloom soon.