It's true what they say. All things come to an end. All your work in this life. All your worldly possessions. Even your house. Even a sturdy, century-old historical landmark.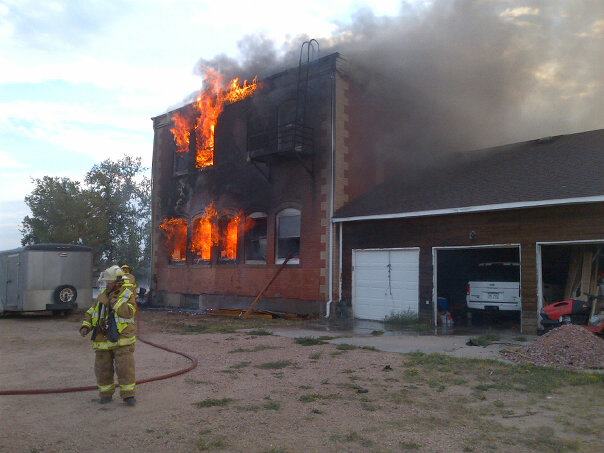 The Nunn Schoolhouse ablaze in flames
Yesterday, on Blue Moon August 31, 2012 a little before 6pm  a fire started near the front porch of the old schoolhouse in Nunn, Colorado. It rapidly spread into the house through the open windows and soon engulfed the whole house in flames. In 7 minutes the volunteer fire department had arrived, but by then, it was too late. It was fully involved. Fortunately everyone in the house was rescued save for two cats who lost their lives. But all human and canine residents were accounted for.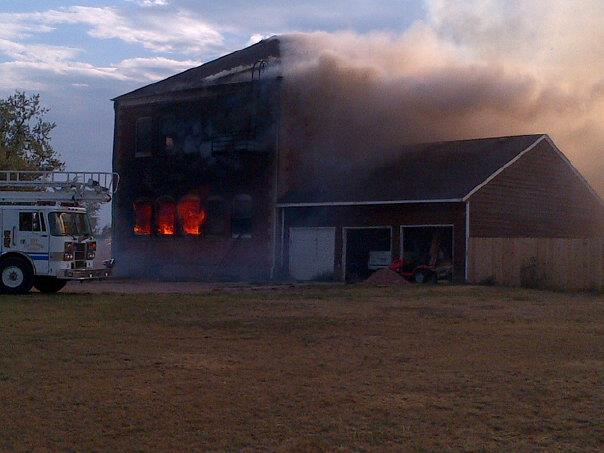 The Nunn Schoolhouse on fire when it still had a roof
By 7:30 that evening the house was nothing but a ruin. The roof had caved in. The attic had fallen. The second floor and the staircase were reduced to ashes. The main floor reduced to a smoldering heap of soot. The triple-thick bricks fell from the top floor in a mess of black and orange-red mortar and clay.
And that is the end of the story. The end of an era. The end of a building that touched so many lives. All good things come to an end even old schoolhouses turned homes.
It may be the end of the story. But it's not the whole story.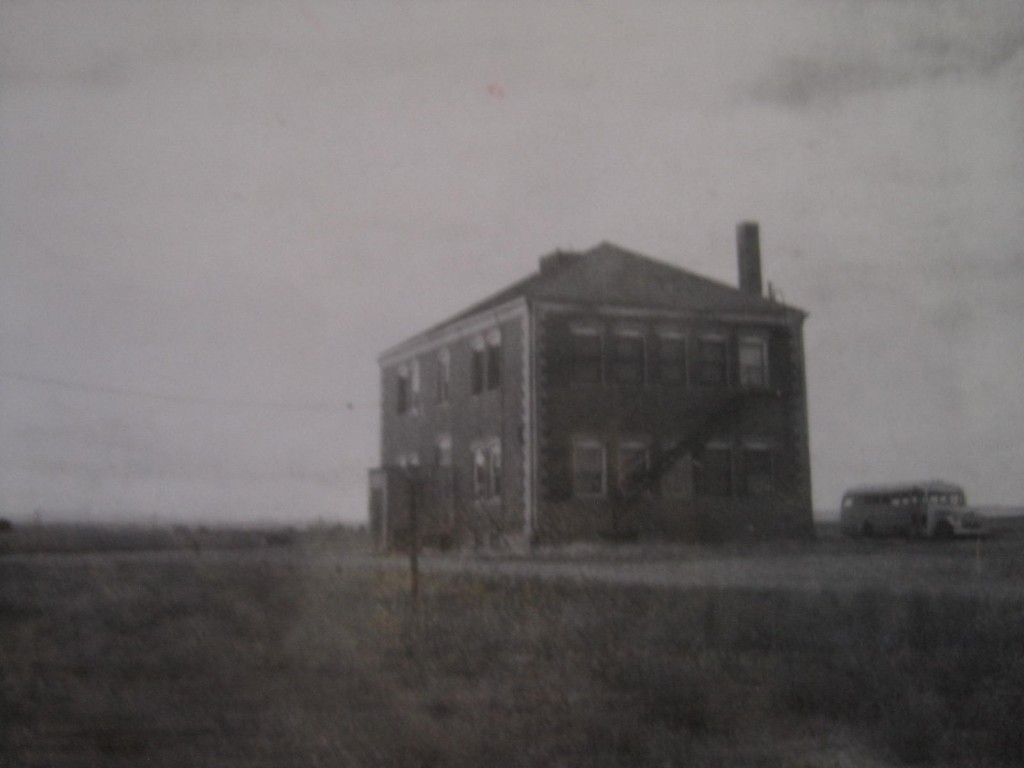 An old Nunn Schoolhouse and bus photo circa ??
You see this old building didn't start out all fire and brimstone. It started out as a school. It was built in the early 1900′s and served all ages in the Nunn area for quite a while until the high school moved to what is now the town administrative building and community center/gym. From the 1960s until the about 1990 an older woman named Eva Veil lived there surrounded by thousands and thousands of books, and shoes and paintings and clothing until she was too old to take care of herself. People told us stories that she was very eccentric with long white hair. She lived in harmony with the bats in the attic and in the evenings she would sit outside at dusk while they flew from the belfry.
After Ms. Veil left, in early 1990 my parents went to an auction and bought the old dilapidated, but beautiful house (and acreage) that was filled with all sorts of strange old things from refrigerators full of blue chalk to a bed piled high with coats and literally tons of old heat radiators.  My dad wanted to buy it to tear it down for its bricks, but my mom couldn't let him take down such a beauty of architecture. "Well, what should we do with it?" he asked and finally they decided to remodel it and make it our home. I was about 10 years old.
When we moved in, it wasn't completely finished. I remember carrying dishes from the  kitchen upstairs to the bathtub to wash them since we hadn't yet put in a kitchen sink! Over the next few years we continued to work on the house until it was the true beauty it had been hiding all along. People always asked us if it was haunted, but we never really felt spooked except in that attic and in the unfinished basement where many of those books from the 1800s ended up.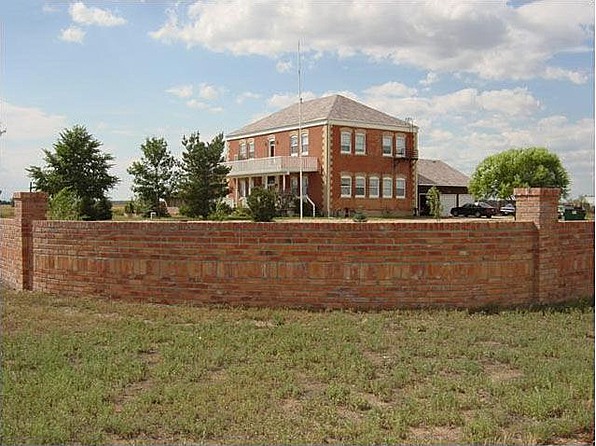 During its glory days as our house -The Davis Schoolhouse 553 2nd St

There are so many memories there. Birthday parties, Halloween costume parties, graduation parties, Christmas and white elephant parties. Britton picked me up there to go on our very first date. And of course that was the place of our wedding reception.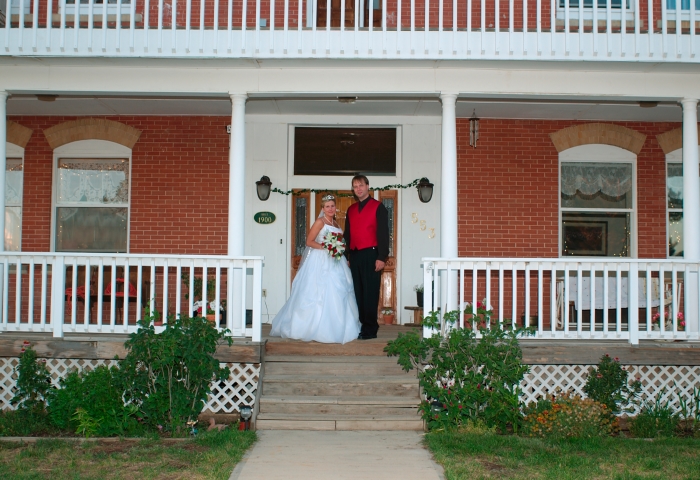 On our wedding day at the Nunn Schoolhouse
But we should not forget all those daily smaller memories. I could tell you stories in each room of that house. Breakfasts in the kitchen that my dad would cook on the weekends. Watching TV in my parents' huge bedroom.  Slumber parties in the living room with sleeping bags strewn about. It was our home through and through. And yet it was also a piece of history to the community as well. People would often stop by and ask for a tour reminiscing about what it once looked like when they went there to school.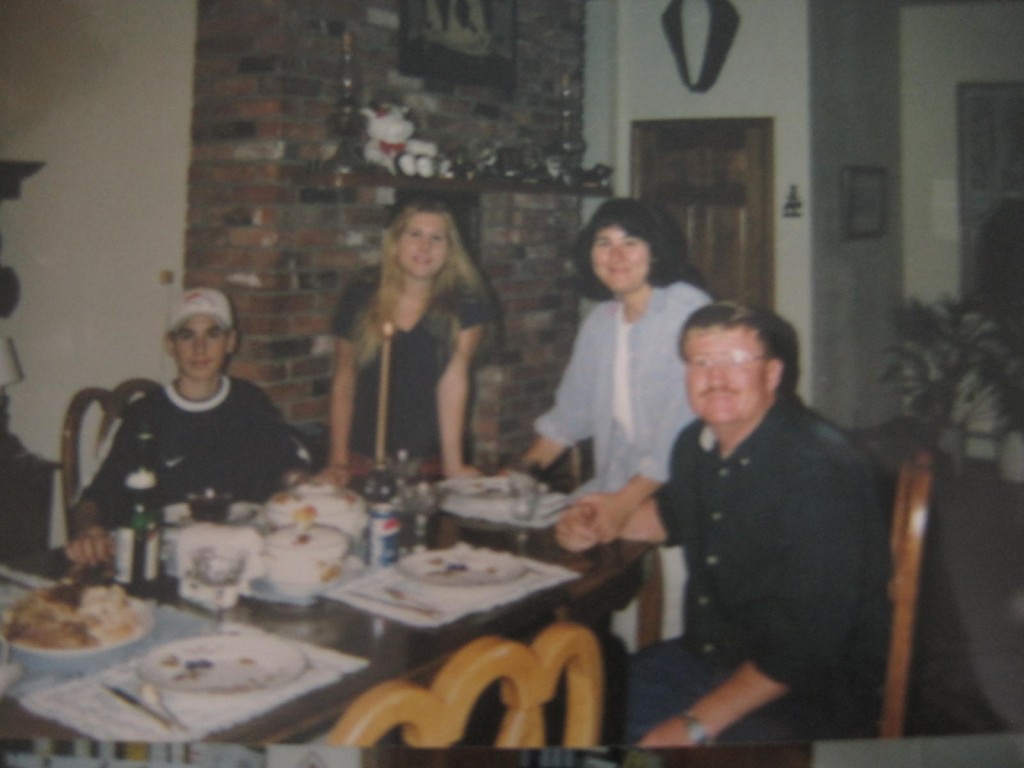 A Thanksgiving in the kitchen hearth area of the house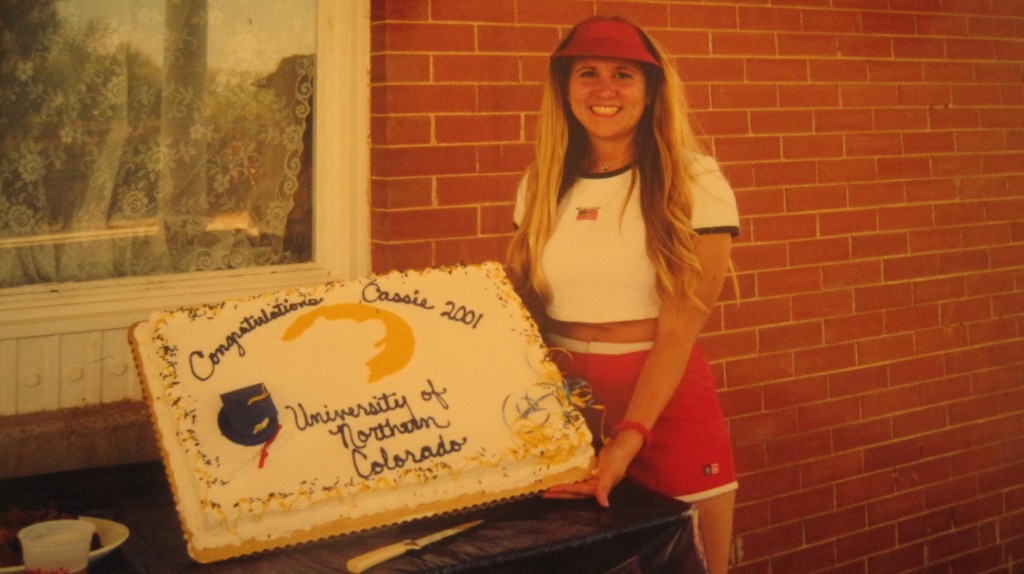 Celebrating my graduation from UNC at our house
Dad never stopped working on making that house more and more beautiful. From the original schoolhouse he and my mom along with a team of contractors:
cleaned it out
gutted rooms like the locker rooms
designed it
framed and finished the walls
added crown moulding
filled in a window space
made our kitchen and bathrooms with custom cabinets and features
added an upper and lower front deck
added a fireplace
added a three-car garage with a mud room
put in all new windows
installed a new roof
completely redid the plumbing and electrical to modern code
installed a sprinkler system, yard and trees
-and later-
added a huge side deck made of flagstone
added a pump house for the well
built a huge brick wall
added a flag pole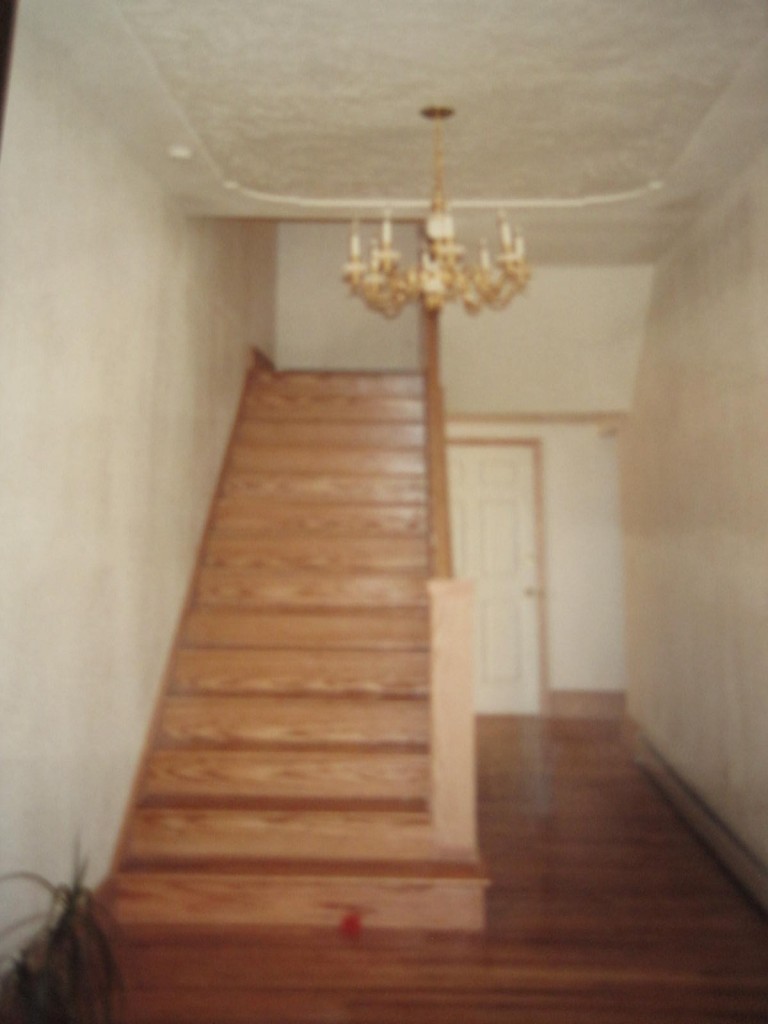 Entryway and staircase with refinished oak wood floors and chandelier
So you can understand how I have a sentimental attachment to this house that is not just any ordinary house. In 2003 I had moved out to live with Britton in Greeley. We both often visited my parents and brother and looked forward to Dad's famous BBQ and breakfasts. And it wasn't until shortly after my dad was diagnosed with cancer in 2007 that they lost the house because they could no longer afford to pay for it with all the medical bills coming in.
It was a sad day when we auctioned off most of the contents of the house and they finally moved away. Soon enough a new family, the current owners, moved in. But deep in my heart, this house with all this hard work would always be tied forever to us, and especially with Dad. So many things in the property had his mark forever on them. And that gave me a sense of comfort. Something as big and strong as Dad. That would last for another 100 years +.
So when I saw a strange photograph on Facebook of a building burning it took my eyes a few double takes to register that this was my old house! This was the Nunn Schoolhouse. My home in my heart.
When we heard what happened we decided to take a drive out this morning to see the damage. It was still smoking and the entire upper west wall of which had once been my parents' room was completely gone. It had transformed from a magnificent schoolhouse mansion into an ancient charred ruin. What we saw shocked and burned me to the core. It is the death of a family member.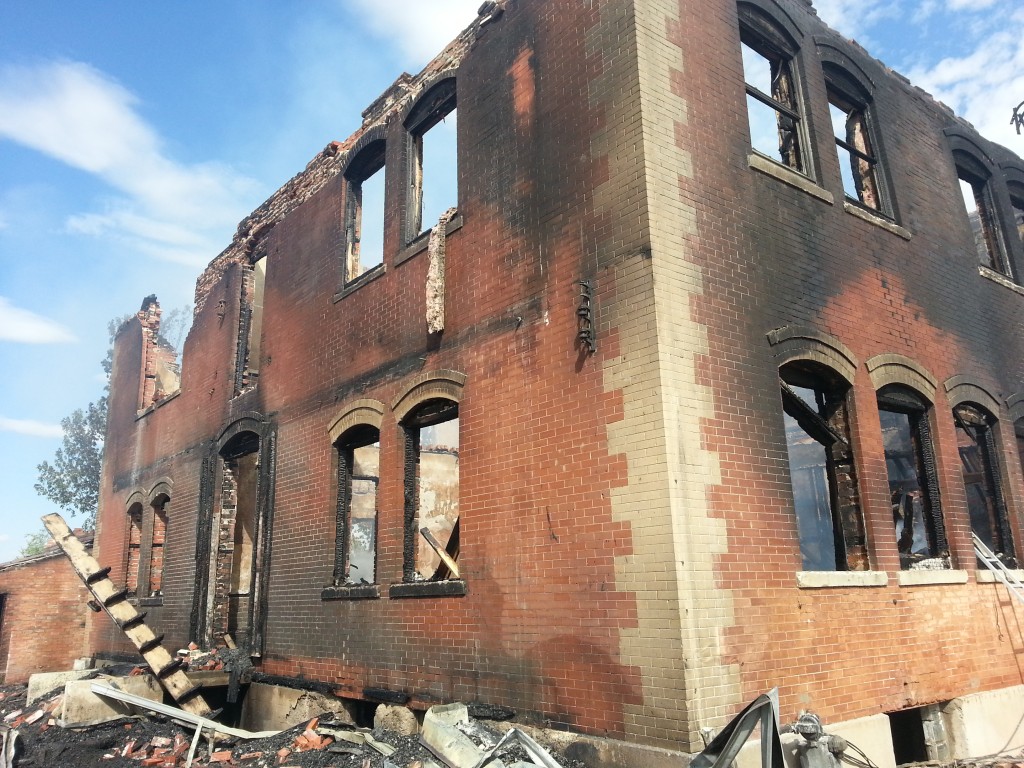 Someone called it "The Saddest Day in Nunn's History"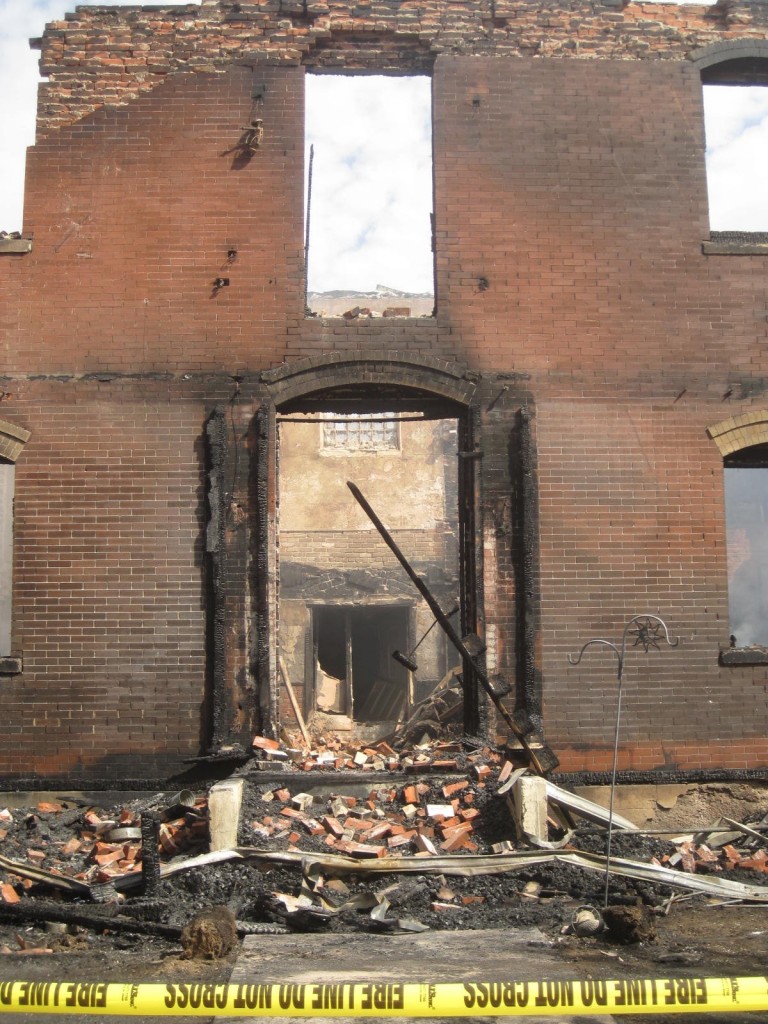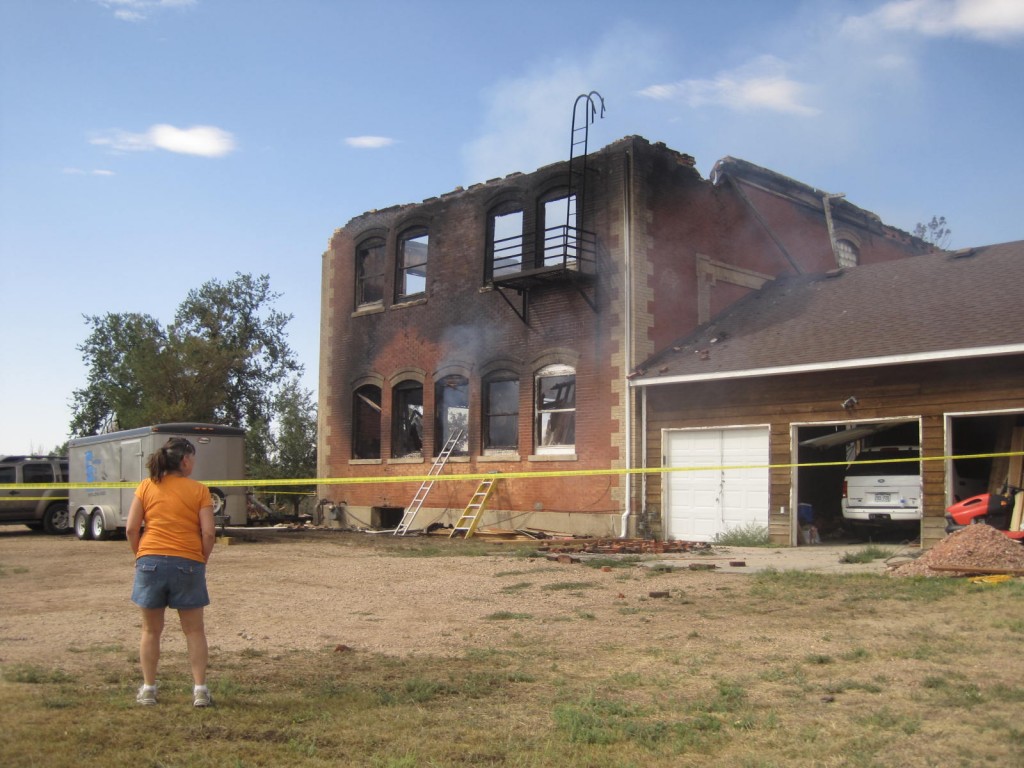 They managed to save the garage (with Mom in front)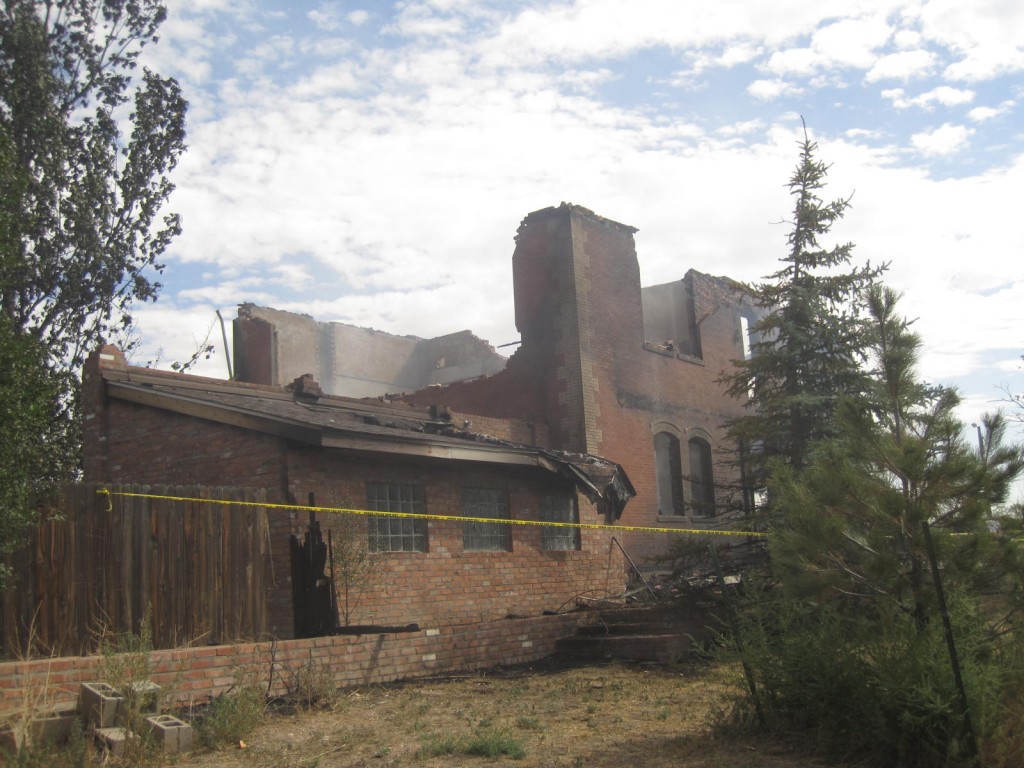 The entire upper west wall and part of the roof of the pump house -gone
Like a death, it really does just make you cherish your memories and realize that the time we have with anyone, and anything!, is definitely finite. I am so happy to have been a big part of the story of this old house, but I also feel like I have lost a friend or family member. It will never again be the same. I hope the family that lived there is able to heal and rebuild their lives and home. But never will we have a chance to walk up those stairs to my old bedroom or feel the walls that Jack (my dad) built.  It is gone forever, but it will live always in my heart and in the hearts of all it touched.
**A special thanks to Nick Jensen for some of the earlier photos of the house while ablaze.**