We woke up to quite the mess this morning. A bloody mess to be exact. It looked as if a massacre had taken place….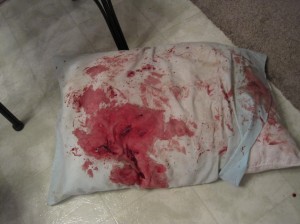 First thing we saw when we woke up this morning!
What happened? Well, apparently poor old Schnoodle had something wrong with her. The night before there was a little blood on the carpet, but we cleaned it up. We thought maybe she was just getting over her urinary infection. We had only about a week ago taken her to the vet. She was diagnosed with an eye infection and cornea problems, cancer or some sort of cysts, bad rotting teeth, a urinary tract infection, lymphoma, arthritis and some deafness. (Remember she is about 14 years old or in her late 80′s if she were human.)
So I gave her a piece of an aspirin to help her with some of her pain (thinking that she most likely had some). That was a big mistake!  While we had just a little blood two days ago, this morning, it was like a massacre! There was blood not only on the pillow that she sleeps on top of on the floor, but also…
But we still didn't know what had happened to cause her to bleed so much and all over until we saw this: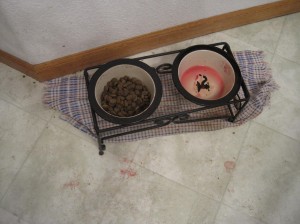 Her water dish was bloody which meant that something had happened in her mouth. Perhaps she lost another tooth? We have no idea and she won't let us look in her mouth. But the aspirin probably wasn't a good idea in hindsight as it thins the blood.
It was pretty disgusting. And we were joking that it looked perfect for a Halloween haunted house!  We managed to get most of it out of the carpet with oxy-clean. Unfortunately it bleached part of the carpet. We've been talking about getting new carpet and I think this probably seals the deal. We are going to wait until we know what to do with Noodle though. We wouldn't want another episode like that to happen. And tenants wonder why we charge more for pets! Yuck